Canning green beans is an easy way to get started if you are just learning how to can with a pressure canner. It's a very beginner friendly project.
Pick or buy fresh green beans, snap them into lenghts you desire (I like about 2 inches) pack them in a jar, process in a pressure canner. Green Beans can be processed either hot or raw pack. I include full, step-by-step pressure canning instructions below.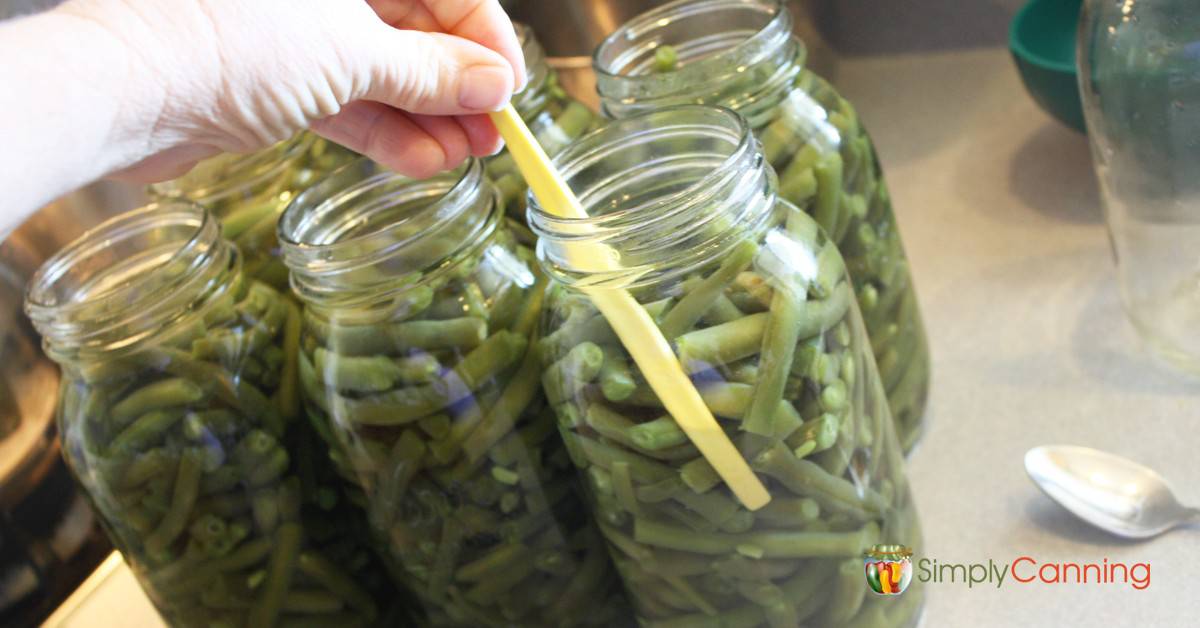 This pressure canning page has more detailed information on how to use one. Read the step-by-step instructions on how they work before you start this project. It will help you to know how to set up and prepare all your canning equipment.
If you are really afraid and don't know how to get past that… check out this video workshop. Afterwards you'll be confident and ready to start filling your pantry.
Canning Green Beans: Extended, Step-By-Step Directions
You will need about 14 pounds of beans for a canner load of 7 quarts (or 9 pounds for 9 pints).
Wash beans in cold water and snap them to the desired size. To snap them just means to break off the ends and break into pieces. I've also heard it called "snitting." I bet there are all kinds of terms folks use for snapping beans.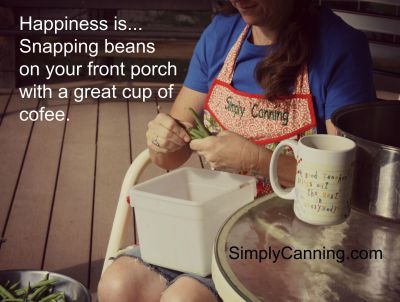 You can leave the pieces longer if you want, but I prefer to snap them into 2-inch pieces. They fit in the jars much better. I always just break them by hand. My teen sons have been know to pull out some scissors as they thought it went quicker. If they are doing it, I didn't care, just so the job got done!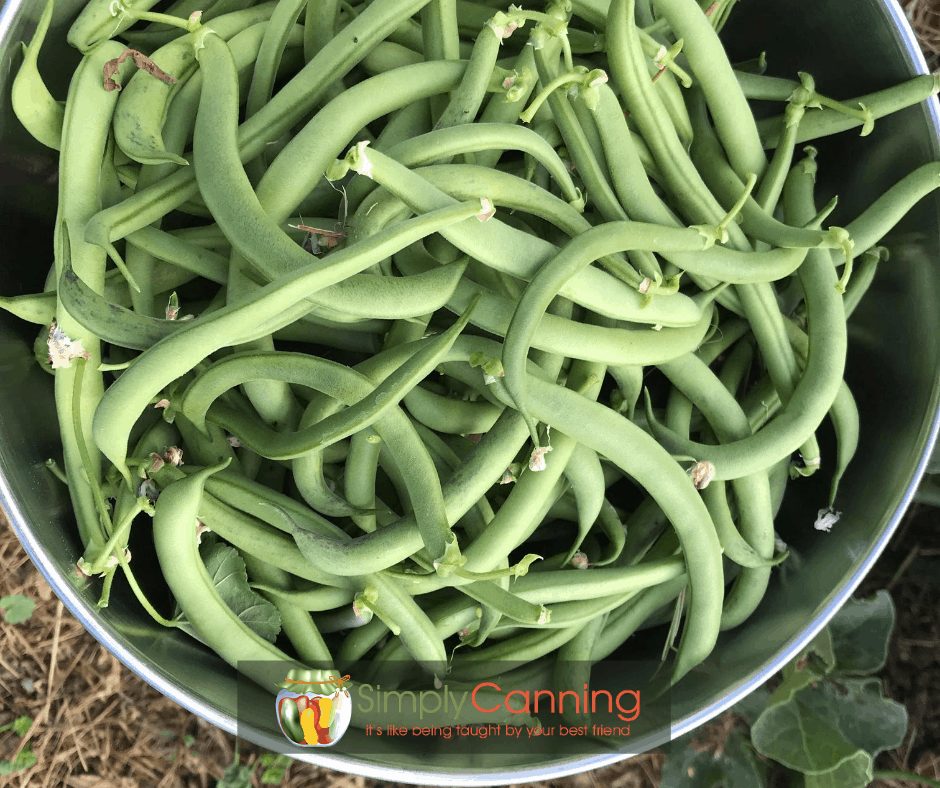 Canning Green Beans- Hot or Cold Pack?
When you're canning green beans, you can either do them hot packed or cold packed. This refers to how to pack your jars. A cold pack is sometimes also called "raw pack." Please, oh, please, don't think a cold pack means you don't process. Most importantly, any method you use to pack your jars, you still must use a pressure canner.
I used to always cold (raw) pack my jars. I believed it was quicker, and at my high altitude, I need a higher pressure. Since I'd like to cook my beans as little as possible (while still remaining safe), I chose to not blanch before processing. However, I now usually end up doing a hot pack. This allows me to get more in each jar. Either method is safe. It is your choice.
Hot Pack Canning Green Beans
Boil snapped beans 5 minutes before packing jars. Drain and pack into jars loosely and cover with clean, boiling water, leaving 1-inch headspace. Easy peasy!
Raw Pack Canning Green Beans
Fill jars tightly with clean, snapped, raw beans. No pre-cooking needed. Pack them down pretty tight to get as much as you can into the jar. Cover with boiling water, leaving 1-inch headspace.
Just a note here…. remember Raw Pack is NOT water bath. Sometimes I'm asked how to cold pack green beans and the person actually means water bath not pressure processing. It is a terminology difference. Cold pack simply means the beans go into the jars raw (cold) not cooked (hot). They are still processed in a pressure canner.
Whichever packing method you choose, after your jars have been filled, you will need to remove air bubbles by running a plastic utensil down inside the jar between the jar and the beans. Press lightly to release any trapped air. I like to use an orange peeler. You could also use a plastic knife.
You'll probably want to add canning salt to your jars: 1/2 tsp. for pints or 1 tsp. for quarts. Salt is actually optional. It is for taste only, but I do recommend it for most folks. If you add salt, it really does enhance the flavor, so I always include it. But if you are trying to lower your sodium consumption, leaving it out is acceptable.
After jars are filled be sure and wipe the rims of your jars clean before you place canning lids on the jars and add rings. You want the rim clean so no salt or bits of food interfere with the seal during processing.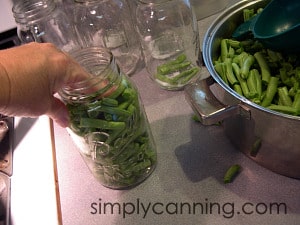 Raw pack green beans in jars.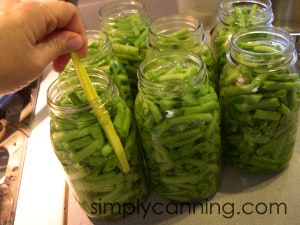 Removing bubbles with an orange peeler.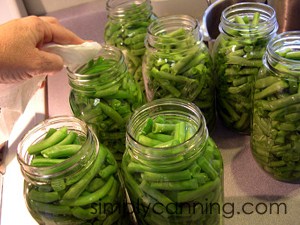 Wipe the Rims clean before putting on the lids.
After packing your jars, place filled jars in a pressure canner and process them according to pressure canning methods. If you need more instruction on how to use your pressure canner check this link. You'll need to heat the canner, vent it and then process it properly. Plus there is information on how to cool the canner properly. Lots of details!
Don't forget to adjust for your altitude. Processing times are listed below. Remember, these are for canning green beans in a pressure canner, NOT a water bath! (There I go again!)
Water Bath Canning Green Beans Is it an Option?
Many people ask if water bath canning green beans is safe. Many say their grandmother did it that way for years and no one got sick. The truth is, you can still get botulism. It is a chance you don't want to take. Read more about my thoughts on waterbath canning green beans so you can consider the whole picture.
Canning Green Beans Tips & FAQs
Other Green Bean Options
Learn more about canning, dehydrating, pickling, or freezing to keep those green beans deliciously preserved all year round.
Can you use chicken broth for water and cooked bacon instead of salt?
-No, this is for water only.
-No sorry but you can't add bacon. Add your bacon to the beans as you open the jar.
-The salt is optional so if you want to leave it out you can. We prefer to salt our veggies.
How to can green beans in half pints. I want to process green beans in half-pints for an older friend, but I can't find out how long I should process them. Can you help?
Sure! Yes you can can beans in half pints. However you don't cut the time short. There are no tested methods for half pints. It might seem logical but half the time might not be enough for the heat to fully penetrate the jar.

You want to process it for the jar size up. If you want to do half-pints for a friend (who, I assume, probably needs a single serving, which is a great idea), process it for the pint-sized jar.

You might want to try a batch and see how it turns out. It might be a little softer than what you prefer. I don't think it's going to be overly mushy, but do a batch to see if you and your friend like it.
Do green beans have to be pressure canned?
When canning green beans, you must process them in a pressure canner.
These directions are for pressure canning.
Don't get this confused with a water bath. You must process in a pressure canner.

Please Note: Yes, I know I just said the same thing 3 times. It is that important. I have had many questions regarding canning green beans. All of them had something to do with wanting to use a water bath canner to can green beans. Not surprisingly, I do not give these instructions. Click here to find an article explaining why I don't recommend a waterbath.
How long will canned green beans last?
The NCHFP suggests that canned foods last about a year, if they're stored under proper conditions (cool and dry). But don't throw your food away if it has been more than a year. Check this article to read more about expiration dates for home-canned food here.
Recipe Card
A few tips for picking green beans.
The first thing to remember when picking green beans? Pick fresh, tender pods. Picking first thing in the morning will give you nice, crisp produce. If you are picking in your own garden…go ahead and snack on a few beans. Yum. And oh, so good for you.
When you are picking green beans, you want to get the beans while they are still a bit immature. I always told my sons to pick anything the size of a pencil. If you let them get too much bigger, you'll have to pick through and toss some out. Green beans tend to get stringy and tough the bigger they get. In other words, the quality will be poor if you pick overripe, seed-filled pods.
What else can you do with green beans?
3 Bean Salad Canning Recipe
Pickled Three Bean Salad Canning Recipe is so easy and makes a great summer side dish. This one is husband approved! Step-by-step canning guide for a home canned version.
Pickled 3 Bean Salad Recipe for Canning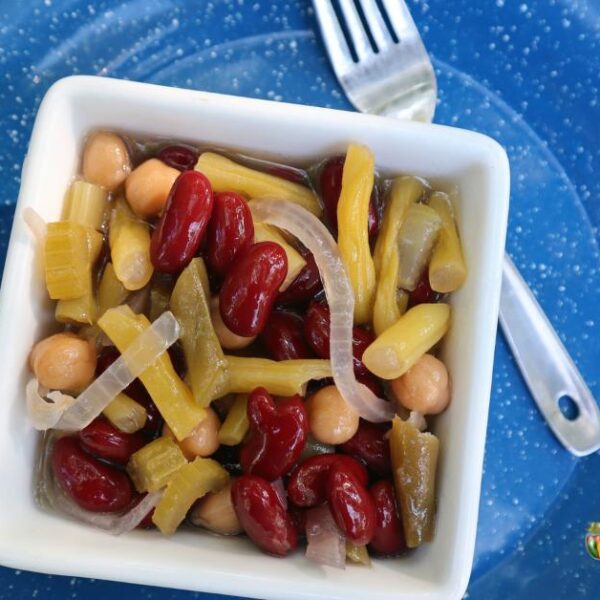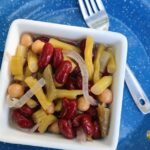 Freezing Green Beans
Freezing green beans picked fresh from the garden is a great way to preserve them. Bush beans or pole beans are all treated the same.
How to Freeze Green Beans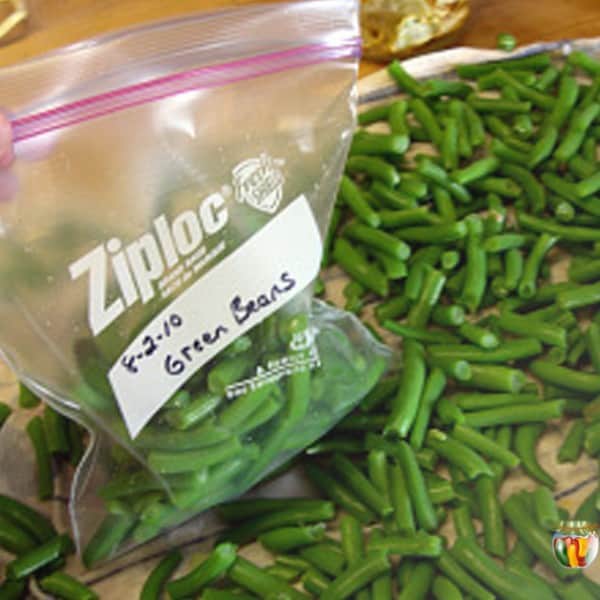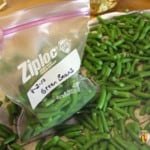 Dehydrating Green Beans
Learn all about dehydrating green beans here! Start with fresh, tender bean pods.
How to Dry Green Beans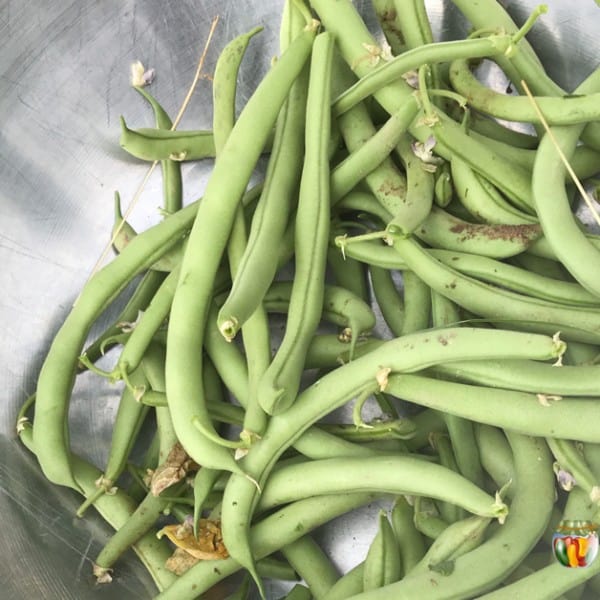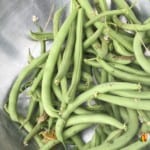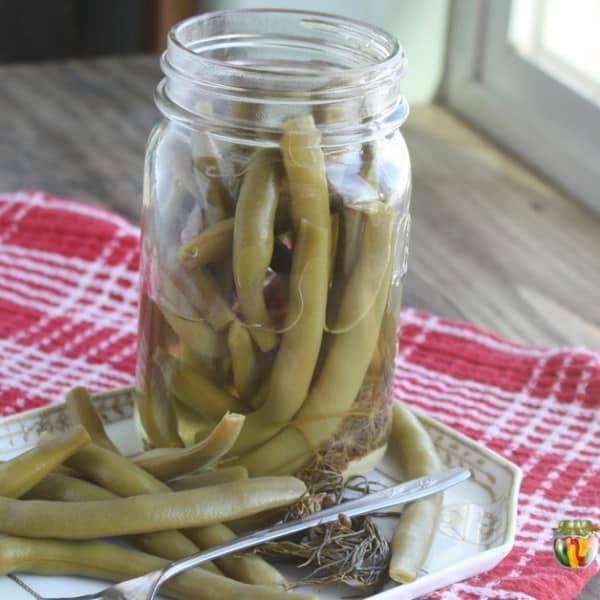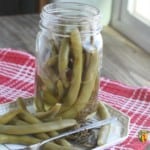 Pin This for Later!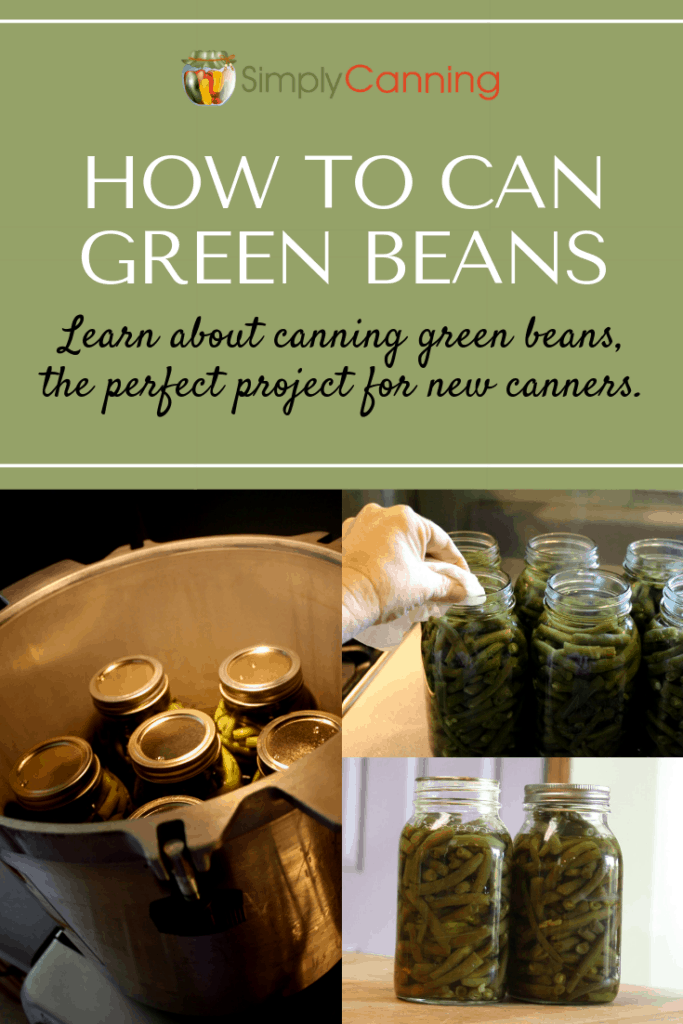 Adapted from: The National Center for Home Food Preservation, Colorado State Extension