How to can Sweet, Mild, or Hot Chili peppers
With Sharon Peterson
If you are canning peppers remember they will not hold their crunch or texture. There is just no way that I know of around the soft results. However they are great for adding to many meals that benefit from the flavor addition even if they don't keep thier crunch.
Do you use spicy peppers as an ingredient in many meals?
Casseroles often use peppers for a bit of spice.
Add peppers to an omelet in the morning
Add to a chicken enchilada bake.
Start canning peppers in pints or 1/2 pints and have a ready supply on hand.
Did you plant peppers and now wonder what to do with your abundance? Canning peppers is one option. Pickled peppers is another great option. Personally we like pickled pepper rings.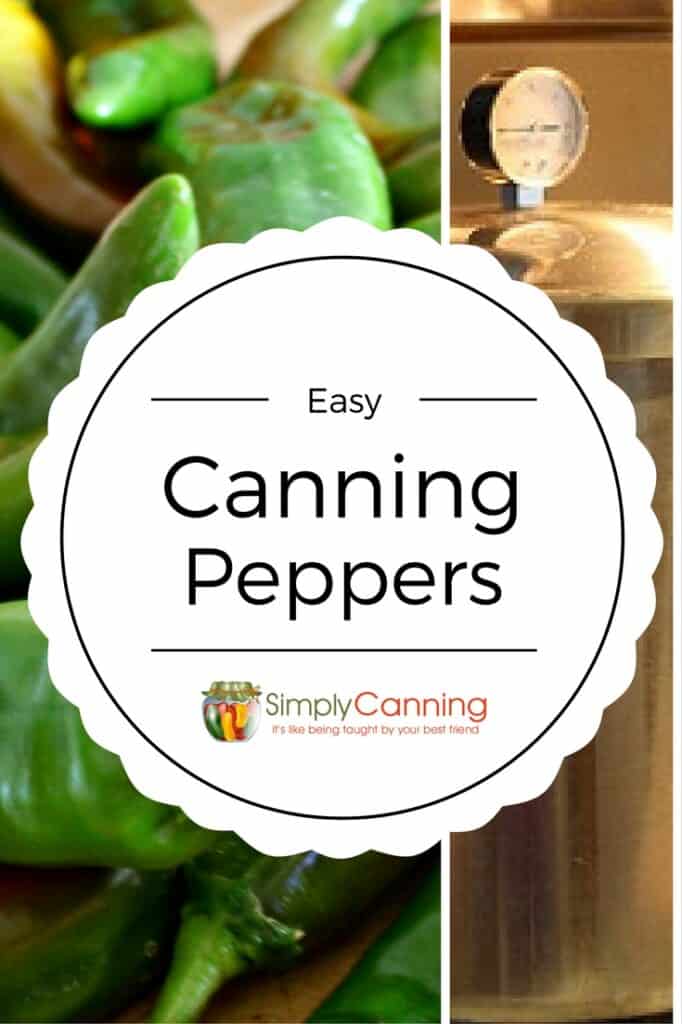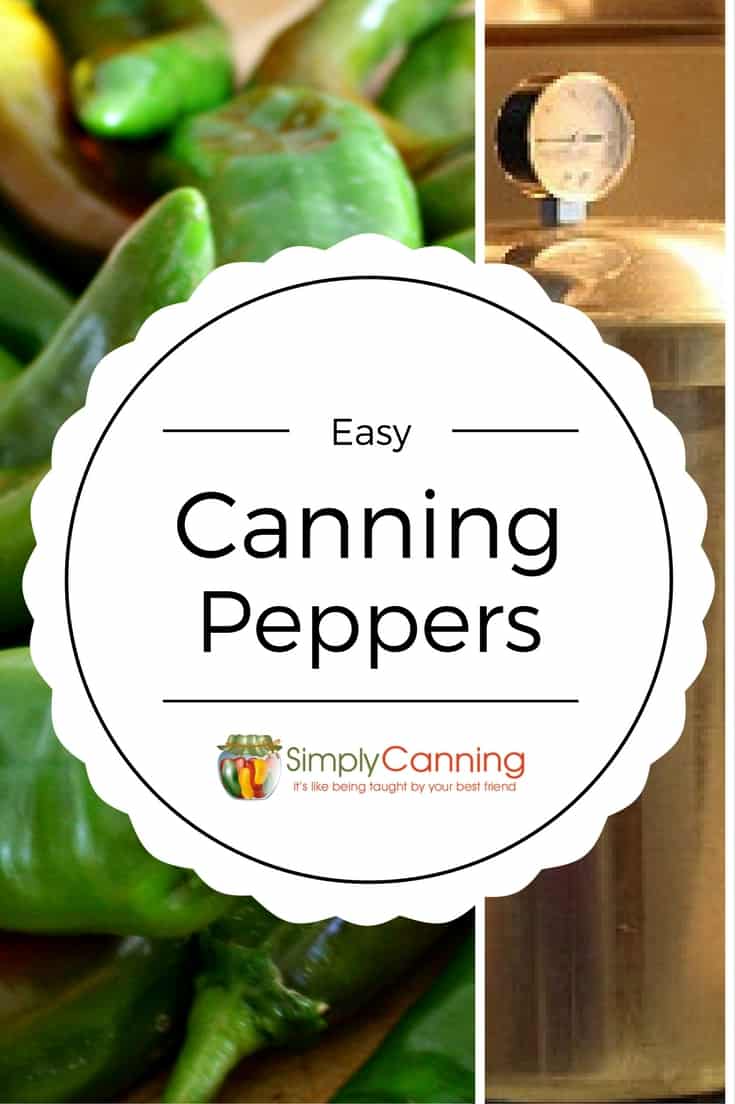 Caution, wear gloves if you are handling hot peppers.
You may already know this, but it bears repeating. If you are canning peppers that are spicy, wear plastic gloves while handling them or wash your hands thoroughly with soap and water before touching your face.
Personally, I don't skip the gloves. Once I was canning salsa. I only had a few peppers to chop, so I figured I'd just wash my hands right after working with them. Big mistake. My hands burned all night long.
I used lotion, I washed over and over, I soaked my hands in milk and I even rubbed some of my aloe plant all over them. I ended up keeping my hands wrapped in a cold damp rag all evening. The cold rag worked best.
The burning was gone by morning and it didn't do any damage but it was definitely an uncomfortable evening. Maybe my peppers were especially hot, I don't know. I still won't repeat that mistake. I hope you won't either!
Tips from my inbox:
Laurie shares: When I was 8 months pregnant with my first child I decided to do the nice thing and freeze the abundance of hot peppers produced from my father-in-law's garden. Soon after my fingers started to burn. We tried everything and couldn't get it to subside. Five hours later my husband took me to the hospital and the doctor told us to use vinegar. It neutralizes the acid and stops the burning.
Canning Peppers requires a pressure canner.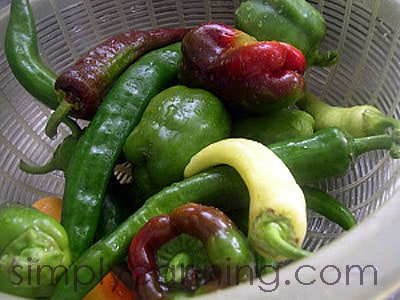 As spicy as some peppers get, they are still all low acid foods and must be processed in a pressure canner. Botulism is a risk and pressure canning is the only safe option.
If you are not familiar with how to use a pressure canner this pressure canning page has more detailed information and step by step instructions.
---
Prepare
Gather your canning supplies
But why??
I'm seeing questions regarding pressure canning VS waterbath canning peppers. Peppers are a low acid food and should be pressure canned.
If you are pickling peppers then you can use a waterbath because you've added acid when you add vinegar to your recipe.
Some recipes for pickled peppers can be found at the end of this page so scroll on down. OR… Read more on canning methods and low or high acid foods here.
large pot or blancher
bowls
large spoons
sharp knife
towels and dish cloths
plastic gloves
cookie sheet to blister peppers blancher or pot to blanch peppers.
Ingredients
Peppers – 9 pounds will allow you to can peppers in 9 pints.
Canning Salt – optional
Procedure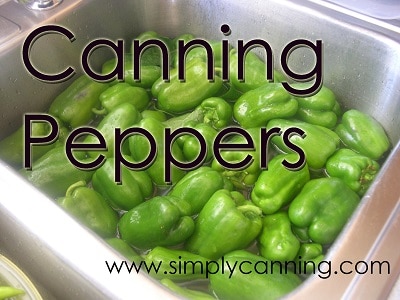 You can leave the peppers whole, or if you have larger peppers, you can quarter or halve them.
Remove cores and seeds. I do this by cutting off the top and then pulling out the centers with my hands (don't forget the gloves). Hot pepper seeds hold a lot of heat. If you really like hot, experiment and can a few with the seeds. Remember though, tastes will become stronger as they are canned.
The next step is to remove the skins. Cut 3-4 slits just through the skin of each pepper. Place peppers on a cookie sheet and roast in a hot oven (400 degrees F) or under the broiler for 6-8 minutes, turning to roast all sides. When you see the skins blister, they are done. Place peppers in a pan and cover with a damp cloth to cool. This keeps them moist and easier to peel.
When cool enough to handle, peel each pepper. Flatten whole peppers by cutting down one side and open up the pepper. You may also chop peppers or cut into rings.
Add ½ teaspoon of salt to each pint jar, if desired. Fill jars loosely with peppers and add boiling water, leaving 1-inch head space.
Wipe the rims clean, remove any air bubbles and place your lids.
Process according to pressure canning instructions.
Processing time
Process pints or 1/2 pints 35 minutes. Quarts are not recommended.
Be sure to adjust the pressure in your canner according to your altitude. For more information see this altitude adjustments page.
Adjustments for Pressure Canner

Altitude in Feet
Dial Gauge Canner
Weighted Gauge Canner
0-1000
11
10
1001-2000
11
15
2001-4000
12
15
4001-6000
13
15
6001-8000
14
15
8000-10,000
15
15
source: http://nchfp.uga.edu/how/can_04/peppers.html
---
Pickled Peppers
---
Pickled Pepper Rings
---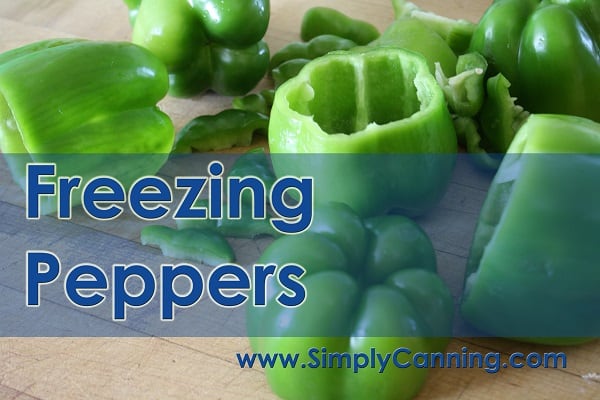 Freezing Peppers
Canning Pepper Jelly Questions & Comments
by Nancy
(Atlanta)
"When I am canning pepper jelly and process the jars in a water bath the peppers float to the top. The flavor is great but the jars scream " MISTAKE" to me! Please help! Nancy from Atlanta"
Sharon's Answer:
I have not made pepper jelly so I am at a loss at how to fix this. You might try placing the jars upside down after they have cooled a bit.
Take them out of the canner. Let them cool somewhat (an hour or two), then turn them over. Maybe the peppers would gradually float to the top (er…bottom) of the jar.
This is totally a guess, so if someone else has a better idea or knows how to prevent this, please comment and let us know.
Other Readers' Comments:
Canning Pepper Jelly Problem
by: grace
"This happened to me,also. Last year and this year. I am still trying to find out how to fix it. So if anyone knows what to do please share the info."
canning pepper jelly
by: Anonymous
"I fixed the problem by waiting about 20 minutes after canning, and then shaking the jars. If it has started to jell, the peppers mix throughout."
re Pepper Jelly
by: Anonymous
"I found that by tilting the jars 20 minutes after processing, pauses another problem..It sometimes makes air bubbles. Now I strain the ingredients in a cheese cloth overnight (at least a few hours ) and then end results is a clear jelly."
Pepper jelly and fruit jams
by: Gagirl
"After bringing your jelly to a rolling boil for one minute, take it off the burner and allow it to cool for about 20 minutes before putting it in the jars. This allows the peppers to cook a little longer and they will distribute throughout the jelly. This also works with your fruit when making jam."
Sharon's thoughts: Interesting method…sounds like it might work! I'd add that you should be sure and process your jelly as usual after you fill your jars.
keeping fruit suspended in jelly
by: Patricia
"I find that if I take the cooked jelly off the heat and gently stir it for five minutes before jarring and processing, this helps prevent the fruit (or peppers) from floating up. And then, after processing, I gently turn the jars, or turn them over completely for 10 minutes or so while they are cooling, as per other comments."
Blend it
by: DanelleS
"I know a lot of people leave the peppers in whole, or even in small pieces, but I just puree them instead. I don't have the problem of them floating to the top, and it still tastes really good. Hope this helps!"
Great post
by: Jackie
"I'm so glad I found this site – I just made my first batch of hot pepper jelly and while I'm sure it's dee-lish, the peppers floated to the top which doesn't say much about the presentation. 🙁 Wasn't sure if I did something wrong – though I followed the recipe to a T, but I like the idea of letting the jelly sit for 5 minutes before putting into the canning jars. I'm going to try another batch this afternoon and use that method. Thanks!"
Suspending peppers in jelly
by: Kathy
"I make this jelly and sell it. I've made it for years, and sometimes, the peppers will just not cooperate. I've found that the methods previously discussed of allowing the jelly to 'set' a bit after boiling assists in keeping the peppers suspended. I then process it the recommended period of time. Good luck!"
that's the secret…let it rest
by: Anonymous
"took the advice to let it rest for 20 mins and cool down prior to jarring…next time will leave it for 30 mins…worked great…pepper bits evenly distributed"
Pepper Jelly
by: Leslie
"I let my processed jars cool for about 1 hour and give them a good shake. Your jelly should have jelled enough by then to keep them suspended. If not, wait another 30 minutes and shake again."
Floaters
by: Barb
"I just finished making/processing apricot-red bell pepper-habanero pepper jelly….I noticed the peppers were floating to the top….I let the jelly cool down a little bit then I inverted the sealed jars….all of the pieces are evenly distributed throughout the jars now. Once they cool some more I will invert them again."
No, do not decrease the vinegar
by: Anonymous
"You should not lower the amount of vinegar in the jam – in waterbath canning, the preservative agent is the vinegar and / or the salt in the recipe – in this case there is no salt so the vinegar is doing the job …"
Reducing Vinegar is a NO NO NEW
by: Megan
"The purpose of the vinegar is to bring the PH to a safe level for water bath canning since peppers are a low acid food. That is why you need to follow the USDA, Ball or Certo directions exactly. Reducing the vinegar would result in an unsafe product. That being said, you could reduce the vinegar for a refrigerated product, but not for a shelf stable one."
Vinegar and bubbles
by: Miah Mae's Pepper Jelly
"Yea you should be worried about bacteria. Use 1 full cup and make sure you are cooking it long enough to burn off the vinegar taste. Also the bubbles are like foam. When bringing to a rapid boil add a sliver of margarine and it will absorb the foam."
Floating peppers NEW Pending
by: Anonymous
"I've had the problem with peppers floating. I've started to let them sit upright for 30 mins then turn them upside down for 30 mins until jelly sets enough. I also use mostly red and yellow peppers. Gives it a beautuful color!"
Home › Canning Vegetables › Canning Peppers