I spent my morning freezing peppers. I was gifted with a whole box full of green peppers. A LOT of peppers!
There is no way I'm going to get them all used up before they go bad. I don't really care for canned green peppers (mushy, ick). We like pickled pepper rings but right now I have plenty.
I'll make up some stuffed peppers for dinner, but I'll still have some left over.
I want to make and can some chili so I'd use a bunch in that…but I don't have time right now! (Hear the slight whine in my voice? Free food…such a problem, eh?! )
Solution? Freeze them up. Easy, quick way to take care of them now to use them up later.
Usually when you are freezing vegetables, you need to blanch them first. Freezing peppers is an exception. You do NOT need to blanch peppers first.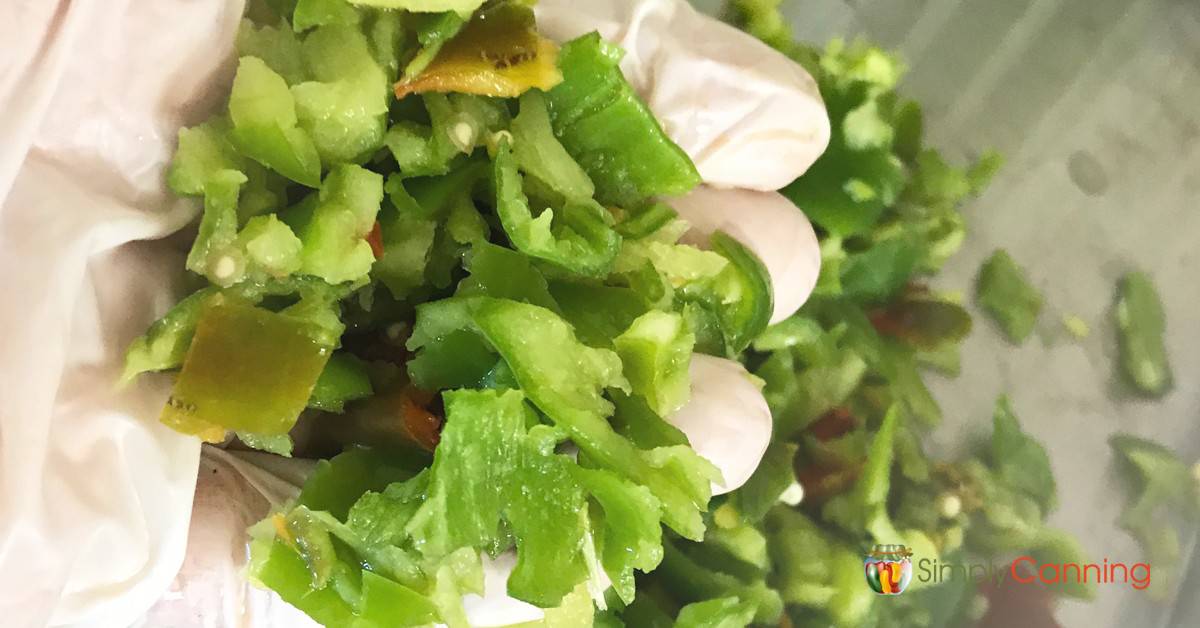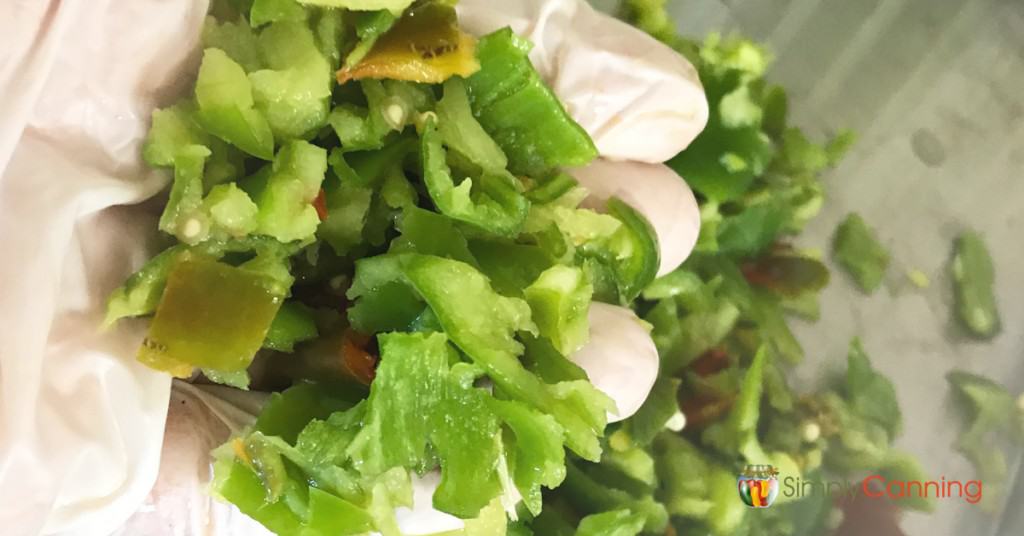 How to Freeze Peppers: Green, Anaheim, Mild Chili, Hot Jalapeño Peppers
Wash the peppers first. They may be frozen whole, halved, sliced, or diced. It is personal preference. It just depends on how you'd like to use them. I mostly pack diced
To cut up your peppers, simply chop off the top stem end of the pepper. I cut out the center of these tops and keep the edges. Pull out the inside seeds and core of the pepper. Then slice down each side, making strips. Finally, chop each strip into the size of pieces you want.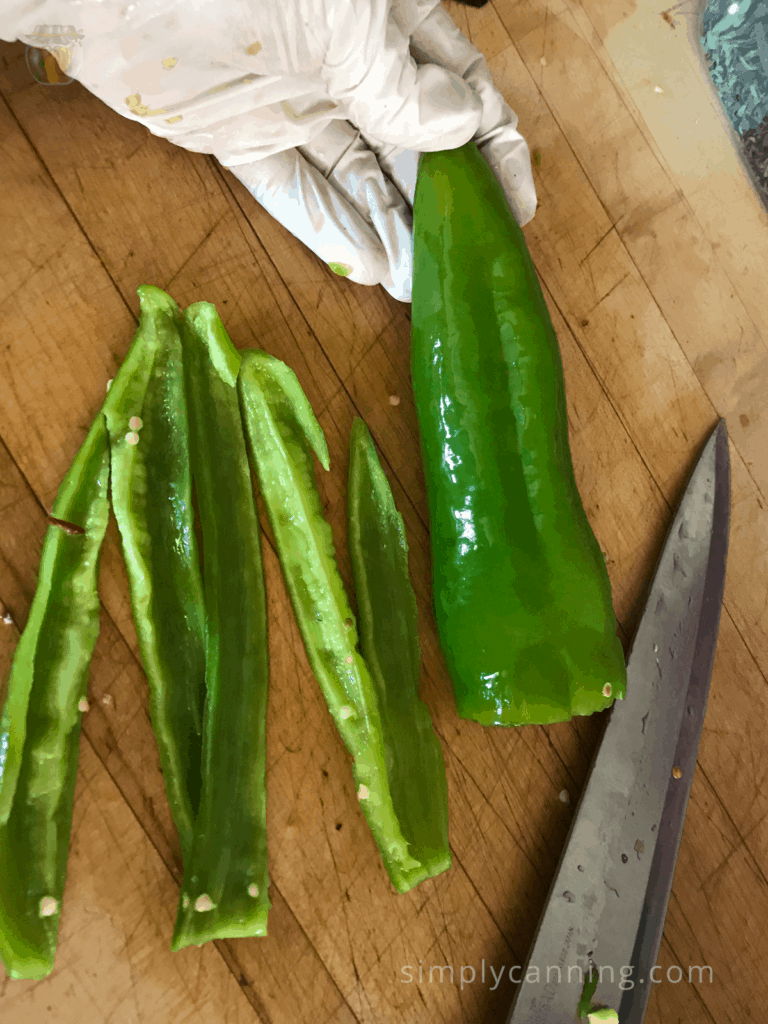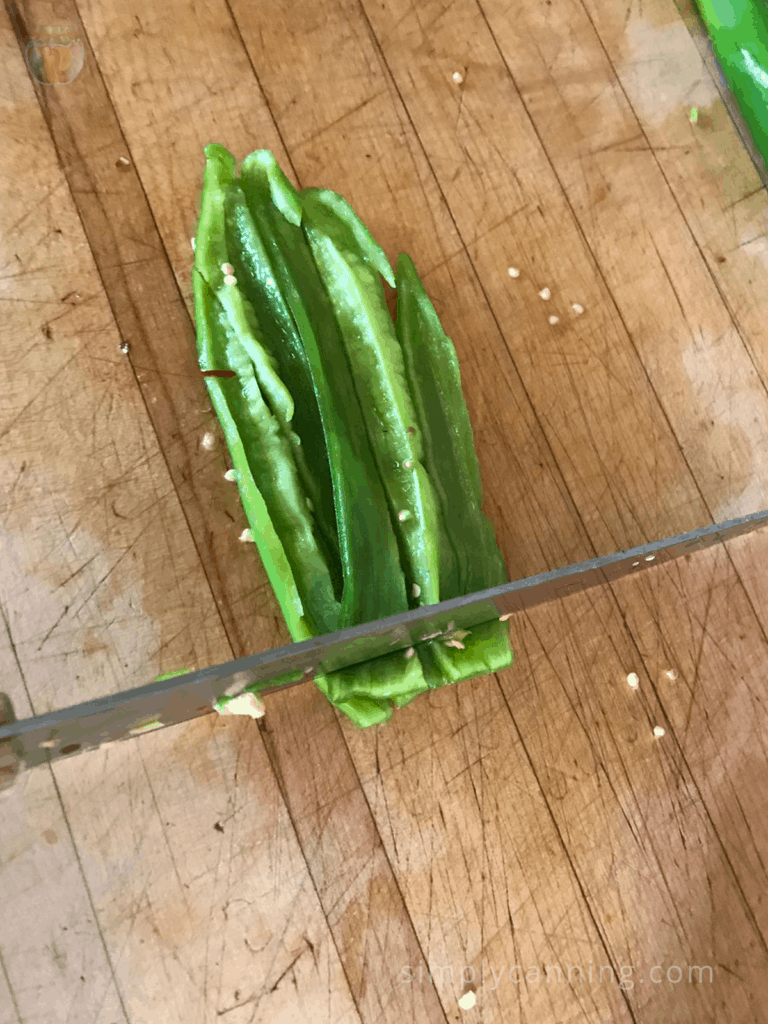 Today I had so many peppers and needed to get them taken care of quickly. I diced them up in rather largish pieces and simply placed them in freezer bags. Label and date the bags, and then place them in the freezer.
Try not to stack them more than 2 deep. You want them to freeze as quickly as possible, and the center bags will take longer to freeze if you stack them high.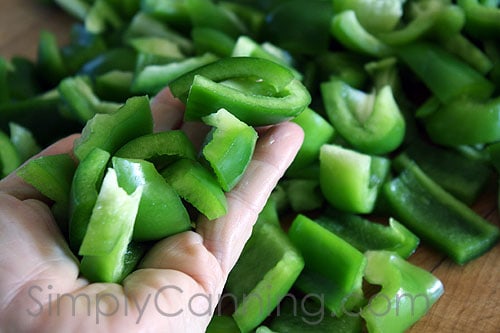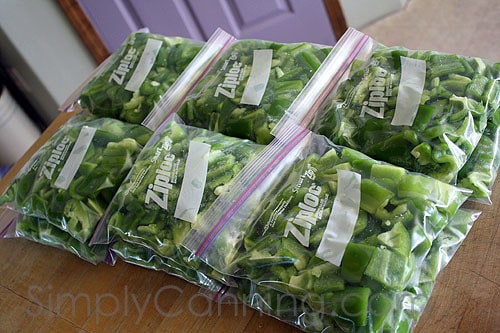 Another option is to lay them in a flat tray or pan and freeze them this way. After they have frozen, place them in a large gallon size bag. The peppers will be individually frozen and easy to pour out just how many you want for a recipe.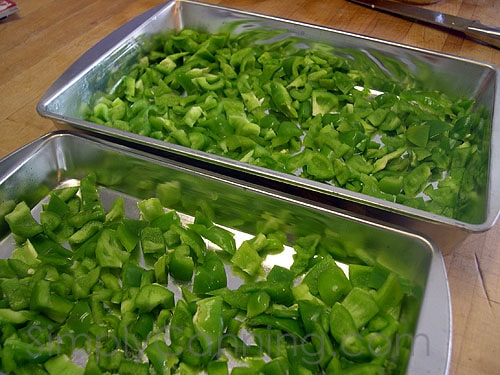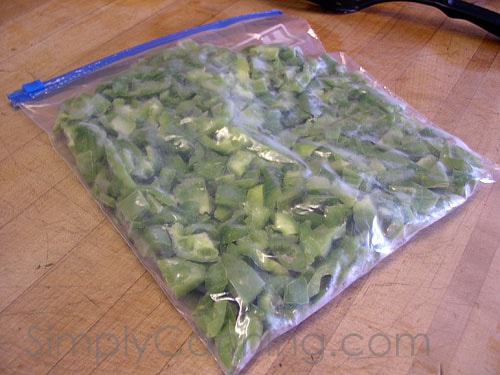 If you freeze green peppers diced in 1/2-cup or 1-cup quantities, they are ready to be tossed into a chili or soup recipe right from the freezer. Measure out your quantities and place in inexpensive sandwich baggies. Then place the sandwich baggies in quart or gallon freezer bags. The sandwich bags will be less expensive, but the freezer bags will give you the freezer protection your peppers need.
Remove as much air as possible by pressing your bag flat without crushing the peppers. Seal the bag. Label with contents, date, and freeze.
Note About Hot Peppers
When handling hot peppers it is a very good idea to wear gloves. Especially if you will be cutting them up. The seeds can be very hot and may burn your skin. Be very careful not to touch your eyes or face! I have experienced burning on my hands, and it is uncomfortable!
Recipe Card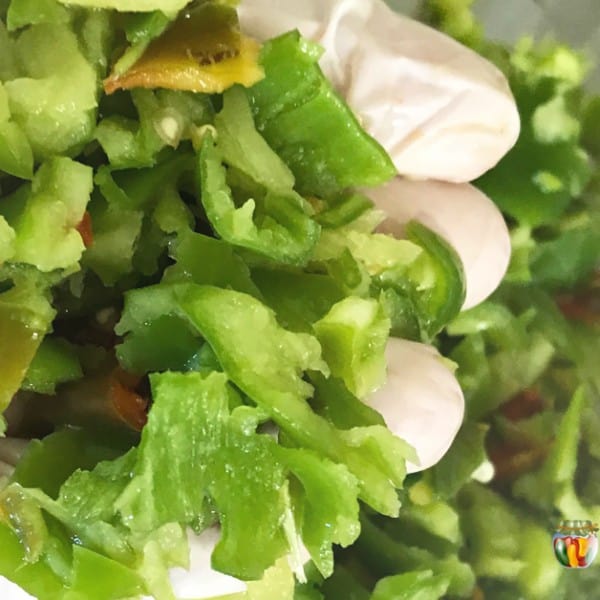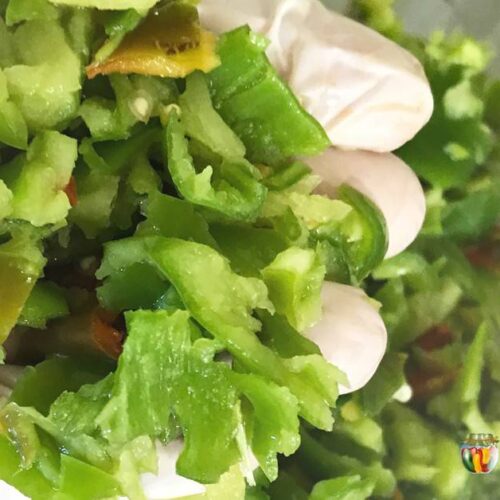 Freezing Peppers
Ingredients
Equipment
Freezer bags/containers

Sharp knife

Gloves

(if doing hot peppers)
Instructions
Chop off stems. Remove core/seeds.

Place in freezer bags/containers.

Remove air, seal, and label.
Processing
Last Updated: 6/3/2021

Related Pages
Canning plain peppers are done in half-pint and pint jars, because quarts are just too much! Great for flavor added to roasts.
Pickled peppers are incredibly easy and provide you with options on preserving those extra peppers. Change the spices up for sweet, salty, or hot!
Freezing vegetables can be a good alternative to canning – especially when you don't have enough for a full canner. It can be fun making different combinations too.
Pin This to Find Later!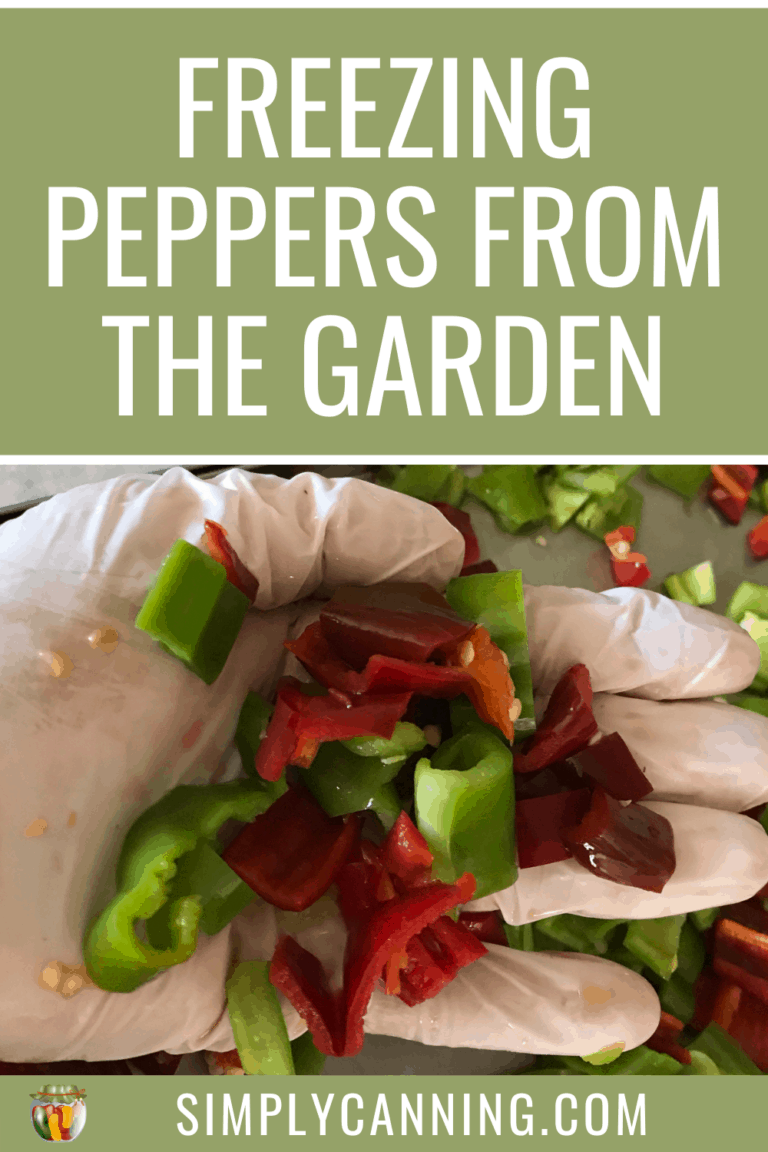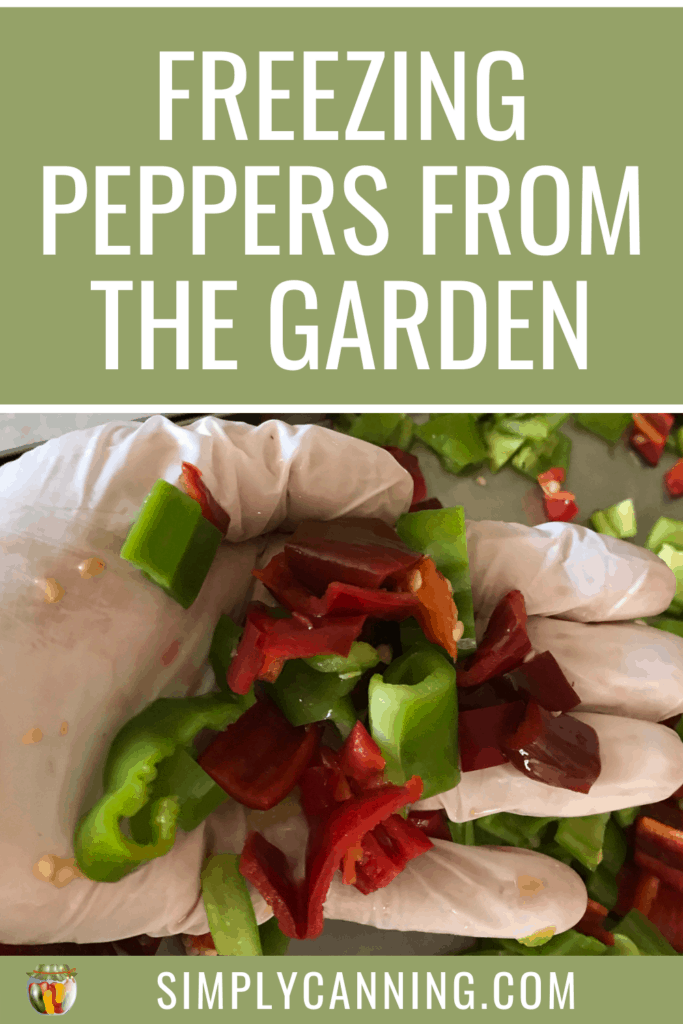 Page last updated: 6/3/2021