Today, I'm freezing parsnips. You know, I had never even heard of parsnips until I was an adult. I did not grow up eating these and had no idea what to do with them. My husband, on the other hand, grew up with a big garden and veggies that are foreign to me. I am sooooo very glad he introduced me to parsnips and a few other less common crops (at least not common to me!).
In case you're unfamiliar with parsnips, they remind me of a cross between carrot and rutabaga or carrot and turnip. You treat them similar to the way you'd treat a carrot. I suppose they're an acquired taste, but I really, really like them!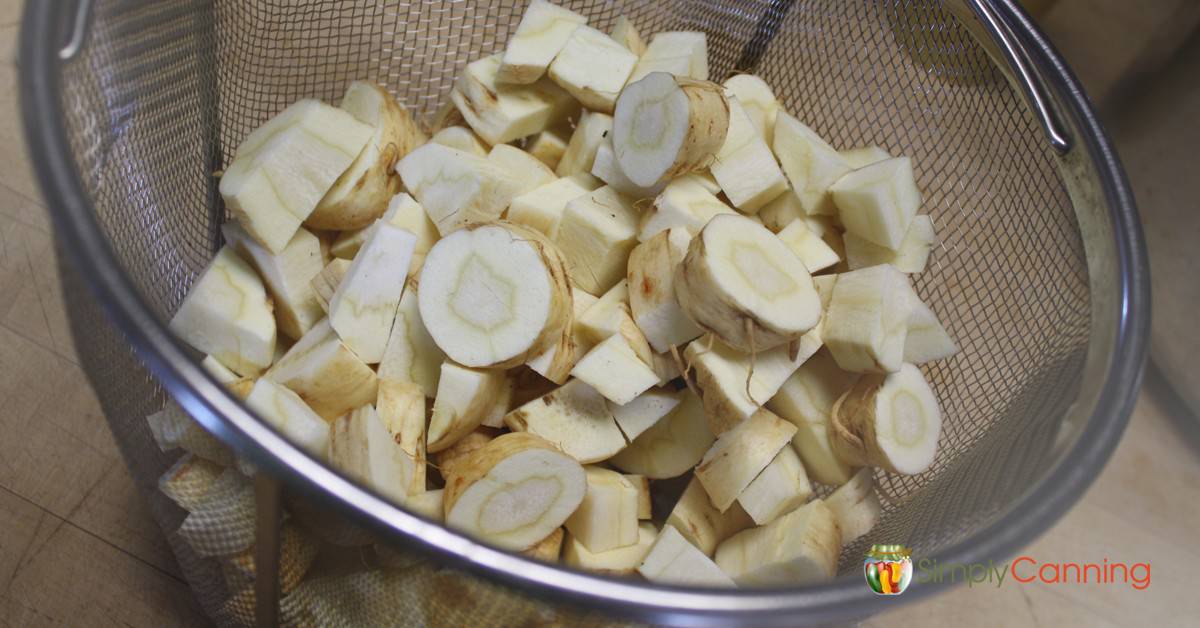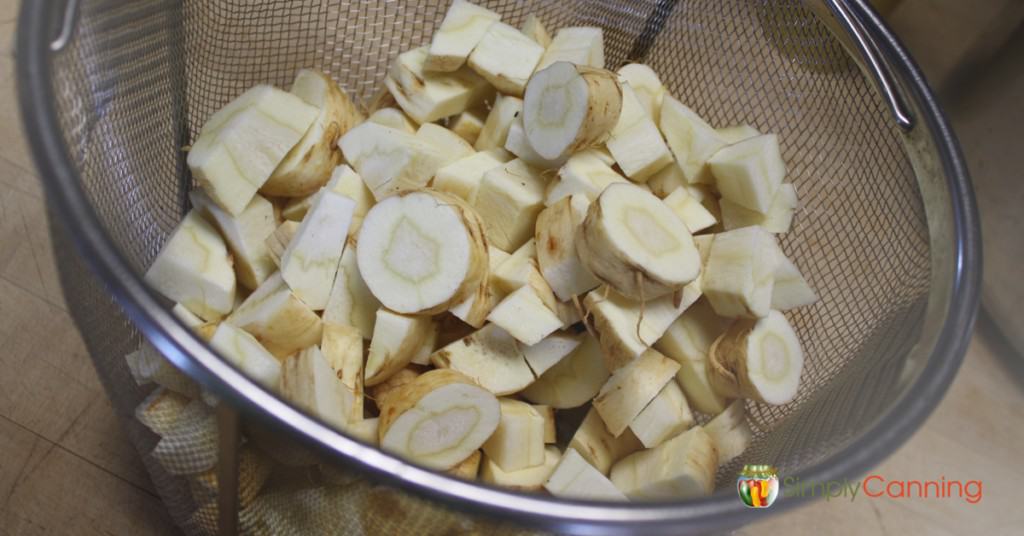 This Page Includes:
Freezing Parsnips: Step-by-Step Instructions
You can can parsnips, but I didn't have very many when I made this video. If you like mashed parsnips, you could can them. But I like them with a little bit more texture, so I just freeze them.
Then, when I want to use them, I thaw them out and put them in the oven with some butter and garlic salt. They're really tasty that way! (You don't have to peel parsnips if you're freezing them, but if you do can parsnips, make sure to peel them first.)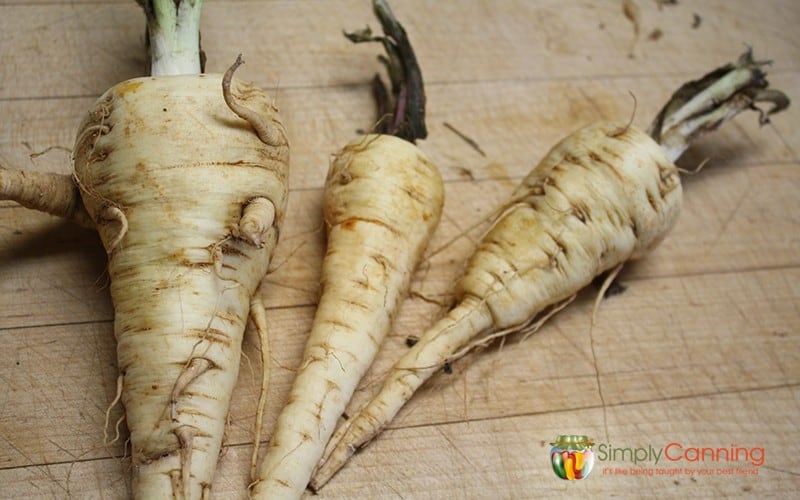 Scrub the parsnips to remove dirt. (If you want to peel them, do so with a vegetable peeler.)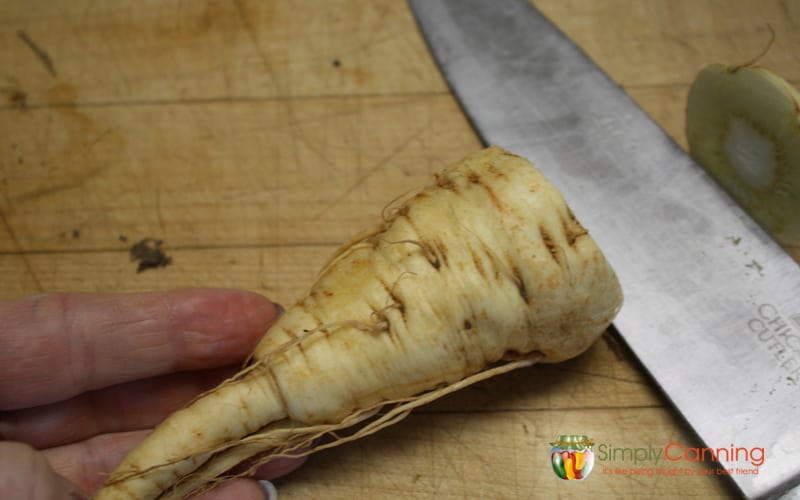 Cut off the tips and top ends (stems).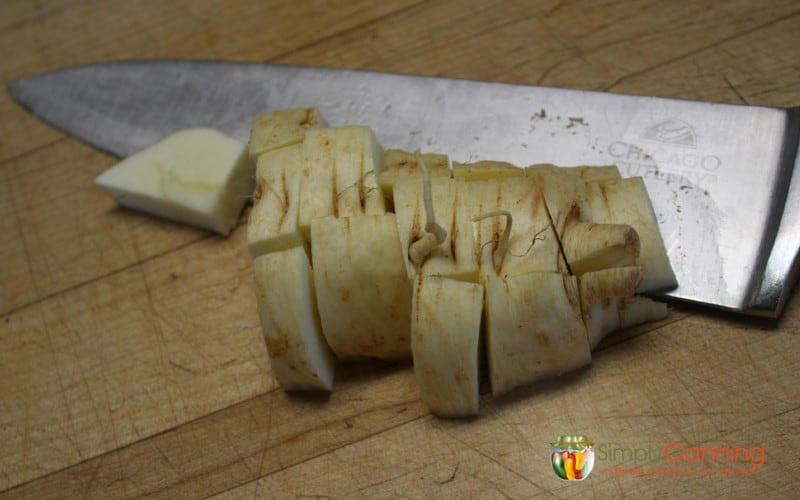 Chop into bite-sized pieces. (Depending on how fat they are, I sometimes cut them in half first.)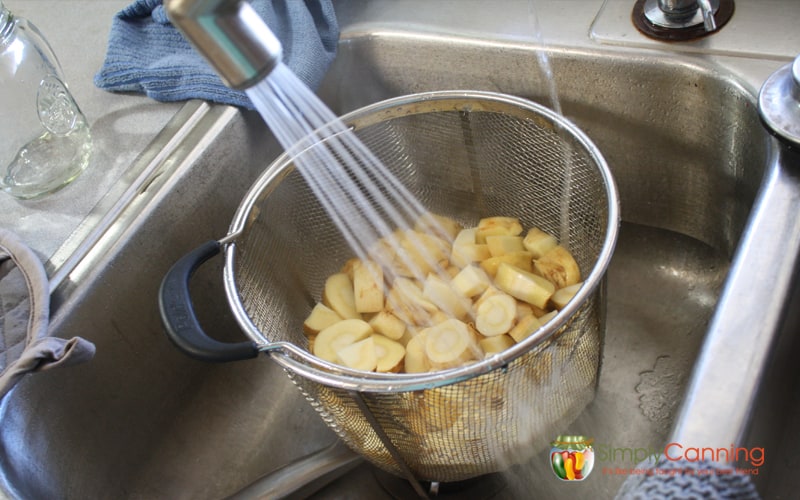 Put the pieces in a basket. Bring a pot of water to a boil, put the parsnips into the water, and blanch for 2-3 minutes. Remove from water, let the parsnips cool, and pop them into labeled freezer bags.
There you have it: freezing parsnips, the super easy and fast way to preserve this less-common vegetable.
Recipe Card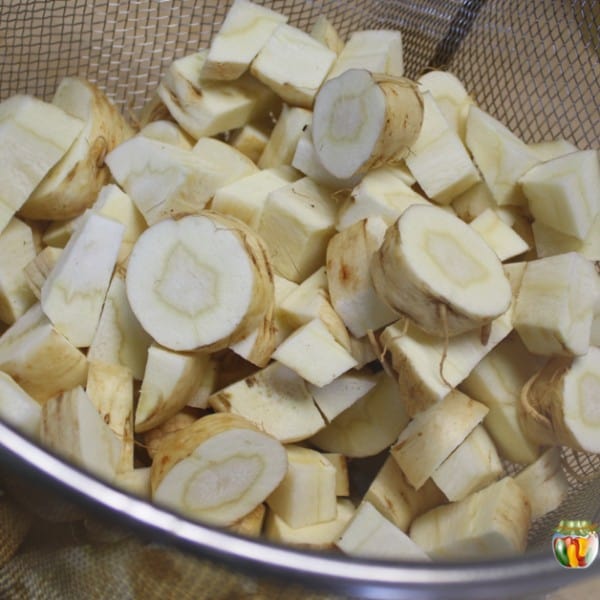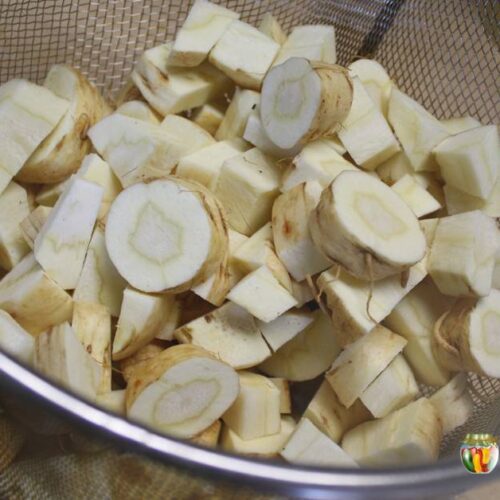 Freezing Parsnips
Instructions for freezing parsnips. In case you're unfamiliar with parsnips, they remind me of a cross between carrot and rutabaga or carrot and turnip. I love them!
Ingredients
Equipment
Freezer bags/containers

Sharp knife

Vegetable peeler

(optional)
Instructions
Scrub parsnips to remove dirt, peeling if desired.

Chop into bite-sized pieces.

Bring water to a boil. Blanch parsnips for 2-3 minutes.

Remove from water and allow to cool.

Place in freezer bags/containers.

Remove air, seal, and label.
Notes
Last Updated: 6/3/2021

Freezing Parsnips: FAQs & Tips
What Type of Blancher is That?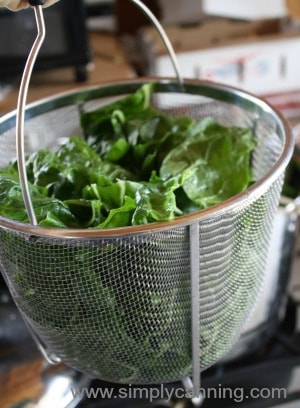 I have had many comments on the strainer I use in my kitchen. I absolutely love it and recommend it.
It is Polder Brand and is available at Amazon. If you are interested, here is my affiliate link: Polder Strainer
Do You Have to Blanch Parsnips Before Freezing Them?
Some people don't blanch vegetables for freezing. I recommend blanching, however, because there are enzymes in vegetables that (even if they're frozen) will start breaking down things. Blanching stops that action, making your vegetables freeze a bit nicer.
Tips for Using Parsnips
I shared this video on FB and got some great tips and ideas on how to use parsnips from the people there! All kinds of ideas shared. Here are a few:
Susan says: Around here we let them sit in the ground until Easter. Tradition in my family to have them then before they start growing again. Then they get canned or frozen.
Sharon says: I've done this with carrots and it works great. I covered mine with straw bales. 🙂 We overwinter our chickens in the garden, so for the most part, they would dig them up. That is why I was freezing these. But in-the-ground storage works great too.
Sara says: Love parsnips! Just put some in a chicken pot pie and not sure my daughter will eat potato soup anymore without them!
Reg says: LOVE parsnips. I roast parsnips, rutabaga, and turnips together in a recipe called Your Grandmother's Vegetables.
Related Pages
Freezing spinach requires blanching to ensure freshness and proper freezing results. Keep fresh spinach on hand all year long for smoothies, soups, and more at SimplyCanning.com.
Freezing herbs like basil, oregano, sage, and parsley are all covered in our free guide on preserving your spices fresh all winter long. Pick up some new skills here.
Freezing vegetables can be a good alternative to canning – especially when you don't have enough for a full canner.
Pin This to Find Later: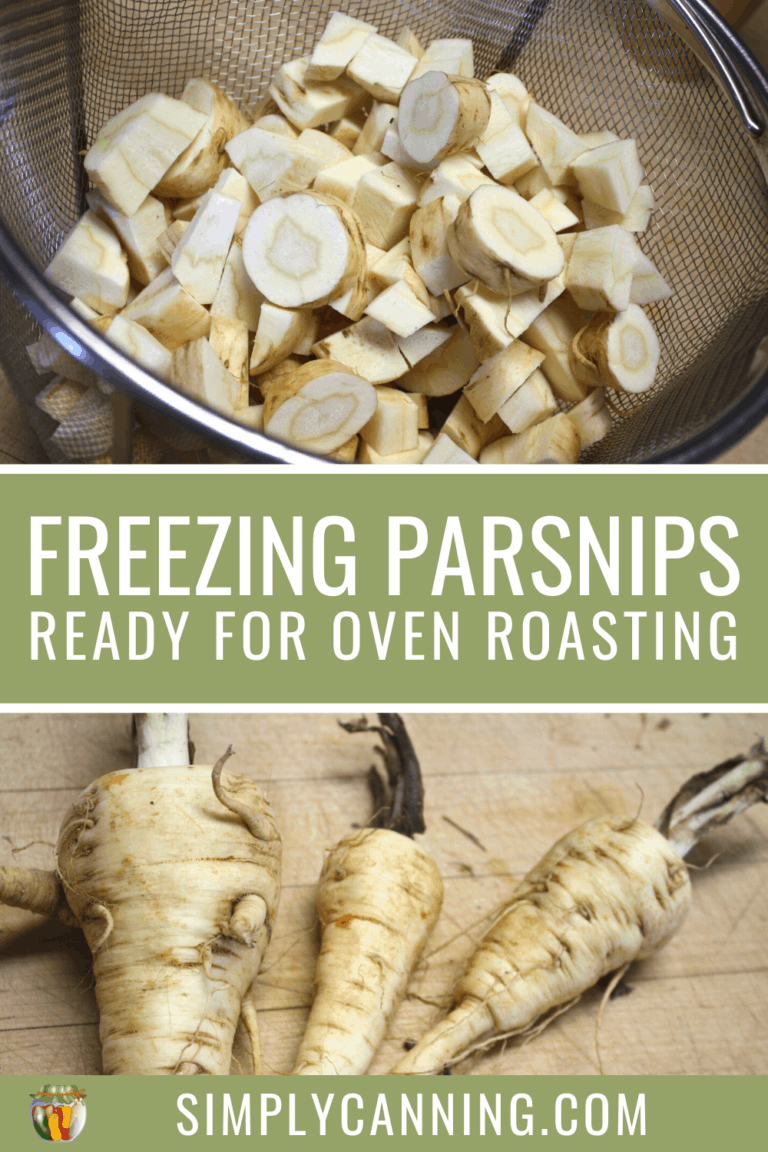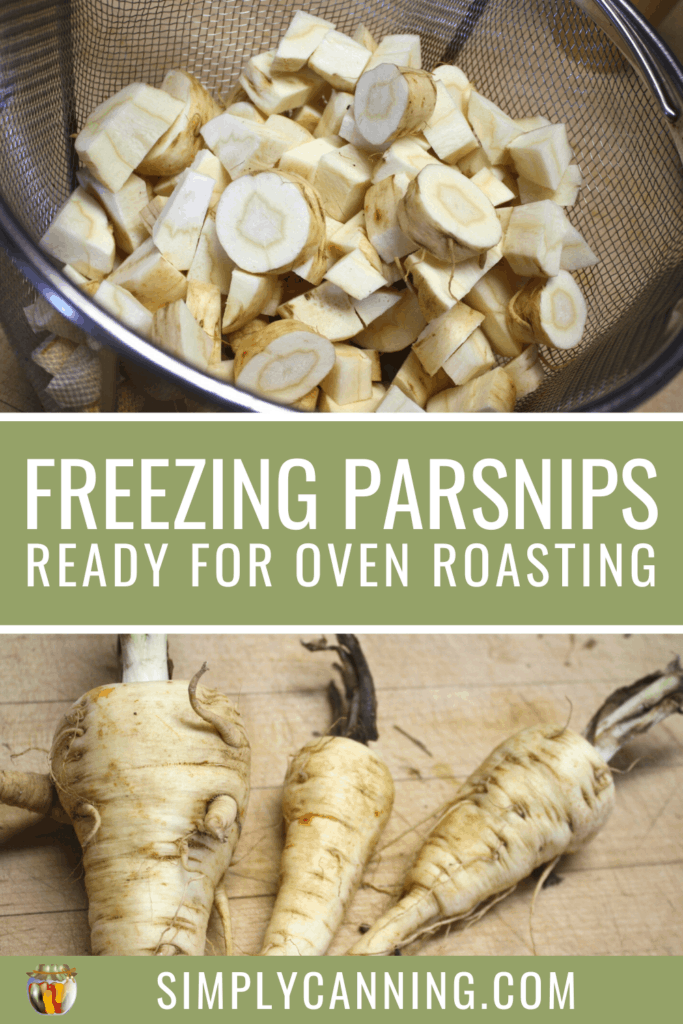 Page last updated: 6/3/2021