Steam canners can be used as a substitute for a water bath canner. They use only a few inches of water in the bottom of the pot rather than filling the pot up to completely submerge your jars.
Remember there are 3 types of canners used for processing either high acid or low acid foods.
Pressure canners – used for meats and vegetables. (low acid foods)
Waterbath canners – used for most fruits, jam and jellies, and pickled items. (high acid foods)
Steam canners – also used for most fruits, jam and jellies, and pickled items. (high acid foods)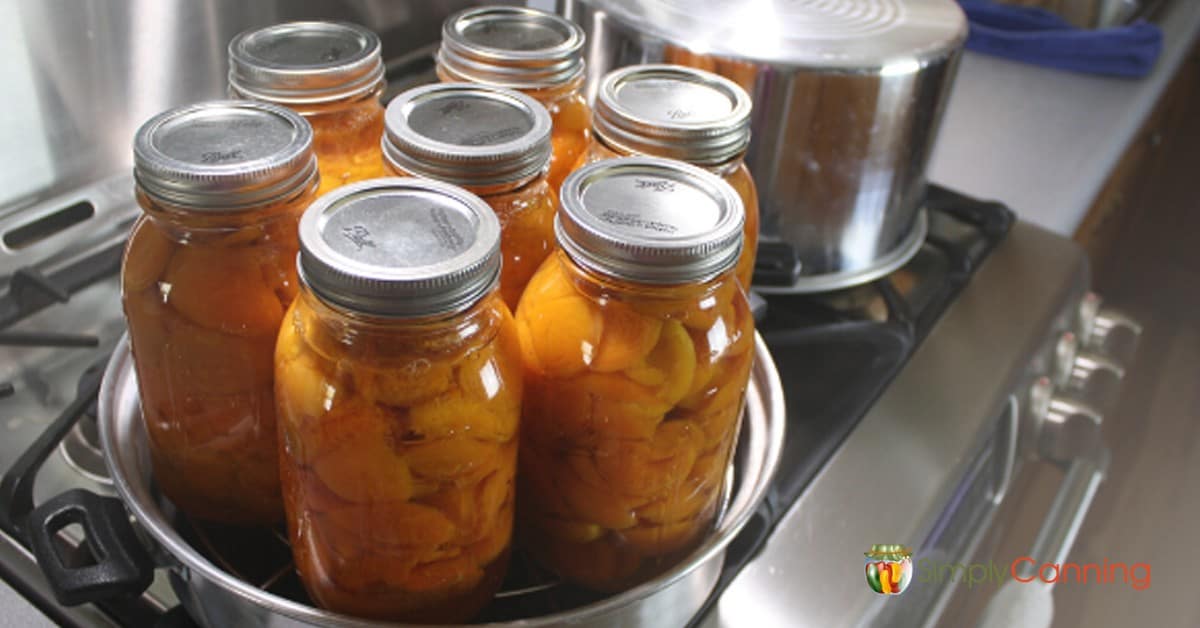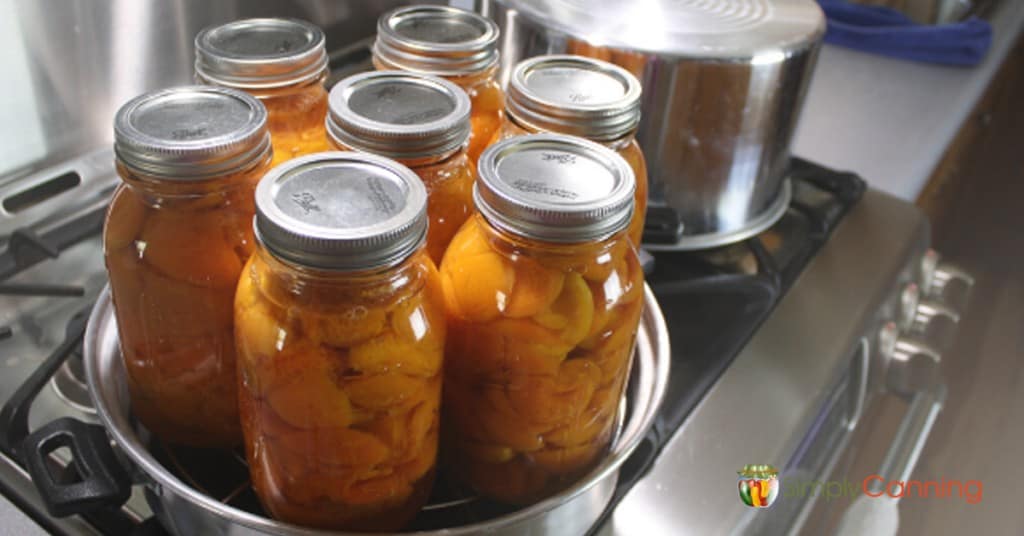 This page includes:
A steam canner cannot substitute for the pressure canner.
The steam canner I am referring to on this page should not be mixed up with a pressure canner. Which is sometimes referred to as a steam-pressure canner. Thus the confusion.
What I am referring to here is a shallow pot with a tall cover that will fit over quart-sized canning jars. No pressure is involved in steam canning.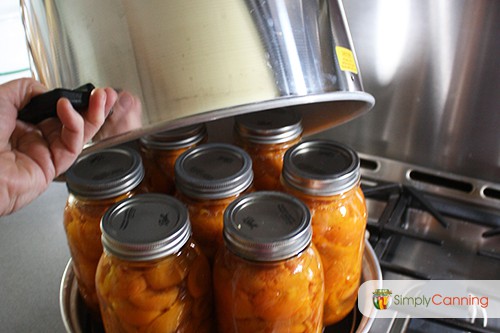 Two Styles of Steam Canners
There is another style of steam canner that doubles for a waterbath. This canner has a dial in the lid to indicate temperature.
Kathy made this comment on Simply Canning's Facebook page… and she has a great point.

There are two styles of steam canners that I am aware of. The traditional setup has a shallow pan as the bottom and a deep lid that fits over your jars.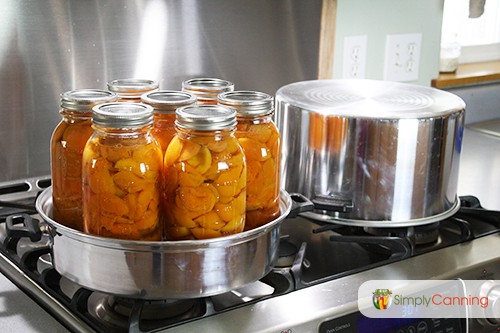 This stainless steel canner below doubles for both water bath and steam. Super cool to have one pot for both uses! This is the canner that I use and love for both water bath and steam canning.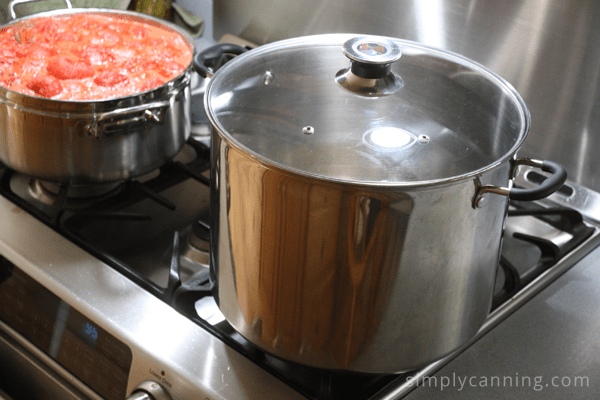 How Do Steam Canners Work?
Steam canners are similar to water-bath canners. They are both used to process high acid home-canned food. However, there are some definite differences not only in how they work, but in time and ease of use.
Is it recommended? If you've heard that steam canning is not recommended, I was notified of some great information on the Safety and Extension guidelines. I'm so tickled at this information! Really… Read more here…
Steam Canner vs the Water Bath, what is the benefit?
This point is short and sweet. and so true! Unlike a water bath, a steam canner uses only approximately a quart and a half of water when processing jars of home-canned food. A water bath canner may require up to four gallons of water to fill up the canner and cover the jars. As a result home canning with steam is faster because heating a quart and a half of water obviously takes less time.
One Caution on Steam Canning
If anything needs to be processed longer than 45 minutes, steam canning is not recommended. Use a regular water bath. There is one simple reason.
When you use a steam canner there is much less water in the canner than a full water bath. You'll use the same processing time for either method. The problem with longer processing times is there is a risk of running the canner dry. That would mean your food would not be processed correctly, and you might warp the canner. Both are not good!
So if you live at high elevations some things need to be processed longer than 45 minutes. You'll need to stick to a regular boiling water bath for those products. More on how to use the water bath method here…
How to use a Steam Canner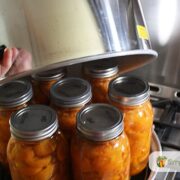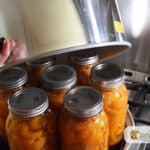 Print
How to Use a Steam Canner
Steam canners are similar to water-bath canners. They are both used to process high acid home-canned food. However, there are some definite differences not only in how they work. These are general instructions on how to use a steam canner; be sure to check your canner's manual for more details.
Yield:
1
jar – recipes vary
Materials
Any high acid food that you want to process.

Fruit, Jam or Jelly, Pickled items.
Instructions
Place the appropriate amount of water in the base. Usually about 3 quarts, check your canner smanual. Place the perforated cover over the base and bring water to a low boil.

Hot pack and fill jars according to directions for that food. Set each full jar on the base to stay warm while pack- ing and filling the rest of the jars.

When the last full jar has warmed up for 1-2 minutes, place the dome on the base and slowly (4-5 minutes) increase the temperature setting of the stove until a column of steam 8-10 inches is evident from the small holes at the base of the dome. (If you are using a canner with a thermometer in the lid watch for when the dial reaches the appropriate temperature)

Begin timing the process. Follow the water bath canning recommendations adjusted for your altitude. Maintain the column of steam. The dome (or lid) should not bounce from the base during processing.

When processing time is complete, turn off the stove and wait 2-3 minutes before removing the dome. Remove the dome keeping it away from your face and body to avoid burns. There will be lots of steam!

Allow your jars to cool and seal as you would with waterbath canning. Remove metal bands and store the jars in a cool dark place.
Notes
Remember: 
1- Used tested recipes for any water bath appropriate food that is processed LESS than 45 minutes.  
2- You must use a hot pack. 
3- maintain the stream of steam throughout the processing time. 
Pin this for Later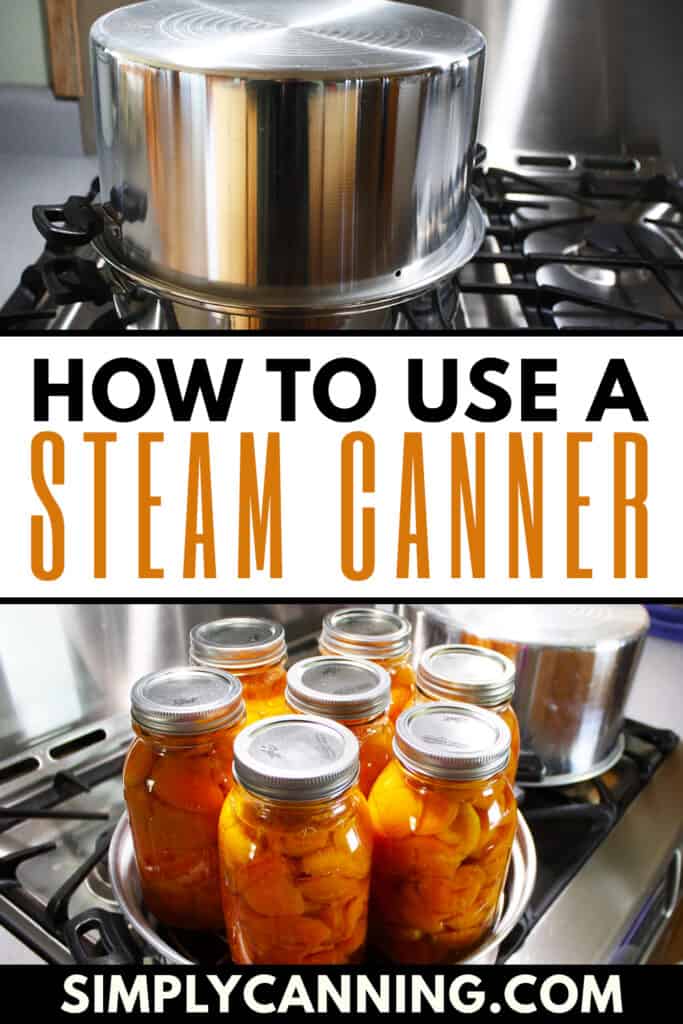 Reader Comments
Jacqueline Says: I have had a steam canner for at least 35 years and would use no other. Mine is almost worn out from yearly use! It is very easy to use and, I feel it is safer than the hot water canner.
I leave the lid on the canner for one hour after turning off the burner, then I remove the jars and put them on a folded tea towel. Then I put in the next load.
I find if I boil the water at a med-high heat (rather than high) and leave the jars in the canner for an hour, they do not lose the liquid when the heated jars hit the cooler air.
(Sharon adds: As long as the water is still boiling a low boil is fine)
I also can my fruits with honey rather than sugar.
I now use cloth gloves with a rubber coating on them (renovation and construction gloves by Horizon) to take jars out of the canner or to hold jars I am filling with hot jam. It works very well. No burning of the hands or slipping of the jars. These gloves are available at hardware stores.
---
Anonymous says: I have been canning for about 3 years now, so I'm relatively new to the art. Started with a water bath canner, but a friend told me about the ease of steam canning so I bought one. I've had no problems with fruit and high acid foods canned in it, in fact it's made canning a pleasure for me.
No spoilage, no sealing failures, and when canning fruit it heats the jars up nicely (the liquid inside is still boiling when time's up) Steam can get hotter than boiling water, so I don't know what the gov. is about when saying the jars don't heat up enough.
I would definitely recommend it. But make sure you follow directions. There are two little holes that steam escapes from and these need to be emitting about an 8 inch stream before starting the timer. When in doubt, follow directions!
I can only assume that the companies that make mason jars, also make water bath canners, so maybe there's a bit of self interest there? It bears repeating: The steam canner is for FRUIT and High Acid foods ONLY. When I can meat/veggies I use a Pressure Canner.
I just bought a steam canner. You are right – I will never go back.
What I love is now that my family is grown, I am putting up smaller jars that always tilt on the rack in the old water bath canner. I was never sure if they would seal. In the steam canner, the rack is smooth and the jars don't tilt, plus you can put more jars in. I bought one with an altitude gauge on the top.
Two helpful sources of information on steam canning.
Utah State University PDF https://extension.usu.edu/files/publications/newsletter/No__002.pdf
Wisconsin State University PDF – https://winnebago.uwex.edu/files/2015/06/Steam-Canning-PDF1.pdf
Related Pages
Steam canning is a process where you use a steam canner (versus water bath or pressure). The debate lies between the USDA and local Extension Offices. This page goes over the testing done and answers given.
Stainless Steel Water Bath Canners are beautiful, long-lasting and best of all double as a Steam Canner and a large stock pot. One pot, three uses!
Simply Canning newsletter, monthly free articles and directions.
Page last updated: 2/16/2021