Ball FreshTECH
I keep hearing about this amazing Jam and Jelly Maker. How wonderful it is on one hand, and how useless it is on the other hand. Many different opinions on this item.
I had to give it a try to see for myself.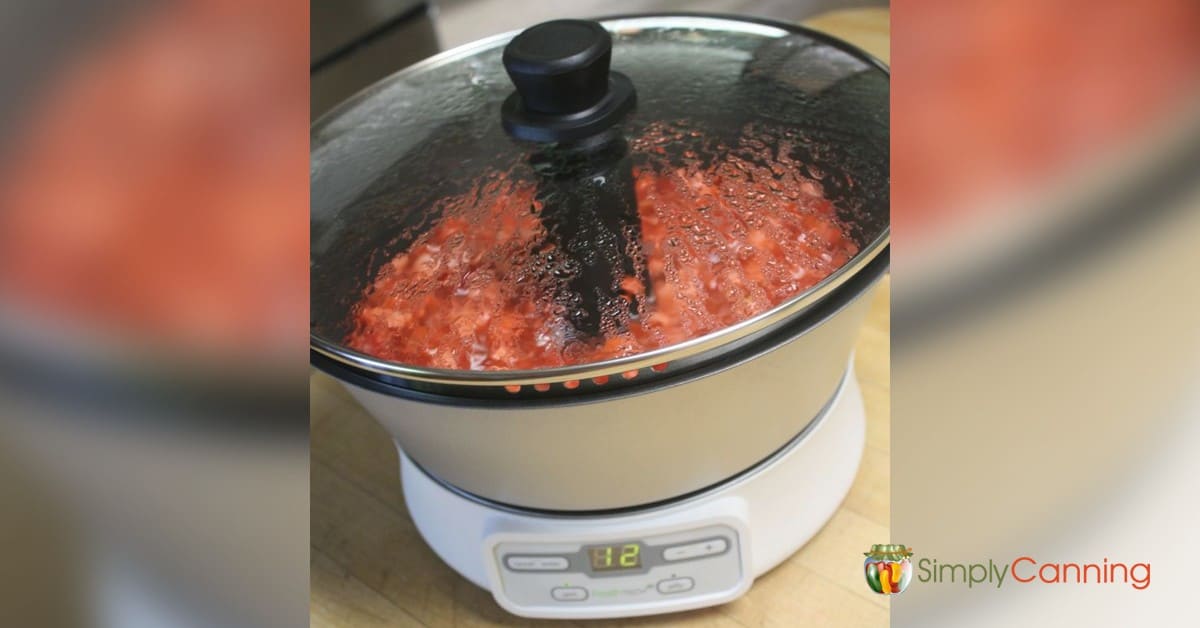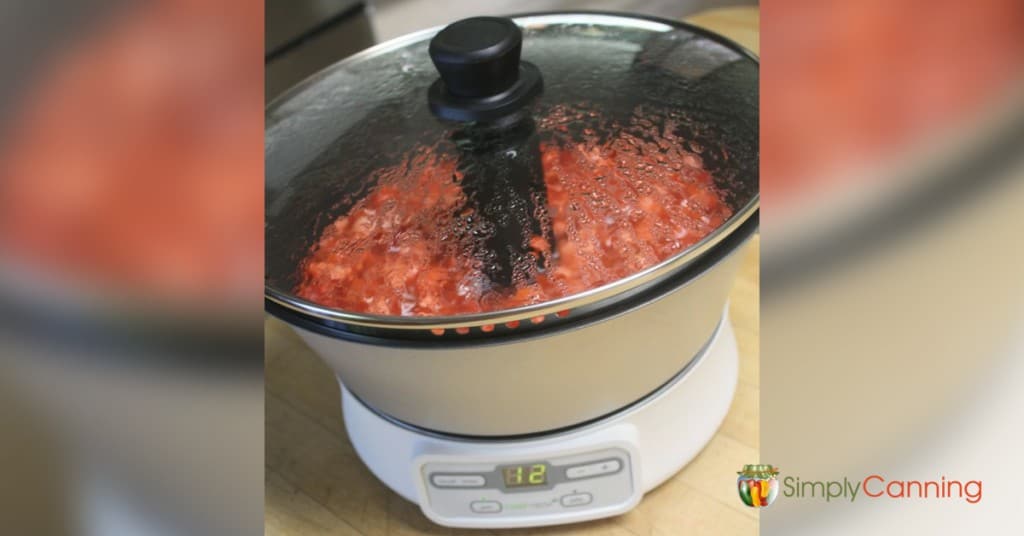 So I splurged and bought one. I was pretty hesitant as there were some things about it that I was not sure I'd like. I'm so glad I went ahead and purchased it. For us the pros outweigh the cons.
Your circumstances will determine whether this is a good machine for your family. These are my experiences so far and what I love about a jam and jelly maker for us.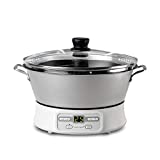 Ball Jam and Jelly Maker… the Pros
Super easy! Like really very easy. If you have any doubts about your ability to successfully make Jam or Jelly, this Jam and Jelly maker is the confidence you need.
Comes with recipe book, and the Ball website has many more recipes available.
Pick the number of jars you want to make, the type of jam and the type of pectin. Print out the recipe and you are on the way to filling jars.
Love how you can start the machine stirring and cooking and continue doing things in the kitchen while you wait. Not standing over the stove stirring while trying not to get spattered.
No scorching. The bar in the machine moves slowly around and keeps things stirred up just right. And the machine heats the jam up to the correct cooking temperatures, simmers it for just the right time and beeps when it is ready for the jars.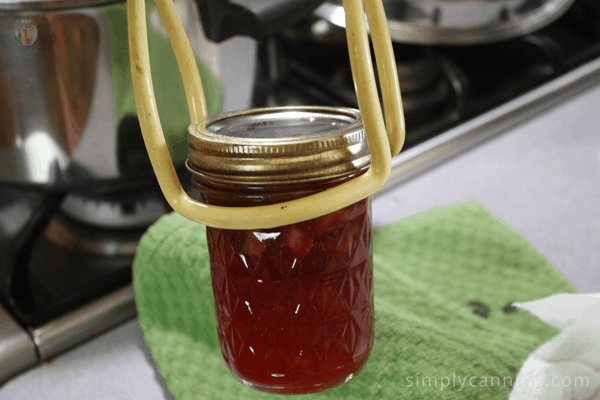 Ball Jam and Jelly Maker… the Cons
Recipes offered use only Ball Pectin.
The directions and manual imply that the machine only works with Ball Pectin. It could possibly be that is because well… they'd love for you to stick with Ball products. That makes perfect business sense after all.
They have both a classic pectin and a low or no sugar pectin. The classic pectin actually has a low sugar option… but it is not very low. It is still a good amount of sugar. The low sugar pectin has much lower sugar content. So if you really want to reduce that sugar get the low sugar option.
For low sugar jams I've been pretty pleased with Pomonas Pectin. I need to look at the timing of the machine to see if I could make it work with Pomonas. I haven't done it yet… but I am going to give it a shot. I'll let you know how that works. Here are my thoughts on Pomonas.
The number of jars you can make is small.
This is probably the biggest con. The recipes state that you can get four 1/2 pint jars, but so far I'm ending up with 3 and then a partial jar. Having the partial jar is no problem I just put it in the fridge and process the rest. BUT it would be better to have 4 full jars…..
Actually it would be better to be able to make 7 jars! I'm also planning on trying to up the quantity just a bit. I'm going to try making the measurements for a batch and a half. Not sure how the machine will do but we'll see! It could be that it may be affected both by the size of the pot and/or the machine may not heat that amount correctly… I'm fairly confident that small amount more would work. But just so you know… this is me experimenting. I'll let you know how it goes.
The ease of the machine does tend to offset that quantity issue for me. I've just made 2 batches in a row. Keep in mind you need to let the machine cool before you start that next batch. But when I've got the stuff out, the waterbath hot. I've gone ahead with the second batch.
In addition, my family is shrinking as my kids grow and leave home so we don't go through jam nearly as quickly. IF however you are used to creating 12 or even more jars and really want to continue that this might not be the best bet for you.
It is pretty much a one purpose kitchen gadget.
I don't know of anything else you can do with it. So if space is tight keep in mind just how often you make jam and how important that space is.
My final thoughts.
I'm actually glad I bought this. (btw, I purchased this with my own money, no one sponsored this page) I was hesitant because of the cons I listed above. I knew those before I made the purchase. So many were asking about it and I admit I was a bit curious.
I give this a big thumbs up for my family.
The Ball Jam and Jelly Maker can be purchased at Amazon or your local stores that carry canning supplies will most likely have it available.
Link to Amazon Ball Jam and Jelly Maker.
Some comments from others….
Judy says… I was gifted one a few years ago. I love it! I have a small water bath canner that is perfect to use with it. As soon as one batch is in the canner I start another one. They are out of the canner in time to get the water back up to boiling in time for the next batch.
I did four batches on Saturday in less time than it would have taken to make one large batch on top of the stove and without all of the stirring. I've also never had a batch fail to jell using this machine.
Michele says… I have 3 and use them all. Love Love Love them. Safer for my grandchildren to help.
Vickie says… I love this thing. Very time saving for me. I slightly up the fruit called for, use the Ball pectin & haven't had any problems. I think I may end up with 4-6 half pint jars. Can't remember. I know it's enough jars, in one batch, so I can process in the Ball freshTech Automatic Home Canning System machine. No I don't work for Ball. I just simplified my canning & like gadgets.
Becky says… I have one and I LOVE it! I use SureJel pectin and have had no problems what so ever. (good to know that other pectins work too!)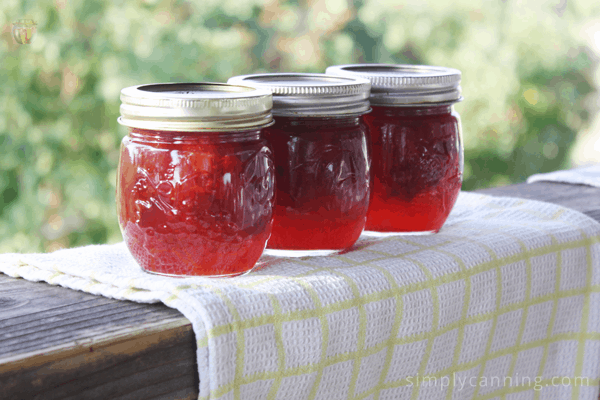 More Jam and Jelly Recipes
Enjoy an easy strawberry-rhubarb jam recipe. This homemade jam is made with pectin for an easy boil method.
Apricot jam recipe is a delicious treat and SimplyCanning.com shows you how easy it is! Learn how to make and can full sugar or low sugar jam.
Dandelion jelly is made with the flowers of the plant. This bright and flavorful jelly will make you look forward to seeing those 'weeds'! SimplyCanning.com walks you through from harvest to canning.
Pin this to find later!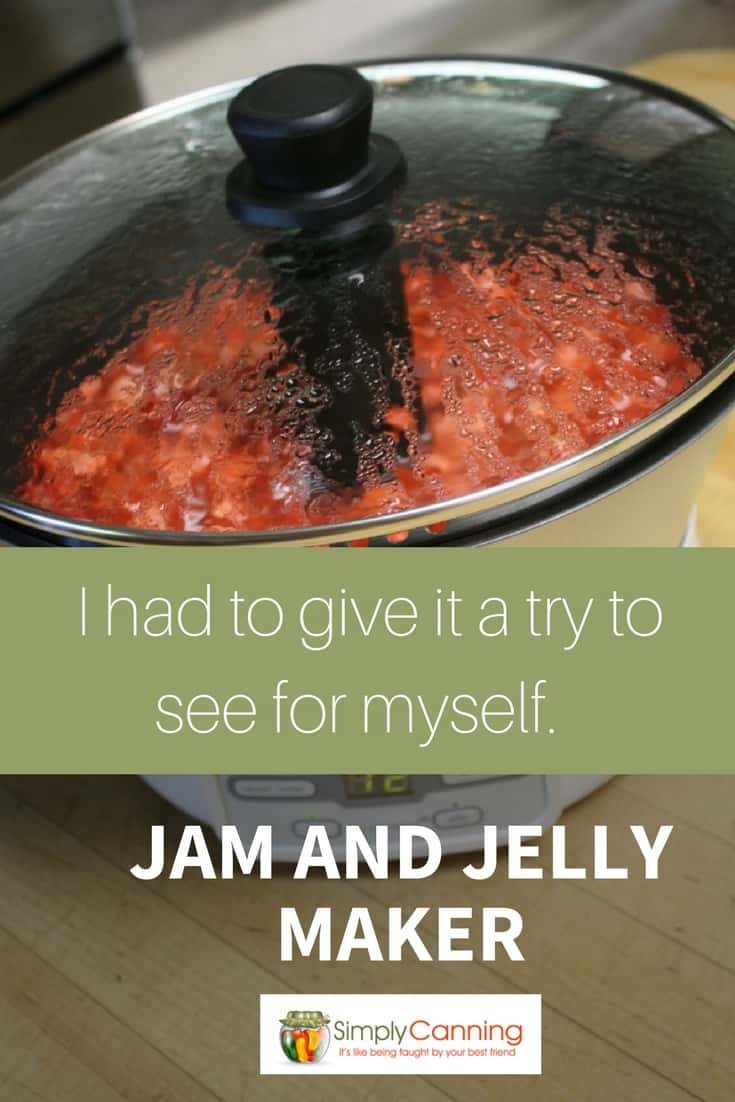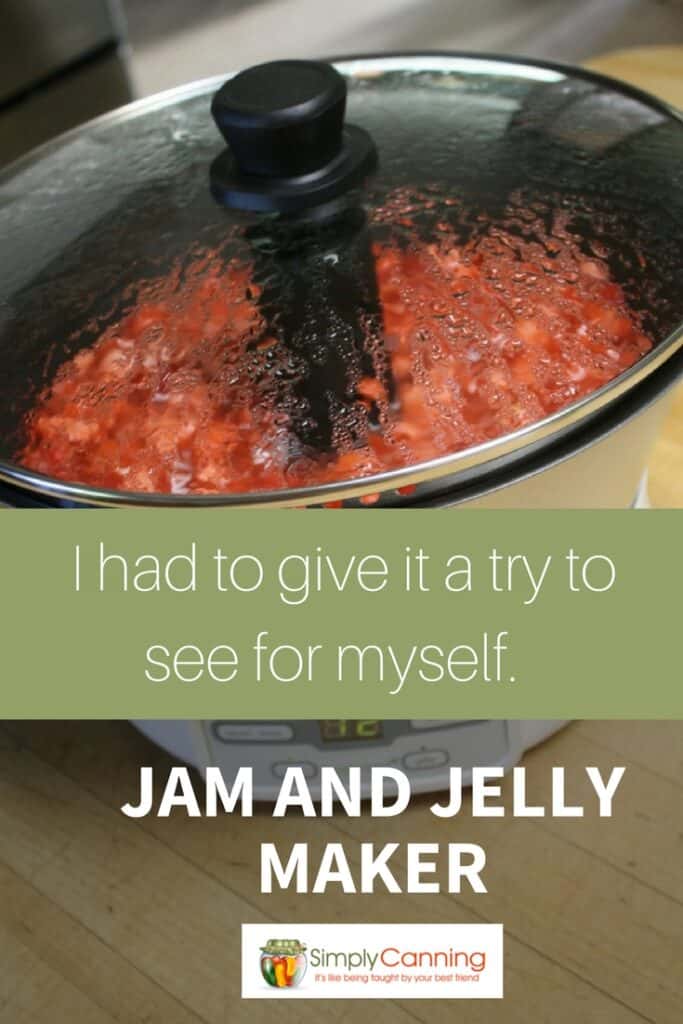 Page last updated: 2/23/2021