A video review and comparison of the two pressure canners that I own. What do you prefer? The All American or the Presto? Video notes are included below the video.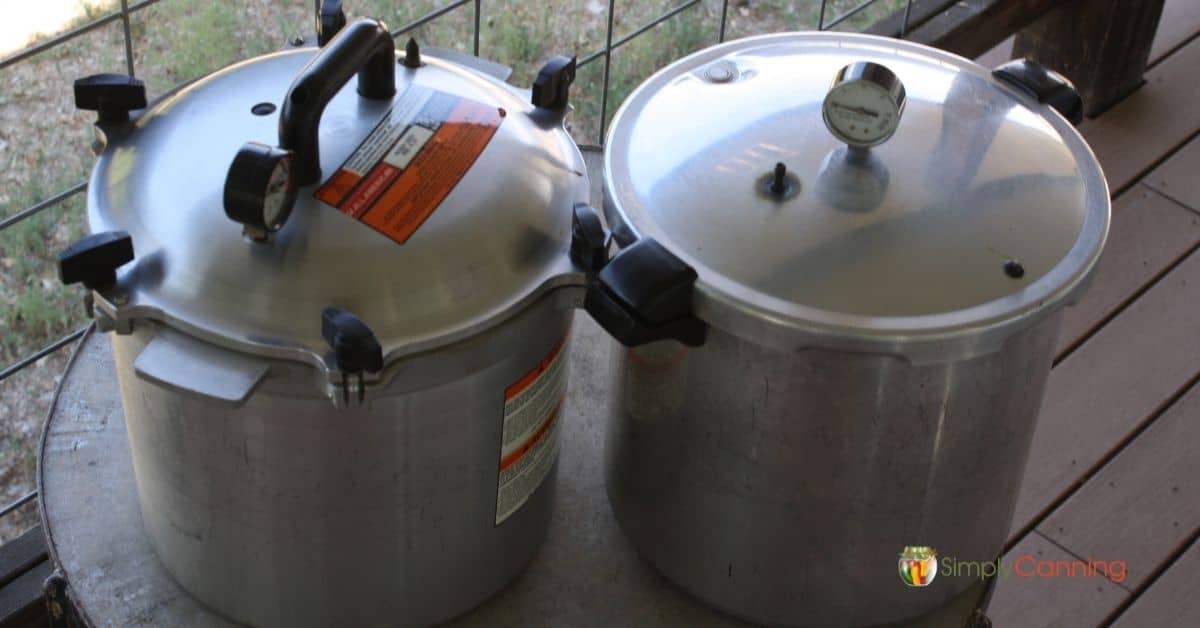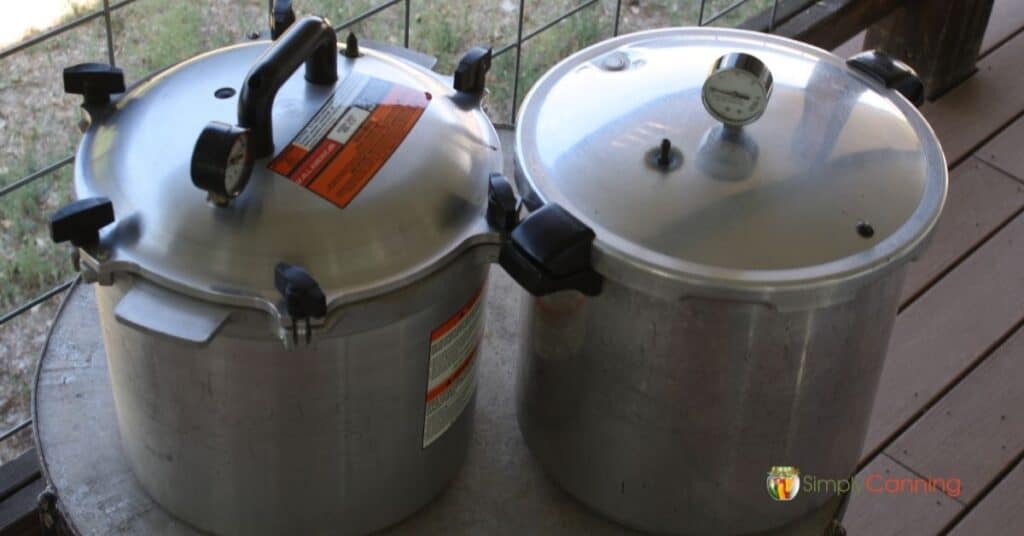 This Page Includes:
Added Recommendation
(Editing to add a recommendation.)
I now highly recommend getting a 3-piece weight for your Presto canner if you can. I didn't mention this in the video because I didn't have one when I created this review. But I've got one now, and it is so very very helpful.
This will allow you to use the Presto as a weighted gauge canner and eliminate the need to have that dial checked each year. Personally, I prefer a weighted gauge anyway, so I love it.
In this video, I push a little on the All American, but I have to add now that since I've gotten that weight, my Presto gets used MUCH more than my All American. I still like both canners…but they are on equal footing now in my book.
All else in the video is still relevant.
Link to Presto 3-piece weight at Amazon. 
Be sure you check your model number to verify the fit.
Video Review of the All American & Presto Pressure Canners: Which One is Best?
Similarities of the All American & Presto Pressure Canners
Both Presto and All American canners have safety features, like the rubber overpressure plug.
Both come in a variety of sizes that you might want. Mine will hold 7 quart jars or 18 pint jars. Pints can be double layered. There are even larger canners that hold 14 quart jars. These are very tall. Be sure you measure the area above your stove so you know you have room.
Both have the same type of rack: Flat with holes that allow water to flow around your jars and keeps the jars off the bottom.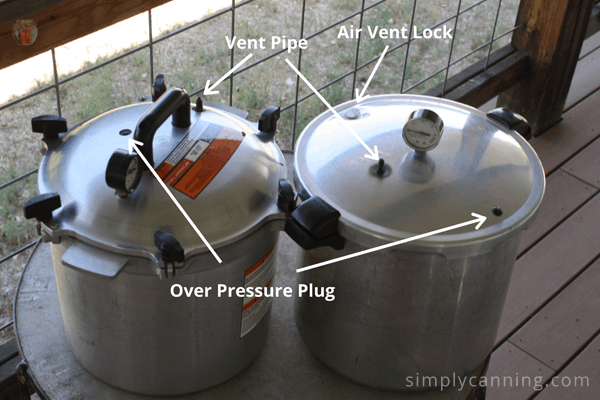 Differences Between the All America & Presto Pressure Canners
Presto has a rubber gasket inside the rim of the lid. This gasket seals the lid to the body and allows pressure to build inside the canner. The gasket may need to be replaced every so often. Mine lasted for years and years.
All American has no gasket. It seals metal-to-metal. There are handles around the lid to screw the lid to the body of the canner. It has been reported that the lid will sometimes "stick." This is easily solved by lubricating the lid with a bit of oil.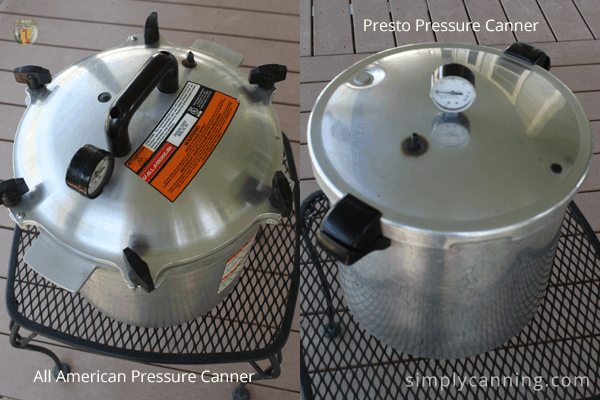 Dial Gauge vs. Weighted Gauge Canners
The Presto Pressure canner is a dial gauge. You will watch this gauge to determine the pressure build up in the canner. This gauge needs to be checked for accuracy about every other year.
The All American canner has a gauge, but it is used as a weighted gauge canner. The dial is just an indicator of approximate pressure buildup. The weights are what is used to determine when pressure is correct.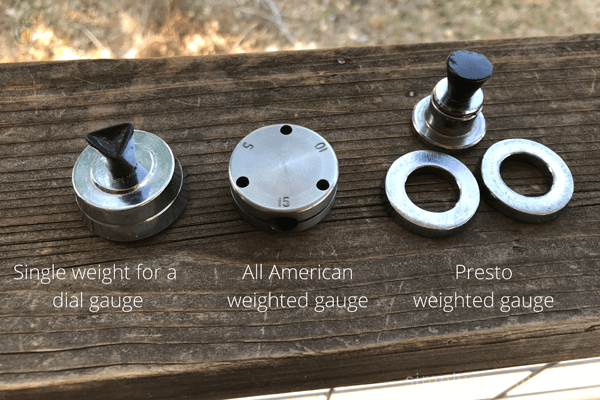 Other Considerations
Metal Quality?
The All American canner is heavier. Will last forever! Some very old All American Canners are still in use. Some people like the heavier weight…it feels solid. Some feel like it is too heavy to handle easily.  
The Presto is a lighterweight metal. It is still designed for pressure canning, so it is still safe.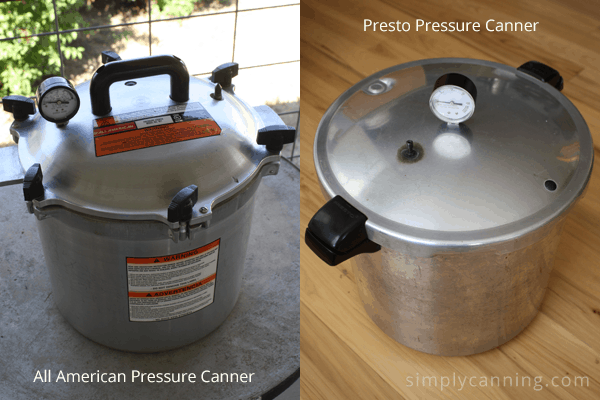 Handle Design
The handles on the Presto are awkward. I feel like they are designed poorly. The sturdy handle on the All American canner makes it very easy to move and lift.
Cost Value
The All American is more expensive. The quality is there, so I do believe it is worth the price.
What is the Best Pressure Canner?
What is the best pressure canner? Both canners are good canners. Pick one based on your personal preference and learn to use it. Pressure canning is fun and is a great way to fill your pantry.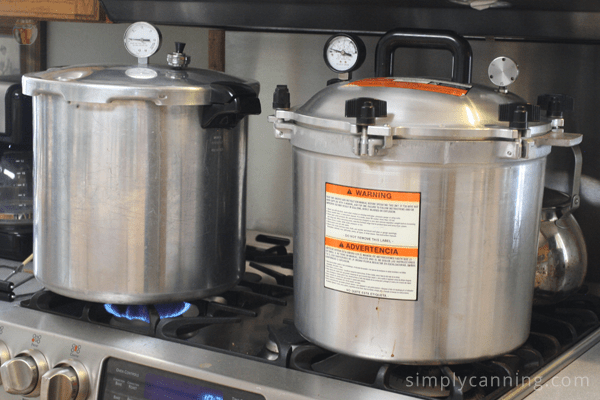 The All American canner that I have can be purchased from Amazon here…
They also have both the larger and smaller sizes.
Presto Pressure Canners can be purchased at most Ace Hardware stores or online at Amazon.com.
Pin This to Find Later!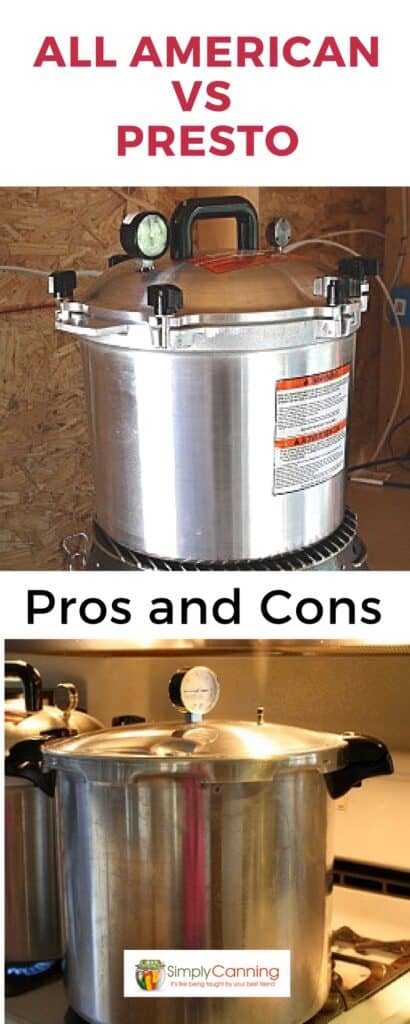 Page last updated: 10/7/2021