Canning Kits are a great way to pick up everything you need in one package. Especially if you are just starting to collect your canning equipment and supplies.
There are canning kits complete with a pot available. These include everything you need for water bath canning; a canner and all the specialty tools included. Sometimes they'll have extras like blanchers, timers, and other handy items to have around.
And then there are smaller kits that provide just the hand tools needed.
Canning Starter kits with a pot.
If you are just starting out you may want to keep costs down. Most canning kits that come with a canner come with the black or blue speckled granite ware canner as well as a variety of hand tools. These canners are not as nice as the stainless…. but they do get the job done and are a great option for an inexpensive way to get started.
Here is a set with a traditional black speckled canner and hand tools. (amazon affiliate link)
In the past, I've seen kits come with stainless steel and even pressure canners. However… as I'm writing this page I don't see any other kits with canners on Amazon. No pressure canning kits or stainless steel. I don' t know if this has to do with the recent canning supply shortage but look around as I know I've seen complete kits before.
An easy fix is to just pick the pressure canner you'd like then pick out a kit with just the hand tools.
I'll link here to the canners I'd recommend then simplypick out a hand tools kit to go with it.
Presto 23 quart Pressure Canner – for pressure canning
Ball Stainless Steel Multi-Use canner – great for both water bath and steam canning.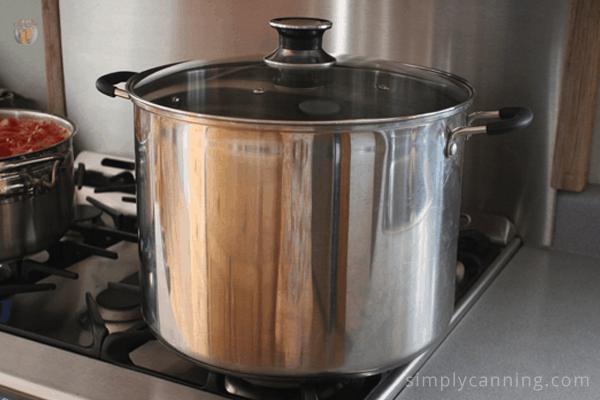 Some canning kits have just the hand tools
If you already have your canner (or have one picked out) there are smaller canning sets that will come with just the hand tools like a canning funnel, magnetic wand, and jar lifter.
These would be some options that I'd recommend. They all have all three of the essential hand tools plus a few extra items that would be helpful.
This set comes with a rack. If you have your own stock pot it could be that this would be all you'd need for water bath canning. Measure your pot and makes sure the rack will fit.
There are many available. Just make sure whatever you pick has the three hand tools that are essential. I list them below.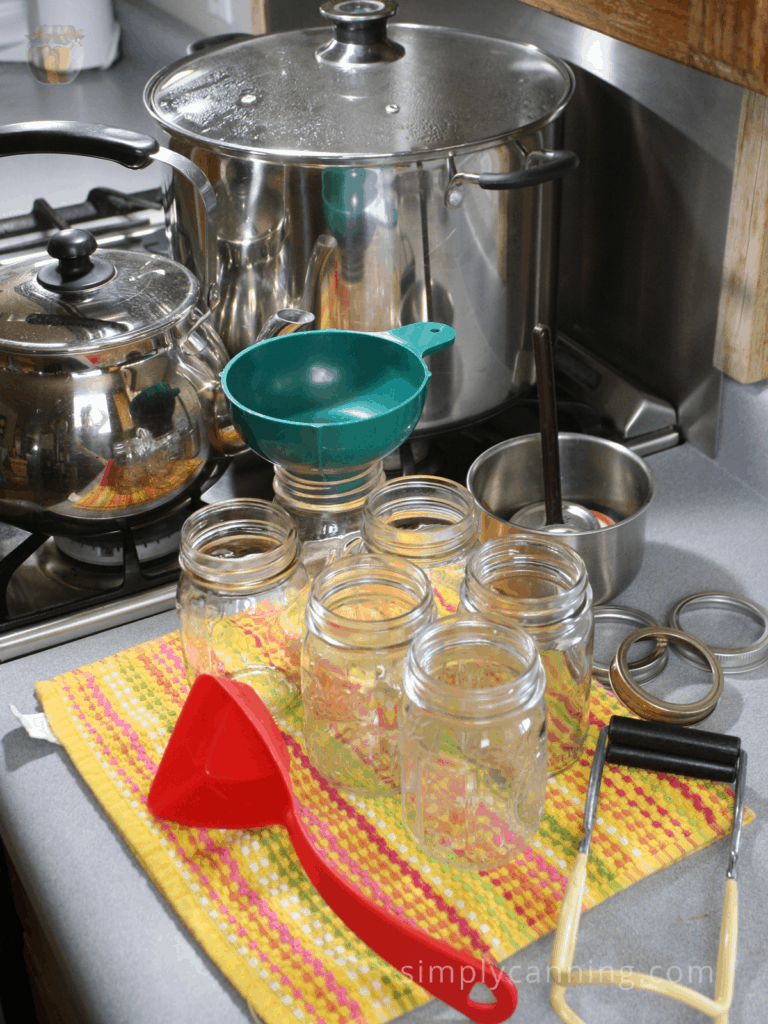 The most important canning tools to include in your kit.
First, if you are starting out, you want a canner. This should be obvious. If you need help choosing the canner for you check these pages.
If you are all set up with a canner and are just looking for the tools. There are three hand tools that top my list for must-haves. Be sure your kit includes; the jar lifter, a magnetic wand, and a canning funnel. The other tools you'll often see in these sets are helpful but not essential.
Canning Funnel
A canning funnel has a larger opening to fit your jars. This is really something that would be hard to do without. It makes it a cleaner task to fill your jars. Keeps the rims cleaner. You must still wipe the rims to be sure you have not spilled, but there is less mess using one of these.
Not just for canning. I like to store leftovers in canning jars. The clear jars make it easy to see what I have. The funnel is useful for filling jars.
I can't imagine doing this neatly can you? What a mess it would be. Of course it is kind of messy anyway… but imagine without the funnel.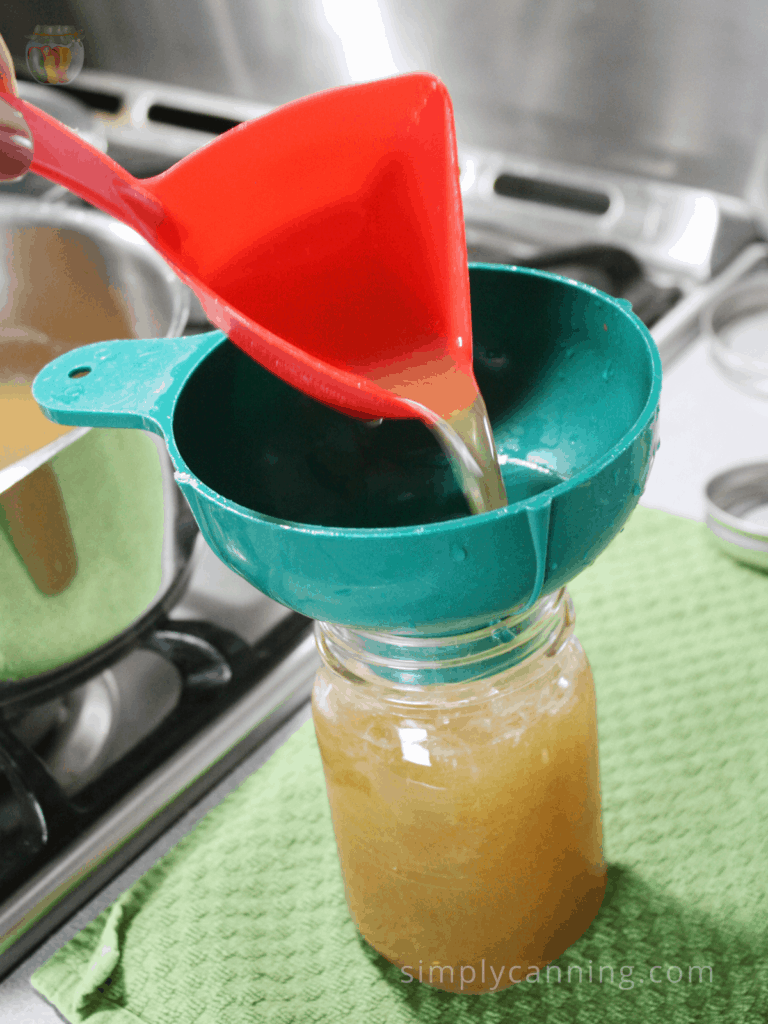 Jar Lifter and Magnetic Wand
The jar lifter is a tool that grasps your hot jars to safely take them out of a hot canner after processing.
The rubber coating on the jar end of the tool keeps it firmly and securely wrapped around the neck of your jar while you move it to a cooling area.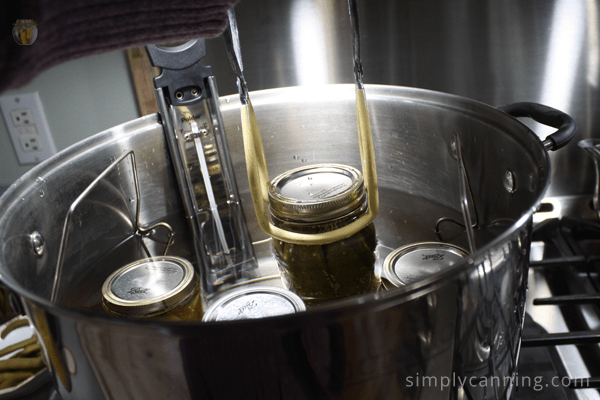 A magnetic lid lifter (I call it a magnetic wand) is a plastic stick with a magnet at one end. Use it to lift your canning lids from the hot water they should be in as you place your canning jar lids before processing.
I did not have a magnetic lid lifter for many years. I made due with tongs. The tongs worked ok. But the magnetic wand is so inexpensive and so handy. I'd suggest picking one up.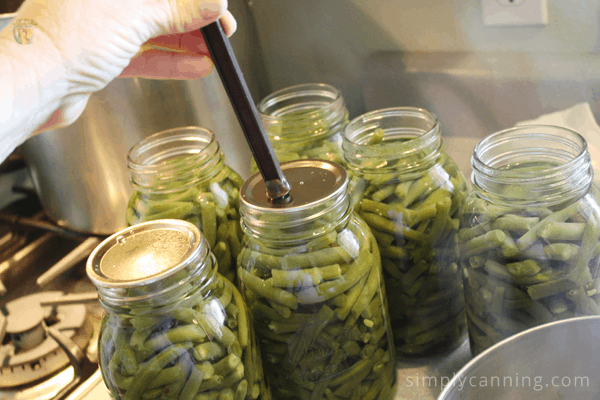 Where to buy your canning kits?
Online is a good place to look. I've linked to Amazon to some of my suggestions above. But there are other options. If you do a search for Canning Kit many options come up.
Ace hardware is a great place to get supplies that people don't always think of and is where I like to get my supplies. Each hardware store is individually owned so they have different items but I know ours has a great housewares department including canning supplies. Yours might too. You should check it out.
Canning Starter Kits are a great way to get everything you need for home canning, including some specialty tools that may come in handy.
I hope this was helpful! Let me know if you have any questions below in the comments.
Canning Funnel Review
Related Pages
Understand the Canning Equipment you must get and which equipment is unnecessary.
Rusty canning rack? Replacements are available. How to create your own rack.
Water bath canners are an easy way to start learning about food preservation. Learn a new skill and make delicious food! High-acid foods are safe to water bath can. SimplyCanning.com shows you how!
Pin this to find later!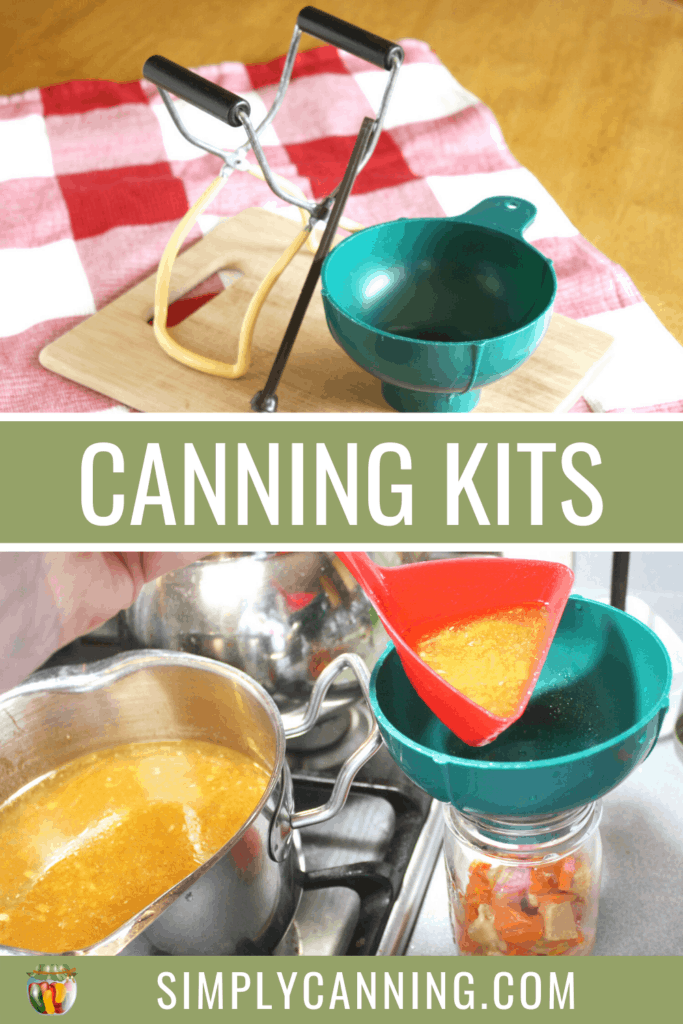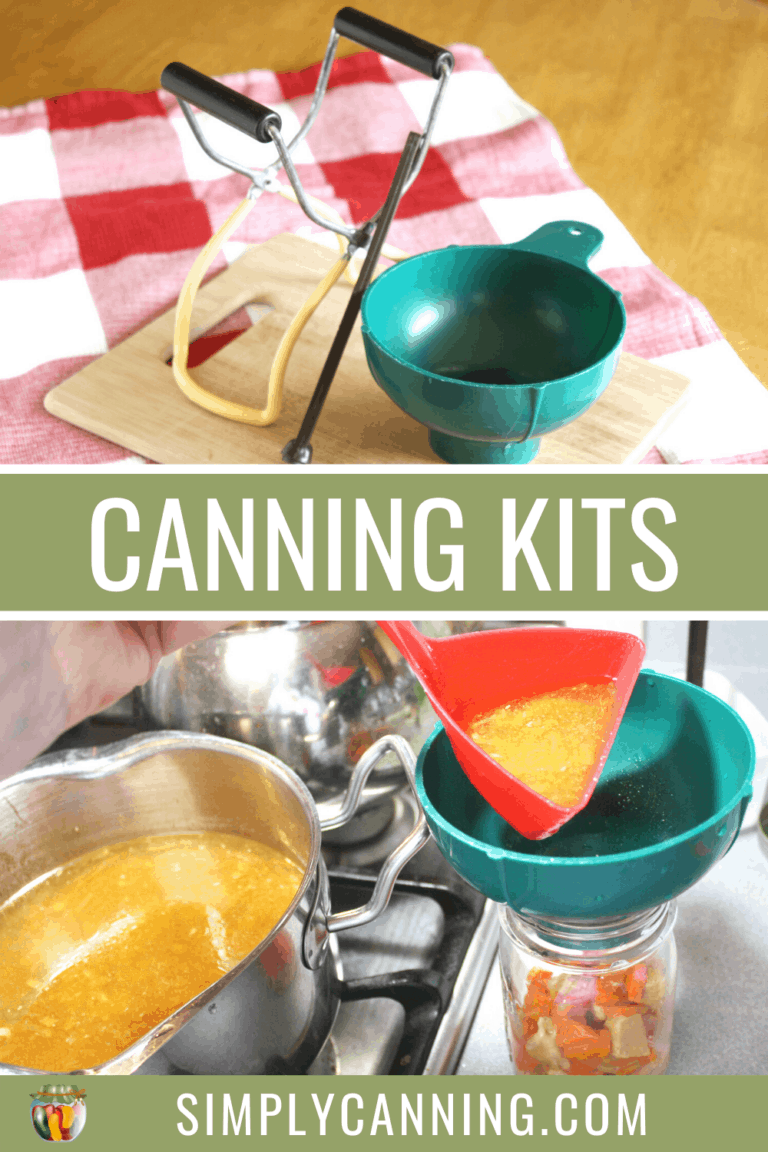 Page last updated: 4/29/2021