How to make jam without pectin. No commercial pectin added.
Some fruit will work really well for jam without any added pectin. They have natural pectin in the fruit. The combination of that natural pectin, sugar, and acid (usually lemon juice) will create a nice gel.
Other fruit simply doesn't have enough natural pectin and you are better off using commercial pectin to make your jam.
This article focuses on the former group. The no added pectin jam process.
How to check for gelling point
When you are making jam without commercial pectin, there are two ways to determine when your jam or jelly has reached the gelling point: the cold spoon test or the temperature test.
Cold plate test
First you can use a cold spoon or cold plate to test your jam.
When you first start making your jam put a plate or a spoon into the freezer.
When the jam starts to thicken put a dollop on the plate or scoop some up with the spoon. Allow the jam to cool. Because of the coldness of the plate or spoon, this happens quickly. Now you can see if it is thick and … jam-like.
On the plate; push your finger through the jam. If the jam stays apart and leaves a trail where your finger ran it is starting to gel. If it simply runs back together cook it a little longer.
On the spoon, allow the jam to cool then turn the spoon sideways. If it slides off and looks like jam, it's ready. If it drips and is runny… continue cooking.
Temperature check
Another way to check for readiness is to use a candy thermometer. Gelling point temperature will depend on your altitude.
First, you'll need to figure out the gelling point for your elevation. Determine your boiling point temperature by holding a candy thermometer in boiling water and then adding 8 degrees. This is your gelling point.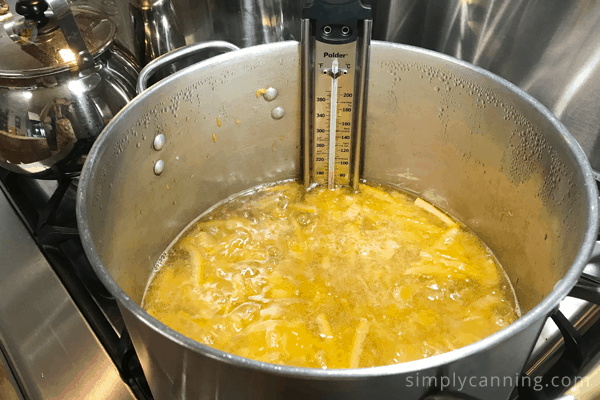 Or you can just see the chart I have below to check for your gelling point.
Gelling Point Chart
sea level -220 ° F
1,000 ft -218 ° F
2,000 ft – 216 ° F
3,000 ft – 214 ° F
4,000 ft – 212 ° F
5,000 ft – 211 ° F
6,000 ft – 209 ° F
7,000 ft – 207 ° F
8,000 ft – 205 ° F
These temperatures are suggested by the National Center for Home Food Preservation. But I've found that if I cook my jam to just a little higher than suggested… it seems to work better.
You'll have to try it on some batches and see what works best for you. Then write it down so you don't forget what the perfect temp is each and every time.
Deseeding berries
Removing the seeds from berries is optional. Some people like seeds… some don't. I don't mind some seeds but if our jam has too much… we don't care for it. Using a food mill is one way to easily remove the seeds from most berries.
Mashing your fruit
When you mash your fruit a potato masher or a meat chunker are handy tools. Be very careful if you want to do something like a stick blender. You don't want to liquify your fruit. Just mash it up. If you blend too much it can affect the pectin in the fruit and you'll end up with runny jam.
What about jam with added commercial pectin?
If you are using a commercial pectin the cooking time up to your jelling point is unnecessary. In fact you likely will have a mess if you do cook for that long. Generally jams or jellies made with a commercial pectin are boiled for a minute or two after adding the pectin. The commercial product makes sure you get a nice gel each time.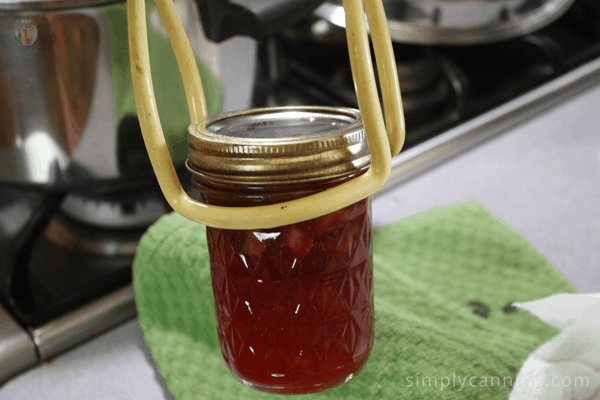 But that is sooo much sugar! Can it be reduced?
You may notice that most jam and jelly recipes made without adding any extra pectin use a lot of sugar. It is the combination of sugar, natural pectin and acid (lemon juice) that causes the gel. And the sugar is the main preserving ingredient.
I'll admit, that IS a lot of sugar and the reason I mostly use commercial pectin is the ability to reduce that sugar and still have a nice gel.
Crabapple Jelly is a good example of a fruit with lots of natural pectin. No added pectin is needed.
Low Sugar jam with no pectin
I've read that you can reduce the sugar by about half and simply cook it much much longer. (add lemon juice to berries to enhance gel) This won't have quite the same gel as full sugar but it will sure be good and fruity! Sounds like a fair trade off to me.
However several extensions I've explored when researching this topic mention something similar to the following…
Boiling fruit pulp until the pulp thickens will resemble a jam. Some no-sugar jellied products need to be processed longer in a boiling water bath.
But none of them give general instructions on this 'longer processing' They do provide specific recipes. But not for coming up with your own recipe combination. So I would recommend doing this as a freezer jam. Simply store it in the freezer after making it. Or you can use a pectin designed specifically for low to no sugar.
One pitfall of low sugar jam…
Shelf life is shorter, either on the shelf or when you open the jar to use it. I did one of our Canning Chat videos on this topic.
Learn more about low sugar jam shelf life here…
What about low sugar pectin
If you want jam with low or no sugar there are pectins designed just for this purpose. Pomonas Pectin is what I recommend but there are other brands out there too. Ball low sugar pectin works well but there is dextrose in the pectin itself so it is not truly NO sugar. Just not much. Just follow the directions on the package. Easy peasy. We use both of these for low sugar jam. I've found my family doesn't care for truly no-sugar jams. They like that bit of sweetness.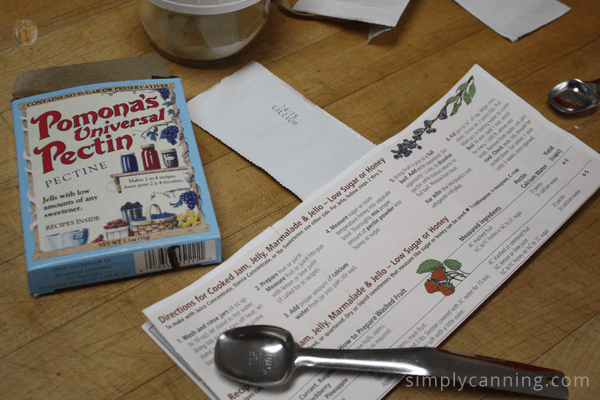 Pinnable Recipe Card: How to make jam recipes without pectin.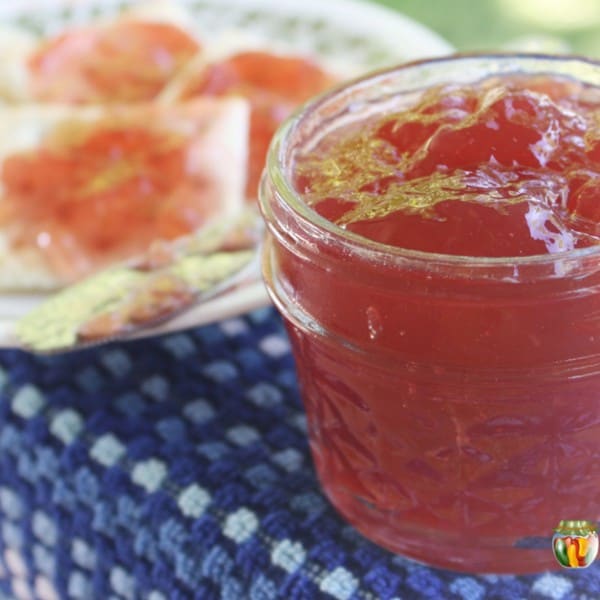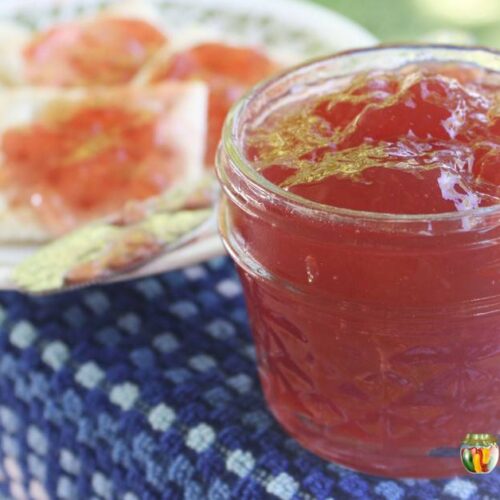 How to make jam recipes without pectin
How to make jam recipes without pectin. Yes, it is possible! Some fruit will work really well for jam without any added pectin because they have natural pectin already.
Ingredients
Equipment
Water bath or Steam Canner

Canning lids, seals, and rings
Instructions
Start by preparing jars and getting water in the canner heating. You want the canner hot, but not boiling, when the jars are ready to be processed.

See full water bath canning instructions here.  

Wash, peel, pit, remove stems, remove bruised portions, deseed berries if needed. 

Chop and crush fruit to make a fruit mash. 

Measure your fruit mash and add the appropriate amount of sugar and acid. (See chart below)

Bring to a boil stirring constantly.

Keep the mixture at a rapid boil until you notice a bit of thickening.  That is the point to check your gel to see if it is ready to be put into jars. (see how to check for gel below)

Remove the jam from heat and skim the foam if needed.

Fill hot jars with hot jam. Leave a 1/4 inch headspace. 

Wipe rims clean.  Sticky jam on the rims may interfere with the seal.

Add lids and screw bands and place the jars in the canner.

Process according to your altitude.
Notes
Processing with a Water Bath Canner
Place the jar in the warm canner. Proceed to fill all jars placing them in the canner.
When all the jars are filled, bring the water in the canner to a boil.  When a boil is reached that is when you'll start your timing.   Process for the length of time on the chart below.  Adjust for your altitude. 
 After your time is over, turn the heat off remove the lid and allow the canner to rest for about 5 minutes. Then bring your jars up out of the water.  Allow them to rest for another 5 minutes. Then remove the jars and place them a few inches apart on a thick towel to cool completely.  Leave them alone for about 12 hours.  
When they are cooled remove the metal bands, check the seals, label the jars and store them away! 
Altitude adjustments.
0 – 6,000 – 10 minutes
Above 6,000 – 15 minutes
Fruit Recipe Combinations
Apricots

 

yields 6 half pints
4 1/2 cups crushed fruit
4 cups sugar
2 T lemon juice
Berries 3-4 half pints
4 cups crushed berries
4 cups sugar
no lemon juice needed
Peaches

 

7 half pints
6 cups crushed fruit
5 cups sugar
2 T lemon juice 
Sources
https://nchfp.uga.edu/how/can_07/jam_without_pectin.html
https://nchfp.uga.edu/tips/summer/Lowsugar_JamsJelliesST.html
https://www.canr.msu.edu/news/preserve_low_and_no-sugar_jams_and_jellies
Related Pages
Stainless Steel Water Bath Canners are beautiful, long-lasting and best of all double as a Steam Canner and a large stock pot. One pot, three uses!
Freezing rhubarb is a smart way to keep it fresh to make pies, sauce, and other delicious dishes all year long! Methods included: Dry pack, sugar pack, and in syrup.
Enjoy an easy strawberry-rhubarb jam recipe. This homemade jam is made with pectin for an easy boil method.
Pin this to find later!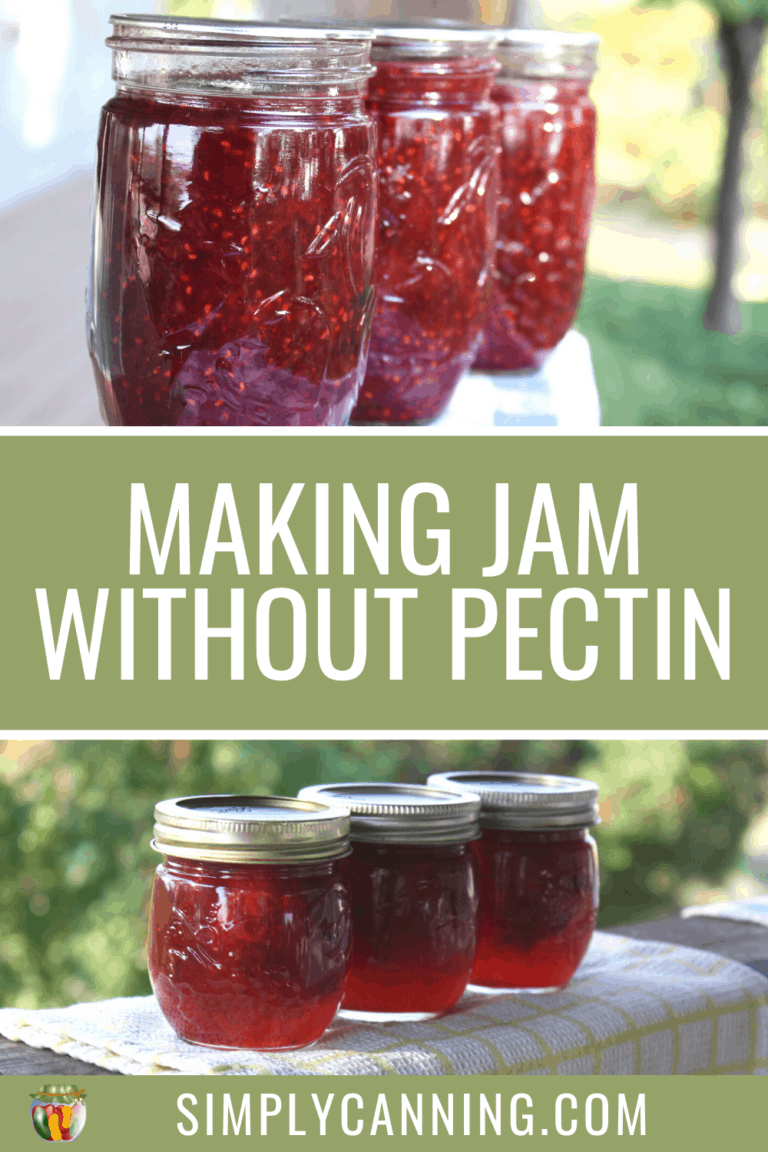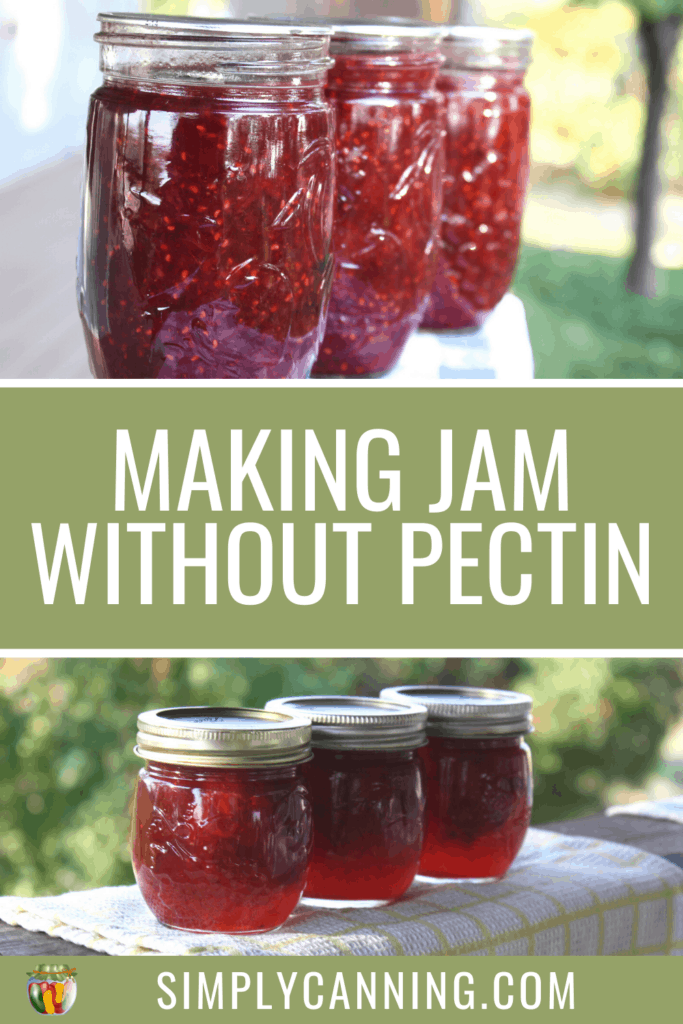 Page last updated: 3/4/2021