With Sharon Peterson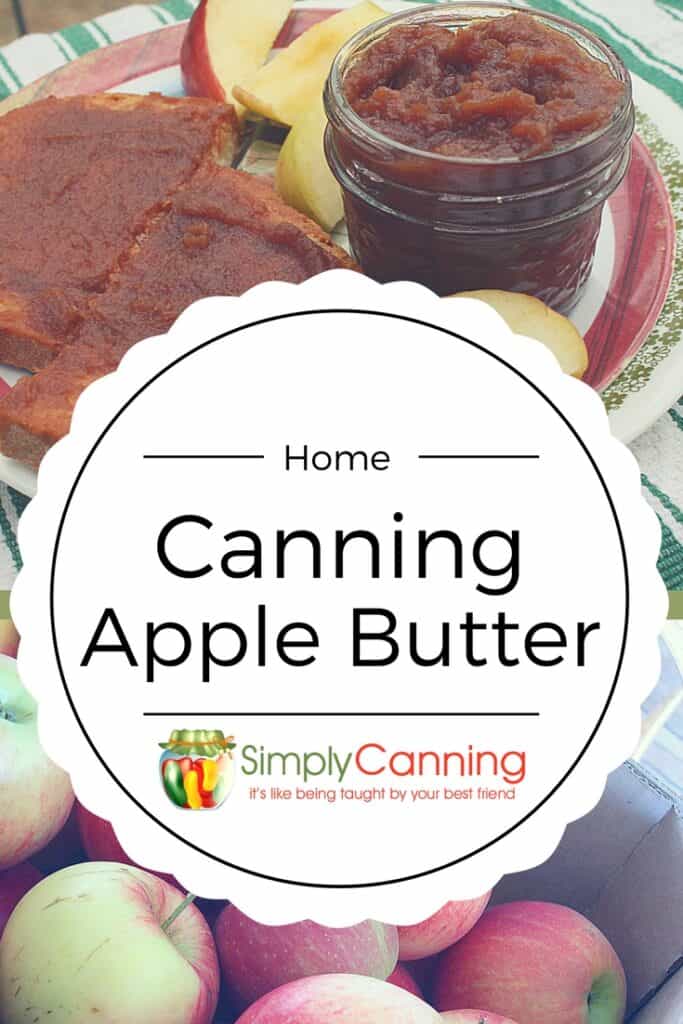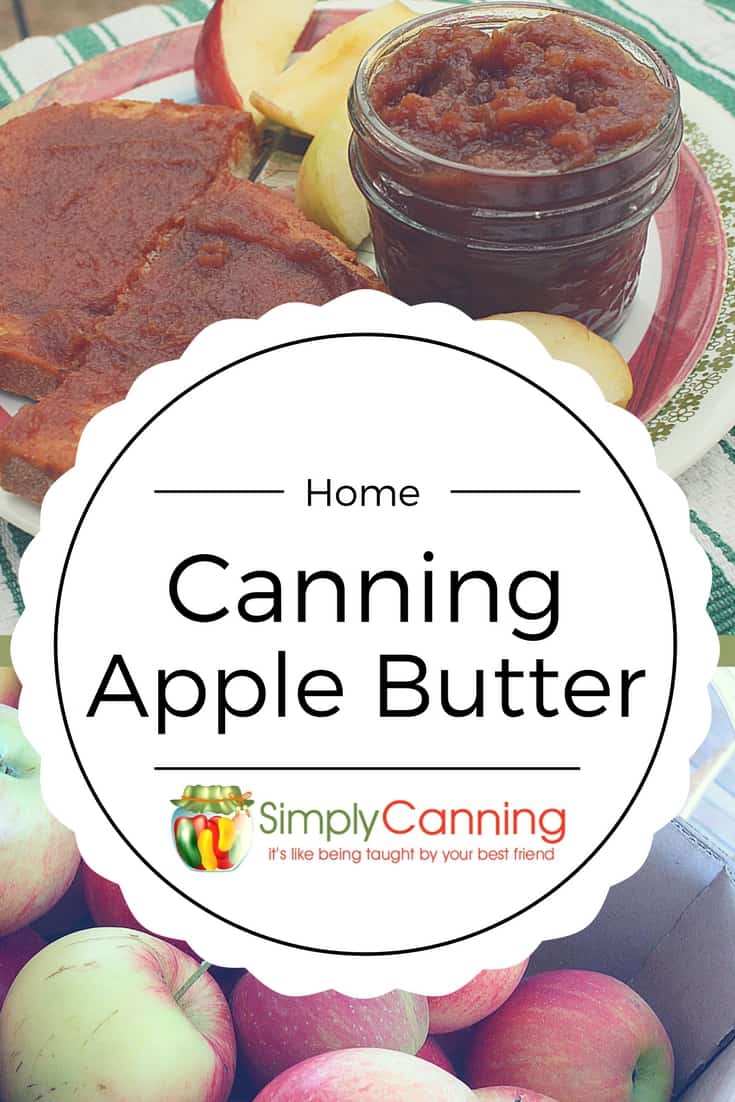 This is an incredibly easy recipe for canning apple butter in a slow cooker or Crockpot. Slow cook the apples overnight and your kitchen will smell heavenly in the morning.
Homemade apple butter slathered on lightly toasted and buttered fresh bread with a cup of tea or decaf coffee on the side is a favorite snack for me!
After cooking in the slow cooker, you will need to process this recipe in a boiling water canner. Or you can freeze it or just put it in the refrigerator to use now.
Why I do it this way.
Note: My source for this recipe is the Ball Blue Book. The exact ratios from my source are…
4 pounds apples and 4 cups sugar.
I used to just add apples, sugar, and spices to the crockpot and cook it all together. However, the issue with that is knowing how much sugar to add. Cooking the apples to a sauce and then measuring and adding the appropriate amount of sugar will allow you to follow the suggested ratios.
---
Prepare
Gather your canning supplies:
large pot or blancher
bowls
large spoons
sharp knife
towels and dish cloths
whisk
apple peeler-corer-slicer (This is optional, but I HIGHLY recommend it. They are worth their weight in gold! See if you can borrow one if you don't have one. It is an incredible, time-saving tool.)
Ingredients:
apples – enough to fill your Crockpot very full
sugar
spices to taste
Procedure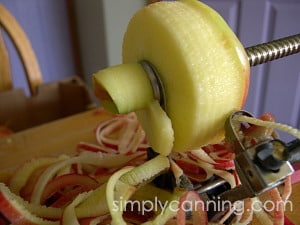 For any canning apple butter recipe, the apple peeler-corer-slicer comes in handy. It will cut your time in half. (For a video review, click here.)
If you do not have one of these, just prepare your apples the old-fashioned way, with a knife. If you do this with a knife, chop your apples up small.
Peel, core, and slice your apples.
Put your apples into your Crockpot to make the puree. Fill it up to the brim. The apples will settle quite a bit as they cook and soften.
In a slow cooker simply place your fruit and cook on high for 3 hours or so. This gets things cooking faster. Stir and set on low. At this point, I leave the lid ajar to allow moisture to escape. Allow this to cook, stirring occasionally, as the fruit gets softer. When it is an applesauce consistency, measure out your sauce, then add the following for every 2 quarts of fruit pulp:
4 cups sugar
Spices to taste (I use 1 tsp cinnamon, 1/4 tsp ground cloves, and 1/4 tsp salt)
In a bowl mix sugar, cinnamon, cloves, and salt. Pour this mixture over the apples, stirring to combine. Continue cooking in the slow cooker until it is the consistency you like. Smooth and silky!
Finish off with a whisk for a smooth product. This can cook overnight if you have a cooker that will not heat up too much. In my experience, new slow cookers cook too high to be left that long and will end up scorching.
As the apples cook, you will be able to go from stirring with a spoon to a whisk. They will whisk up nice and smooth.
The color will get darker and darker as the apple butter thickens as well. I love to let them cook good and long. It makes the apple butter recipe so yummy.
You can leave the lid off for the last hour or two to get a thicker consistency. Fill your jars, leaving a 1/4-inch headspace. Wipe the rims clean, remove any air bubbles, and place your lids.
For more details, follow water bath canning instructions.
Quarts or Pints?
I always can these in pints or half-pints. Half pints are processed the same as pints. You can make fruit butters in quart-size jars, but I'd suggest you think about it first. A quart of any fruit butter will last a looooong time. :0 I always can these in pints or half pints. Half pints are processed the same as pints.
Process
Canning Apple Butter Recipe – Half Pints or Pints
0-1000 ft – 10 minutes
1000-3000 ft – 15 minutes
3001-6000 ft – 20 minutes
6001-8000 ft – 25 minutes
8001-10000 ft – 30 minutes
The National Center for Home Food preservation has you sterilize your pint size jars and then process at 5 minutes. To avoid the task of sterilizing jars, I use a 10-minute processing time. (Ball Blue book just says 10 minutes, adjust for altitude.)
Read here for more information if you'd rather sterilize the jars first. sterilizing jars for canning.
Apple Peeler Corer Slicer Video Review
---
Questions from Sharon's Inbox
"This is the first time canning apple butter & everything seemed fine until the next day when I noticed a thin liquid @ top of apple butter, is this bad or just normal separation?"
Assuming you processed it in a water bath, it is most likely just a normal separation. Just stir it in when you open the jar to use it. Watch for any bad smells or mold, but homemade apple butter is pretty hard to mess up! I love it.
---
How long does homemade apple butter keep?
If I get a hold of it? Not long! 🙂 I LOVE homemade apple butter. In all seriousness, however, homemade apple butter will keep for at least 12 months, likely more, if you store it in a cool, dry place. Once it is opened and in the fridge plan on a couple weeks.
---
What's the difference between applesauce and apple butter recipe?
Applesauce is a canned apple puree that's meant to be eaten by the bowlful. Apple butter is cooked longer, so it takes on a different consistency than applesauce, much smoother. It's also sweeter and more spiced than applesauce.
It's apple butter time! I make mine in the crockpot & then water bath. Wondering if there a difference between cooking in the crockpot vs stove in the sweetness level? Thanks for your help.
I've never tested it but I don't think there would be any difference in the sweetness. With the stove, the main thing is just being sure you are on hand to stir more often. The heat is all at the bottom of the pot, with a crockpot the heat surrounds the apples and will be a gentler heat. It does take longer though. So it just depends on your preference in cooking style. The sweetness will be all about the type of apples and any sweetener you add.
"Hi Sharon,
I'd like to make Apple Butter in the slow cooker, but i want to use my food mill to clear skins and seeds first. So, my question is: HOW? Just take the apple sauce result and put it in the slow cooker? for how long?
Thanks. Irene"
Hi Irene, great question. I would just make applesauce as usual with your food mill. Check here for specifics on how to make applesauce. Then add that plus the sugar to your Crockpot. The cook time will be less, but I can't give you an exact time. I'd estimate 6 hours maybe? It all depends on how juicy your applesauce is and how your cooker cooks. Try it out and let me know how it goes. 🙂 – Sharon
---
"Hello. My question is when I am cooking down my apple butter recipe, do I need to cover my pot or just leave it uncovered? I did this years ago and I cannot remember. Thank you. Elise"
Elise, you should either leave the lid off or at least leave the lid ajar so moisture can escape. I'll usually put it on high for the first hour or so. This gets things heated up quicker, but then turn it down. As the apple butter gets thicker, it may tend to splatter so that is why I sometimes just suggest leaving the lid ajar. A splatter screen is also a good idea if you want to leave the lid completely off.
Sharon
Page last updated: 7/18/2020
Home › Canning Fruits › Canning Apple Butter
Page last updated 7/18/2020.