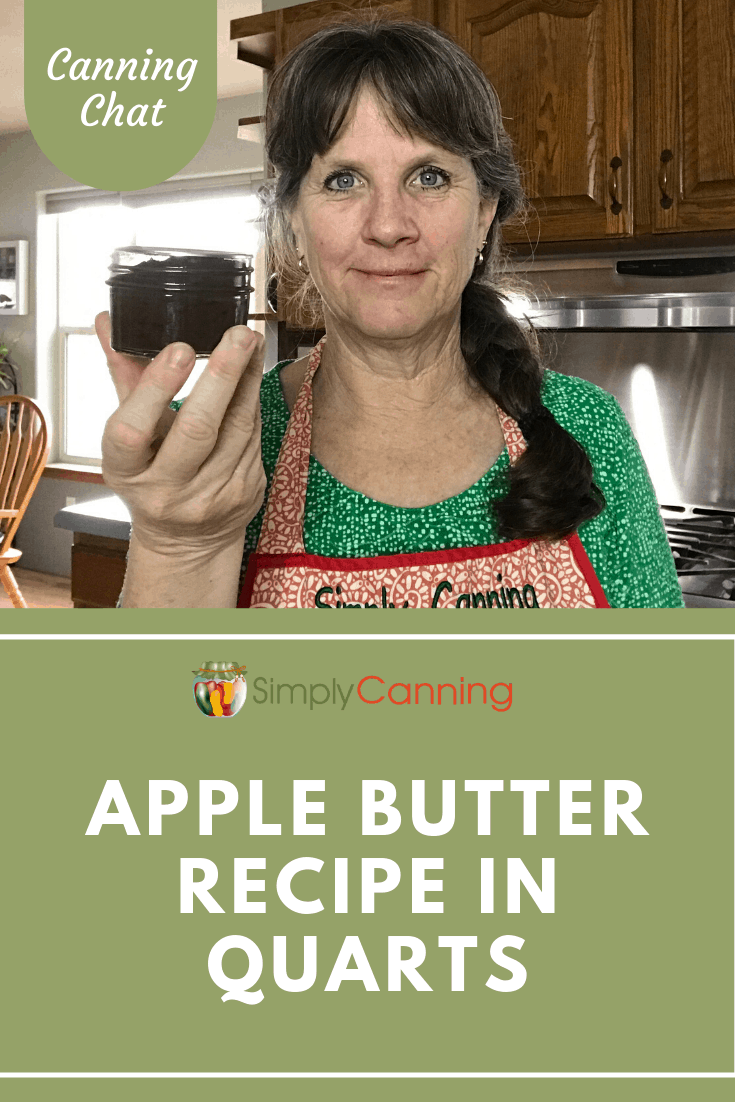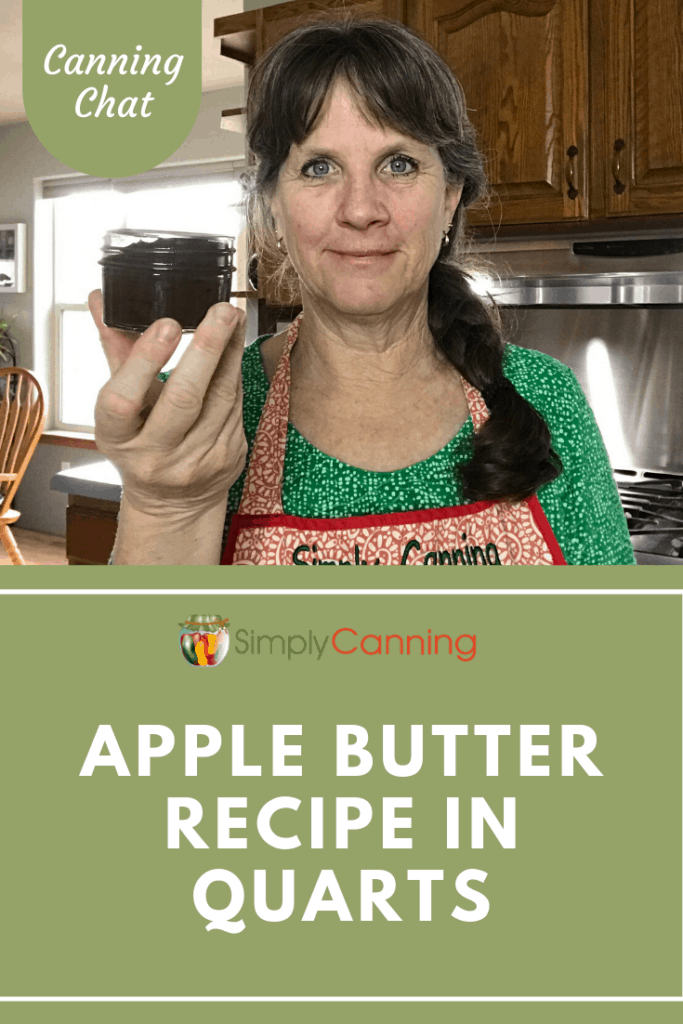 So today's Canning Chat question has to do with making the apple butter recipe in quarts.
Hi, my name is Sharon Peterson, and I'm with SimplyCanning.com where you can find home canning tips, tutorials, and classes. Come visit me there, and I will help you get your pantry filled.
Apple Butter in Quart Jars Video Transcript (Edited for Clarity)
So let me read the letter that I got. This is from somebody named Chas.
"I successfully made and canned 11 quarts of apple butter. I am now realizing, what the heck am I going to do with apple butter in such large jars? I mindlessly followed the recipe, but now I'm realizing that I needed to can it in smaller jars. Would it be safe to open the jars, dump into a large pot, bring it back to a boil, and then recan it in smaller jars?"

Chas
So Chas, yes, a quart of apple butter is a lot of apple butter. The directions are there, so you are totally safe. There's nothing wrong with it. I don't even have a quart of apple butter because I never can apple butter in quarts.
But this is a quart size jar, and that's a huge amount of apple butter. Unless you have a very large family, it's going to take a long time to go through that much.
This would be a pint size jar. This would be a good size to use, if you have a fairly large family; you could probably use this reasonably. You can do apple butter recipes in half-pint jars. You know what I do my apple butter in anymore? I use these tiny jars, mainly because I'm the only one who eats apple butter. This is a perfect size for an individual. So yes, go for the smaller size jars.
Should You Recan Apple Butter?
If you want to open those quart jars and dump it out and recan it, you can do that. It's totally safe. You're just going to dump it out of the quart size jars, bring it back to a boil, and then you're going to recan it, using the same exact directions as you did the first time.
Now, for some products, you don't want to do that because you end up with mush. It's hard to do that with fruit or something like that because you overprocess your food. But with apple butter, it's a smooth sauce anyway, so it holds up well. You can do that.
Another Option After Making the Apple Butter Recipe in Quarts…
The other option, which would be a little bit less work, is when you open a quart of apple butter to use it, go ahead and just take half of it and put it in your fridge. Put it in another jar, put it in your fridge, and then freeze the other half so that when the first half is gone, you can just pull the other half out of the freezer. It's not going to take up all of your freezer space, but it will prevent you having to go through the whole apple butter recipe process again. So either route works.
You are right: Canning apple butter in quarts makes a huge amount. I recommend a smaller size jar when making the apple butter recipe.
So I hope that was helpful. You guys have a wonderful afternoon, and we will see you in the next Canning Chat. We'll talk to you later.
Would you like to receive notifications when more Canning Chats are released?
More Canning Chats
Canning apple butter is a great way for newbies to get started!
Canning Jars: Common Questions Answered Here.
Apple slicers are actually apple corer, peeler, and slicers in one!
Page last updated: 7/2/2021