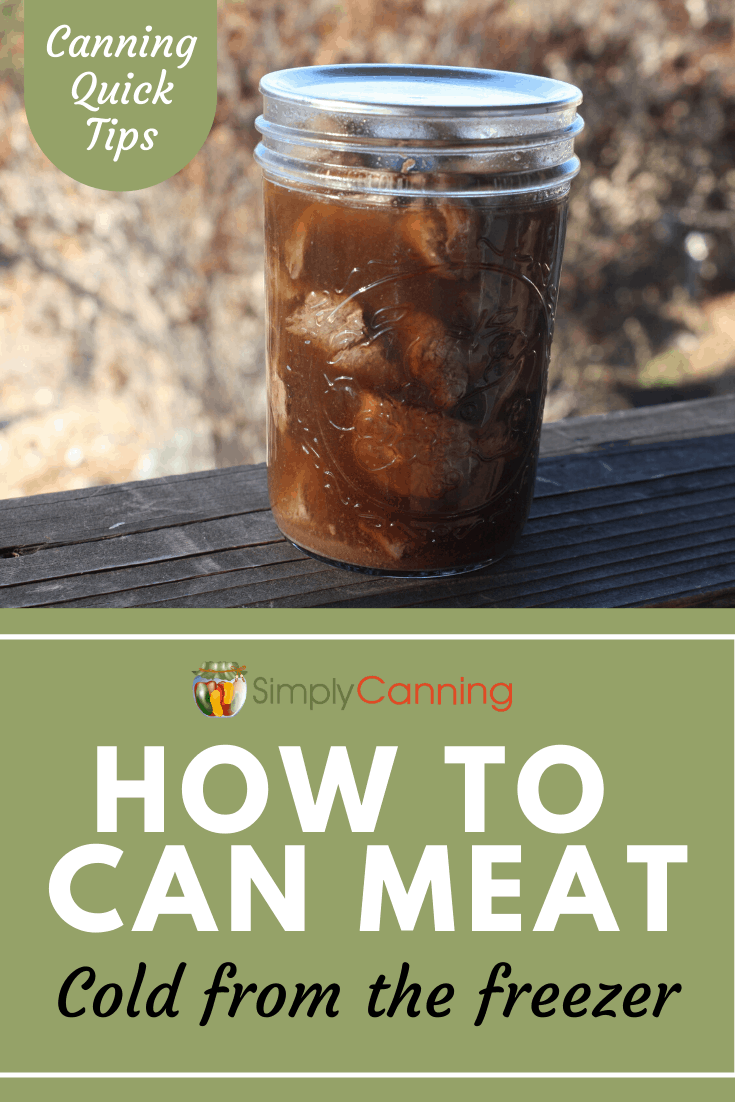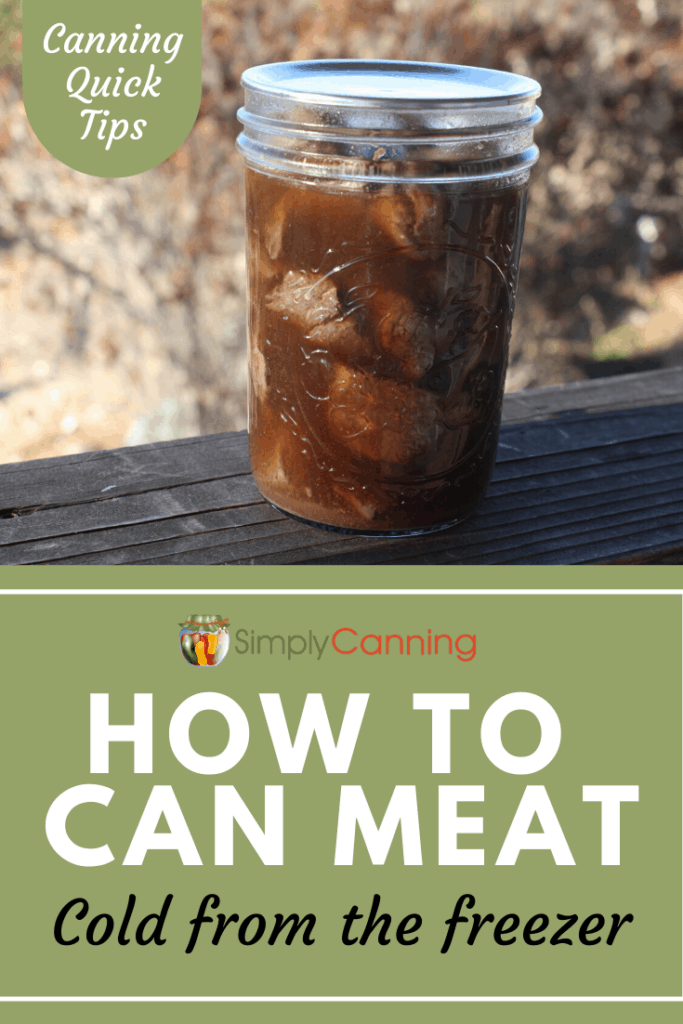 How to can meat taken directly from the refrigerator or freezer.
What do you do when you want to raw pack meat, but the meat is very cold–cold from just being thawed from the freezer, or taken right from the refrigerator? You have very cold meat, hot jars and a hot canner. Do you worry about thermal shock and breaking your jars?
Today, I share my tip for dealing with a situation like this, because it happens to me all the time!
Video notes on how to can meat when it is cold – edited for clarity
Today, I'm going to answer a question that I received in my inbox. It was a different question than usual, but I realized it's something that maybe more of you are wondering about. It's something that I've actually dealt with myself. This is regarding how to can meat when it is very cold. Here is Kristen's question. She says…
"I have a question for you Sharon. I've always hot packed meat but processing venison yesterday, I did my first canner full of cold packed meat. I've put off cold pack because I can never seem to find the answer to this; If your meat is refrigerator cold (so that's not just room temperature that's like out of the fridge), do you still proceed with cold pack canning or do you warm it up a bit?
I'm afraid cold meat is just going to break my jars and most cold packing articles are using freshly processed meat or the meat temperature isn't specified from what I can tell. Thanks."
That is really a good question, and it's something that I deal with all the time. Often when we're processing an elk or a deer, we're busy! Sometimes I'll cube up the meat to be ready for canning, and then I put it in my freezer. I get it out another day when I have more time, and then I defrost it and process it.
How to can meat that's cold from the fridge or freezer.
Yes, when you thaw out the meat, it's very, very cold. Or if you're just taking meat out of the refrigerator, it's very, very cold. The National Center for Home Food Preservation doesn't really mention meat temperature when it is going into the jar, but there is a difference between raw pack and hot pack.
Let's clarify some terms.
Cold pack (the same as raw pack) doesn't mean not processing. It just means putting the food in the jar without cooking it first.
Hot pack means you lightly cook the food first and then put it in your jar.
So this is what you have:
you have a hot canner
you have hot jars because you're warming them up in your canner
you have very cold meat.
What do you do? How do you can meat without breaking the jars?
What I do personally is I warm up that meat a little bit. Now you don't want to cook it, because if you cook it, you need to add liquid. I like to do the raw pack because I don't add any liquid. When you're raw packing, you put the meat in the jars, put your lids on, and process it.
When you hot pack or you cook it first, you do have to add liquid, so there's a balance there.
I don't want to put cold meat in my jars, because I'm afraid it may break. But, I do want to raw pack.
Warm up cold meat for canning.
I put my meat in a pan to warm it up just a little bit.
I just get a stock pot and put my meat in there. And I pour some warm water over it. I then proceed to get the rest of my canning supplies out again at my canner: my lids, jars, and all of that. Start warming them up.
By the time I have everything out, my meat has warmed up just a little bit. It's not cooked, but it has warmed up. Then I can go ahead and put that in the the hot jars in the hot canner. We're fine.
You want to shoot for warm; there's not a specific temperature given, but you want to get close to room temperature. Maybe a little bit colder than that, but about room temperature is what you want. You're just trying to reduce that thermal shock between cold meat and hot jars and canner.
For specific directions on how to can meat as a raw pack, check out this page for step-by-step directions.
I hope that was helpful. Let me know if you have any questions, and I hope that you will visit SimplyCanning.com where I can help you learn home canning and other food preservation techniques and get you filling your pantry. You guys have a wonderful day.
Related Pages:
Would you like to receive notifications when more Canning Chats are released?
More Canning Chats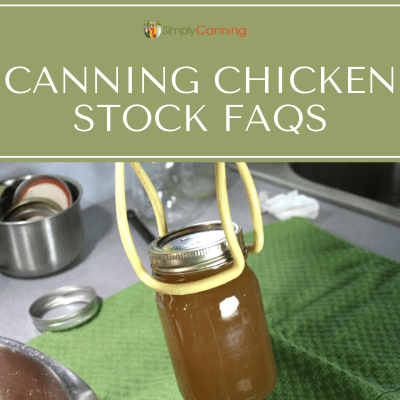 So I'm canning chicken stock/broth. How do I remove the fat? How much is too much? What do I do with the extra? SimplyCanning.com answers these FAQs.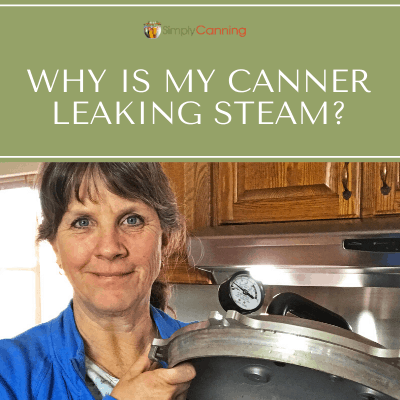 Suddenly notice your All American Canner is leaking steam around the lid? This is a common problem. Get ideas for what you can do about it at SimplyCanning.com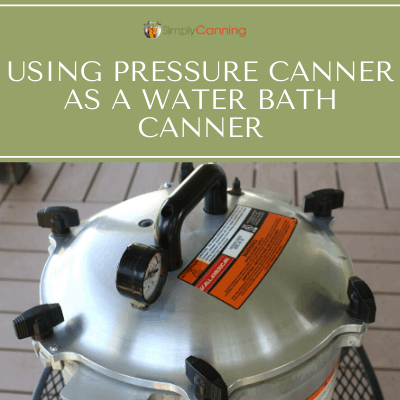 Using a Pressure Canner as a Waterbath Canner
Page last updated: 2/17/2021