When you are canning meat products remember these things:
Learning how to can meat is not as hard as it may seem! Really, it is super easy. Don't be intimidated.
Be sure to trim away any gristle, bruised areas, or excess fat.
Meat MUST be processed in a pressure canner. The processing times may seem long, but the investment of time now is so worth it in the end.
Hot pack means you pack your meat precooked in some sort of liquid.
Raw pack means you pack your meat raw (uncooked) with no liquid. If meat is raw packed, it will provide its own juice. It does NOT mean you don't process it. You still need to process in a pressure canner.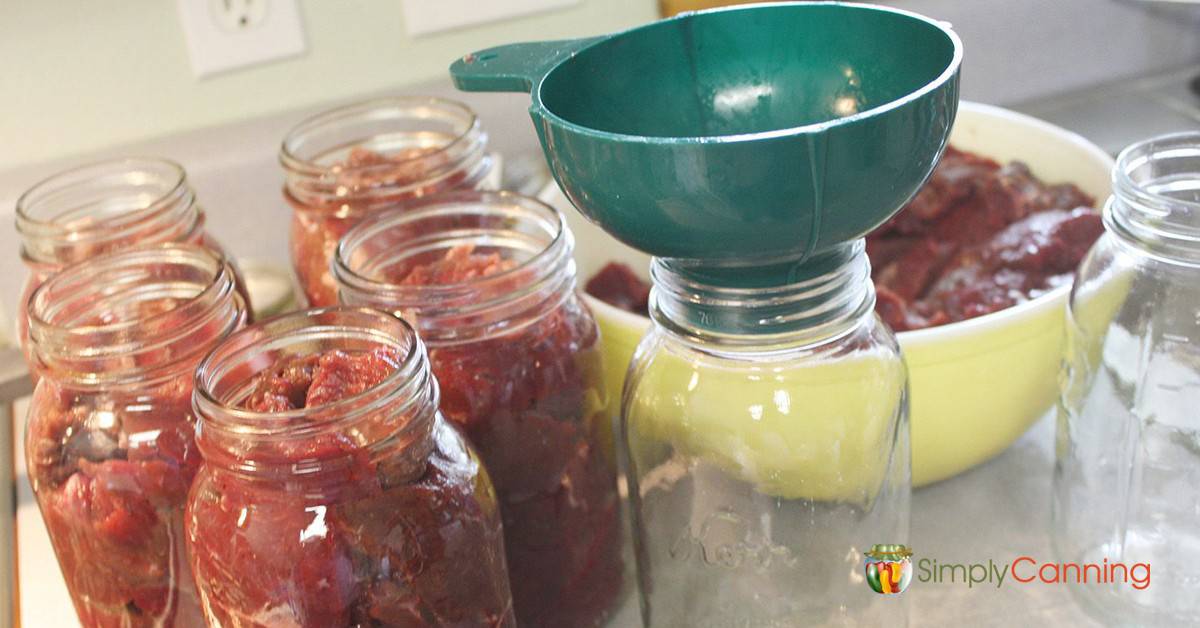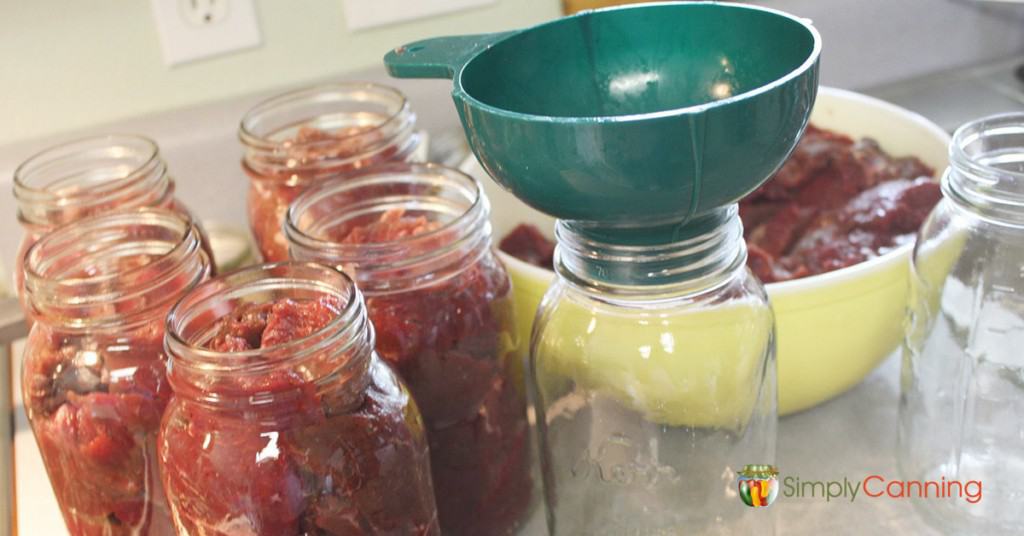 A recipe list is below with links to articles on how to can all sorts of meat, with all sorts of methods.

You must use a pressure canner for all of them. All meat is a low-acid food and must be processed in a pressure canner. Boiling water for hours and hours is not something I recommend. If you want more on why… read this article on how to know what canning method to choose.
My Canning Meat Story…Preconceived Notions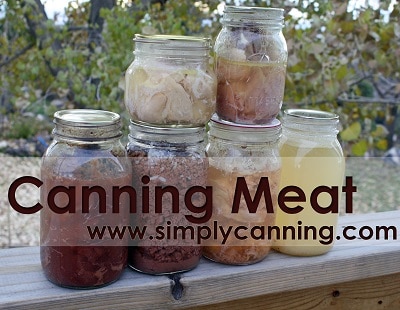 Canning venison was on my mind for many years, but I put it off. I canned vegetables, fruit, and jam, but I never considered the possibility of canning our meat as well. It just didn't occur to me.
It seemed as if canning meat must be much harder than canning other produce. Why did I feel this way? I don't really know. It was just the preconceived notion that I had.
Boy, was I wrong. We are a family of active hunters, so my husband and sons provide a freezer full of meat. This enables us to keep our grocery budget low. Whatever they bring home is cut up or ground. Before I started canning meat, most of it went right into the freezer, and we often made jerky and sausage too.
We process our own wild game from the field to the freezer or jar. Part of having tasty wild game is proper preparation of the meat.
When we expanded our garden, I started really focusing on not taking up too much freezer space. I did some research on how to can meat and what I found surprised me.
Cut up your meat, put it in a jar, add canning lids, rims and process? It seemed too easy. Could it really be that simple? I tried it, and guess what? It is. (with a few additional steps!)
We usually have a good supply of both venison (mule deer) and elk. Elk is our favorite by far, so I decided to start with canning venison. That way, if it did not turn out well, I did not use our favorites.
That first year I started with 14 quarts (that's 2 canner loads) of cubed venison.
My boys, including my husband, declared that they like the canned venison over frozen. I agree! It is much more tender, and it is MUCH more convenient. We've since added ground meat to our pantry but still prefer the cubed.
I encourage you try it. When dinner time comes, open a jar of meat and start preparing right away. No defrosting. You might be as pleasantly surprised as I was.
Testimonials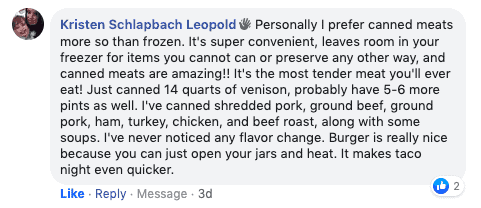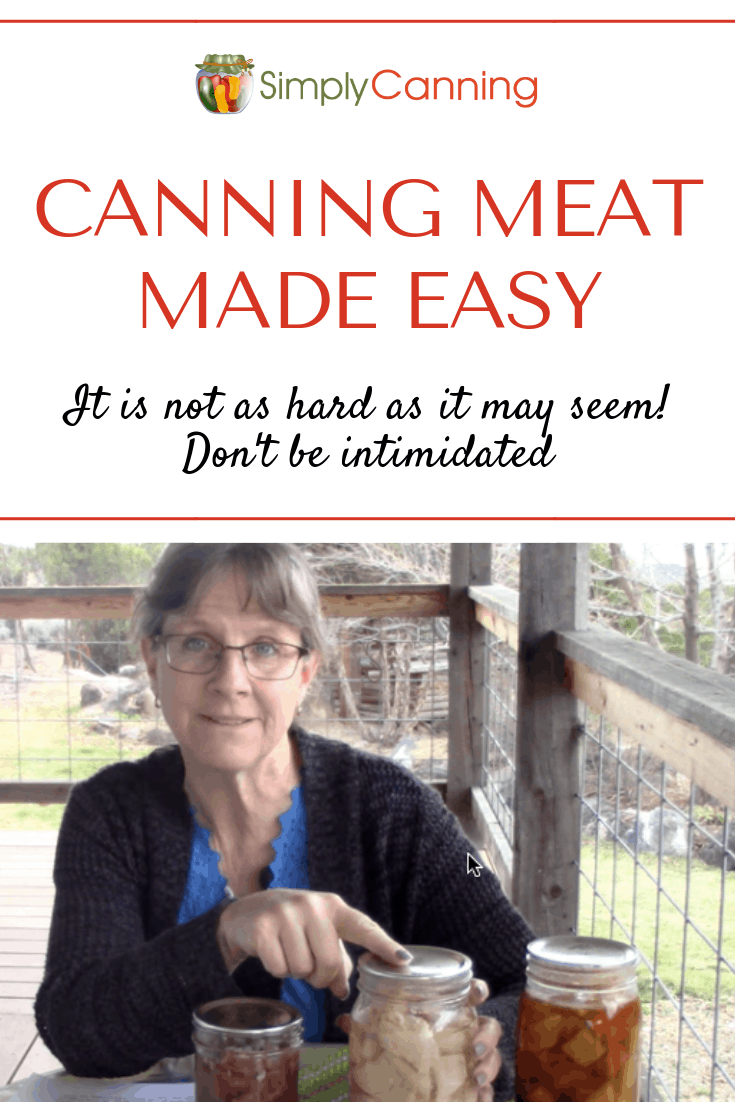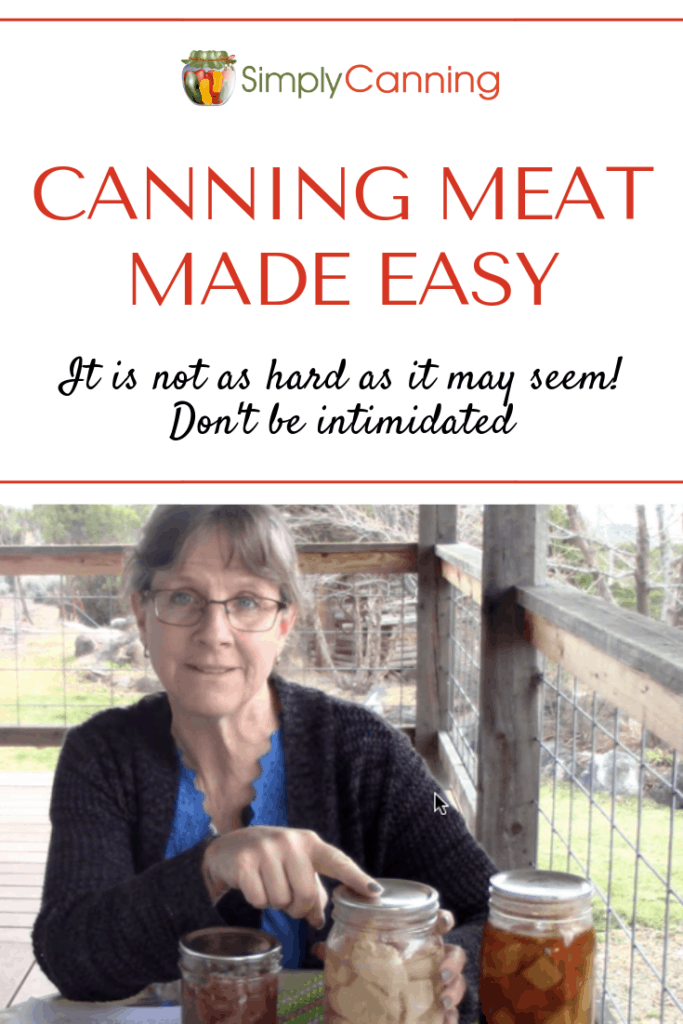 How to Can Meat – FAQs
What Meats Can Be Canned?
Just about any fresh meat can be canned: bear, beef, lamb, pork, sausage, veal, venison, chicken, turkey, rabbit, fish, tuna.

However, there is no accepted testing that has been done on cured, brined, or corned meat. So, unfortunately, no canning ham, bacon, corned beef, hotdogs…or any other variety that I may have missed.

How Do You Use Canned Meat?
Good question! This meat is precooked, so it is not going to be like taking out the ground beef and making a hamburger, nor will it be like cooking up a steak. It is perfect, however, for casseroles, chilis, tacos, and stews. One way we like to use our meat is to just heat a jar of cubed beef or venison and add a white sauce and seasonings like onion/garlic. I like to use cream cheese! Then I serve this over mashed potatoes with a side veggie. It is a super-fast meal.
Is canning raw meat safe?
Yes, canning raw meat is perfectly safe. There are 2 methods for home canning. Raw pack and hot pack. Raw pack is safe if you follow tested directions. Raw doesn't mean you don't process it in a canner. You still need to use a pressure canner.
Pin This to Find Later!