Beef Stew for Canning: Recipe and tips.
This page may contain affiliate links. More Information.
There are many ways to make beef stew. This Stew Recipe For Canning is created to give you the ability to process this for storage on the shelf. Learn to prepare and pack jars, customize ingredients, and achieve perfect consistency.
Stew recipe for canning.  First, prepare beef, potatoes, carrots, celery, and onions. Brown the meat, chop veggies, and combine in a pot with water and seasonings. Pack hot stew into jars, process In a pressure canner. Once cooled and sealed, store in a cool, dark place for delicious, ready-to-eat meals anytime.
Quantity 
The recipe included below will yield about 7 quarts of beef stew. Or you can use pint jars and make 14 quick easy lunches for yourself!
Know your Canner 
Before you start this project, if you are not familiar with pressure canning I recommend reading – How to use a pressure canner.   It will familiarize you with how your canner works and what steps to take to get set up for any canning project. 
Canning Beef Stew- Directions and Expert Tips

Ingredients
See the adaptations section below for more information on changing ingredients in this recipe. These are the ingredients I used.
4 to 5 lb beef stew meat, cut into 1 1/2-inch cubes
1 Tbsp vegetable oil to brown the meat
12 cups cubed and peeled potatoes
8 cups sliced carrots
3 cups chopped celery – (I actually left this out, see below)
3 cups chopped onion – white or red is fine I use whatever I have on hand.
1-1/2 Tbsp salt – optional but highly recommended!
1 tsp thyme, optional
1/2 tsp black pepper, optional
beef bouillon, optional – recommended
Water – enough to cover the ingredients.
Peel and chop into bite size pieces. 
Cut your meat into cubes about 1 1/2 inches. Then brown them lightly in a small amount of oil.
Peel and chop potatoes.   Yes you really do need to peel the potatoes.  There is a bacteria that lives in the soil.  If you scrub the potatoes well it does help, but that will still not be as clean as peeled.  The testing that was done was with peeled potatoes.  
Peel and chop carrots. And again yes, you really do need to peel your carrots. For the same reason as the potatoes.
Chop celery.  (I did not use celery in my stew.)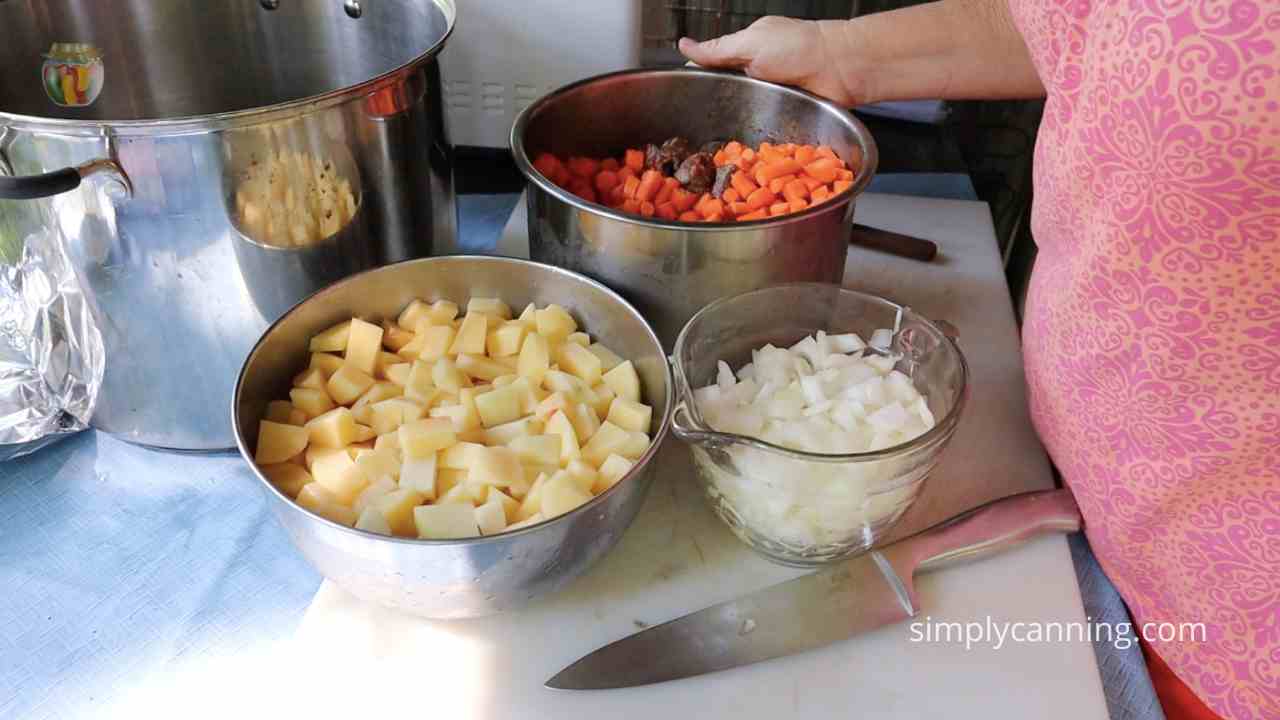 Combine meat and veggies in a large stock pot to be heated.  Add hot water until the ingredients are fully covered with water.  Measure this as you go.  I use a measuring bowl (like these) and simply keep track of how much water I added. You'll need this to determine how much bouillon you will need.
Add your seasonings of choice.  I use just salt and pepper, and bouillon. To add the bouillon just check the directions on your package and use the appropriate amount for the amount of water you added. 
Bring all of this to a boil to heat through for a hot pack. Note that you do not thicken this before you put it in the jars. Usually stew is thickened a bit with flour or some other thickener. But for canning purposes you'll thicken it when you open the jar to serve it.
Now you are ready to start filling jars!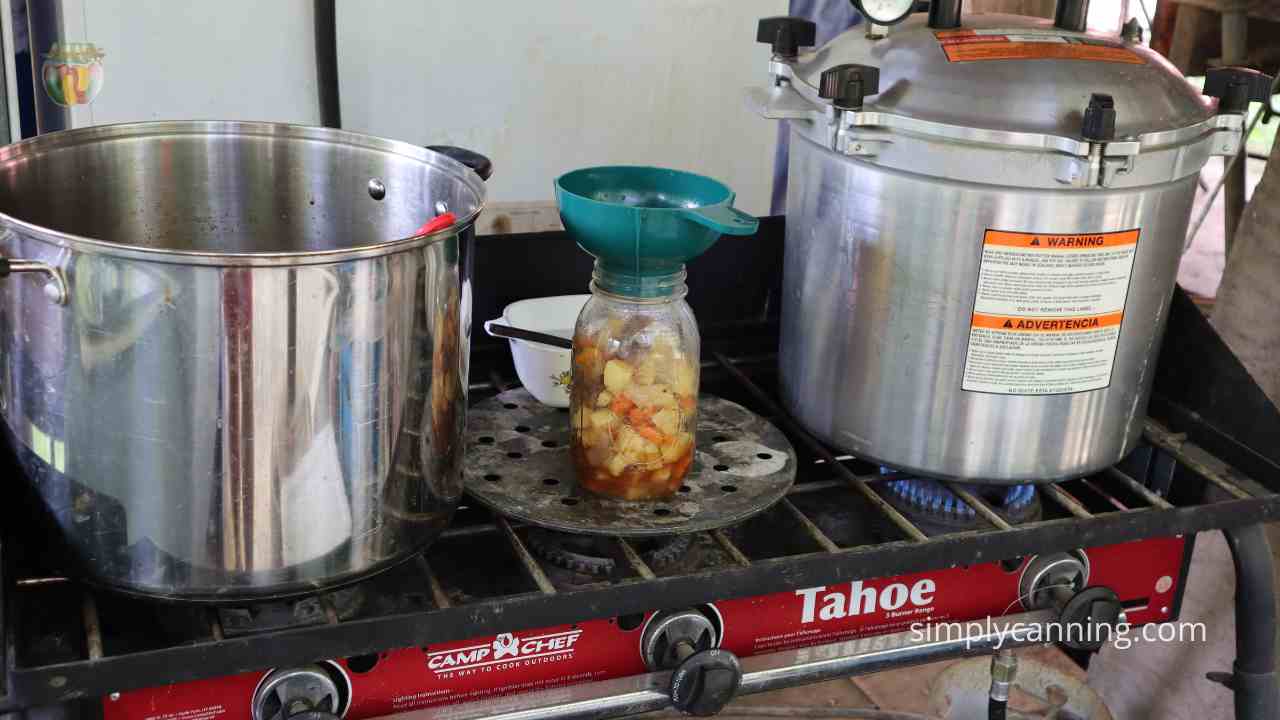 Packing the Jars 
Fill jars with stew, make sure solid ingredients are covered with broth. Leave 1 inch headspace.   I like to use a slotted spoon and add the solid ingredients, then top it off with broth.  
If you get to the last jars and find you are short on liquid you can just add water, or simply make a bit more broth to add to the jar.
Remove air bubbles with a plastic bubble tool.  Then check your headspace again.  Adjust if needed.  There are rarely going to be any bubbles in your jars with stew but check it just in case. 
Wipe rims of jar clean with damp towel or paper towel so any food will not interfere with the seal.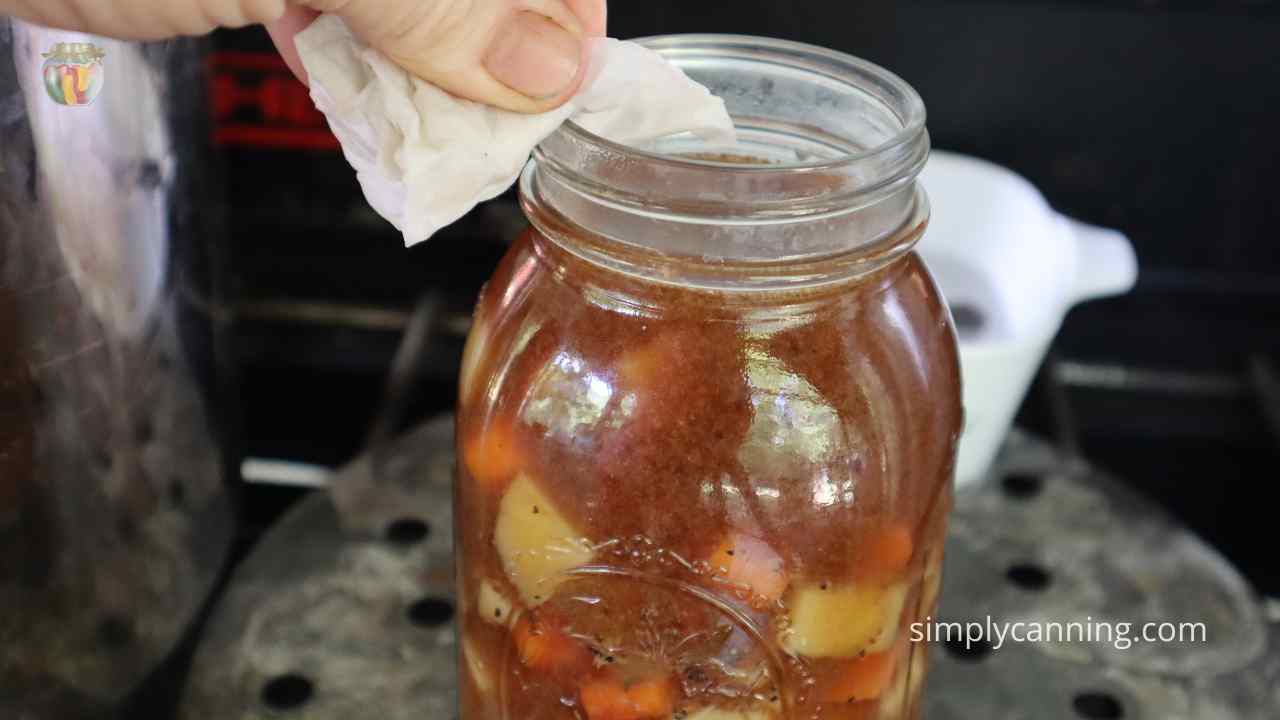 Add your canning lids and rings, finger tight.
Place jar in the canner.  
When all jars are filled, process according to the instructions and chart in the recipe card below. 
Adaptations.  
This recipe can be made with beef or venison.
You can add other spices if you'd like. Just make sure they are dried spices.   And be careful with bay.  If you add a bay leaf you'll need to remove it so it doesn't end up in one jar… that jar will have a really strong flavor.  
I love to add beef bouillon but it is optional.
I left out the celery.  We just don't care for it.  If you leave out a vegetable ingredient don't increase any of the other ingredients. Simply leave it out.
Details on filling the jars. 
Since this recipe has been tested, with the ingredients as written you can follow the instructions as they are written to fill your jars. You may want to make changes other than what I've mentioned. For instance maybe you'd like to use green beans instead of onions or You want to add or adjust other ingredient quantities.
If you want to add new ingredients you'll want to use different processing instructions. For these types of changes I suggest you follow the soup canning directions to customize the recipe. This allows flexibility for various ingredient modifications.  You can learn about canning soup here.
The reason is this: During the soup canning process, you'll pack the jars differently. You fill the jar halfway with solids and then top it off with liquid. This approach allows for some flexibility in case the density of the soup varies due to ingredient modifications.
How to Thicken
You will thicken your stew when you open the jar to serve it. You can use any thickener you'd like. Flour, or cornstarch is common. I stir 1 heaping tablespoon into a small cup of water to make a slurry, then stir this into the stew. As the stew boils the slurry will thicken it up nicely.
Here's the Recipe!
This printable recipe card is the recipe in brief!  I've got more details, explanations and tips in the article above.  If you skipped here, you might want to take a look at the other details included above too.
Sources
Ball Blue Book Guide to Preserving