Ever wanted to try canning fish?
I don't really care for most fish. But salmon?!? Oh, we love salmon!
Last time we were in Oregon, we visited with a friend who supplied a salmon dinner. Real fresh, non-farm raised salmon. We also have a friend from Minnesota who brings us fish when he visits. He is an avid ice fisher. I forget what kind he brings…mmmmm, but it is good!
Gotta love those friends!
Canning Fish Procedures
A big thank you to Susan, one of my readers, who graciously offered to take pictures of her canning fish sessions for this page.
I found these tested instructions from the NCHFP here.
First step…
Fish must be prepared in 1/2 pints or pints. (I've found that a pint of fish is a lot, so it's more convenient to can in 1/2 pints. If you think about it, the cans of fish you buy in the store are often small. But of course, it all depends on how you use it in recipes.)
Can you can fish in a water bath canner?
No, canning fish is just like canning meat. You will need to know how to use a pressure canner for canning fish. This pressure canning page has more detailed information and step-by-step instructions.
Gather your canning supplies:
stock pot
bowls
large spoons
sharp knife
towels and dish cloths
Ingredients:
Procedure for Canning Fish
First, clean your fish. You'll need to remove the head, tail, and all fins and scales. Wash well and split fish lengthwise. Cut fish into jar-length pieces.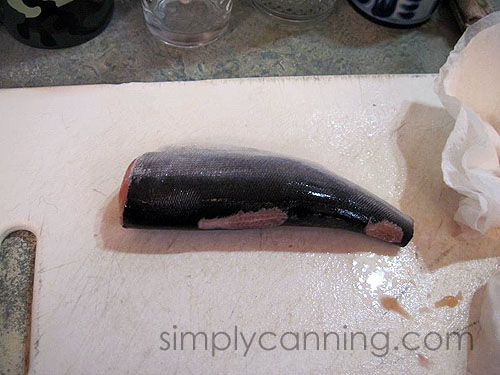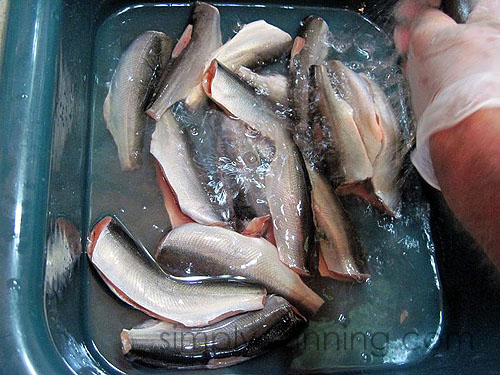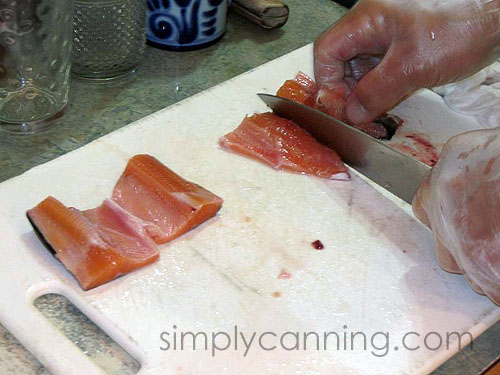 Soak your fish in a salty brine for 1 hour. Use 1 cup of salt to 1 gallon of water. (This technique came from my Ball Blue Book, and I would think that brining would be especially helpful for flavor if the fish is fresh caught.)
While fish is soaking, gather all materials needed. Start your water heating in your canner. See pressure canning for more detailed instructions.
Drain fish for 10 minutes. You want to be sure it is well drained.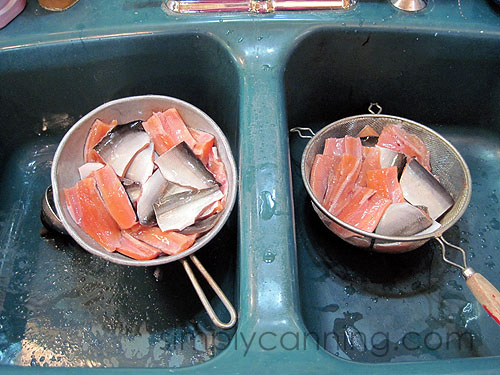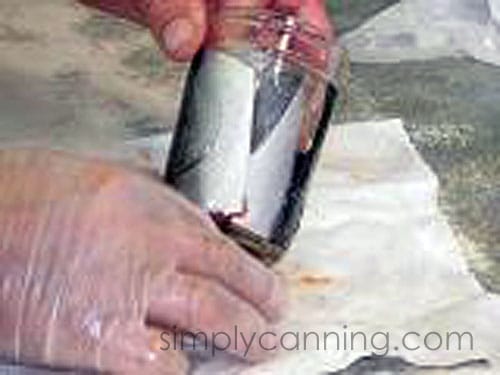 Pack fish into hot jars (pints or half pints), skin sides out next to the glass. Leave a 1-inch headspace. Do not add liquid.
Place lids and process according to pressure canning instructions.
Process pints or half pints 1 hour 40 minutes at 10 pounds pressure.
Don't forget to adjust for your altitude. Use the chart below:
Adjustments for Pressure Canner

Altitude in Feet
Dial Gauge Canner
Weighted Gauge Canner
0-1000
11
10
1001-2000
11
15
2001-4000
12
15
4001-6000
13
15
6001-8000
14
15
8000-10,000
15
15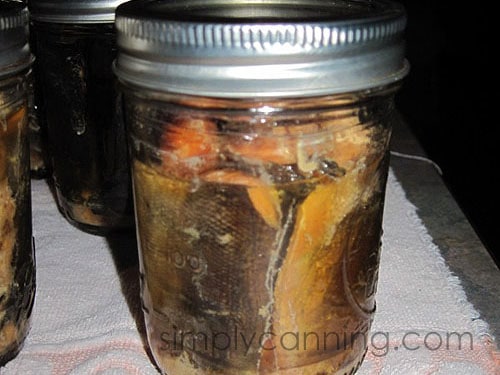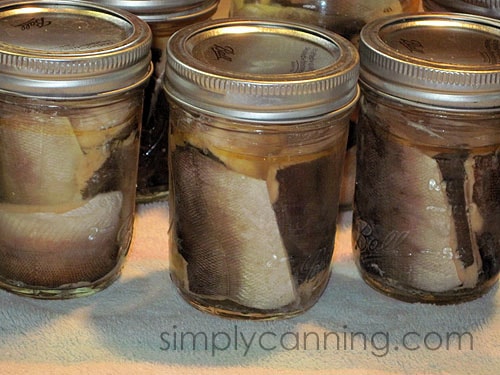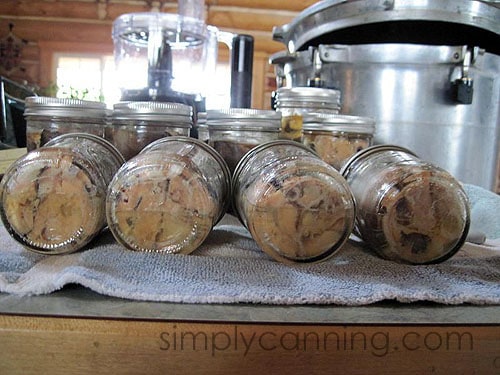 FAQs
I fell asleep while canning salmon in open water kettle and the water level was two inches below the top of the jars 4 hrs later. They sealed but are they safe to eat? or can I freeze the batch in the jars? this was 4 days ago. I have tried county extension and they don't have any one in that department. Lois – WA
Answer:
When you are canning any kind of meat, including fish, you really need to pressure can it. I can't give any recommendations regarding water bath canning salmon. I am sure that an extension office will tell you the same thing.
You would be safe freezing if you found the error right away (within 24 hours). In a case like that, I'd freeze in freezer bags. However, since your fish has been out for 4 days, I don't believe it would be safe at this point.
In the future, you might try another extension, maybe in a nearby town. That is what I do. I like to work with the lady at an extension office that is actually in the next town over.
Sharon
SimplyCanning.com
Our local cooperative extension service recommended canning salmon at 11 lbs. for 100 minutes (1/2 pint jars). The pressure cooker is determined to stay at 15 pounds. Does that matter?
Answer:
As long as you don't use less pressure than is recommended, you should be fine. If you were to be using a weighted gauge canner, then you would need to use the 15-pound weight. So I would think using that pressure on your dial gauge pressure canner should be okay.
What kind of fish can be canned?
Answer:
According to the NCHFP, these instructions are for canning blue, mackerel, salmon, steelhead, trout, and other fatty fish (except tuna).
How do you use canned fish?
Answer:
Use home canned fish just like you would commercially canned fish: in sandwiches, salads, etc. I have a recipe for salmon patties that we use our canned salmon for.
Related Pages:
Members' Extra: Access Your Video Tutorial in Your Members Area
Canning school members, click here to log in.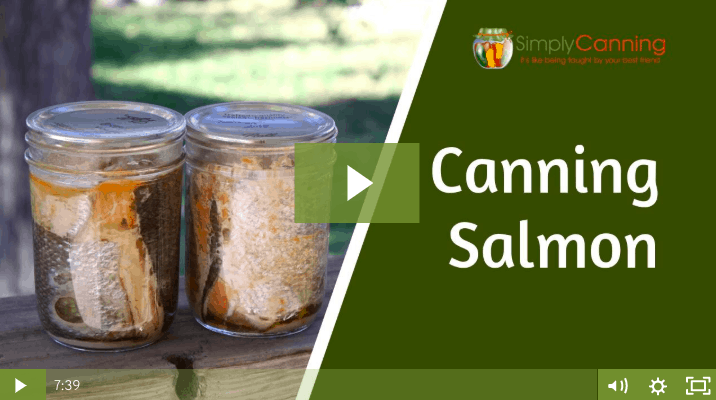 Pin this to find later!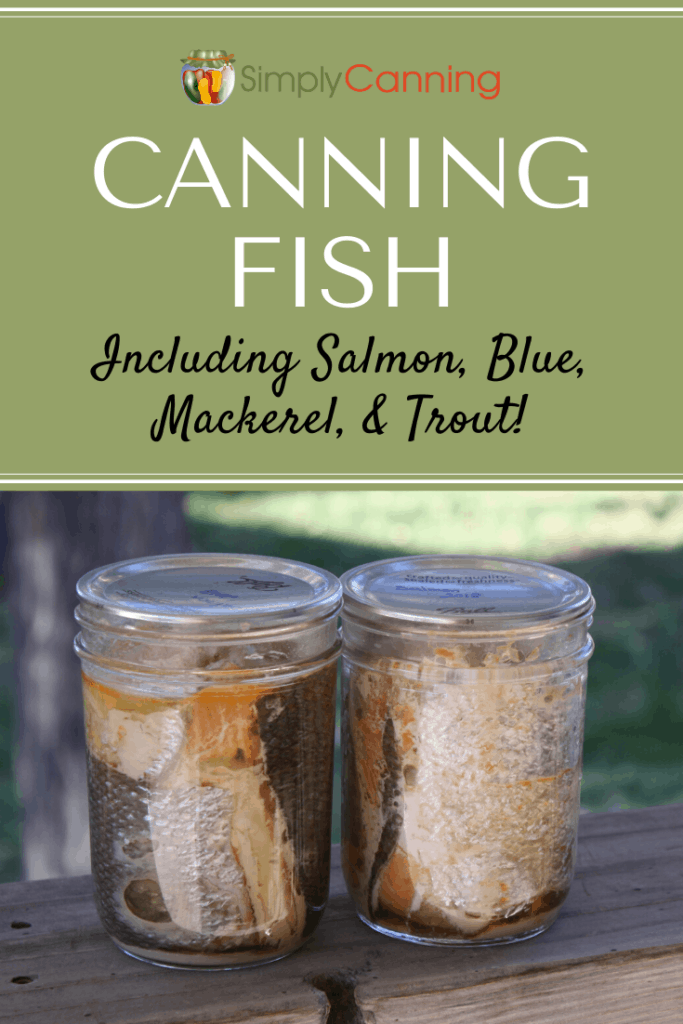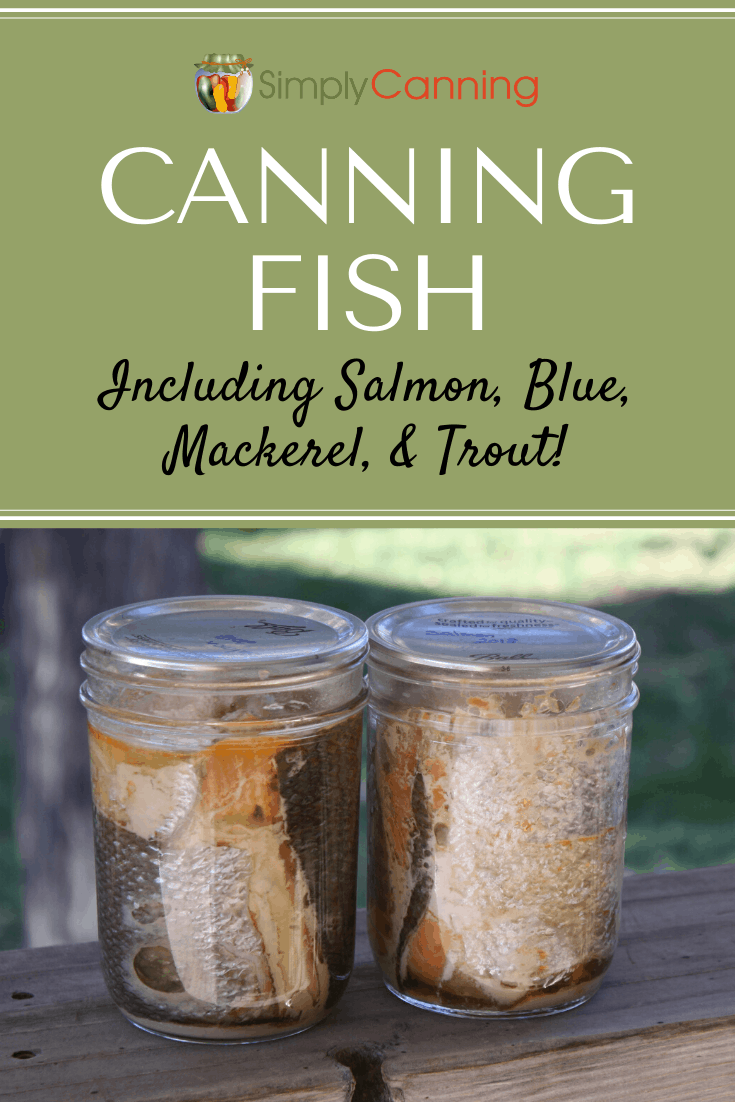 Page last updated: 1/28/2021