Many people (including me) use the terms homemade chicken broth and stock interchangeably. Some folks say they are different, some say they are the same. From what I have read, they are different. (You can read more about that below.)
Don't forget, this is the same process used for canning turkey broth. So if you've got a turkey carcass after a holiday meal… Remember, the day after Thanksgiving is Turkey Broth Day!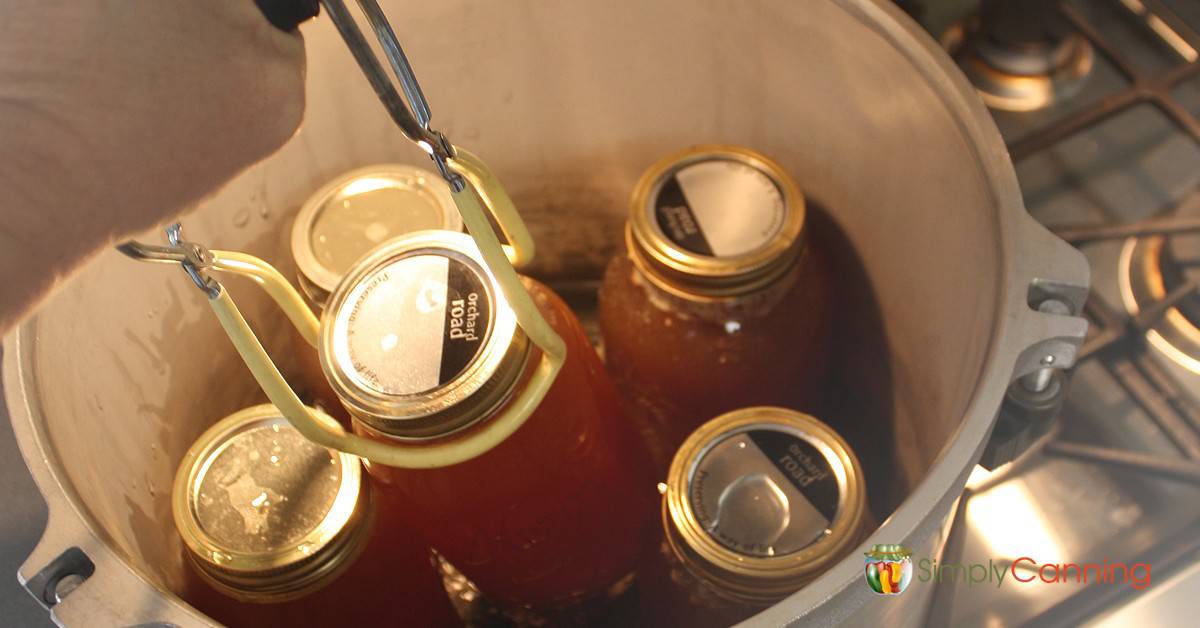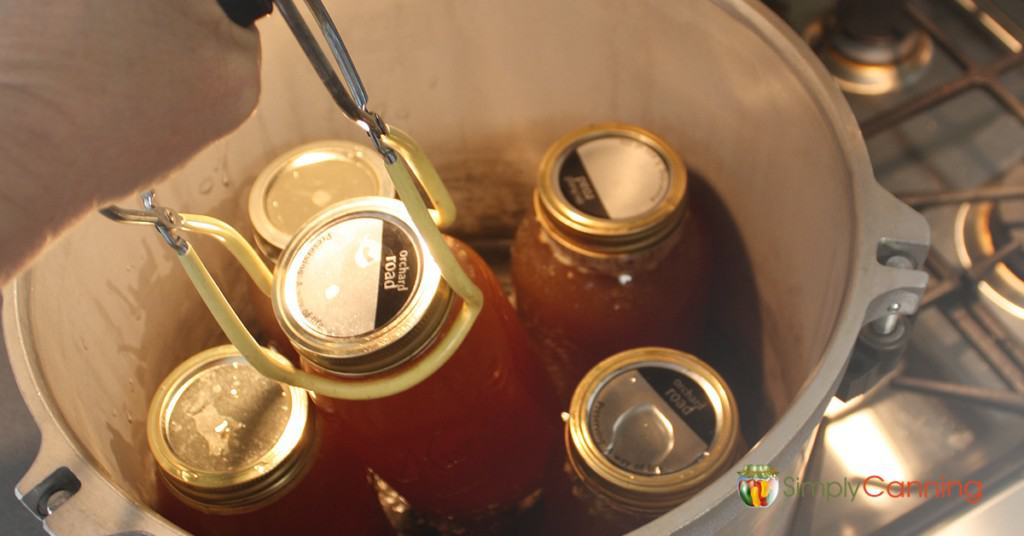 This Page Includes:
Homemade Chicken Broth: Extended, Step-By-Step Directions
Gather your supplies
large stock pot or pressure canner
bowls
large spoons
sharp knife
towels and dish cloths
Ingredients:
Chicken pieces: Any chicken parts will do. I prefer to remove the skin but it is not necessary. Approximately 6 pounds will be enough for a batch in my large stock pot. (This is with meat on. If you have bones, you won't need as much.) I usually get at least 7 quarts out of this.
Vegetables and seasonings are optional. This could include 2-3 stalks of celery (chopped in large chunks), 2 onions (quartered), or 2-3 carrots (chopped in large chunks).
How to Make Homemade Chicken Broth or Stock
The first thing you want to do is cook your chicken and remove the meat if you have not already. If you are using bones leftover from a roast chicken dinner or have you are good to go. Skip down to the options for making your broth from the carcass or bones. Or keep reading for how to cook the chicken easily to prep for broth making.
If you are starting with raw chicken boiling, it is one easy way to cook the chicken to remove it from the bones. Place chicken pieces in a stock pot. Fill with water just to cover the meat. Bring to a boil. Add vegetables and seasonings if you are going to use them. Lower the heat and simmer until chicken is done. This may be about 1 hour, but it will vary a lot depending on how much chicken and how thick your pieces are.
Use a slotted spoon or tongs to remove chicken pieces. Let the chicken pieces cool until you can handle them well enough to remove the meat. Remove the meat from the bones and save for other uses. (It's great for chicken enchiladas, chicken casseroles, etc.)
Cut or break any large bones into shorter pieces if at all possible. (This might not be the case, and that's okay.) Be careful not to burn yourself. Return the bones to the stock pot. Don't be too fanatical about this step. If you are handling a thigh bone that won't easily break, it is not a big deal. Just toss it back into the pot. The purpose is to allow the water more access to the nutritious marrow in the bones.
Next, you have 3 options to cook the carcass and bones:
Simmer the carcass or bones on low. The more you simmer, the better. minimum of 4-6 hours (or more)!
Another option is to use a pressure canner and pressure cook at 10 pounds pressure for 1 hour. Allow canner to release pressure and continue the recipe. This saves a lot of time and brings out more of the nutrition from the bones. It is debatable as far as what this pressure does to the nutrition of the broth. It is much better than that commercial broth full of salt and preservatives.
The final option and the one I go to more and more…use your Crockpot. I'll go into detail on this method below.
Crockpot Method for Making Homemade Chicken Broth
If you only have a few bones, this is a great way to make broth. This is the option I go to more and more often. The broth turns out so full of gelatin from the bones that it sets up when you cool it. Super, super healthy!
Place your bones in a Crockpot and cook them overnight. You can even cook them two days if time is busy. Ask me how I know! 🙂 Just keep it hot.
With this method, I've even cooked the bones for one day, retrieved the broth, added new water, to the carcass, and cooked the bones again another day. It works.
The only downfall is you are limited to how much you can make at a time. I'll usually do this and just freeze or use this broth right away as it doesn't make a full 7 quarts to fill a canner. You can process it in pints to fill a canner more easily. Either way is great.
Preparing the Broth
Remove chicken pieces and vegetables. Discard. Strain broth to remove any small bones and pieces left in the broth. I have a colander that I use. You can use cheesecloth if you want a very clear broth. I don't mind little bits, so the colander is good for me.
Allow the broth to cool, and then place in the fridge to chill completely. The next morning, there will be a layer of fat floating on top. It is easy to remove that fat with a slotted spoon before storing your broth.
Canning Homemade Chicken Broth
Start by preparing jars and getting water in your canner heating. If you are not familiar with how a pressure canner works, check this page.
Pour hot broth into hot jars. (If desired, add 1 tsp. salt per quart or 1/2 tsp. salt per pint.) Wipe the rims clean, remove any air bubbles, and place on your lids and rings. Leave 1 inch headspace. Process using pressure canning instructions.
Processing Time:
(Remember, always adjust for your altitude using chart below.)
Pints – process for 20 minutes
Quarts – process for 25 minutes
Recipe Card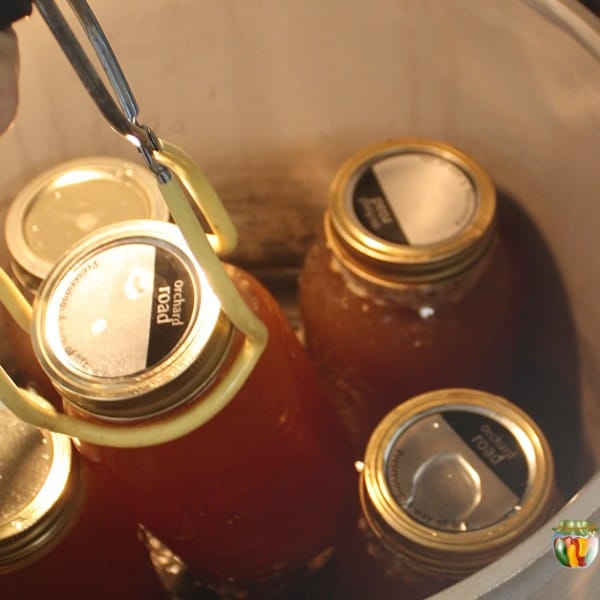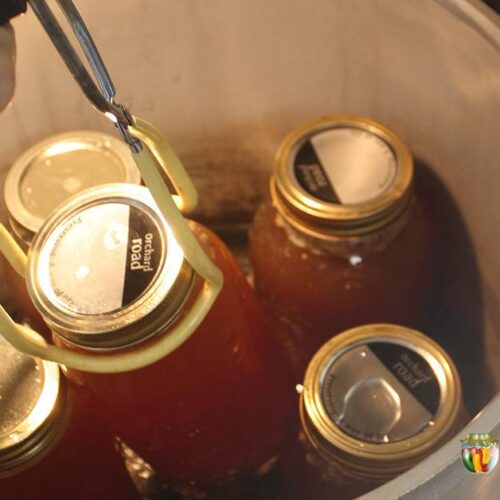 Canning Chicken Broth
Ingredients
Prepared and Strained Broth

Canning salt

optional but highly recommended
Instructions
Start by warming your jars and getting water in the canner heating. You want the canner hot, but not boiling, when the jars are ready to be processed.

Rinse canning seals and rings to clean. Boiling not needed.

If you are new to using a pressure canner, see this article for full pressure canning instructions. This includes more detailed information and step-by-step instructions on how a pressure canner works.
Hot Pack only
Bring your broth to a boil. 

Prepared and Strained Broth

Pour hot broth into hot jar, leaving 1" headspace. 

Add salt (1 tsp. per quart or 1/2 tsp. per pint) if desired.  

Wipe the rim clean and place on canning seal and ring. 

Place the jar in the warm canner. Proceed to fill all jars.  

Process according to directions below. 
Processing
Processing with a Pressure Canner
Warm the jars by placing in the warm canner. Remove a jar, fill with broth leaving 1 inch headspace. Place into the canner.   
Proceed to fill all jars placing them in the prepared hot canner. 
Put the lid on the canner leaving the weights off.  Bring to a boil. Watch for the steam to start coming out the vent pipe in the lid. 
Allow the steam to 'vent' for 10 minutes then put the weights on. Use the proper weight for your altitude (check the chart below) This is when pressure will start to build.  
When the pressure reaches the pressure required for your altitude (check the chart below) that is when you'll start your time.  Process for the full time indicated, adjusting the heat as needed to maintain the correct pressure for the entire time.
When processing time is completed turn off the heat. Do not remove weights yet. Let the canner sit undisturbed until pressure comes back to zero. Do not try to speed up the cooling process.
Remove the weight and wait 5 minutes.
Open the lid to allow steam to escape. (carefully don't let it hit your face or arms!) Leave the lid setting on top of the canner slightly ajar and wait 5 minutes.
Take the lid off the canner and remove your jars. (optionally you can wait another 5 minutes if the contents appear to be bubbling so hard it is coming out of the jars)
Put the jars a few inches apart on a thick towel and allow them to cool to room temperature undisturbed. 12 hours is suggested.
When the jars are cool, remove the metal bands, check the seals, and store the jars in a cool dark place.
Processing Instructions (Hot Pack) 
Process pints for 20 minutes or quarts for 25 minutes, adjusting for altitude.  
Altitude Adjustments for Pressure Canner
Altitude – Weighted Gauge
0-1,000 ft – 10 pounds
1,001-10,000 ft – 15 pounds
Altitude – Dial Gauge
0-2,000 ft – 11 pounds
2,001-4,000 ft – 12 pounds
4,001-6,000 ft – 13 pounds
6,001-8,000 ft – 14 pounds
8,001-10,000 ft – 15 pounds
Source: The National Center for Home Food Preservation, Wisconsin Extension 

Last Updated: 6/30/2021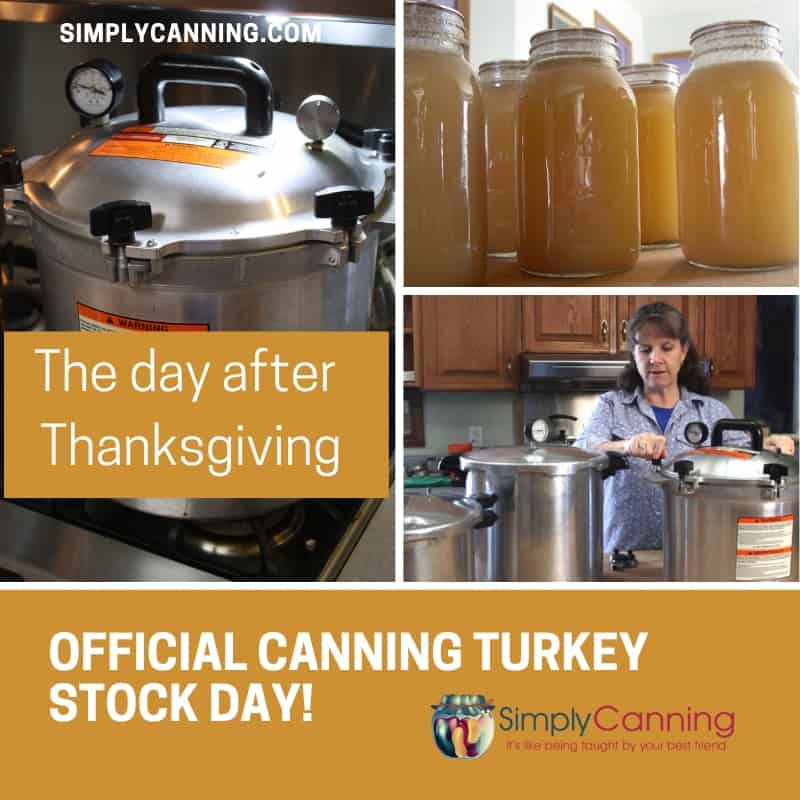 Homemade Chicken Broth Tips & FAQs
Is Chicken Broth & Chicken Stock the Same Thing?
What's the difference between stock and broth? Here's my understanding of the difference:
Homemade Chicken Stock is made from the bones of a chicken carcass, or less meaty chicken parts. The neck, back, and wings are examples. Or it uses the carcass from a roasted chicken meal. This turns out to be a darker, richer color and flavor.
Homemade Chicken Broth is made from meatier chicken pieces with the meat on. The meat is removed (saved for casseroles, etc.) and the bones further cooked. It has a lighter color and flavor.
Both homemade chicken broth and stock benefit from adding vegetables to the stock when you cook it. It is not required, but since I've started adding those veggies, my broth is soooo much nicer! I highly recommend giving it a try. Easy chicken stock (and yummy too).
Melissa writes in with some extra tips…
"I save the scraps from veggies and use those instead of using fresh, whole veggies. So carrot peels and ends, onion skins and ends, the small pieces of garlic that are too difficult to peel to use, the ends of celery or the leaves when I'm making recipes where those aren't really practical to use, the stems from thyme and rosemary (I grow both in my garden and basement year round, so I'm always using fresh).
I keep them in a freezer bag in my freezer and when I make beef/chicken/lamb stock I use the scraps. Then I don't feel bad about throwing them away b/c they would have been thrown away anyway.
For vegetable stock I save all of the above and mushroom stems, leek tops, spinach that's no longer edible, small pieces of ginger, broccoli and cauliflower ends and asparagus ends. Again, when it's all done, I would have thrown them away anyway, but this way they add a great flavor to my stocks before they get thrown away!"
Thank you, Melissa. I'd not thought of saving herbs and some of the other veggies you mention.
Beef Roast in the Crockpot with Home Canned Chicken Broth
Related Pages
How to make homemade soup with home-dehydrated vegetables.
Make this homemade chicken soup recipe and know it's safe for canning!
Pin This to Find Later!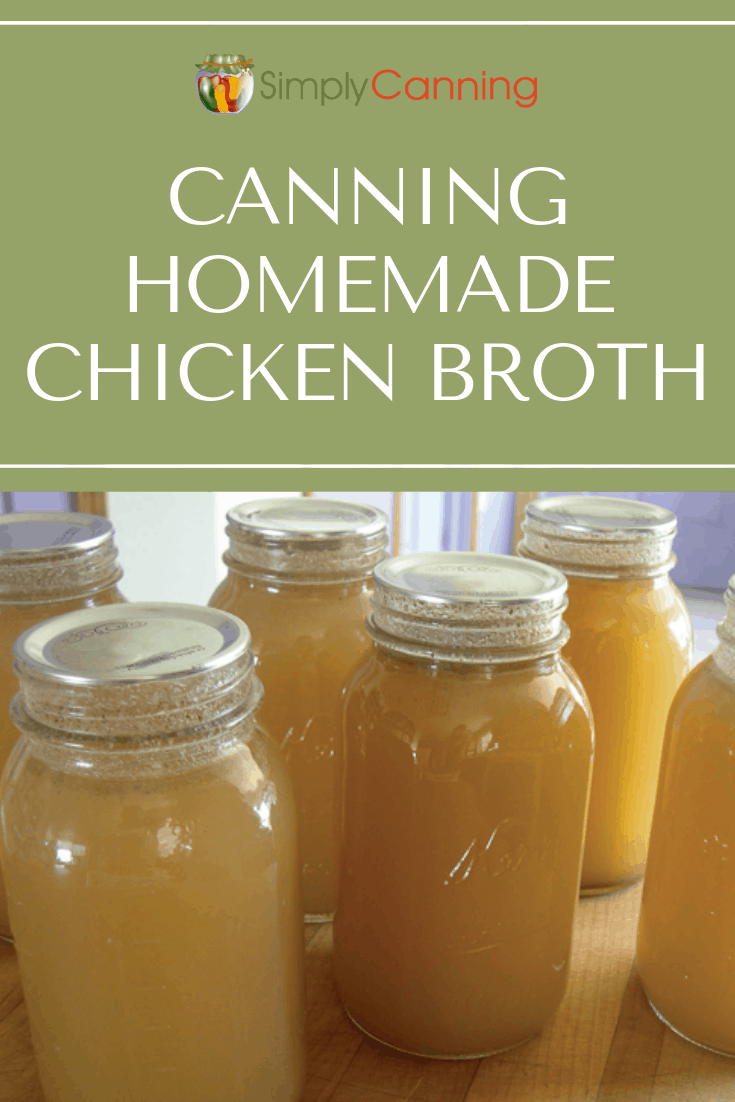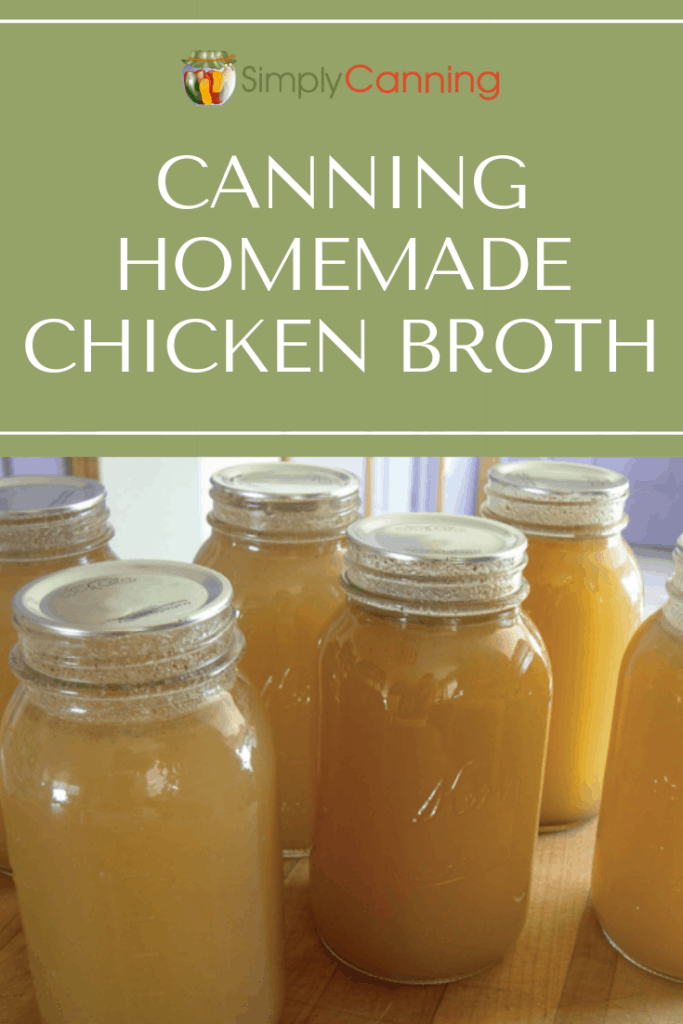 Source: The National Center for Home Food Preservation
Page last updated: 5/21/2021