If you live above 1,000 feet elevation, you need to figure your altitude adjustments for both water bath and pressure canning. As your altitude goes above 1,000 feet above sea level, the atmospheric pressure is reduced. This causes water to boil at temperatures lower than 212 degrees Fahrenheit.
This page includes altitude adjustment information for water bath canning and pressure canning both.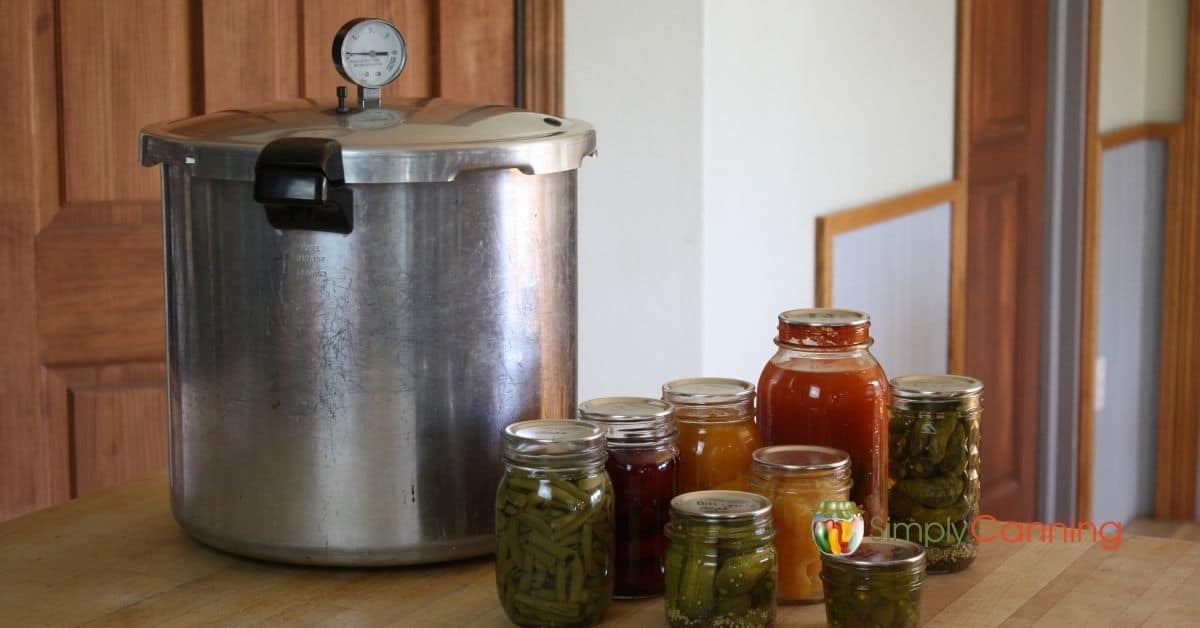 This Page Includes:
Why Does High Altitude Water Bath Canning Take Longer?
For safety in water bath canning, you must bring the contents of your jar to at least 212 degrees Fahrenheit. To compensate for the temperature difference, you must increase processing time.
Why Does High-Altitude Pressure Canning Require Increased Pressure?
The pressure canner is also affected by atmospheric pressures. A pressure canner must reach a temperature of 240 degrees Fahrenheit in order to stop botulism. To compensate for altitude differences, you must increase the amount of pressure used. The time does not change, only the pressure used.
So in short…as you go up in elevation: Water bath canner increase time. Pressure canner increase pressure.
Time and pressure information given in the recipes on this site is for elevations of 1,000 feet or less. Unless otherwise noted, make changes according to the charts below on this page.
Where to Find Your Altitude
What if you don't know your elevation? How do you find your elevation? A Simply Canning Facebook reader shared this site, and it worked perfectly for me. Enter your address and find your elevation here: http://veloroutes.org/
Another option is to do a search for "your town, your state, altitude". In my case, the first result was a Wikipedia article that included the elevation of my town.
Another good option is to call your county extension agency. They may have some information for you. This link to the Cooperative Extension System has a general listing of extension services by state here in America. If there is no office listed for your town, just find the next closest one.
Be aware of altitude changes if you live in mountainous areas.
Altitude Adjustment Charts
Please Note: These are general recommendations for the adjustments to be made. However, there are recipes that may have different recommendations. If there is separate testing, then these may not apply. If you are using a reliable tested resource, always go by the recipe in that resource.
Altitude Adjustments for Dial Gauge & Weighted Gauge Pressure Canners
Altitude Adjustments for dial gauge Pressure Canner
Altitude in Feet – Pressure to Be Used.
0 – 1000 / 11lb
1001-2000 / 11lb
2001-4000 / 12lb
4001-6000 / 13lb
6001-8000 / 14lb
8001-10,000 / 15lb
Altitude Adjustments for a weighted gauge Pressure Canner
Altitude in Feet – Pressure to Be Used.
0 – 1000 / 10 lb
1001-2000 / 15lb
2001-4000 / 15lb
4001-6000 / 15lb
6001-8000 / 15lb
8001-10,000 / 15lb
Altitude Adjustments for Boiling Water Bath Canner
Altitude in Feet – Increase Processing Time
1,001-3,000 – increase 5 minutes
3,001-6,000 – increase 10 minutes
6,001-8,000 – increase 15 minutes
8,001-10,000 – increase 20 minutes
Related Pages
Canning methods come down to two styles: Water bath or under pressure. Learn which one you should be using for different kinds of foods. SimplyCanning.com uses USDA safety methods, with good reason!
"Help! I made a mistake…" They happen to everyone sometimes, but how do you know when it's safe to just re-can it? Here's how to know if you should reprocess or just throw it away.
What do you need to know before putting full canning jars into storage for the winter? Sharon from SimplyCanning.com shares some quick tips!
Pin This to Find Later!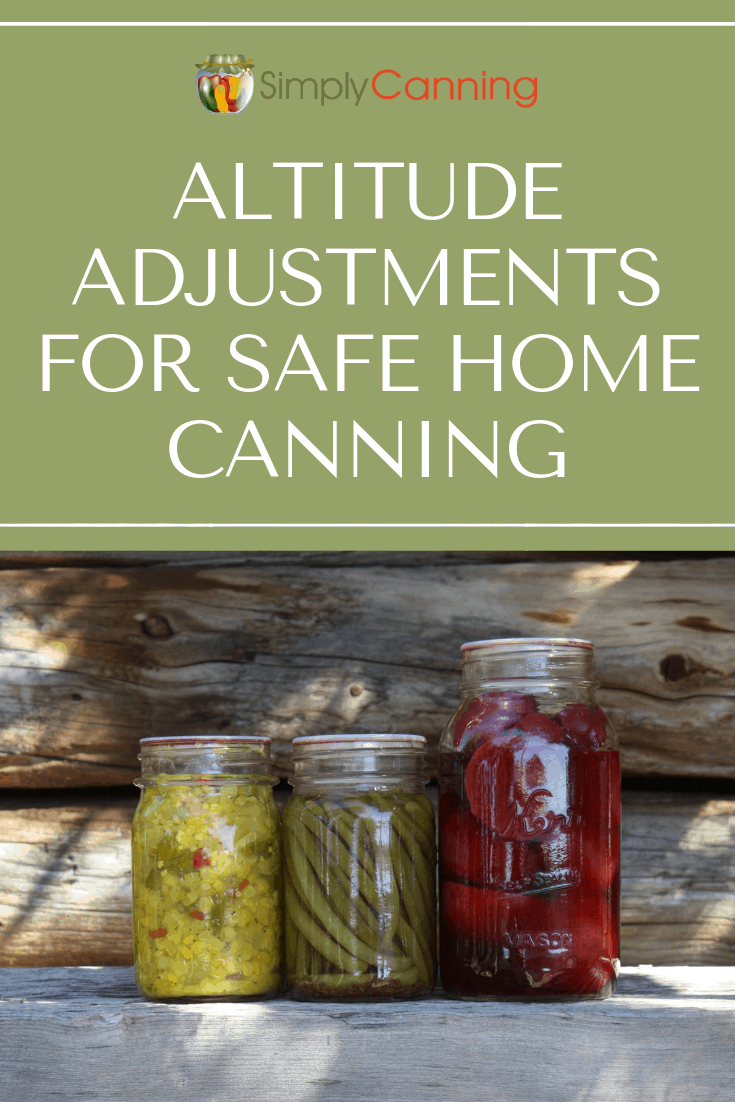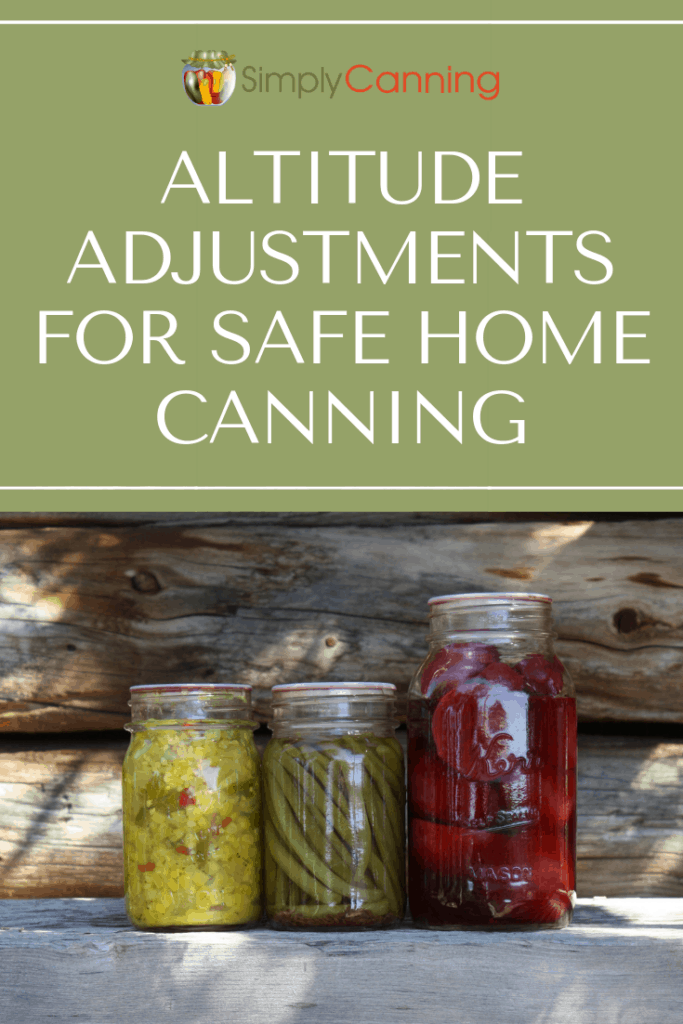 Page last updated: 10/21/2021