Canning tomatoes has been traditionally considered safe without adding lemon juice or any other acidification. However, acidity levels have changed and are now very close to the safety borderline of acidity. The standard recommendation now is to add acidity to tomatoes to make them safe.
There is much debate about this recommendation when it comes to how to can tomatoes. Just remember there are no canning police. There is no one to come and ensure you are using the latest methods. YOU are responsible for YOUR health and the health of your family.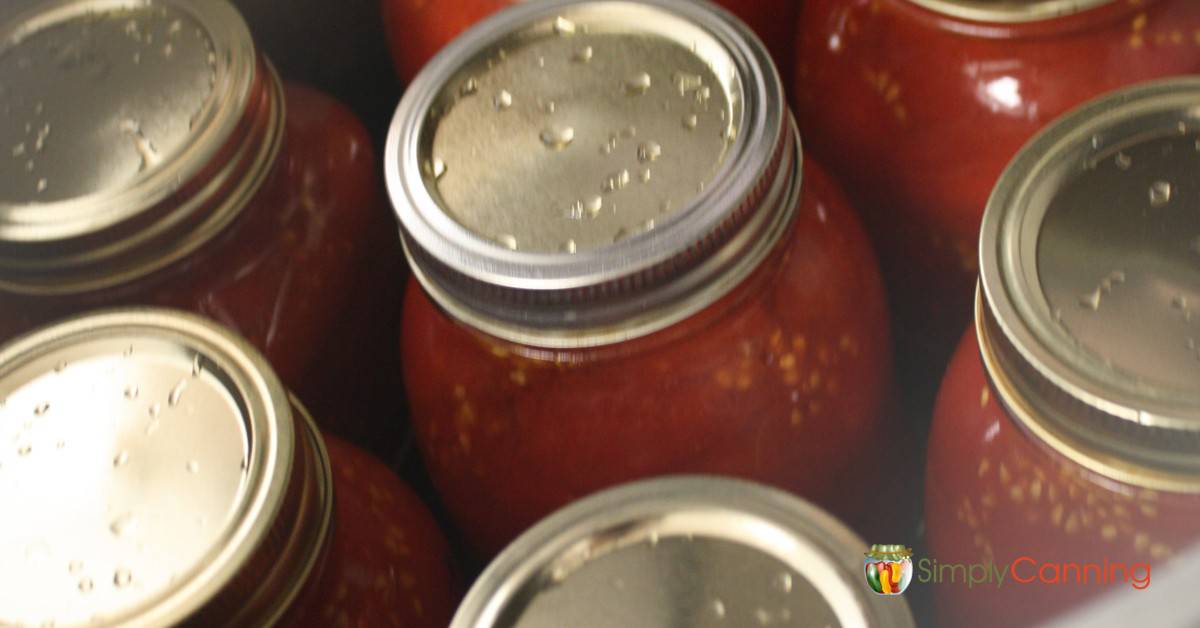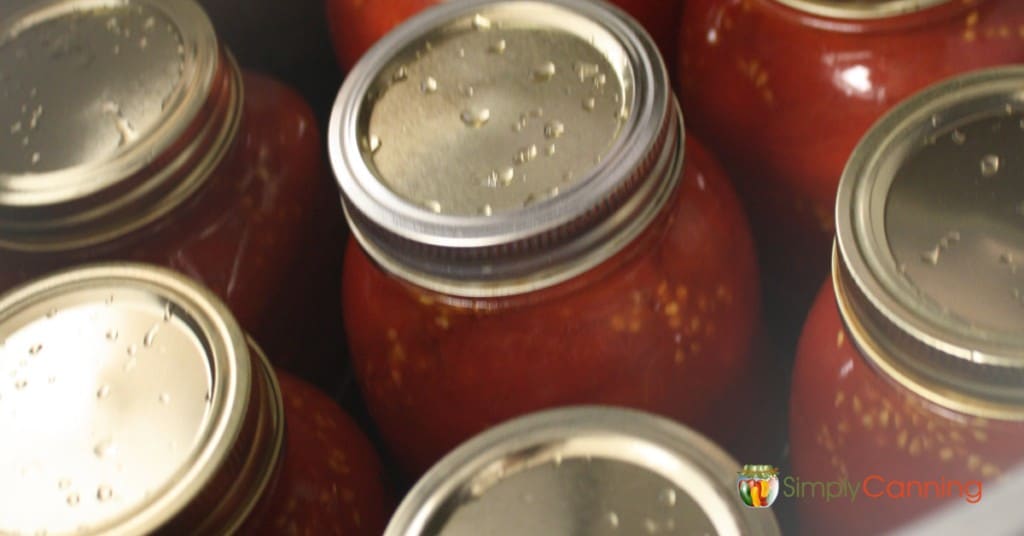 This Page Includes:
How to Can Tomatoes with Lemon Juice
It's actually very simple. Just give tomato products a dose of bottled lemon juice: 1 Tbsp. per pint or 2 Tbsp. per quart. This will raise the acid level and make it safe for a boiling water bath. No questions, no doubts.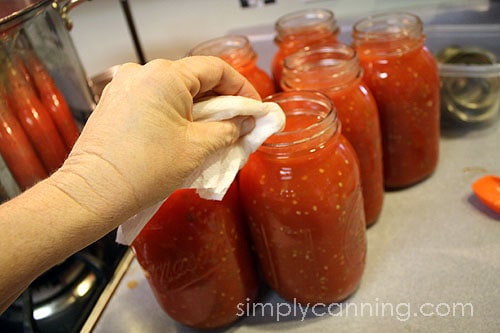 Do You Need to Add Lemon Juice When Canning Tomatoes?
Please Note – ALL official recommendations I've read suggest using acidification (lemon juice) when you are water bath canning tomatoes. So, if using a water bath, I also suggest that you use lemon juice.
I have seen differing recommendations from different extension websites regarding canning tomatoes in a pressure canner. Some extension websites recommend lemon juice even when pressure canning…some don't.
I called my extension here in Colorado to verify what I read. (See quote below.) The person I talked with confirmed that lemon juice is often recommended for all canning by some extensions. However, the Colorado State website states that if you are using a pressure canner, acidification is not needed.
The National Center for Home Food Preservation states that all the testing is done for acidified tomatoes. Even the pressure canning directions have been established for acidified tomatoes. Acidification matters when it come to canning safety.
For that reason, I included quotes from both sources a bit down on this page, plus links to the websites so you can check them out.
How I Used to Can Tomatoes (& What I Do Now)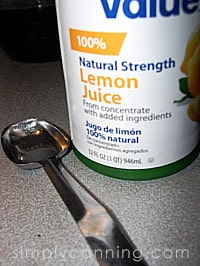 I used to leave out lemon juice when I used a pressure canner.
I've decided to go ahead and add the acidification whenever I am preserving tomatoes…water bath OR pressure canner. This is what is recommended by most extensions. You have to decide for yourself.
Please, if you don't agree with or understand this recommendation, contact your extension office. They should be willing to discuss it with you. I can only report what is recommended.
Remember – If you add vegetables, you must always use a pressure canner. Adding acid to these types of recipes won't change the fact that the added veggies must be pressure canned. Examples would be stewed tomatoes or tomato-based vegetable soup, spaghetti sauce, etc. That's how to can tomatoes in those situations.
How to Can Tomatoes – Quoted from the NCHFP Website
"Caution: Do not can tomatoes from dead or frost-killed vines. Green tomatoes are more acidic than ripened fruit and can be canned safely with any of the following recommendations.
"Acidification: To ensure safe acidity in whole, crushed, or juiced tomatoes, add two tablespoons of bottled lemon juice or 1/2 teaspoon of citric acid per quart of tomatoes. For pints, use one tablespoon bottled lemon juice or 1/4 teaspoon citric acid.
Acid can be added directly to the jars before filling with product. Add sugar to offset acid taste, if desired. Four tablespoons of a 5 percent acidity vinegar per quart may be used instead of lemon juice or citric acid. However, vinegar may cause undesirable flavor changes."
Source: https://nchfp.uga.edu/how/can_03/tomato_intro.html
How to Can Tomatoes – Quoted from the Colorado State Extension Service
"Although tomatoes are considered a high-acid food (pH below 4.6), certain conditions and varieties can produce tomatoes and tomato products with pH values above 4.6. When this happens, the product must be canned in a pressure canner as a low-acid product or acidified to a pH of 4.6 or lower with lemon juice or citric acid.
"Research has found several conditions that can reduce the acidity of tomatoes. These include decay or damage caused by bruises, cracks, blossom end rot or insects, and over ripening. Tomatoes grown in the shade, ripened in shorter hours of daylight, or ripened off the vine tend to be lower in acidity than those ripened in direct sunlight on the vine.
Also, tomatoes attached to dead vines at harvest are considerably less acidic than tomatoes harvested from healthy vines. Decayed and damaged tomatoes and those harvested from frost-killed or dead vines should not be home canned.Four tablespoons of a 5 percent acidity vinegar per quart can be used instead of lemon juice or citric acid. However, vinegar may cause undesirable flavor changes."
Source: https://www.ext.colostate.edu/pubs/foodnut/09341.html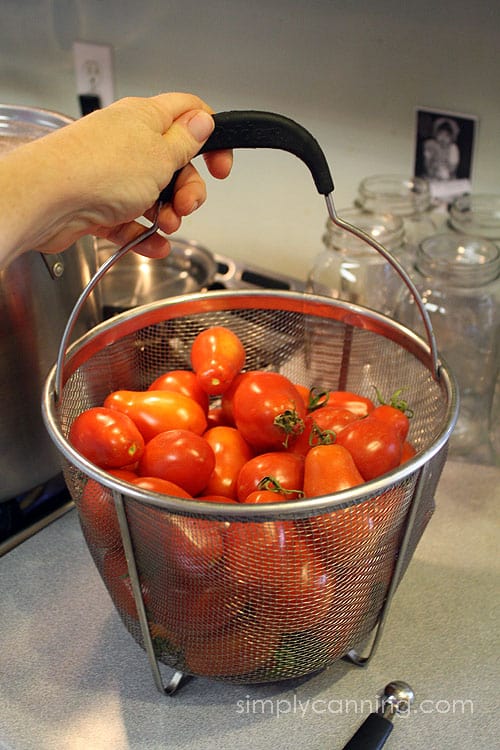 How to Can Tomatoes Tips & FAQs
Pressure Canning Tomatoes & Canning the "Old" Ways
Here is a question I received in my inbox related to how to can tomatoes. It is in regards to pressure canning and preserving tomatoes with methods taught by relatives who have been doing things the "old" way for many years. This is always a hard situation. You don't want to offend your well-meaning friend or relative…but, I don't suggest you just go along with them either.
Dear Sharon.
I love your site! My mother-in-law, who is 85 has been canning all her life. — This is the first year ever they have not had a garden. I have been buying fresh produce and taking it to her this summer.
She has taught me how to can tomatoes and green beans in a pressure canner. I have a couple of questions for you.
She has been canning tomatoes in pints for ever, processing at 5lbs for 10 mins, their elevation is about 1400 ft above sea level.
Our home is about 1200 ft above sea level; I have done 21 pts. Everything is sealed and everything is beautiful. The question is: Are they safe? Should I reprocess them? Most were done this weekend. Maybe I am just reading too many opinions; we have been eating them this way for years.
Thanks so much for your time – GREAT SITE!!!!
~ Bobby, VA
Bobby,
Thanks so much for your positive comments on my site. You made my day!
As far as your MIL's canning procedures, five pounds is not enough pressure, and 10 minutes is not long enough. New testing has changed what is recommended. Tomatoes need to be pressure canned for longer than your MIL suggests.
You said you have been eating them that way for years with no problems…so I can understand wondering what all the fuss is about. This is one of those personal decisions. I can only suggest sticking with the current recommendations for how to can tomatoes. You may have seen this already, but I wrote about unsafe or outdated canning methods. You could also check with your local extension service.
Again, I want to thank you for your excitement over my site. I have enjoyed building it and am glad some are finding it useful. You are a sweetie for bringing your MIL fresh produce. I'll bet she misses having a garden and appreciates your thoughtfulness too.
Sharon
Do You Have to Cook Tomatoes Before Canning?
This depends on what canning instructions you're using. Many tomato recipes do require cooking the tomatoes first, but there's also the option to raw pack tomatoes.
Do You Have to Add Salt When Canning Tomatoes?
Salt is optional, though suggested for flavor. It isn't a safety consideration like acid, so may be safely omitted if desired.
What Happens If You Forget to Put Lemon Juice in Canned Tomatoes?
If it's been over 24 hours, it has not been processed to instructions. There is a risk associated with that. You'll have to decide what you are comfortable with. My recommendation is to consider it a learning opportunity. And remember next time!
What About Canning Salsa?
Many folks have a favorite salsa recipe that they would love to preserve by home canning. They may have a recipe handed down from past generations or one that comes directly from friends or relatives.
Please keep in mind what I discussed earlier about acidity levels and home canning safety. If you want to store your homemade salsa on the shelf, you really should use a tested recipe to get a ratio of ingredients that is safe for processing and shelf storage.
Related Pages
Before you start canning, here are 3 things you should know about home canning tomatoes. Get the tips in this video!
Freezing tomatoes can be as straightforward or as complicated as you want it to be. With or without skin, cut or whole, SimplyCanning.com covers it all with a 'how to' video included.
Dehydrating tomatoes in a food dehydrator instructions are available on this page. It is best to use a meaty style tomato like a Roma.
Pin This to Find Later: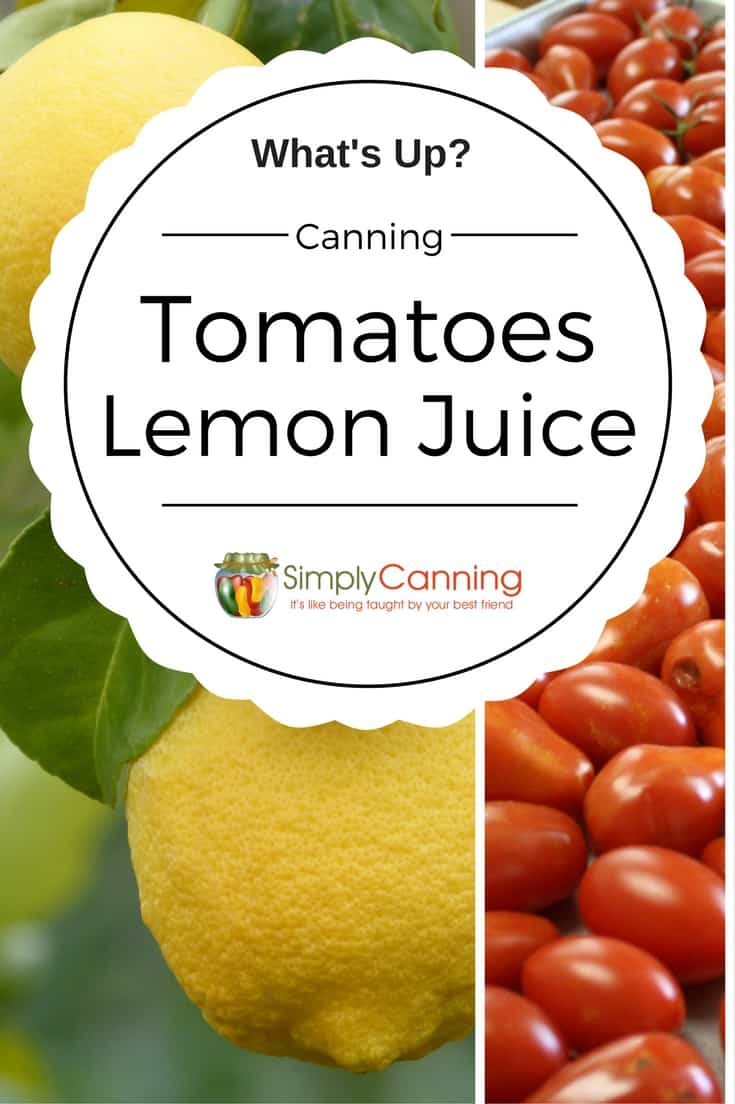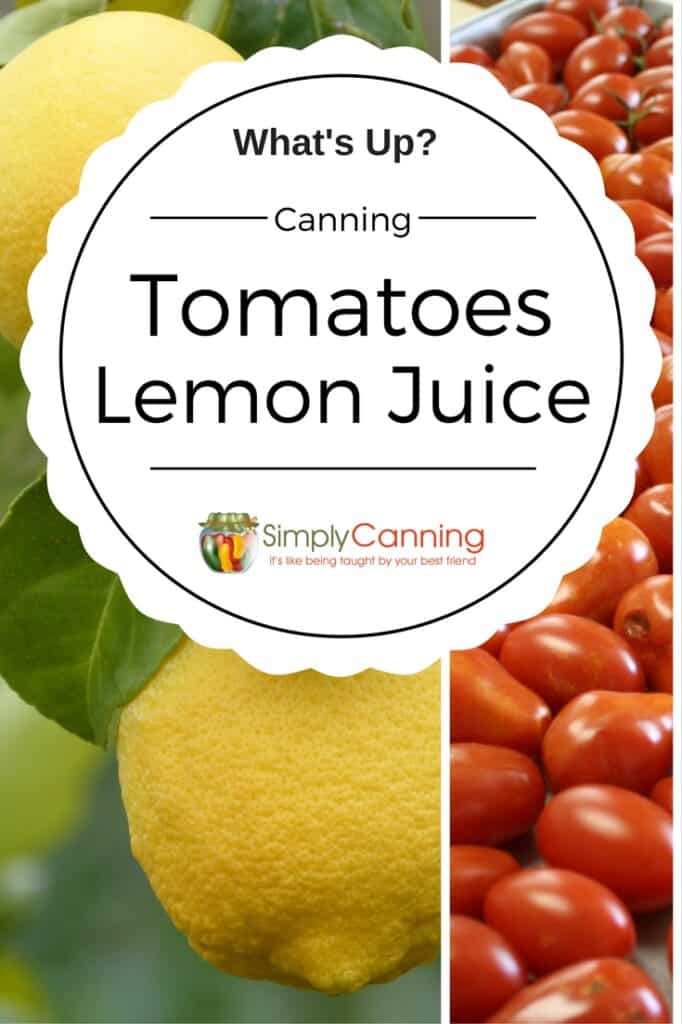 Page last updated: 10/29/2021