Canning tomatoes comes with a lot of questions: For starters, do tomatoes need to be pressure canned? Can you process tomatoes in a water bath canner instead of a pressure canner?
When you are canning tomatoes, you have a choice as to how you want to process them. Tomatoes are right at the borderline of being a high-acid food.
The recipe below is for a raw pack. Meaning you don't cook the tomatoes first. They go in the jars raw. And then you will process the jars in either a water bath canner OR a pressure canner. Because it is safe to do it with either method.
If you want to use a hot packing method check out canning tomato sauce. Because if you cook them first they'll get saucy.
(See safety recommendations for more information.) Water bath canning tomatoes and pressure canning tomatoes are both included on this page.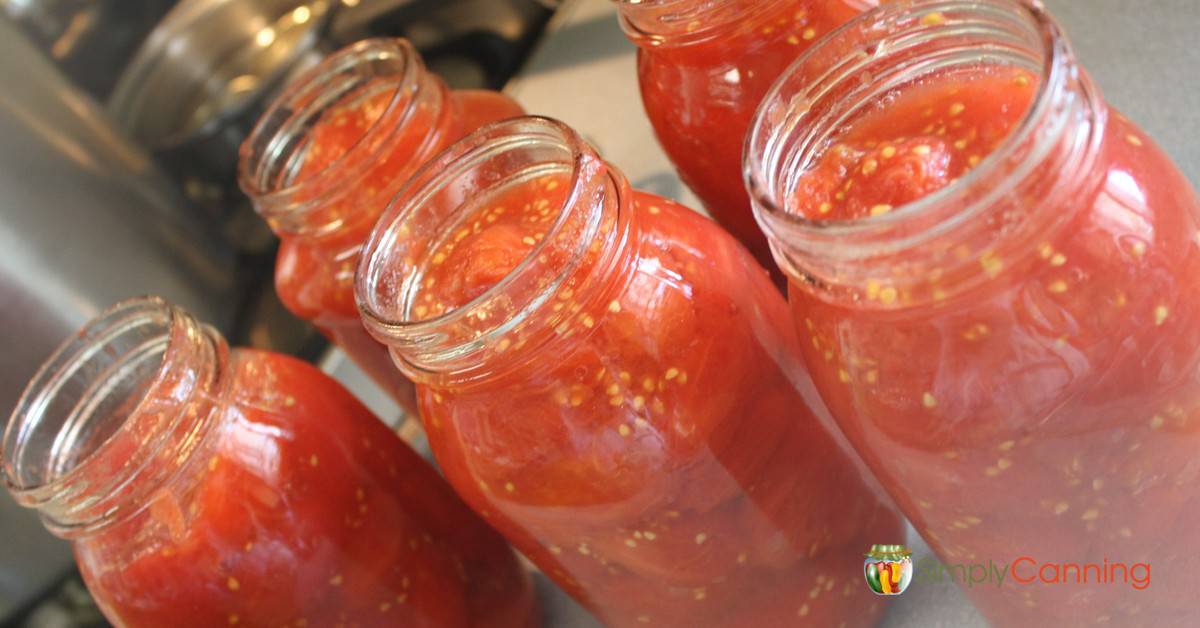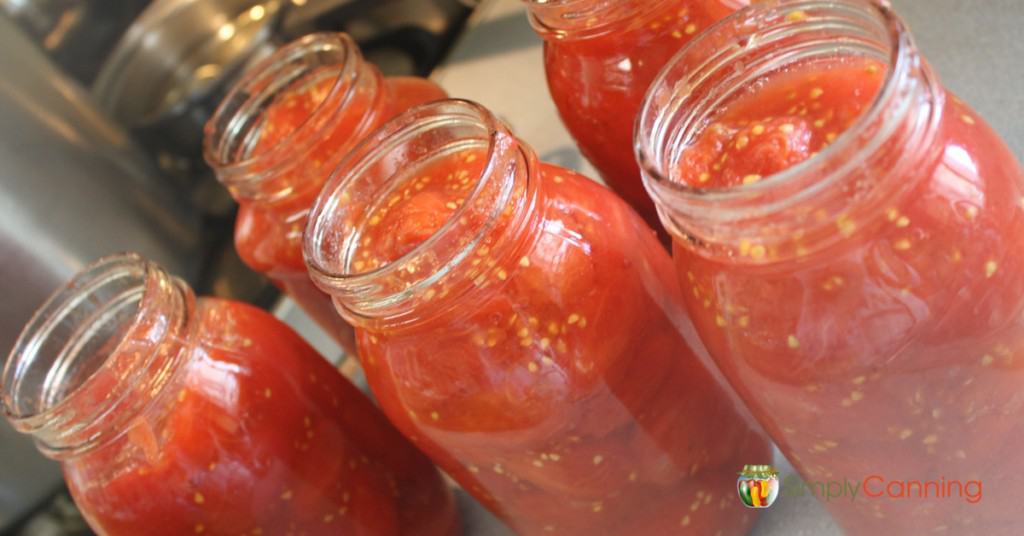 This Page Includes
Canning Tomatoes: Extended, Step-By-Step Directions for Raw Pack
Gather Canning Supplies for Canning Tomatoes:
large pot of water or blancher
bowls
large spoons
sharp knife
towels and dish cloths
Ingredients:
tomatoes – I'm using Roma tomatoes on this page, but other varieties work as well.
canning salt (optional)
lemon juice (or citric acid)
Start by preparing your jars and getting water in your canner heating. (See information below about using water bath canning vs. pressure canning.)
Peel the Tomatoes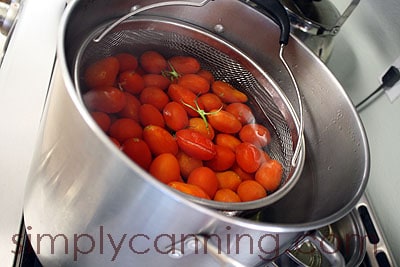 Depending on the size of the tomato, blanch 4 to 6 at a time. In these pictures, I am working with Roma tomatoes. I like them for canning because they are meatier than other tomatoes. They are smaller, so I can fit more in the blancher at one time.
If you have a blancher or blanching basket, that makes it easier, but you can also just use a slotted spoon and a big pot of boiling water.
How Do You Can Fresh Tomatoes?
Wash tomatoes and dip in a large pot of boiling water for 30-60 seconds or until you see the skins split. Start counting as soon as the tomatoes hit the water. You don't need to wait for the water to come back to a boil to start your count time. It works best to watch for the skins to start splitting but sometimes they just don't. So don't go longer than 60 seconds or so.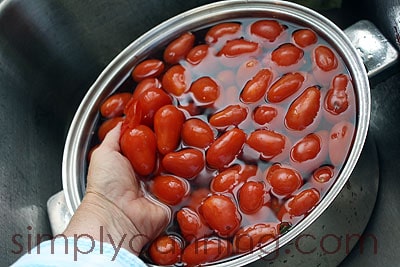 When you remove the tomatoes, drop them immediately into a sink or bowl of cold water to stop the cooking.
Slip off skins and quarter tomatoes with a paring knife. The skins should just slide off in your hands. Occasionally I'll use a knife on some stubborn spots.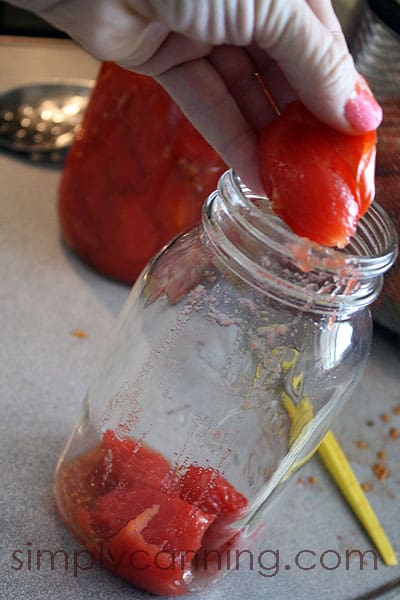 You'll need to add lemon juice to each jar of tomatoes, this bumps the ph levels and makes them high acid enough for home canning. It doesn't matter if you use a waterbath or pressure canner. These recipes are geared for tomatoes with added acidity. Don't skip this. Sometimes people say they don't like the flavor of the lemon juice. I've never noticed a taste difference.

Add bottled lemon juice or citric acid to the jars: Use 2 Tablespoons lemon juice per quart or 1 Tablespoon lemon juice per pint. (For citric acid, use 1/2 tsp. per quart or 1/4 tsp. per pint instead.)
If desired, also add 1 teaspoon of salt per quart jar or 1/2 tsp. salt per pint to the jars, if desired.
As you skin the tomatoes, slice them in halves or quarters, whatever you you prefer. (I will sometimes even leave my Roma tomatoes whole.) Place them directly into your jars.
Your jars should be warm when you are working with your tomatoes. I'll usually just have them in a sink or pan of hot water. You can also run a dishwasher rinse cycle with the jars and then leave them in the steamy dishwasher until you are ready to fill each one. Learn why sterilizing jars isn't required.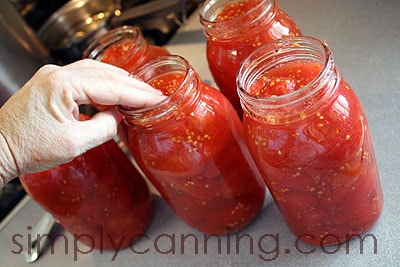 Press down on the tomatoes in the jar until spaces between them fill with juice. This will crush them slightly. Leave 1/2-inch headspace.
Repeat steps until all tomatoes are skinned and chopped. You may need to let your water come back to heat in between batches in the blancher.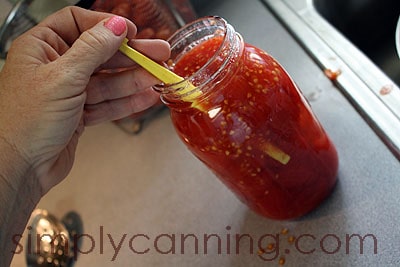 Remove air bubbles with a small utensil–I find an orange peeler works great for this step.
Be sure and wipe the rims of your jars clean before placing your lids on. If there are bits of food, it may interfere with the seal. Place lids and screw bands on the jars and place in the canner on a rack. Process according to Water Bath or Pressure Canning Instructions.
Remember how your jars were hot when you filled them? They will most likely cool when you add the tomatoes, thus you should have the water in your canner warm/hot, but not boiling. You don't want a drastic change in temperature. Canning jars are pretty sturdy, so they will handle some temperature change…but I'd still not risk placing cool or even room temperature jars in boiling water.
So in short, have the canner water hot, but not boiling hot, when you fill it with the jars.
Don't Add Water!
Now keep in mind these are raw packed in their own juice. You should not add water to your jars. If you add water, you change the acidity and there are different processing instructions in those circumstances.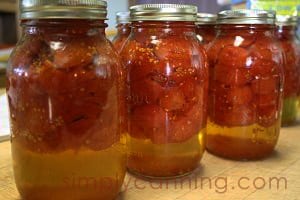 Also, keep in mind that these tomatoes will float (like in the picture above). It is just a fact of this method of canning. Tomatoes will end up at the top of the jars after processing with more liquid at the bottom.
It is prettier to make a tomato sauce, but this style of whole tomatoes has its place in many of my recipes, so I always do a bunch like this. With this style, you can even pull out the tomatoes in the middle of winter to put on a salad. Definitely mushier than fresh, but they still hold together well enough.
Processing Directions for Canning Tomatoes
Processing for a Pressure Canner
Process both pints or quarts for 25 minutes.
Processing for a Water Bath Canner
Process both pints or quarts 85 minutes.
(Be sure to adjust processing according to your altitude, using charts below. For more information, see this altitude adjustments page.)
Recipe Card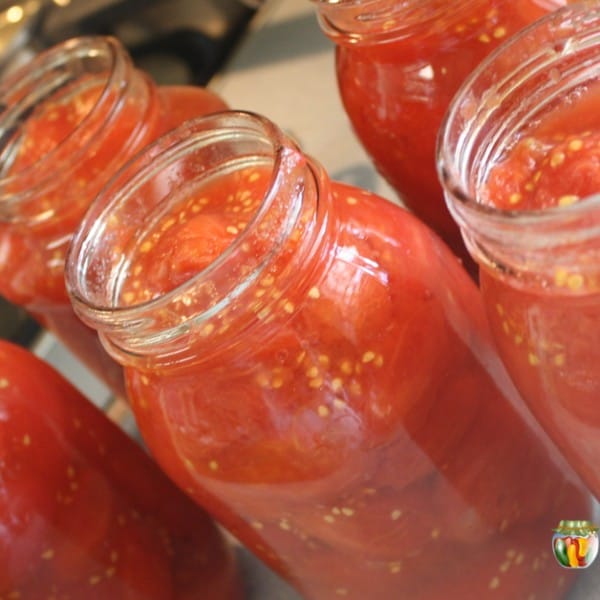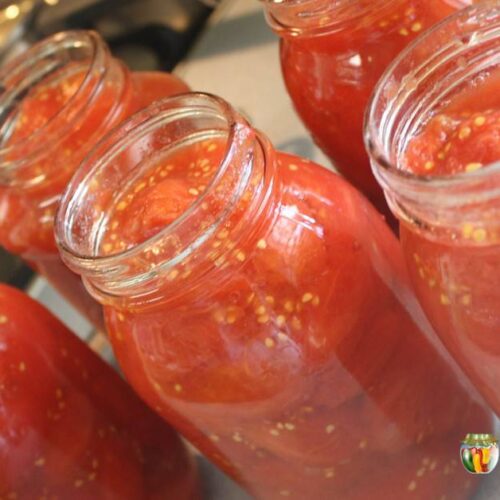 Canning Tomatoes Raw Pack
Canning Tomatoes Raw Pack 
Instructions
Start by preparing jars and getting water in the canner heating. You want the canner hot, but not boiling, when the jars are ready to be processed.

If you are new to using a pressure canner, see this article for full pressure canning instructions. This includes more detailed information and step-by-step instructions on how a pressure canner works. See full water bath canning instructions here.  
Raw Pack only
Halve or quarter tomatoes. (You can leave small or roma tomatoes whole.)  

Add lemon juice to hot jar, 2 Tbsp. per quart or 1 Tbsp. per pint. (For citric acid, use 1/2 tsp. per quart or 1/4 tsp. per pint instead of the lemon juice.) If desired, add canning salt (1 tsp. per quart or 1/2 tsp. per pint). 

Pack tomatoes into jar, pressing down to fill space with juice. 

Remove air bubbles, wipe the rim clean, and place seal and ring. Place jar in the warm canner. Proceed to fill all jars. Process according to directions below. 
Notes
Processing with a Water Bath Canner
Place the jar in the warm canner. Proceed to fill all jars placing them in the canner.
When all the jars are filled, bring the water in the canner to a boil.  When a boil is reached that is when you'll start your timing.   Process for the length of time on the chart below.  Adjust for your altitude. 
 After your time is over, turn the heat off remove the lid and allow the canner to rest for about 5 minutes. Then bring your jars up out of the water.  Allow them to rest for another 5 minutes. Then remove the jars and place them a few inches apart on a thick towel to cool completely.  Leave them alone for about 12 hours.  
When they are cooled remove the metal bands, check the seals, label the jars and store them away! 
Processing with a Pressure Canner
Place the jars in the warm canner. Proceed to fill all jars placing them in the prepared hot canner. 
Put the lid on the canner leaving the weights off.  Bring to a boil. Watch for the steam to start coming out the vent pipe in the lid.
Allow the steam to 'vent' for 10 minutes then put the weights on. Use the proper weight for your altitude (check the chart below) This is when pressure will start to build.  
When the pressure reaches the pressure required for your altitude (check the chart below) that is when you'll start your time.  Process for the full time indicated, adjusting the heat as needed to maintain the correct pressure for the entire time.
When processing time is completed turn off the heat. Do not remove weights yet. Let the canner sit undisturbed until pressure comes back to zero. Do not try to speed up the cooling process.
Remove the weight and wait 5 minutes.
Open the lid to allow steam to escape. (carefully don't let it hit your face or arms!) Leave the lid setting on top of the canner slightly ajar and wait 5 minutes.
Take the lid off the canner and remove your jars. (optionally you can wait another 5 minutes if the contents appear to be bubbling so hard it is coming out of the jars)
Put the jars a few inches apart on a thick towel and allow them to cool to room temperature undisturbed. 12 hours is suggested.
When the jars are cool, remove the metal bands, check the seals, and store the jars in a cool dark place.
Processing Instructions for Water Bath Canner
Processing Times for Water Bath Canner (Raw Pack) 
Altitude – Pints and Quarts are Processed the Same
0-1,000 ft – 85 minutes
1,001-3,000 ft – 90 minutes
3,001-6,000 ft – 95 minutes
Above 6,000 ft – 100 minutes
Processing 
Instructions
 for Pressure Canner
Process pints or quarts 25 minutes, adjusting for altitude.
Processing Times for Pressure Canner (Raw Pack) 
Altitude – Dial Gauge
0-2,000 ft – 11 pounds
2,001 – 4,000 ft – 12 pounds
4,001 – 6,000 ft – 13 pounds
6,001 – 8,000 ft – 14 pounds
Altitude – Weighted Gauge
0-1,000 ft – 10 pounds
1,001 – 8,000 ft – 15 pounds
Adapted from: The National Center for Home Food Preservation 
Last Updated: 5/15/2021

Canning Tomatoes Tips & FAQs
A Quick Cleanup Tip for Canning Tomatoes
When I'm canning tomatoes, I like to have two pots set up in my double sink. The one on the left is for the cold water to cool the tomatoes as they come out of the blancher. The one on the right is to catch the skins as I slide them off.
The pots are lower than if you set them on a counter, making it easier on the arms, while the sink makes for easy cleanup.
Do You Have to Add Lemon Juice When Canning Tomatoes?
Yes it is a good idea to add lemon juice or some sort of acidification to your home-canned tomatoes. It all has to do with the acidity. For more information on why acidifying your tomatoes is important, please read Canning Tomatoes Safely. Get the answers to do you really need lemon juice/citric acid? What's the big deal, anyway?
How do you freeze tomatoes?
I explain how to can tomatoes in this article, but another option is to freeze your tomatoes prior to canning them. When you thaw them out, the skins slip right off. Check out this page for more information. Information about freezing tomatoes can be found here.
There are air bubbles in my jars of tomatoes? Are they safe?
This is probably normal. If the bubbles are small and not moving like they are fermenting then it is fine. If you have movement in the jar then it is possible you've got spoilage happening.
After putting the tomatoes in boiling water so the skins split, then into ice cold water to stop them from cooking, won't the tomatoes be cold when I put them in the hot jars? Can this cause my jars to break?
Yes, you are right. The jars do cool down when you add the tomatoes. They won't be cold though. They might be sort of lukewarm or even end up at room temperature. That is why you want the water in your canner hot, but not boiling hot. It can be a bit hotter than your jars; canning jars are pretty sturdy but don't have a drastic difference in temperature. Great question.
Hi, I just found your site today and I am very excited – lots to learn! But I do have a question – You state more than once that if someone is canning vegetables, it must be done in a pressure cooker. Why? I want to make spaghetti sauce, so I am wondering if I can just add the lemon juice to each jar and then just use the water bath? If this is ok, then how many minutes should I leave the tomatoes in the hot water?
The reason you must use a pressure canner is that vegetables are a low-acid food and are a risk for botulism. Here are some pages on canning safety that you might be interested in: Canning Safety.
Assuming your spaghetti sauce has some vegetables (onion, green peppers, garlic, celery, carrots, or others), you will need to use a pressure canner to process it.
Do tomatoes need a water bath?
You really do need to process your jars of tomatoes but it doesn't have to be a water bath. It can also be in a pressure canner. You should not do what is sometimes called "open kettle canning". You can read more about open kettle canning here.
What can I do with home-canned tomatoes?
Oh goodness! Canned tomatoes and tomato sauce are basic in any pantry. It can be used as a base for soup or stews. You can make and can salsa but you can also open a jar of home-canned tomatoes add vinegar, peppers, onions, garlic, etc and make fresh salsa from it.
How do you can cherry tomatoes?
Just like regular-sized tomatoes. :). The trick is the peeling step. You can't skip it. You'd be surprised how easily cherry tomatoes peel though. Be sure and watch close they don't need to be blanched as long.
Related Pages
Tips for Home Canning Tomatoes
Dehydrating Tomatoes in a Food Dehydrator
Pin This to Find Later: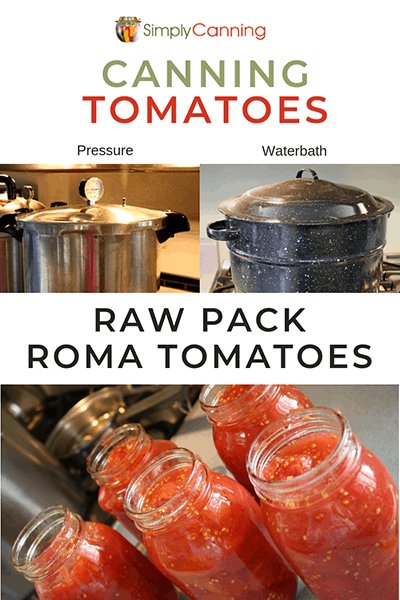 Source: The National Center for Home Food Preservation
Page Last Updated: 6/24/2021