Canning Zucchini in Tomato Sauce, a great basic for your pantry. 
This page may contain affiliate links. More Information.
Learn how to can fresh zucchini (or okra) in a tomato-based sauce to create home canned tomatoes and zucchini for your pantry.
Todays project is canning tomatoes and zucchini.  Okra can be substituted for all or part of the zucchini. 
Quantity
You'll need to weigh your produce before you start. The measurements are by weight not by volume. It is a specific ratio of zucchini to tomatoes.
For 7 quarts / you'll need about 12 pounds of tomatoes and about 4 pounds of okra or zucchini.
For 9 pints / you'll need about 7 pounds of tomatoes and 2-1/2 pounds of okra or zucchini.
If you just have a counter full of produce and want to keep canning until what you have is gone, keep to this ratio; 3 pounds tomatoes to 1 pound zucchini or okra.
During the harvest when the garden is producing…. I harvest what I've got and pile it all on the counter and start weighing what I've got and filling jars. Weighing each batch as I go.
Know your Canner
Before you start this project, if you are not familiar with using a pressure canner I recommend reading – How to use a pressure canner. This will familiarize you with how your canner works and what steps to take to get set up for any canning project.
Canning Zucchini in Tomato Sauce Recipe
Get all your canning supplies out.  (A full list can be found in the recipe card below.)

The goal is that when your zucchini tomato mixture is ready to go in the jars.  The jars and canner will be hot but not boiling.  Hot food, into hot jars, into hot canner.
Prepare the Tomatoes and Zucchini
The first step is to weigh your tomatoes and zucchini for one batch. Remember about 3 pounds tomatoes to 1 pound vegetable.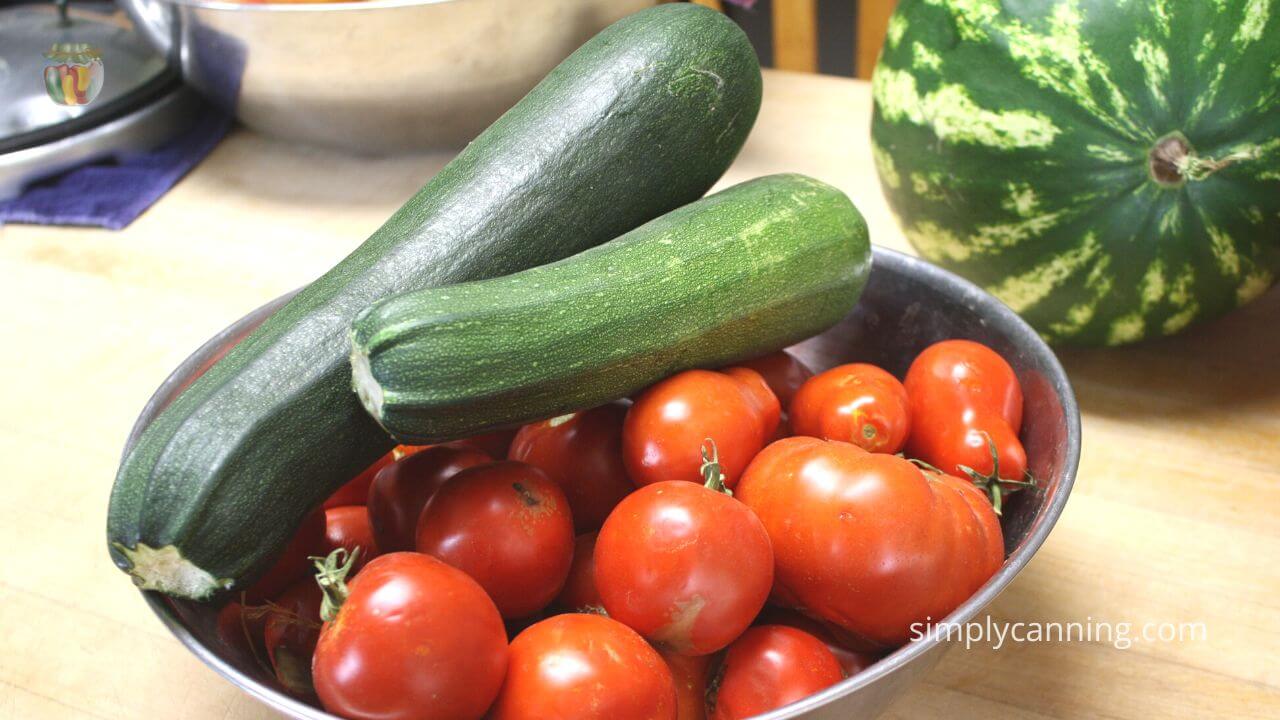 After you've set aside what you'll need, wash tomatoes and zucchini. Just give them a good rinse with cool water.
Peel the tomatoes.
Yes you really do need to peel them. This is something people always want to skip. And some do… I don't recommend it.
The way this recipe was tested is with peeled tomatoes. If you keep the peels, you change up the recipe. The easiest way to peel your tomatoes is to blanch the tomatoes in boiling water until the skins split then slip off the peels.
Using a blancher or a large strainer basket, dip tomatoes in a pot of boiling water for about 30 – 60 seconds. You will usually see the skins split but if not pull them out at 60 seconds and check them.
The skins should just slip off the tomato with a little tug. Sometimes if the tomato is a little green, the less ripe areas won't peel as easily. If they seem a little stubborn you can use a knife to get the last bits of peel or or if needed dip another 30 seconds.

Don't boil longer than that or you'll just end up cooking the tomatoes. Over cooked tomatoes isn't the end of the world but it isn't needed either.
I use a tomato corer to remove the stem but a knife works fine too. Then slice the peeled tomatoes into a large pot. Depending on the size of the tomato, quarters is usually fine, larger can be cut into more pieces. If you've got smaller tomatoes you can just slice in half.
Preparing the Zucchini or Okra
If you are using zucchini, cut into bite size cubes. You can peel them if you like but it is not required for this recipe. Peels on or off is fine.
If you are using okra, cut off the stems and slice into 1 inch pieces. (You can leave them whole if desired.)
Combine Tomatoes and Zucchini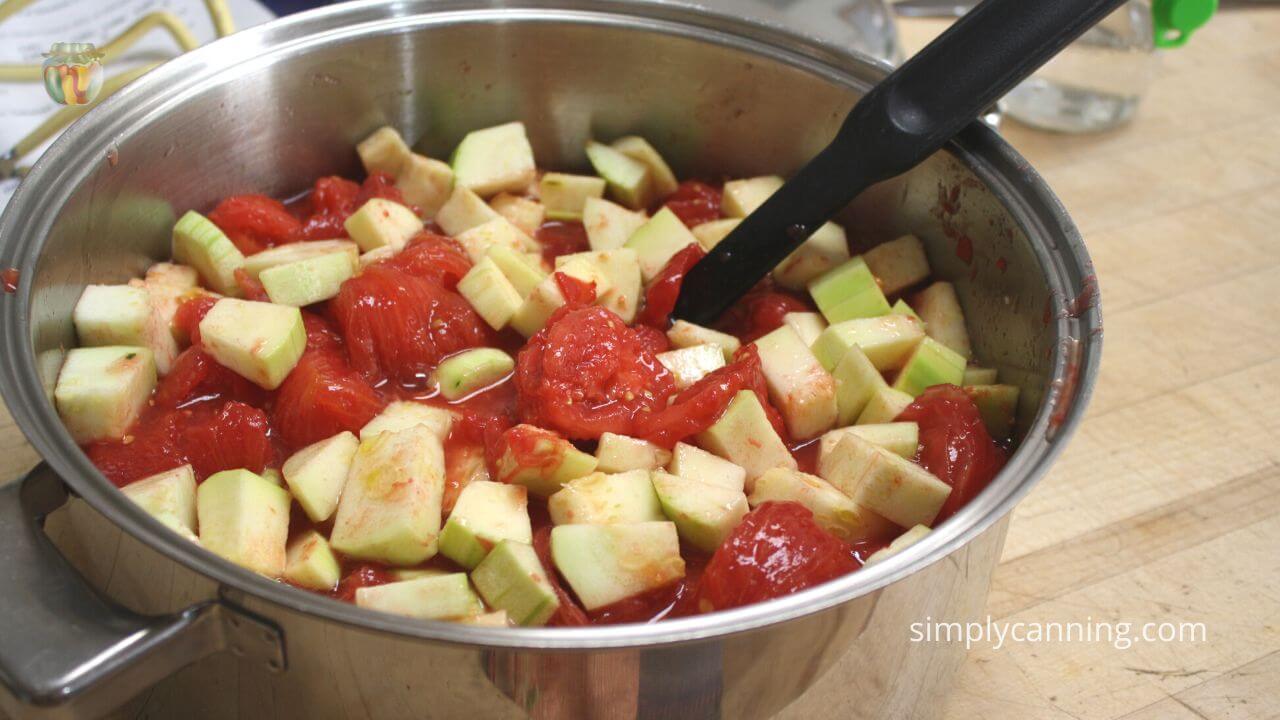 The tomatoes need to be simmered first. Then the zucchini needs to be added cooked long enough to be hot throughout.
Bring tomatoes to a boil and simmer for 10 minutes.
Then add zucchini (or okra) and boil gently 5 minutes.
Processing in a Pressure Canner
Now that you've got your zucchini tomato mixture ready, it is time to fill jars! Your canner and jars should be hot but not boiling.
Filling Canning Jars
Add salt to your jars, 1 teaspoon per quart, 1/2 teaspoon per pint. Although salt is optional, it really adds to the flavor so I do recommend adding salt. But if you need to lower sodium it can be reduced or left out.
Optional…. You can add a bit of onion if you like. NCFHFP says 4-5 pearl onions or 3 slices per jar. I didn't do this but I'll likely add this next time. I think the onion would add a lot of good flavor.
Fill a jar with tomato zucchini mixture. Leave 1 inch headspace. Headspace is the space between the jar lid and the food. It is important to the canning process. Air is expelled from the jar as the food swells as it is heated. You want that expansion space.
Remove air bubbles with a bubble tool. Any small plastic utensil works. I've often used an orange peeler. A plastic picnic knife would work too. Just put it down in the jar, slide it around the edge and move things around. Any trapped air bubbles will rise to the surface.
Check your headspace again. Sometimes the air bubble step will change the level of the food. Add more if needed.
Wipe rims of jar clean with damp towel or paper towel. This is important because any residue on the rim might interfere with the seal.
Add your canning lids and rings, finger tight. That simply means you don't have to crank down hard. Just close it like you are closing a jar to put it in the fridge. I've got a video on just what finger tight means here.
Pressure Canning
Place jars in the hot (not boiling yet) canner. When all jars are filled, process according to the instruction and chart in the recipe card below. Be sure and check the right chart for your canner style, and for your altitude.
Frequently Asked Questions
Can I add spices to zucchini tomato sauce?
Yes, Home canning recipes can be adapted with spices to add more flavor. Keep in mind this should be dried spices. Do not add fresh. Dried oregano or basil might be good additions!
Can I add peppers or garlic to this?
No, in this case this recipe is specifically for zucchini or okra. Do not add peppers, celery or any other vegetables. I do have a stewed tomato recipe that might serve better if you want those other vegetables.
Stewed Tomatoes
How do you use zucchini tomatoes?
This can just be heated up and eaten as a side dish just as it is. Or add a few ingredients and it makes a meal. The taste is fresh and delicious.

It makes a great base for many recipes. Soups, stews, casseroles, anything that has a tomato and vegetable base to it.

Add some garlic, and spices like parsley, oregano, or basil, pour it over pasta and top with parmesan cheese. Add some red pepper flakes if you like a bit of spice.
Can I use a water bath canner for this recipe if I add lemon juice?
No, this recipe has been tested for a pressure canner only. Adding lemon juice doesn't change that.
Other Ways To Preserve Zucchini
Recipe Card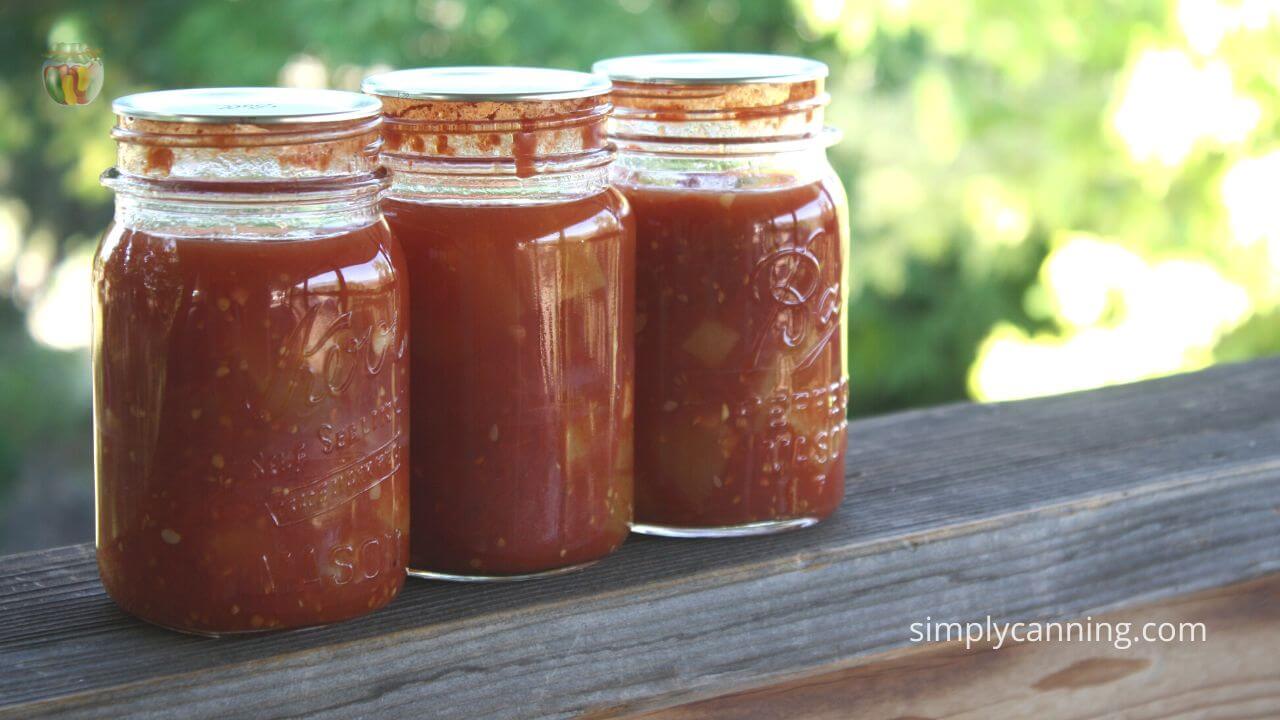 Pin this to find later!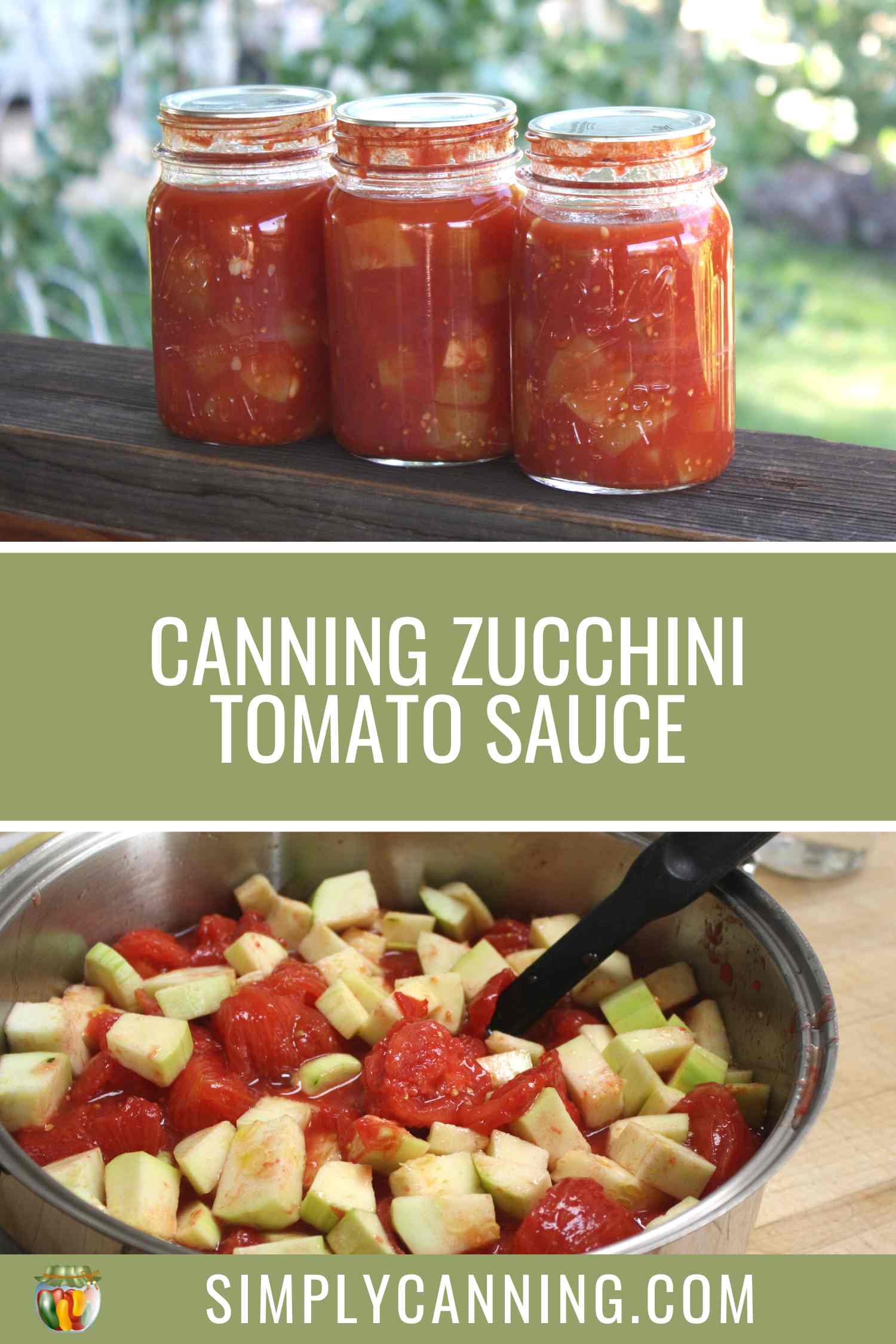 Sources
https://nchfp.uga.edu/publications/usda/GUIDE03_HomeCan_rev0715.pdf
https://nchfp.uga.edu/how/can_03/tomato_okra_zucchini.html
https://fyi.extension.wisc.edu/safefood/files/2019/08/SafeSubstitutions.pdf