Canning Spaghetti Sauce: Beat the price and nutrition of store bought, and keep the convenience. Here is a recipe along with pressure canning instructions for how to make spaghetti sauce with meat.
Some things to know:
Yep, I just repeated myself 3 times. 🙂 It is that important. You must process this in a pressure canner. Do NOT try to do this in a water bath canner.
Go here for a recipe for spaghetti sauce with no meat. The basic recipe is the same, but processing times are different.
This recipe makes approximately 9 pints. For my family, I will double this and do quarts.
Preparations to Make
Gather your canning supplies:
Gather your ingredients:
30 pounds tomatoes
2 1/2 pounds ground meat (elk, venison, beef)
1 cup chopped onions
6 cloves garlic (mince garlic or use a garlic press)
1 cup chopped celery or green peppers
4 tsp canning salt
2 T oregano
2 T minced parsley
2 T basil
2 bay leaves (remove before filling jars)
1/2 cup brown sugar
Prepare Your Tomatoes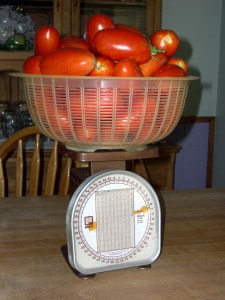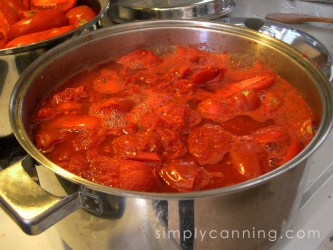 The first thing you need to do when home canning spaghetti sauce is to prepare your tomato sauce.
Click here to go to a page that explains how to make and can tomato sauce.
Make a tomato sauce like the directions, but don't process it! Come back here to add your meat, vegetables and spices to complete your spaghetti sauce.
Canning Spaghetti Sauce – Thick or Thin?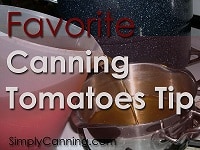 Here is my favorite time-saving tip. Click through and see if it is something that you can do too!
If you want thicker sauce, simmer your tomatoes uncovered in a large saucepan, until thick enough for serving. This might a take 20 minutes to a couple hours. Stir frequently to avoid burning. The amount of sauce may be reduced by nearly one-half.
An easy way to do this is to place sauce in a slow cooker and leave the lid off. Let it cook until thickened.
Or bake uncovered in the oven at 350. You will still need to stir often.
TIP: Optionally, you can just process your sauce as it is now. Skip the cook down time and add your vegetables and other ingredients. Put it in jars and process in a pressure canner.
This will simply give you a thinner sauce. Add a can of tomato paste to thicken the sauce when you prepare your meal. I have done this when I did not want to spend the time to cook down. But it is much nicer if you cook it down now.
Creating Your Spaghetti Sauce Recipe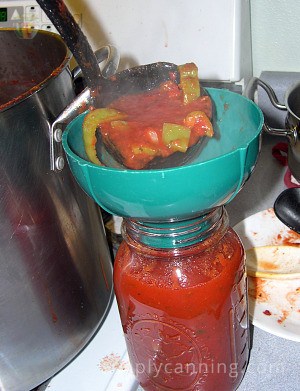 Chop the vegetables and brown your meat while you simmer the tomatoes.
Add chopped onion and chopped bell pepper (or celery) and minced garlic to browned meat. Cook until veggies are tender.
Add meat and vegetables to sauce. Stir in salt, spices and sugar.
Heat all this to a simmer. It does not need to be fully cooked, but it should be hot going in the jars.
Fill hot jars with your hot spaghetti sauce. Leave a 1-inch headspace. Take out the bay leaves at this point. You don't want them going in one jar. The flavor for that jar would be very strong!
Remember to wipe your rims clean before you place on your canning lids. If food is left on the rim of the jar, it may interfere with the seal. Add on your screw bands finger tight (snug, but not cranked down)!
And remember, spaghetti sauce has vegetables in it, so it MUST be pressure canned. (There. I said it again.)
For more specific details on how to use your pressure canner, follow these pressure canning instructions. Then process your jars.
Processing Info
Hot pack pints – process for 60 minutes.
Hot pack quarts – process for 70 minutes.
Canning spaghetti sauce with this recipe is a great way to have a stock of sauce ready for a quick meal.
Adjustments for Pressure Canner

Altitude in Feet
Dial Gauge Canner
Weighted Gauge Canner
0-1000
11
10
1001-2000
11
15
2001-4000
12
15
4001-6000
13
15
6001-8000
14
15
8000-10,000
15
15
Safe canning spaghetti sauce source:
http://nchfp.uga.edu/how/can_03/spaghetti_sauce_meat.html
Members' Extra: Access Your Video Tutorial in Your Members Area
Canning school members, click here to log in.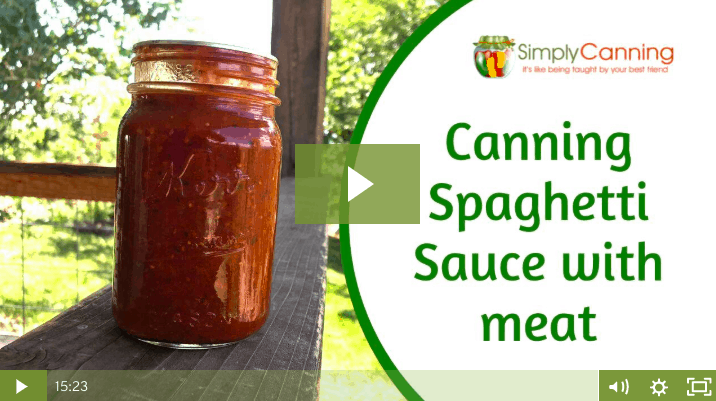 Related Tomato Pages
Pin this to find later!