Canning stewed tomatoes gives you a versatile ingredient. I use it as a base for stews. I use it in my chili. I will pour it over a roast in a Crockpot.
If you are Canning Stewed Tomatoes, you will be adding peppers and onions. Celery is optional. Since you are adding other vegetable ingredients, botulism is a risk. This MUST be pressure canned.
Please note: I like this recipe because it has lots of veggies. It has only been tested as safe in a pressure canner. There are recipes available that are meant for a water bath, but this is not one. Please don't skip processing!
You will need to know how to use a pressure canner. This how to use a pressure canner page has more detailed information and step-by-step instructions.
This recipe makes approximately 7 pints. For my family, I almost always double this and do quarts.
Prepare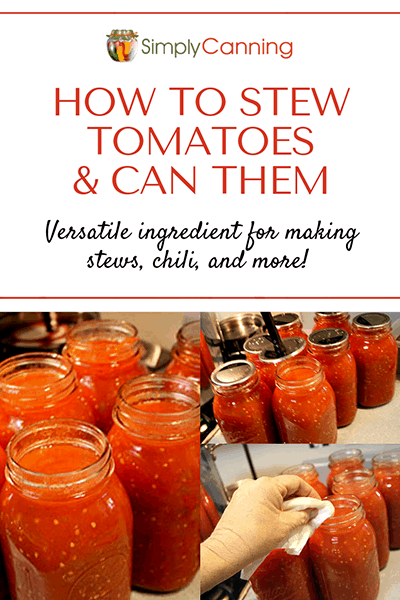 Gather your canning supplies and ingredients.
Supplies:
Ingredients:
You will need about 24 large tomatoes. (Enough to make 4 quarts peeled and chopped.)
1 cup chopped onions
3/4 cup chopped celery or green peppers
1 T sugar
2 tsp canning salt
Note about the quantity: You'll need 4 quarts of chopped, cored tomatoes. This cooks down a bit, so you should end up with around 3 quarts or 7 pints of stewed tomatoes when you are finished.
Procedure
Start by preparing your jars and getting water in your canner heating. (See pressure canning for full directions.)
When learning how to stew tomatoes, you'll need to do is skin (or peel) your tomatoes.
Blanching tomatoes to remove skins is the easiest way for me. Use a blancher or a basket to dip your tomatoes, or you can just use a slotted spoon and a big pot of boiling water.
I have a Polder Stainless Steel Strainer and I love it! Highly recommended for all kinds of projects. Here is a link to it on Amazon: Polder Strainer
Depending on the size of the tomato, blanch 4 to 6 at a time. In these pictures I am working with Roma tomatoes. I like them for canning, because they are meatier than other tomatoes. They are smaller, so I can fit more in the strainer.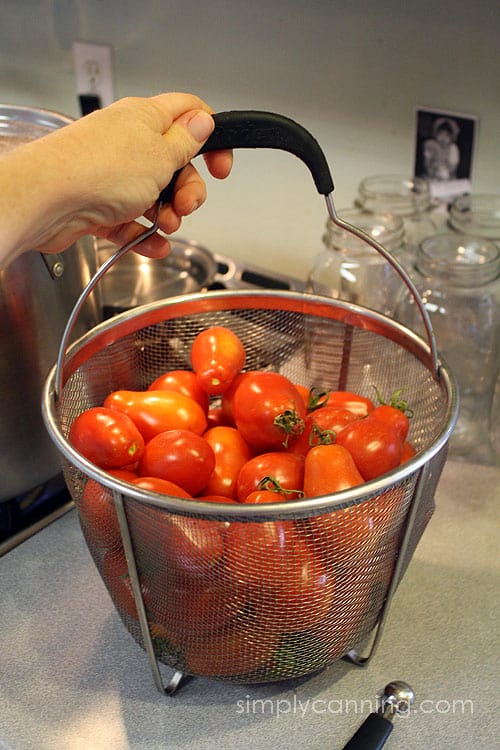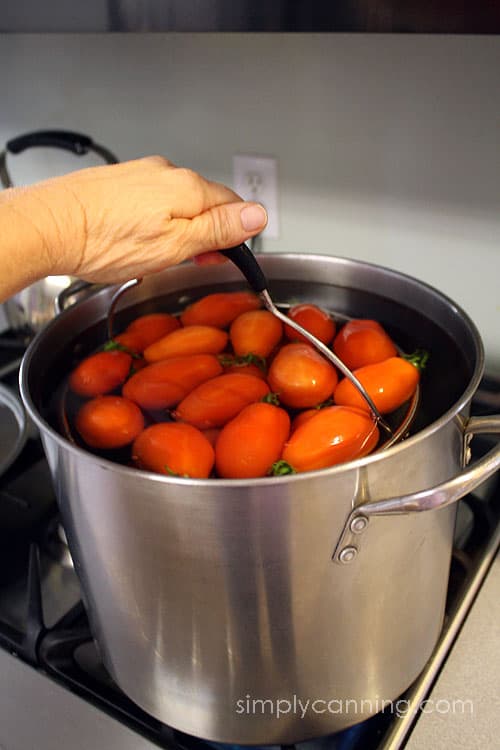 Wash tomatoes and dip in boiling water for 30-60 seconds or until you see the skins split. Start counting as soon as your tomatoes hit the water. Don't wait for the water to come back to a boil to start your count time.
Canning Stewed Tomatoes – Quick Tip for How to Make Stewed Tomatoes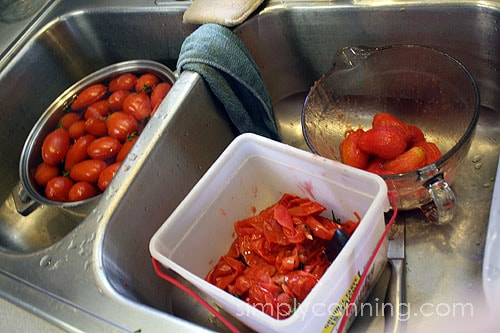 When I am canning stewed tomatoes or any other style of tomatoes, I love this super easy clean up tip!
I have pots and containers set up in my double sink. The one on the left is for the cold water to cool the tomatoes as they come out of the hot water. The one on the right is to slide the skins off into. I slip the peeled tomatoes into a measuring bowl to measure how much I am getting done.
The work area is lower than if you set them on a counter. This make is easier on the arms and the sink makes for easy clean up. Love that easy clean up!
---
When you remove the tomatoes, drop immediately into sink or bowl of cold water to stop the cooking. The skins should just slide off in your hands. Occasionally, I'll use a knife on some stubborn spots. Slip off skins, and if you are working with larger tomatoes, quarter them. These are the smaller Romas, so I don't bother cutting them up. They will mash up when I cook them.
Repeat steps until all tomatoes are skinned and chopped. You may need to let your water come back to heat in between batches in the blancher.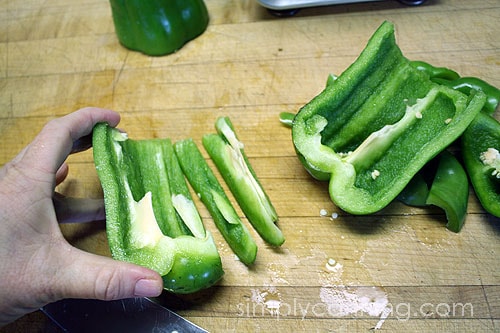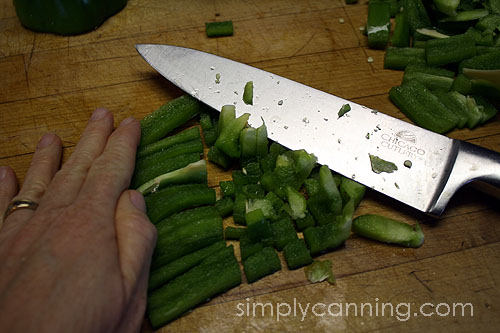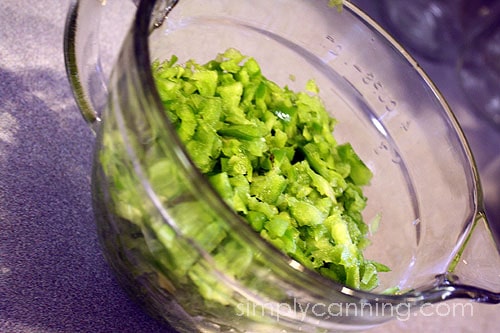 Chop your onion and pepper. Remember, when canning stewed tomatoes like this, you can safely adjust the type of pepper you use in stewed tomatoes. Use a hotter variety for a spicy jar. Use bell or banana peppers for mild. Just don't change the quantity or ratio of tomatoes to vegetables.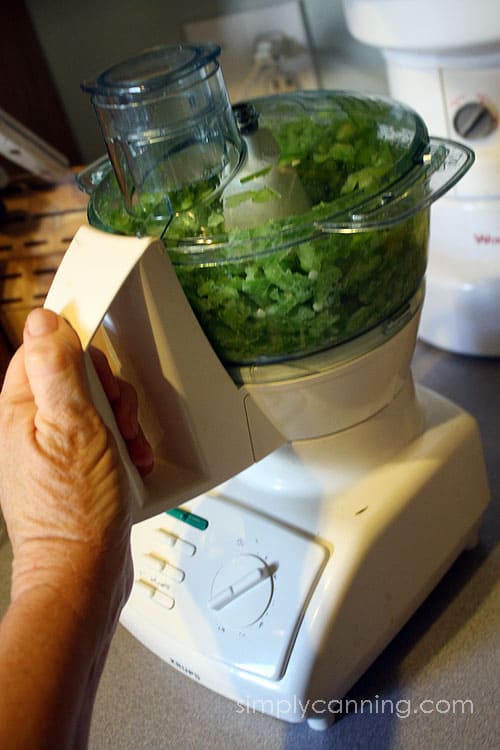 You can chop your onions and peppers either by hand, or chunk them up and place in a food processor! Love my food processor. The size of the pepper is not vital. You just want them chopped. If you use a processor, don't overdo it! You can practically liquefy them. Don't go that far. 🙂
Did you note the lack of pictures of onion chopping? That is because this day I had particularly potent onions and I was trying to just get them chopped as quickly as possible! No time for pictures because my eyes were tearing so badly. (sigh) What I do for my family. 🙂
Add your chopped onion and chopped bell pepper (or celery). Add the salt and sugar.
Simmer 10 minutes. Stir frequently to avoid burning. At first the mix will be chunky with pieces of tomato. By the time it is heated through, however, your tomatoes will be soft and saucy.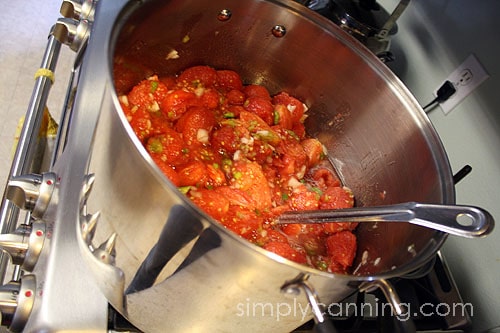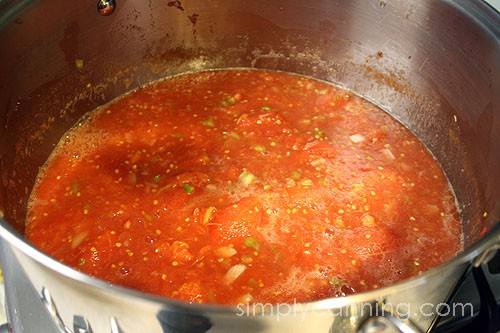 Pour hot stewed tomatoes into hot jars, leaving 1/2-inch headspace.
Follow pressure canning instructions.
Wipe the rims clean, remove any air bubbles and place your lids.
For more details follow pressure canning instructions.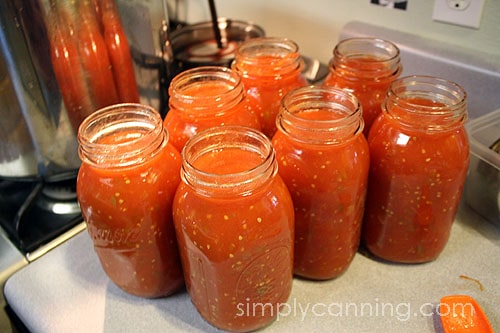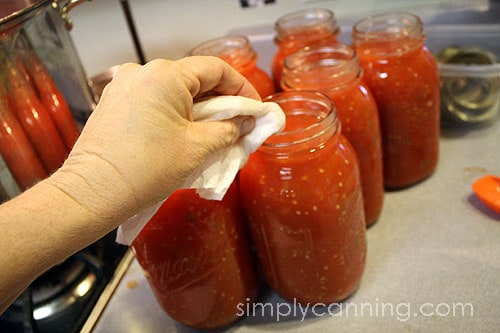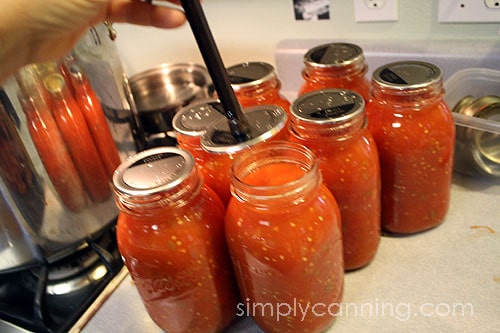 Process
Process pints – process for 15 minutes.
Process quarts – process for 20 minutes.
Be sure to adjust processing according to your altitude. For more information, see this altitude adjustments page.
There you go–now you know how to make stewed tomatoes yourself!
Source: These canning directions are from the Ball Blue Book – canning stewed tomatoes.
Adjustments for Pressure Canner

Altitude in Feet
Dial Gauge Canner
Weighted Gauge Canner
0-1000
11
10
1001-2000
11
15
2001-4000
12
15
4001-6000
13
15
6001-8000
14
15
8000-10,000
15
15
Tomato Sauce Recipe
Here is a way to use your stewed tomatoes. I was making a tomato sauce to have with our supper and decided to share live on Facebook.
Ingredients:
1 quart stewed tomatoes
1/2 pint salsa
2 sm garlic cloves
1T dried basil
1 tsp salt
1/2 tsp pepper
1 pound Italian sausage, browned
Combine all of these ingredients in a Crockpot and cook on low all day. Serve over noodles.
Enjoy!
Questions
Sue Asks:
"I notice you don't combine celery and bell peppers in your stewed tomatoes recipe. Wondered what the reason is. I would like to have both so just wondering if I can. Thanks, Sharon ~ love your stuff!"
Sharon Answers:
The reason I leave the celery out when I am canning stewed tomatoes is… we just don't prefer it. So I use all peppers and onions. You can certainly use celery too.
If you look at the recipe, in the ingredients list, I have celery or peppers. You want to use whatever combination of the two veggies, but use the same quantity. So you will have 1 3/4 cups of veggies total, onion, celery or peppers. GREAT QUESTION.
Question:
Can you substitute stewed tomatoes for crushed tomatoes?
Sharon Answers:
If you have a dinner recipe that uses crushed tomatoes, stewed tomatoes can often be substituted for crushed tomatoes. It will have the onions and peppers in it, so just be sure that is appropriate for the recipe you are making. I often substitute these stewed tomatoes in my dinner recipes.
Clarification: If someone is canning a recipe that includes crushed tomatoes, you cannot substitute stewed tomatoes in that canning recipe (because of the vegetables in it).
More on Canning Tomatoes
Members' Extra: Access Your Video Tutorial in Your Members Area
Canning school members, click here to log in.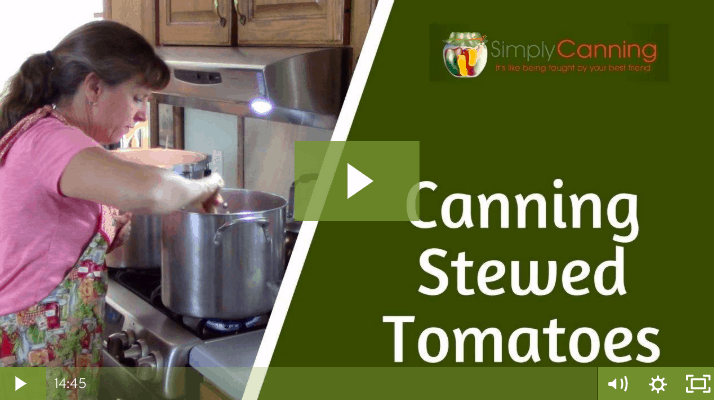 Pin this to find later!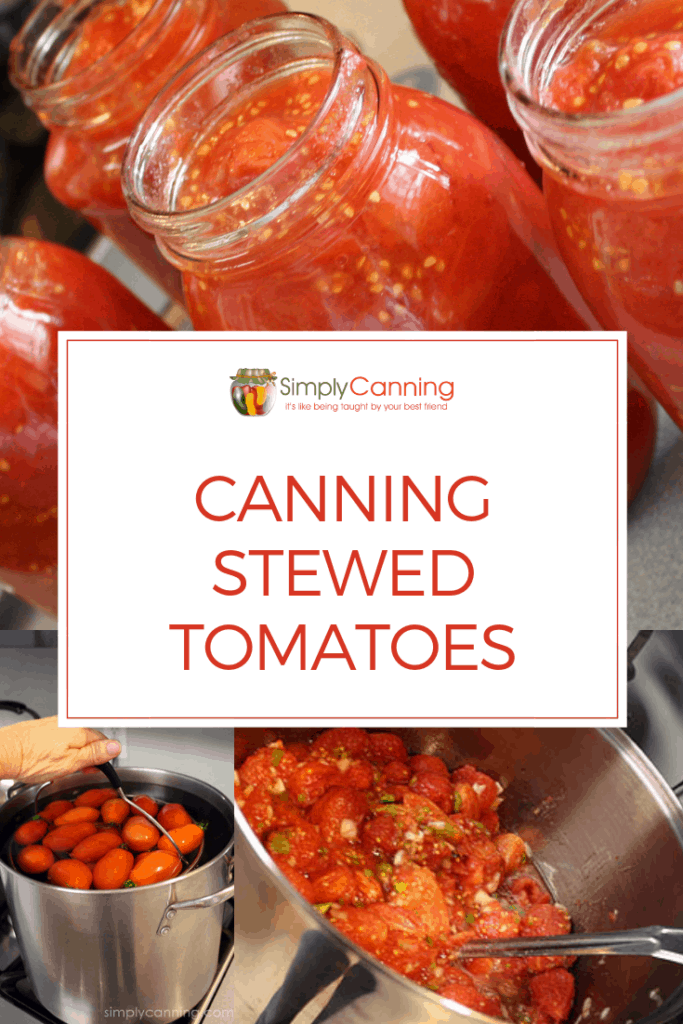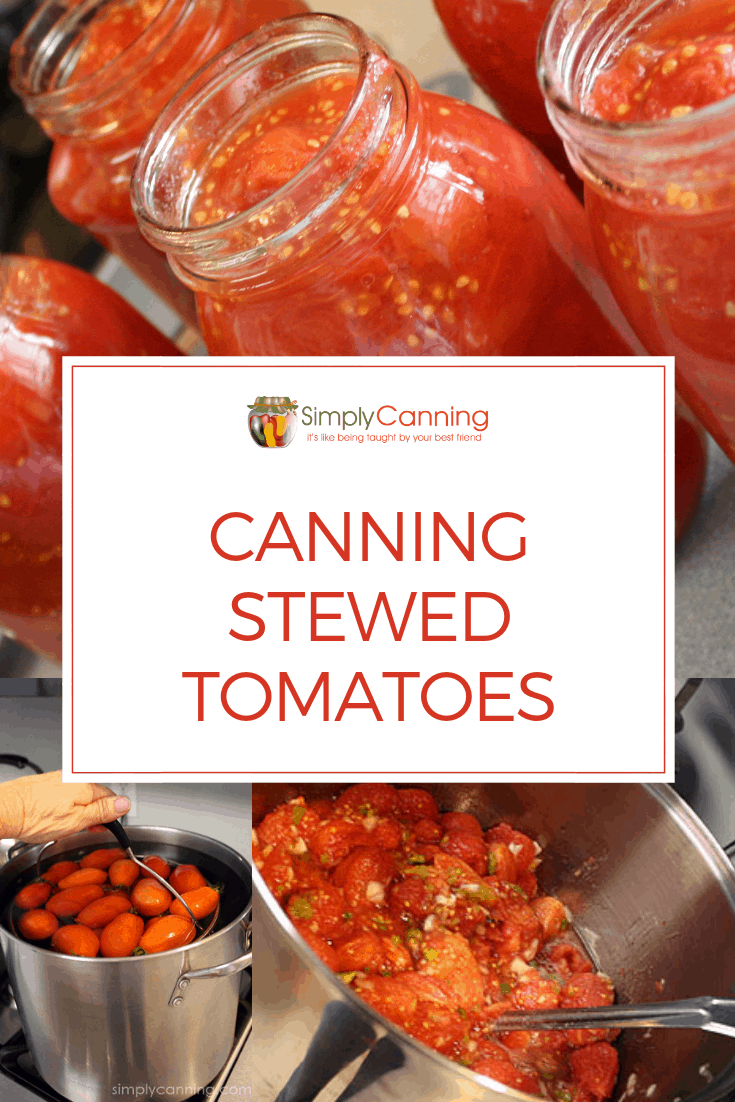 Page last updated: 2/1/2021