With Sharon Peterson
Freezing tomatoes is a great way to preserve tomatoes. Do you have tomatoes getting over-ripe but don't have quite enough for a canner load or recipe? Freeze them.
Or if you are not planning on canning them, simply keep them in the freezer until ready to use in your recipes.
Freezing tomatoes is a great way to store your tomatoes if you don't want to can them, or if you have some that are getting too ripe and will go bad before you have enough to can.
How to freeze the tomatoes is so simple…. Just wash, pull off the stem, stick them in a zip lock baggy and pop in the freezer! Be sure and label the bags and squeeze as much air out of the bags as possible. Here are 2 gallon zip locks of Roma Tomatoes ready for the freezer.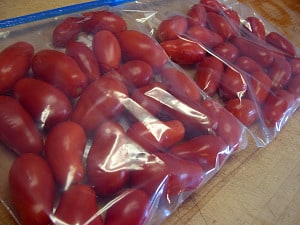 The fun part is when you thaw them out.
The fun part is when you thaw your tomatoes out to use them. Just pull out the amount needed. Run them under warm water and the skins slip right off in your hands. You don't even need to blanch them. Allow them to thaw the rest of the way and you are good to go.
If you are adding them to a soup or stew they can thaw right in the dish while it is cooking.
I have images of smaller tomatoes on this page but it works with any tomato big or small.
You can even peel the cherry and pear tomatoes if you want.
Freezing those cherry or pear tomatoes that are overflowing in your garden is a great idea too! I always had a lot of waste with these tiny treats. My kids and I love to snack on cherry and pear tomatoes so I always plant one bush each. They are so prolific there is no way we can keep up with the bushes. So now I freeze them. Pull them out when I need for a recipe.
The tomatoes will be softer than fresh tomatoes so this method works best for tomatoes used in recipes for sauces or directly in casseroles etc.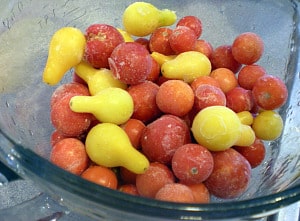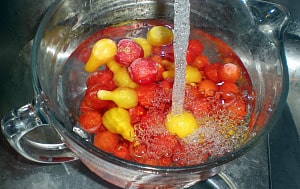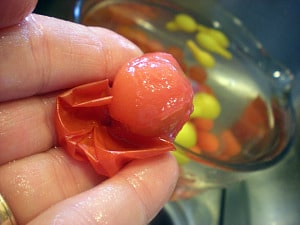 Freezing Tomatoes Video
Freezing and Peeling Tomatoes Part 1 – Super easy to peel tomatoes. No blanching involved.
Freezing and Peeling Tomatoes Part 2 – Bonus! Get a thicker tomato sauce.
If you like these videos you might be interested in Simply Canning YouTube.
More on Canning Tomatoes
Question from Sharon's inbox…

I have 8 tomato plants in patio containers. All is going well. My hope is to make a bunch of tomato sauce. my question is: what do I do with mature fruit while i wait for other fruit to ripen? Can I freeze the tomatoes while I wait? My MIL does this but I've been told refrigeration kills the flavor. I have just over a pound ripe now.
Yes, you can freeze them then thaw and can them all at once. I've heard it does affect the flavor, but I have not noticed it. I figure it is because I'm using the tomatoes in cooking so maybe the seasonings etc cover it? It has not been a problem for me. I have a video on this page regarding freezing tomatoes. https://www.www.simplycanning.com/canning-tomatoes
Home › Freezing Food › Freezing and Peeling Tomatoes