Freezing tomatoes is a great way to preserve tomatoes. Do you have tomatoes getting over-ripe but don't have quite enough for a canner load or recipe? Freeze them.
Or if you are not planning on canning them, simply keep them in the freezer until ready to use in your recipes.
Freezing tomatoes is a great way to store your tomatoes if you don't want to can them, or if you have some that are getting too ripe and will go bad before you have enough to can.

This Page Includes:
How to Freeze Tomatoes
How to freeze the tomatoes is so simple: Just wash, pull off the stems, stick them in a zip lock baggy, and pop in the freezer! Be sure and label the bags and squeeze as much air out of the bags as possible. Here are 2 gallon Ziplocks of Roma tomatoes ready for the freezer.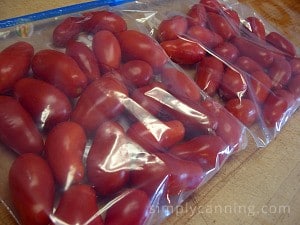 Thawing Out Frozen Tomatoes – The Fun Part!
The fun part is when you thaw your tomatoes out to use them. Just pull out the amount needed. Run them under warm water and the skins slip right off in your hands. You don't even need to blanch them. Allow them to thaw the rest of the way, and you are good to go.
If you are adding them to a soup or stew, they can thaw right in the dish while it is cooking.
I have images of smaller tomatoes on this page, but it works with any tomato, big or small.
You can even peel the cherry and pear tomatoes if you want.
Freezing those cherry or pear tomatoes that are overflowing in your garden is a great idea too! I always had a lot of waste with these tiny treats. My kids and I love to snack on cherry and pear tomatoes, so I always plant one bush each. They are so prolific that there is no way we can keep up with the bushes. So now I freeze them. Pull them out when I need for a recipe.
The tomatoes will be softer than fresh tomatoes, so this method works best for tomatoes used in recipes for sauces or directly in casseroles etc.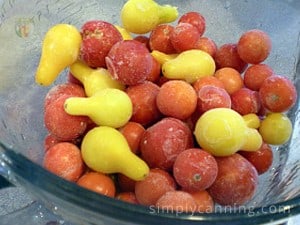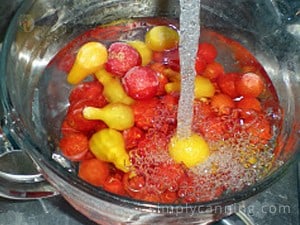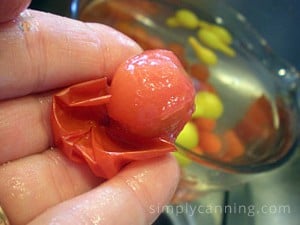 Recipe Card
Freezing Tomatoes Tips & FAQs
Freezing & Peeling Tomatoes Part 1 – Super Easy-to-Peel Tomatoes. No Blanching Involved.
Freezing & Peeling Tomatoes Part 2 – Bonus! Get a Thicker Tomato Sauce.
If you like these videos you might be interested in Simply Canning YouTube.
Canning Questions and Answers
I bought a bushel of Roma tomatoes to can but some are imperfect and have spots or soft ends . Can I freeze them all whole and cut the blemishes off at the thawing/peeling stage?
Technically yes you can. But I'd strongly suggest you cut them out now. It will be much more difficult to do later. As the tomatoes thaw they are very soft and it will more difficult and messy to get them cleaned up later.
Can you freeze tomatoes before canning? I've been told refrigeration kills the flavor.
Yes, you can freeze them then thaw and can them all at once. I've heard it does affect the flavor, but I have not noticed it. I figure it is because I'm using the tomatoes in cooking so maybe the seasonings, etc. cover it? It has not been a problem for me.
Related Pages
Learn how to dry tomatoes in a food dehydrator.
This canning tomatoes recipes collection will get you started preserving the harvest.
How to can tomatoes? Well, there's a lot of misinformation with regard to safe and best practices out there. Learn how to properly can tomatoes at SimplyCanning.com.
Pin This to Find Later!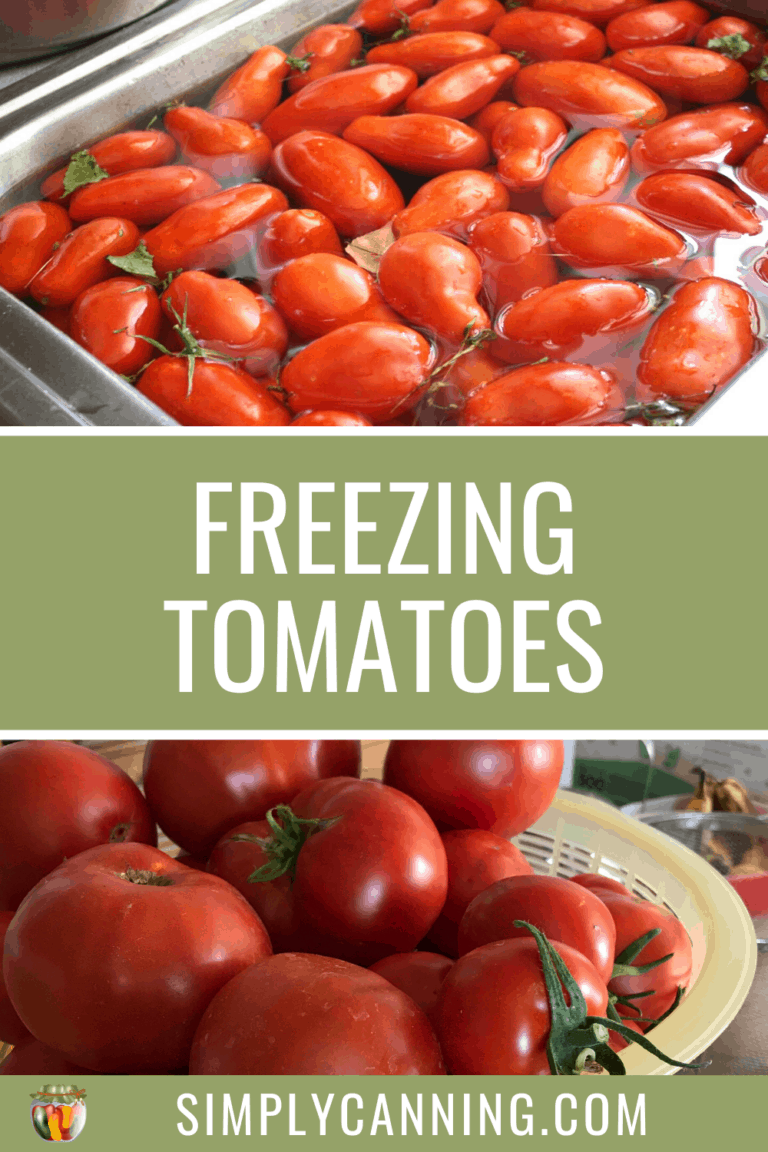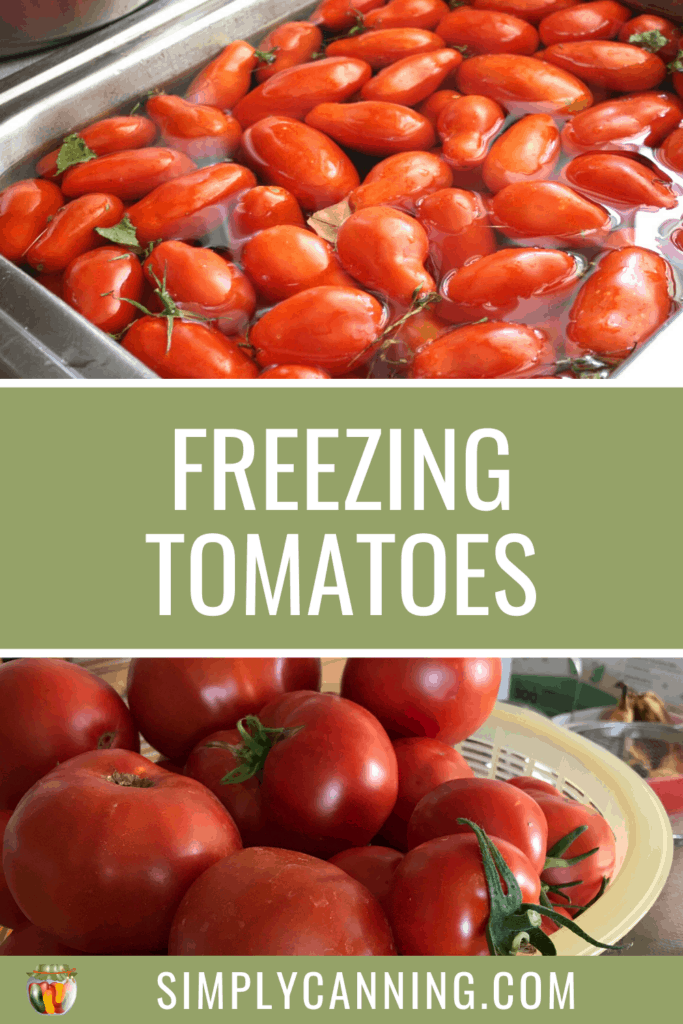 Page last updated: 6/3/2021