Freezing spinach is so very easy. I may be one of the few people in the world who really LIKE green smoothies. Stuff a big handful of spinach in the blender, top it off with some orange juice, and sweeten just a bit. Fresh and healthy feeling is what I get.
I use fresh spinach in my green smoothies. Frozen spinach available in the winter to make smoothies may just satisfy my longing for fresh foods when the snow is flying and I am longing for fresh garden foods.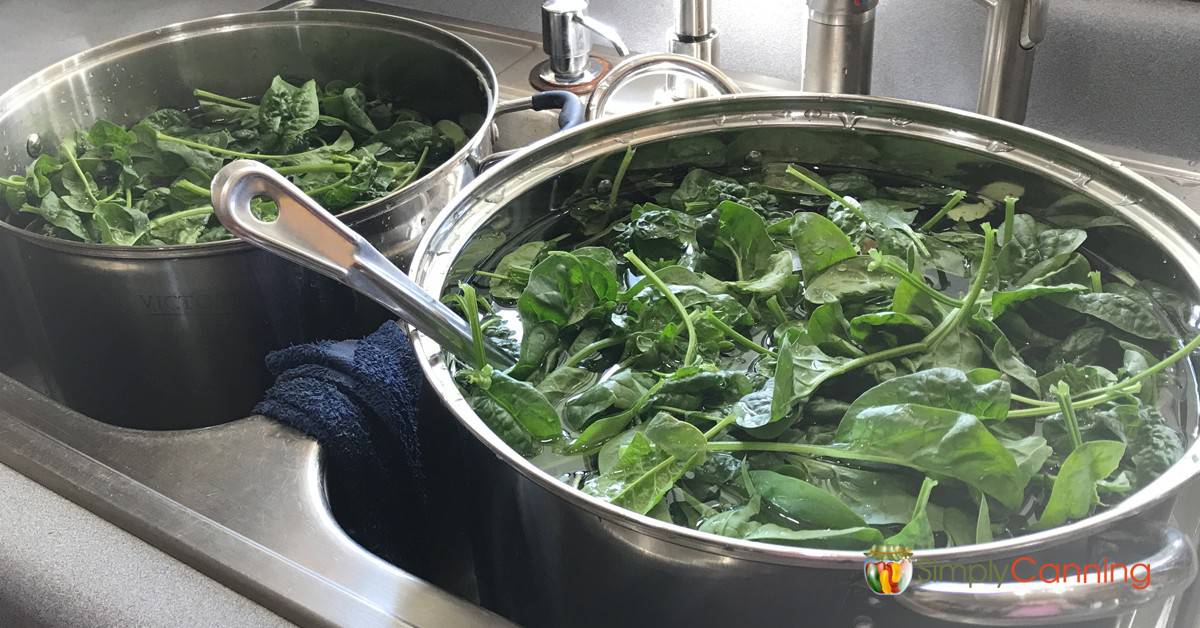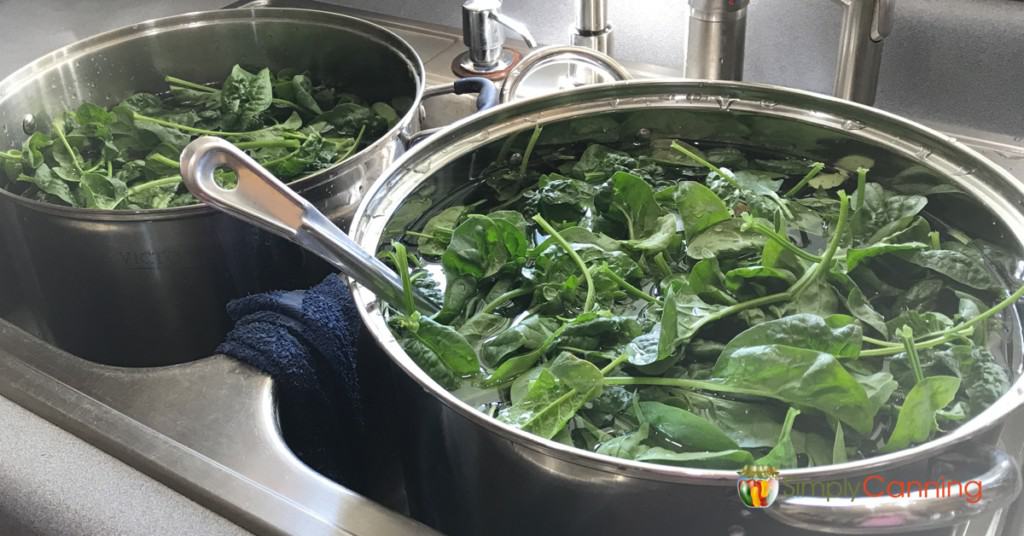 Freezing Spinach
First, harvest your spinach. The best time to do this is early in the morning when it is at its freshest. Spinach will be crispier and fresher before the heat of the day hits it.
You can harvest spinach by cutting or pinching off the larger leaves, or cut the whole plant 2 inches or so above the ground. The plant will grow new leaves, and you can harvest again in a few weeks.
Rinsing Spinach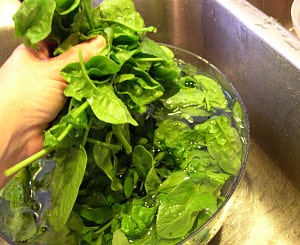 Rinse the spinach well, sorting out any weeds, browned or damaged leaves, or other things (bugs) that might have gotten mixed in.
Spinach will often have dirt hiding in its leaves, so you need to rinse well. I'll rinse and drain several times before I am content that all dirt, bugs, or dead leaves are taken care of.
Blanching Spinach for Freezing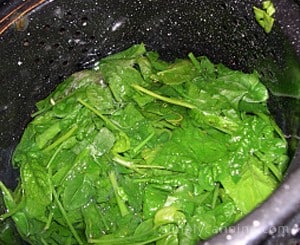 Spinach and other greens need to be blanched before freezing. This helps retain the color and nutrition.
Bring enough water to cover your spinach to a boil. I use my blancher, but a large pot will work as well. When the water is boiling, throw in the spinach and use a spoon to lightly push the spinach down so it is all down in the water.
Place the lid on to hold in any steam. Start timing right away for 2 minutes.
Cooling Blanched Spinach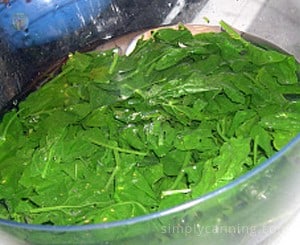 As soon as time is up, remove spinach to a bowl of very cold or even ice water.
This stops the cooking. The spinach will have reduced in mass somewhat, but not as much as you might think.
Draining & Drying Spinach Before Freezing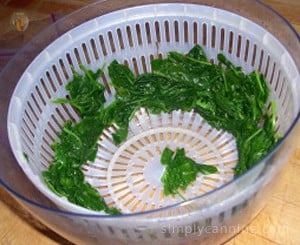 The last step is to drain the spinach and dry. I have a salad spinner that I use to spin the water off. If you don't have one, you can simply drain in a colander, then spread it out on paper towels and blot dry.
My good friend Cindy has a great method of spinning her salad that I think would work here too. Drain your spinach, and then place in a tea towel. Bring up the corners of the towel, forming a sort of a sack of spinach. Give it a whirl. Go ahead and spin it around. The water will be spun out into the towel.
How to Freeze Spinach
For freezing spinach, freezer bags are a very easy way to pack them for the freezer.
What you choose to pack in is personal choice. If you pack in freezer containers, you will not be able to remove air as well and run the risk of freezer burn. Freezer boxes work best for things that are frozen wet in a syrup. Spinach is frozen blanched and dry.
I wrap those in inexpensive sandwich baggies, and then store several of these in a quart-size or even gallon-size freezer bags. That way, I still get the heavier plastic made for the freezer from the quart bags. But the smaller, less expensive bags hold the amount we need.
I usually package about a cup of spinach per bag. You can choose more or less. Think about how you usually use spinach and how much you will use at a time. Then package accordingly.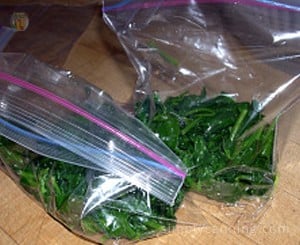 Here is my labeled quart bag. It has 2 sandwich baggies inside with room for a couple more. I sometimes use a gallon freezer bag and can freeze several smaller packages together.
Remove as much air as possible. Label, seal and freeze. Freezing spinach is super easy!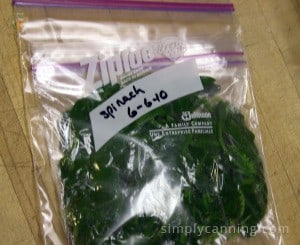 Recipe Card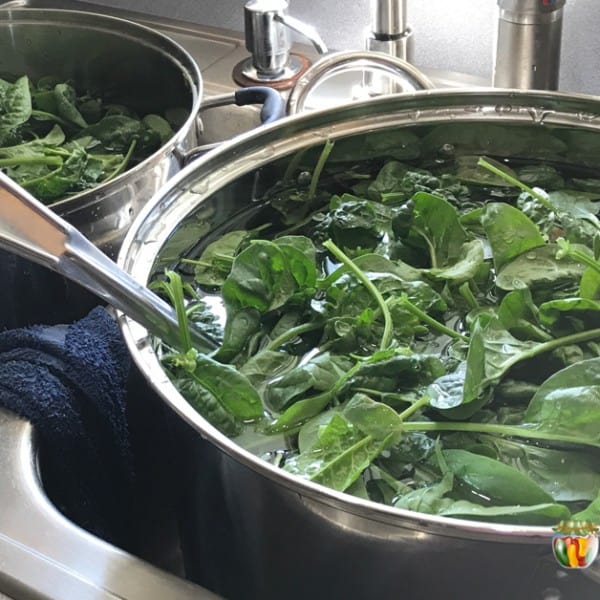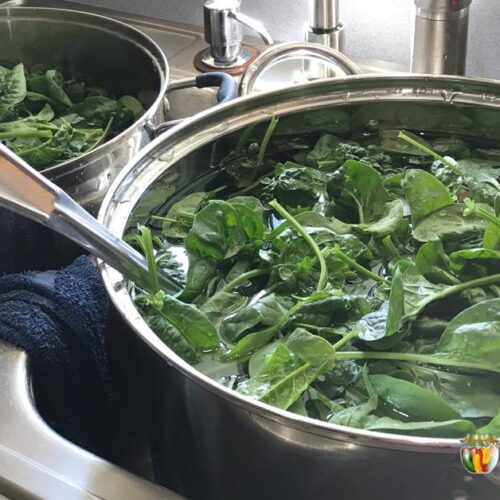 Freezing Spinach
Ingredients
Equipment
Freezer bags/containers

Bowl

Colander

Salad spinner

(optional)
Instructions
Put spinach into boiling water for 2 minutes.

Remove spinach to a bowl of ice water and let cool.

Place in freezer bags/containers.

Remove air, seal, and label.
Processing
Last Updated: 6/3/2021

Related Pages
Canning greens like kale, spinach, Swiss chard, or beet greens is easy. Find full instructions for a variety of greens in a pressure canner.
Freezing herbs like basil, oregano, sage, and parsley are all covered in our free guide on preserving your spices fresh all winter long. Pick up some new skills at SimplyCanning.com.
Freezing peas fresh from the garden, while keeping nutrition and color intact, is a simple process anyone can master. Directions for shelled and unshelled are included at SimplyCanning.com.
Pin This to Find Later!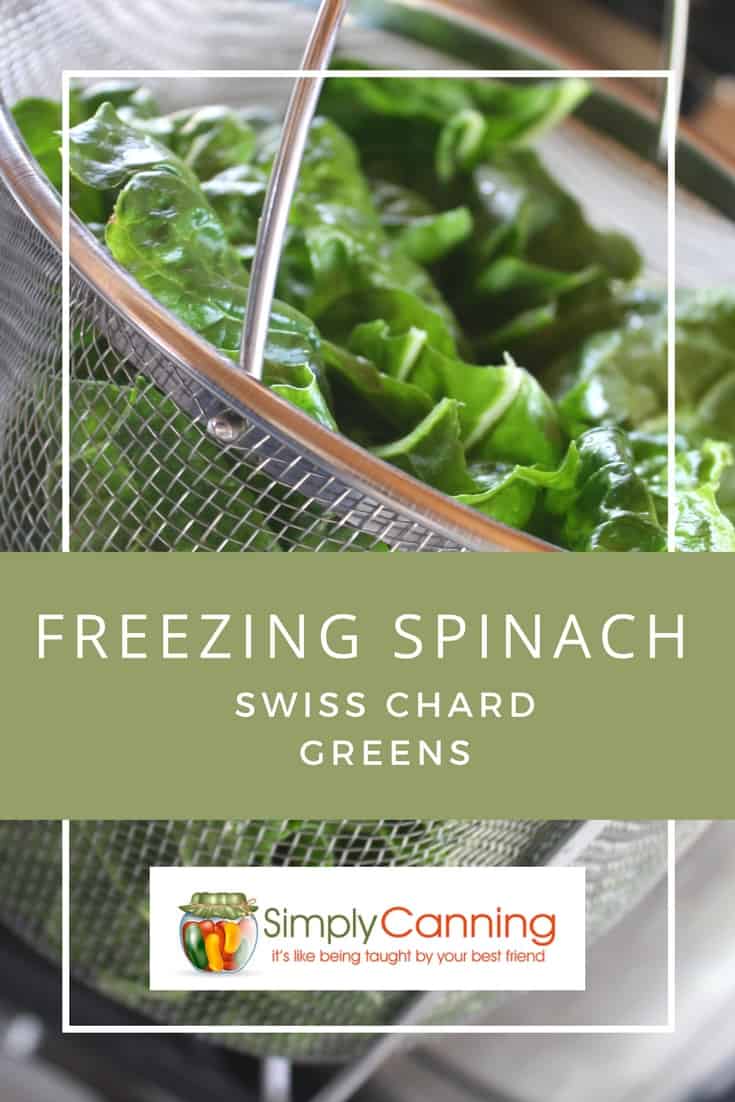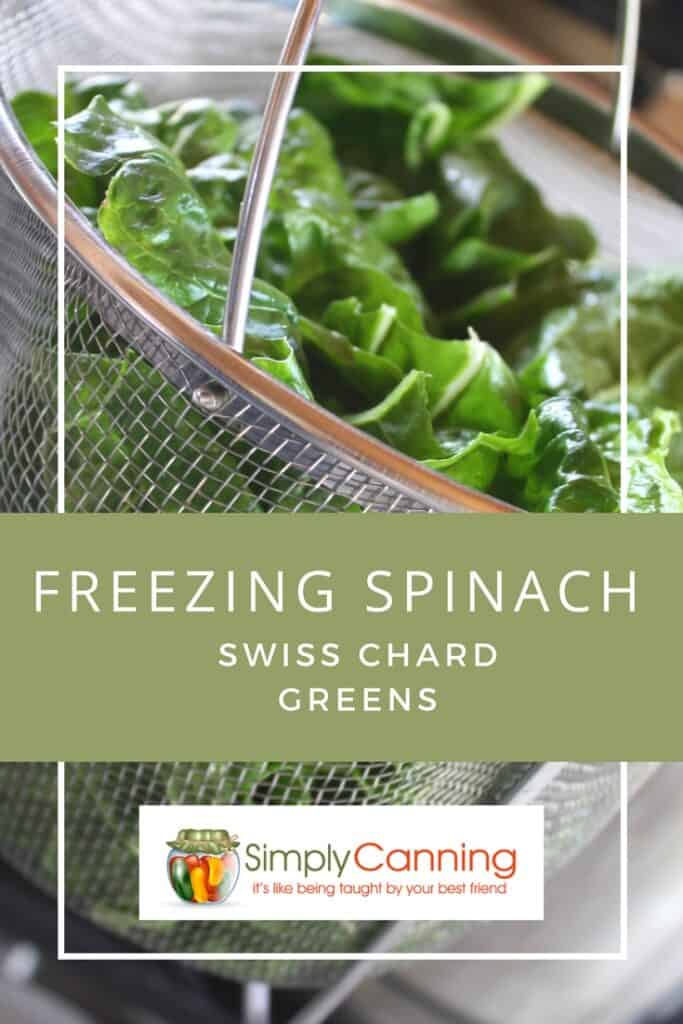 Page last updated: 6/3/2021