Learn how to can Zucchini Pineapple. Canning Zucchini in Pineapple juice results in a surprisingly pineapply (just made that word up) faux pineapple.

Looking for a new way to use all that zucchini? This is a delicious recipe and might just be what you are looking for. Good to eat straight of the jar, or use as a substitute for pineapple in pineapple recipes.
Options for Canning, Freezing or just Store it in the Fridge.
This is a water bath recipe and yields about 8 pints. You can make this in either pints or half pints. The processing time is the same.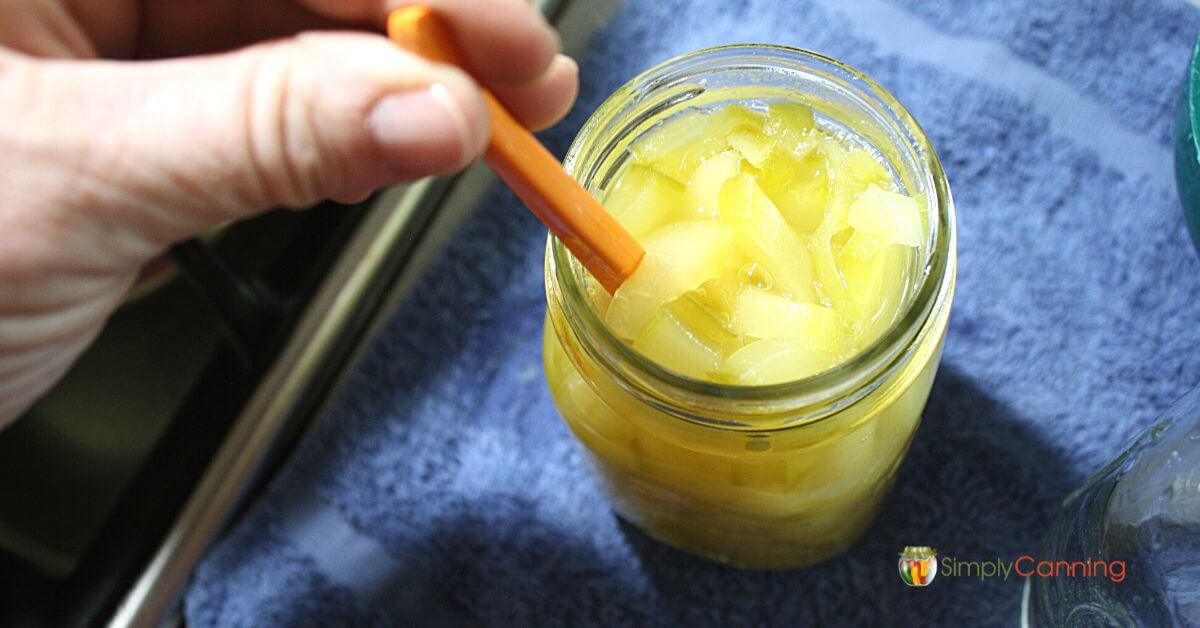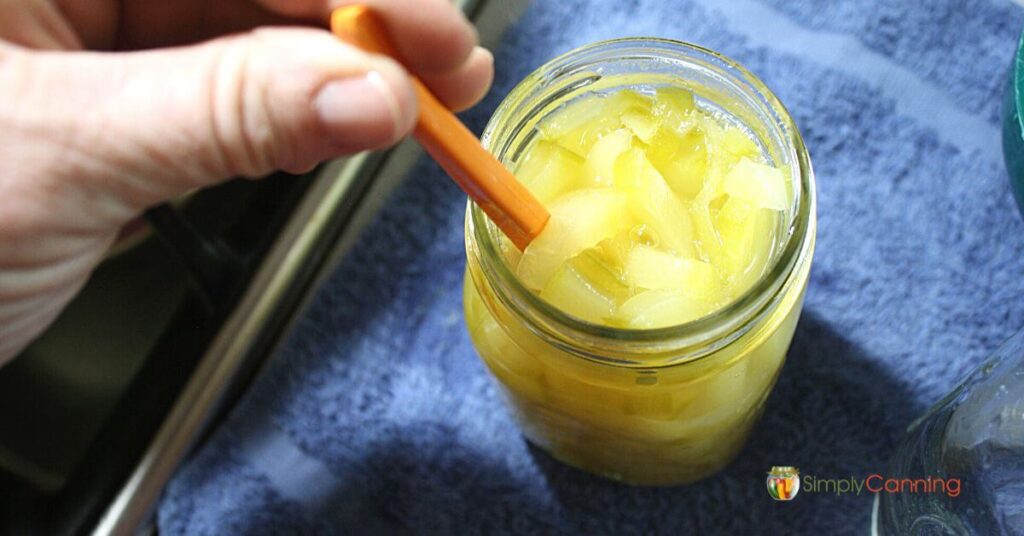 If you are not familiar with how to use a waterbath canner, you might want to check this post first. Then come back for the pineapple zucchini specific instruction.

Steam Canning is a fantastic substitute for the water bath. (Not to be mistaken for pressure canning, it is different.) I'm leaning more and more on my steam canner! It is super easy and uses less water. Learn how to do Steam Canning.
Table of Contents
Why this is a fantastic recipe to use when you've got too much zucchini?
Everyone who has ever had a bumper crop of zucchini knows about the zucchini scramble.
You are scrambling to offer zucchini to co-workers or friends and even
You might just be caught sneaking zucchini onto neighbors porches or co workers parked cars.
You will almost certainly be searching for zucchini recipes of all sorts. Sometimes these recipes are delicious but they often don't really use up a lot of this abundance.
You've got a freezer full of zucchini.
Possibly you've dehydrated zucchini as well.
You might even have jars of Zucchini Relish to replace your traditional pickle relish.
Canning Zucchini in Pineapple juice is a great way to use up this excess as it really does use a good amount of zucchini. And this recipe is sweet! And unexpected! Faux pineapple?!? Sounds good to me.
Extended Directions On How To Make Zucchini Pineapple
Choosing Zucchini for Faux Pineapple
Any ripe zucchini can be used for faux pineapple. I like to use the overgrown variety that is not especially useful for dipping and frying.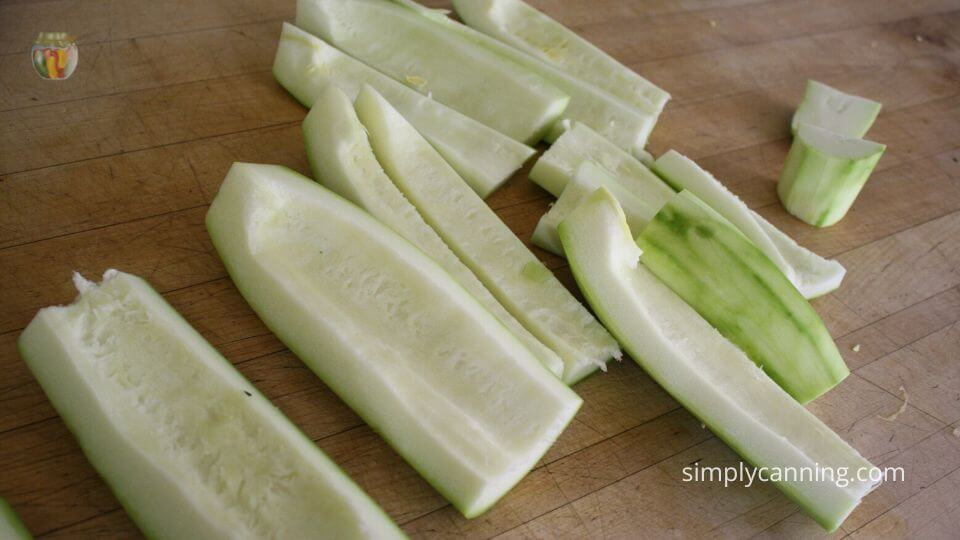 How to Prepare Zucchini for Faux Pineapple
To prepare it simply peel, cut in half length wise, and scrape out the large seeds if needed.
Then you want to chop or shred into the size pieces you want. This should be no bigger than about 1/2 inch cubes. This can be done by hand but I found my food chopper to be pretty quick. The results are elongated but small enough to be appropriate.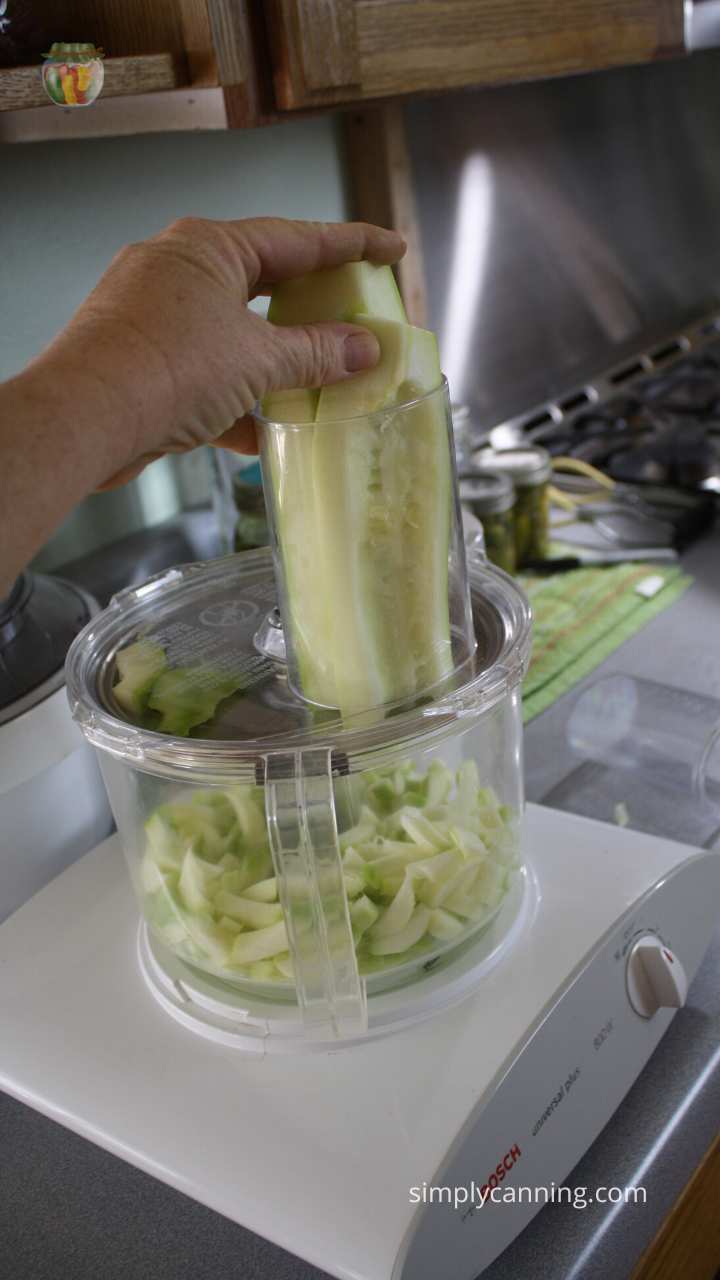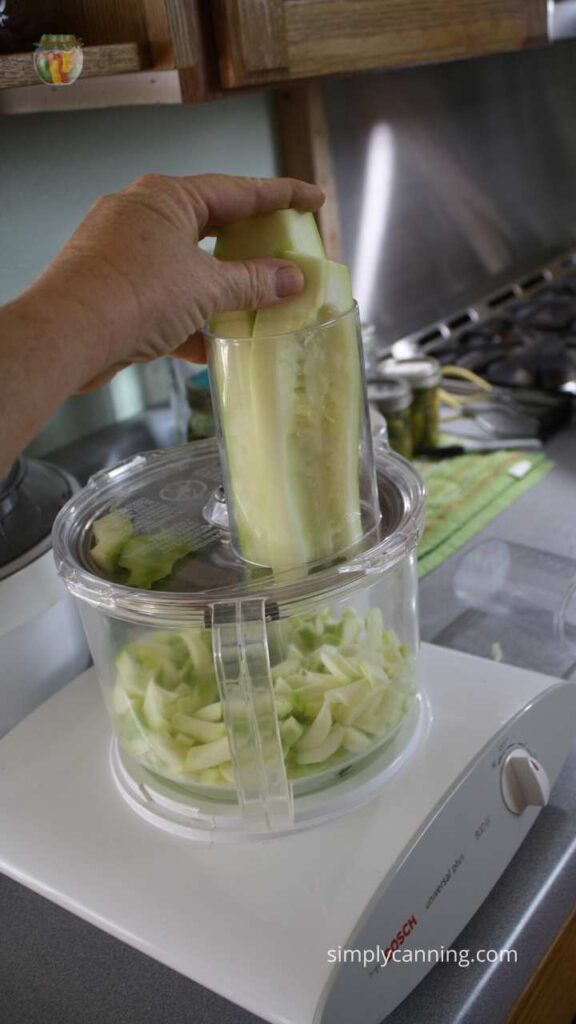 I tried a large shred blade and that worked nicely. You would not want your pieces much smaller than what you see in the picture below. A finer shred would not work very well.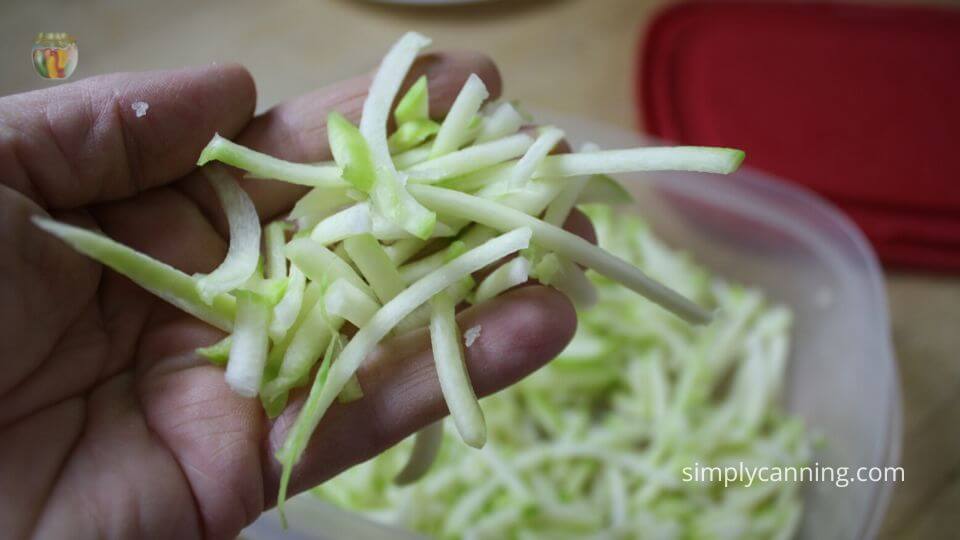 But then I decided to try my French fry blade and see what happens. That is my favorite! It is a little chunkier, but still nice small pieces.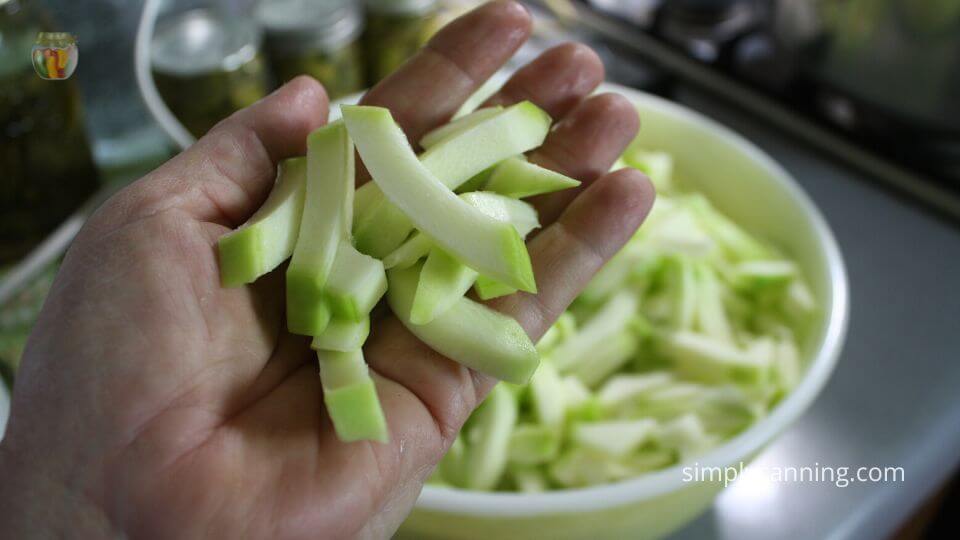 Ingredients
For one batch of about 8 or 9 pints you want
4 quarts chopped or shredded zucchini.
1- 46 oz can of purchased unsweetened pineapple juice. (It is plenty sweet!)
1 1/2 cups lemon juice. Use the bottled kind, not home squeezed.
And 3 cups sugar. (I can't find anywhere that it is ok to reduce the sugar, so yes, you'll need the whole 3 cups.) This is not a health food. But it is so very good!
Canning Pineapple Zucchini
This is a hot pack canning recipe which means you heat your ingredients before they go in the jar. Mix the pineapple juice, lemon juice and sugar in a large pot. Add the chopped or shredded zucchini to the juice mixture. Bring to a boil reduce the heat and simmer for 20 minutes. Stir occasionally.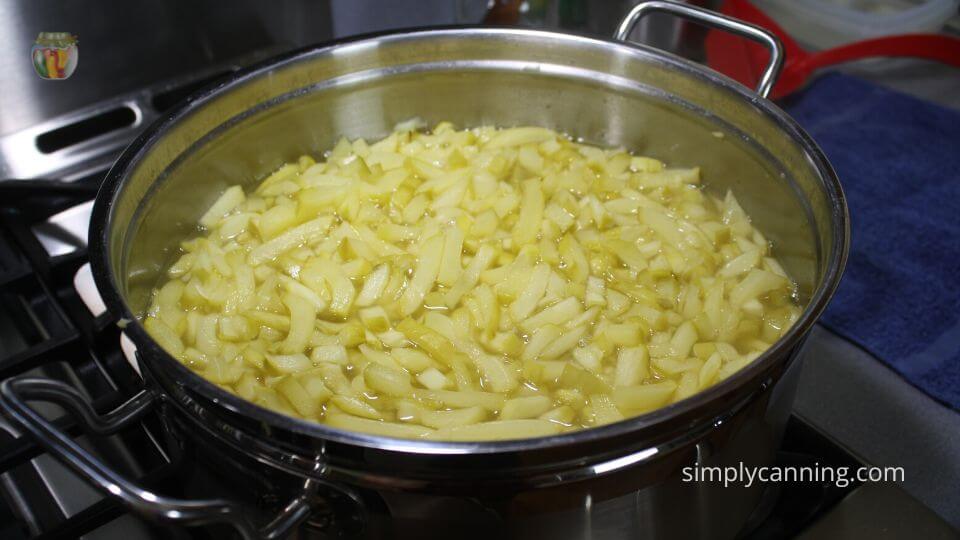 Fill your jars with the zucchini and sweet syrup.
Leave a 1/2 inch headspace. This is the space between the level of the food and the lid of the jar. Having the proper amount is important for expansion during processing but not too much so you end up with too much air space.
I find it easiest to use a slotted spoon to scoop in the zucchini and then use a ladle to top it off with liquid. Try to have all your zucchini covered with the pineapple liquid.
Use a bubble tool to remove any air pockets. Simply run it down the sides of the jars moving things around a bit. Be gentle, any bubbles will automatically rise.
Then wipe the rim with a damp paper towel or lint free cloth. If you leave the rim sticky with juice it may interfere with the seal.
Add your flat lid and screw bands. Tighten just finger tight.
If you need more instruction on just how to use a waterbath canner check out this post.
Processing time and altitude adjustments.
Half pints and pints are processed for the same time.
0-1,000 feet – 15 minutes
1,001-6,000 feet – 20 minutes
6,001 and over – 25 minutes.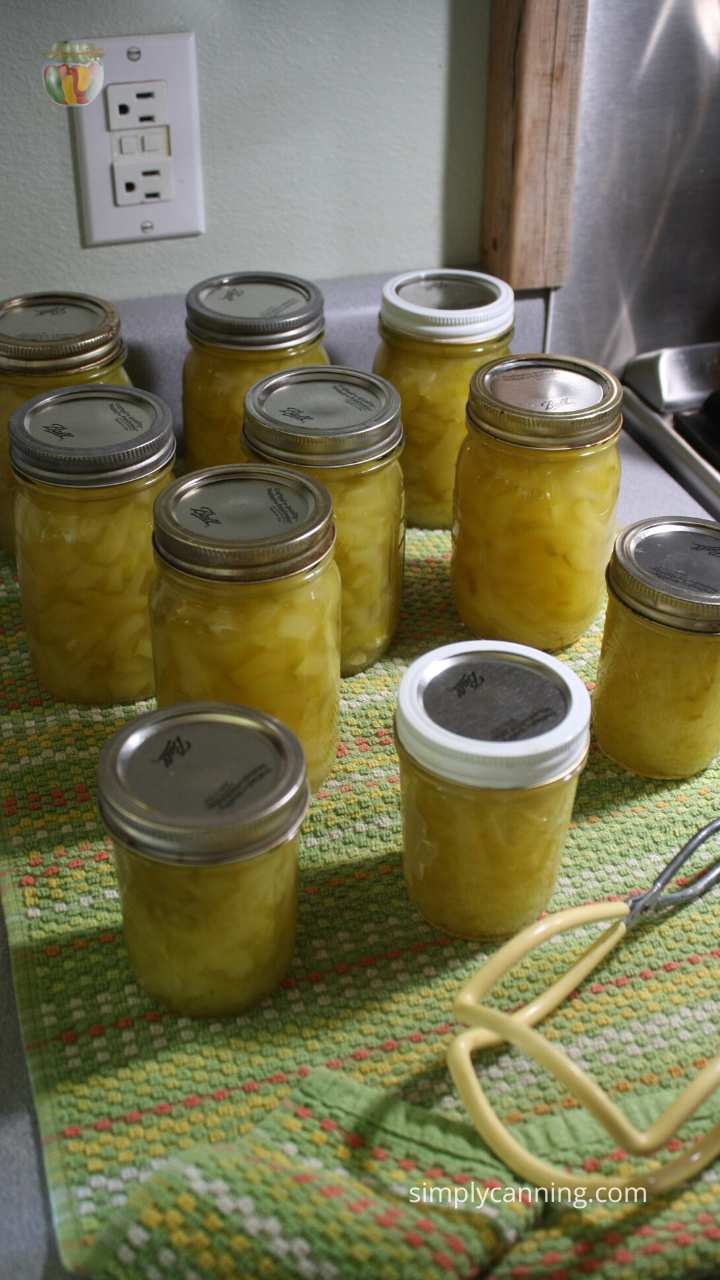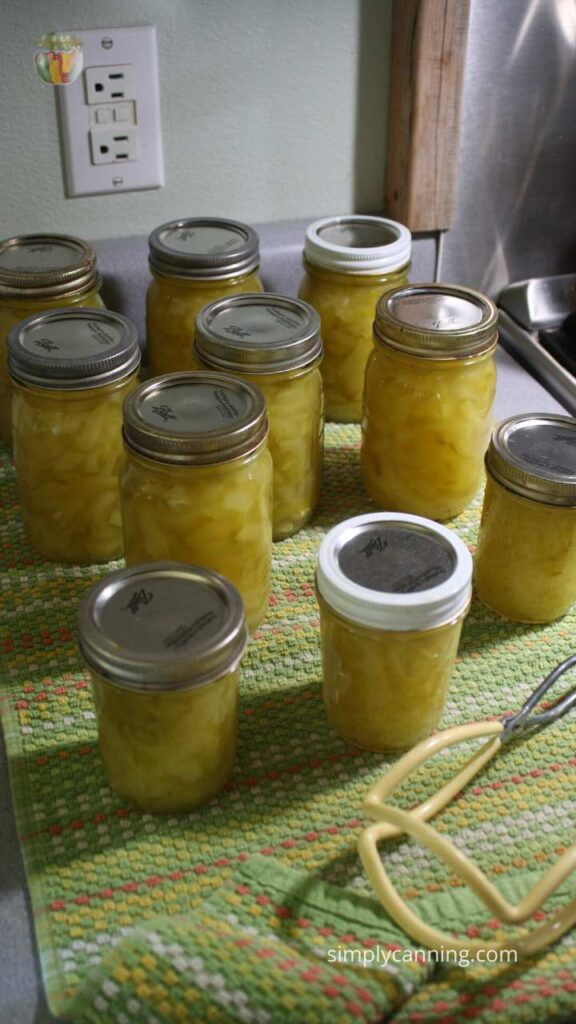 Frequently Asked Questions
Can this be stored in the refrigerator?
You don't have to can this mock pineapple zucchini for storage on the shelf. This could also be stored in your refrigerator. It would last just as any other canned fruit would. I'd say a week or so.

You could also cut the recipe in half to make less if you just want some on hand for a specific dessert recipe.

Can I put this in the freezer?
Sure, the faux pineapple will store well in the freezer as well. I'd put it in freezer containers and measure out how much is in each. For example, freeze in 1 cup quantities. That way you know how much you'll need for specific recipes.

The easiest way to do this would be to divide up the solids (the zucchini) into freezer containers, then add juices evenly to each. This way you don't end up with all zucchini in some bags and a lot of left over juice.
Doesn't zucchini have to be pressure canned?
Good question! Squash is considered a low acid food and usually does need to be pressure canned. But… that is only for winter squash like pumpkin. Summer squash actually can only be canned as a pickle… or as this zucchini pineapple. There are no plain summer squash canning suggestions.

If you want to learn more about canning winter squash check out how to can pumpkin here.
If you want to pickle your zucchini check out this delicious zucchini relish.
Printable Recipe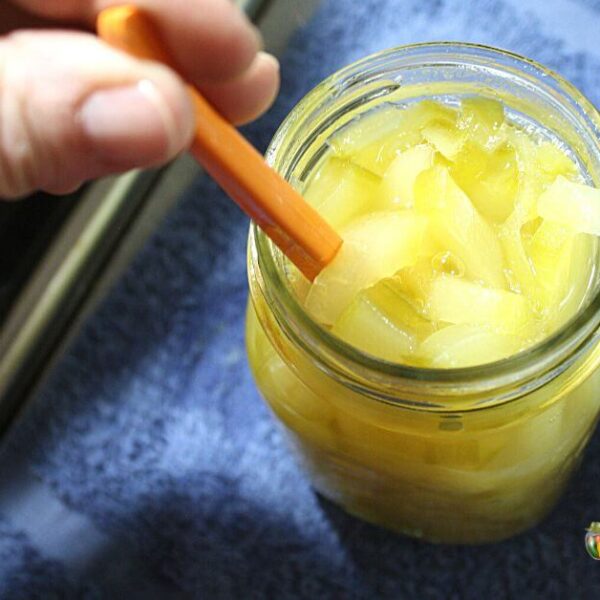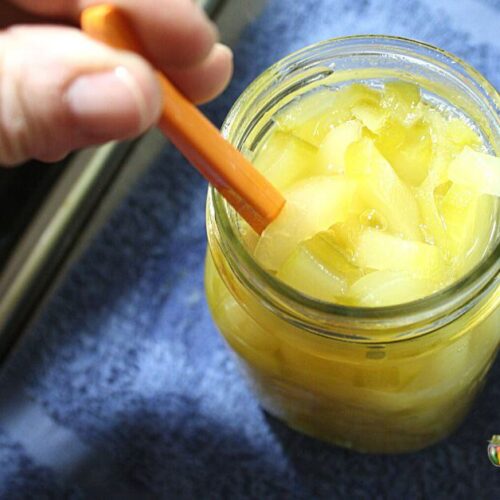 Canning Zucchini in Pineapple Juice – Faux Pineapple
Learn how to can zucchini pineapple. Canning zucchini in pineapple juice results in a surprisingly delicious faux pineapple. This is a water bath recipe.
Equipment
Water Bath Canner and rack
Ingredients
4 quarts peeled and chopped zucchini.

Remove seeds if needed

1 46 oz can of purchased unsweetened pineapple juice.

1 1/2 cups commercial bottled lemon juice.

3 cups sugar.
Instructions
Fill your canner about half full of water. Start heating it up. The goal is for the canner to be hot but not boiling as you are filling your jars. You want enough water to cover your jars when they are filled and in the canner. Have a teapot of hot water available in case you need to top it off.

Peel zucchini. Remove large seeds if needed. 

Cut into ½-inch pieces.  Cubes, strips or a coarse shred. 

Bring zucchini, juice and sugar to a boil. 

Reduce heat and simmer for 20 minutes. 

Fill jars with zucchini and syrup.  Leave a ½-inch headspace. 

Put on your canning lids finger tight.  Flat lids and screw bands. 

As the jars are filled put them in the canner.

If needed top off the water in your canner with hot water so the jars are covered about 2 inches. Process according to the time and altitude adjustments listed below.  
Notes
Half pints and pints are processed for the same time.

 

No quarts recommended.
Altitude Time Required
0-1,000 feet – 15 minutes
1,001-6,000 feet – 20 minutes
6,001 and over – 25 minutes.
Last updated: 1/31/2023
Resource- National Center for Home Food Preservation
Pin this to find later!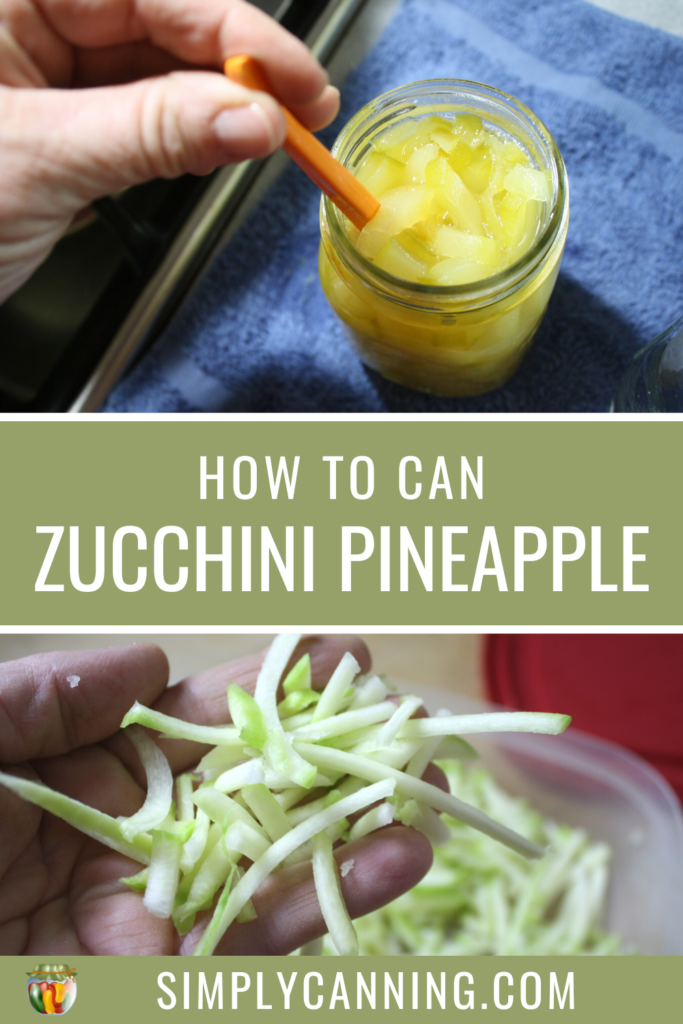 Related Pages
Freezing zucchini, whether it is chopped, shredded, or cubed, is a fantastic way to preserve all your extras. SimplyCanning.com has all the tips and tricks you need to keep it fresh and nutritious.
Dehydrating Foods – Zucchini. Another step in dehydrating foods: How to dry zucchini, both chips and diced!
Simply Canning Newsletter – Get the free Canning Quick Start course when you sign up to the newsletter. The series brings you through all the most important information to know. Updates to the site, answers to frequently asked questions, recipes, and canning tips.