We have a friend who gives us a bucket or two of plums from her plum tree each year. Canning plums is one way of making them last. You'll need 1 1/2 to 2 1/2 pounds of plums per quart jar. 
I can my plums whole on the day these pictures were taken. You can cut them in half and take out the pits if you prefer. Wash fruit and prick each plum skin or slice plums into halves, removing pits.
This Page Includes:
Canning Plums: Extended, Step-By-Step Directions
Supplies:
large pot or blancher
ladle and bubble tool
sharp knife
Ingredients:
Making Your Sugar Syrup
Make a light or medium syrup. Sugar is actually optional. You can just do this with plain water, but I don't recommend it. Canning fruit in plain water can wash out the flavor of the fruit. I recommend at least a light syrup.
Heat water and sugar in a saucepan until sugar dissolves.
Light syrup – 2 cups sugar to 1 quart water.
Medium syrup – 3 cups sugar to 1 quart water.
Honey is an option if you don't want the sugar. Canning with Honey information can be found here.
Apple or White Grape juice is fruit juice you can use instead of sugar syrup.
This is a hot pack so you'll heat the plums first. Place plums in syrup or water and bring to a boil for 2 minutes. Cover and let rest for 20-30 minutes.
If you want to raw pack check the FAQ section below for details.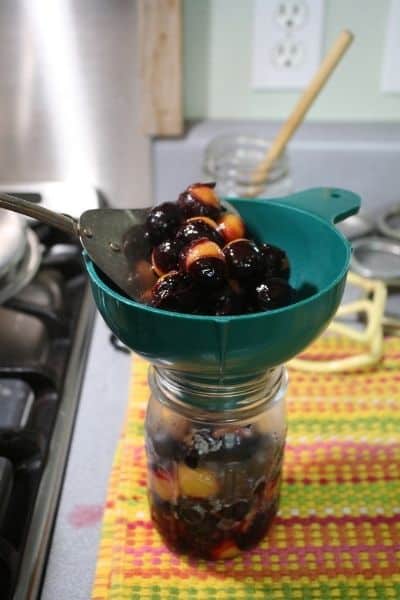 Gently pack plums into jars, covering with syrup or cooking liquid, leaving 1/2″ headspace. It works well to use a slotted spoon to add the plums, then add the liquid.
Remove air bubbles, wipe rims clean (the rim of the jar will be sticky), and place on your lids. Place jars in warm canner and process according to the chart below, adjusting for altitude.
Pinnable Recipe Card
Canning Plums Tips & FAQs
What type of plums can be canned?
Any type of plum can be canned. Just use your taste buds to decide. Damson plums are tart plums that certainly can be canned as fruit, but people who don't like tartness might want to try plum jam. Damsons make really good jam!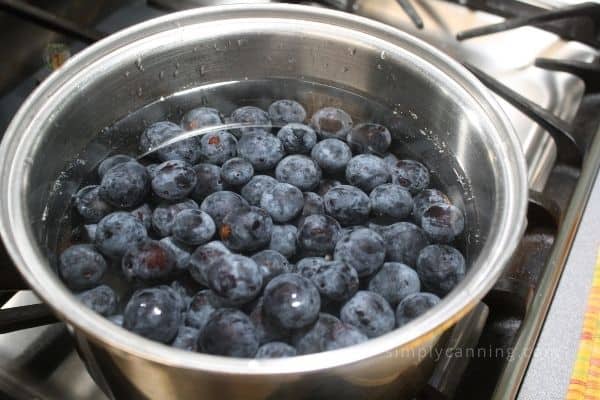 Should You Can Whole or Halved Plums?
Plums can be canned whole or halved. I did whole on the day these pictures were taken but I'd recommend halved. The only time canning whole might be beneficial is if you have clingstone plums, the kind where the pit doesn't just pop out easily. It can get messy trying to get the pits out. So canning them whole is simpler. Freestone plums are easy to cut in half and remove the pit. Do remove the stems. 🙂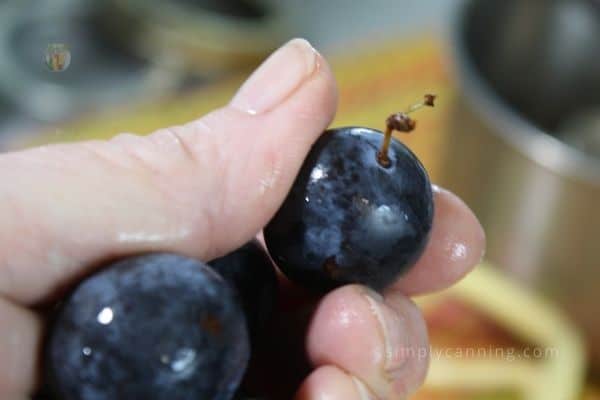 If you do can them whole, prick the skins so they don't split. Ha, you'll see from the pictures, mine split anyway, but it might help. Remember to remove the pits when you open the jar.  That's the downside of canning plums whole.
How to can plums as a raw pack.
Plums can be canned either hot or raw. The benefit of the hot pack is getting more in the jar.  The processing is the same you'll just pack the jars differently.
For a raw pack, you'll simply wash your plums, pack them tightly into jars. Add hot syrup and leave a 1/2 inch headspace. Wipe the rims clean add your lids and then proceed with processing.
Fill jars with raw plums, packing firmly. Add hot water or syrup, leaving 1/2-inch headspace.
Adjust lids and process.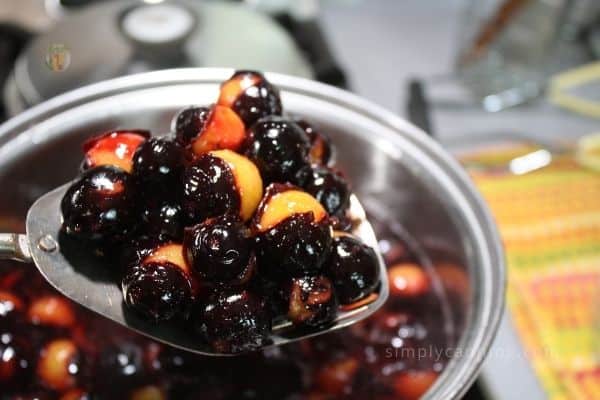 Related Pages
Canning Fruits The perfect place for beginners to learn how to can food at home! Save money and fill your shelves with delicious and healthy fruit that is shelf-stable, all at SimplyCanning.com.
Plum Sauce Recipe for Canning I think you'll like this delicious plum sauce recipe (also sometimes known as a plum BBQ sauce).
Water Bath Canning: The Gateway to Processing Food at Home Water bath canning is where most newbies begin on their food preservation journey – and with good reason! Water bath canning is fun and easy! SimplyCanning.com walks you through the steps.
Pin This to Find Later!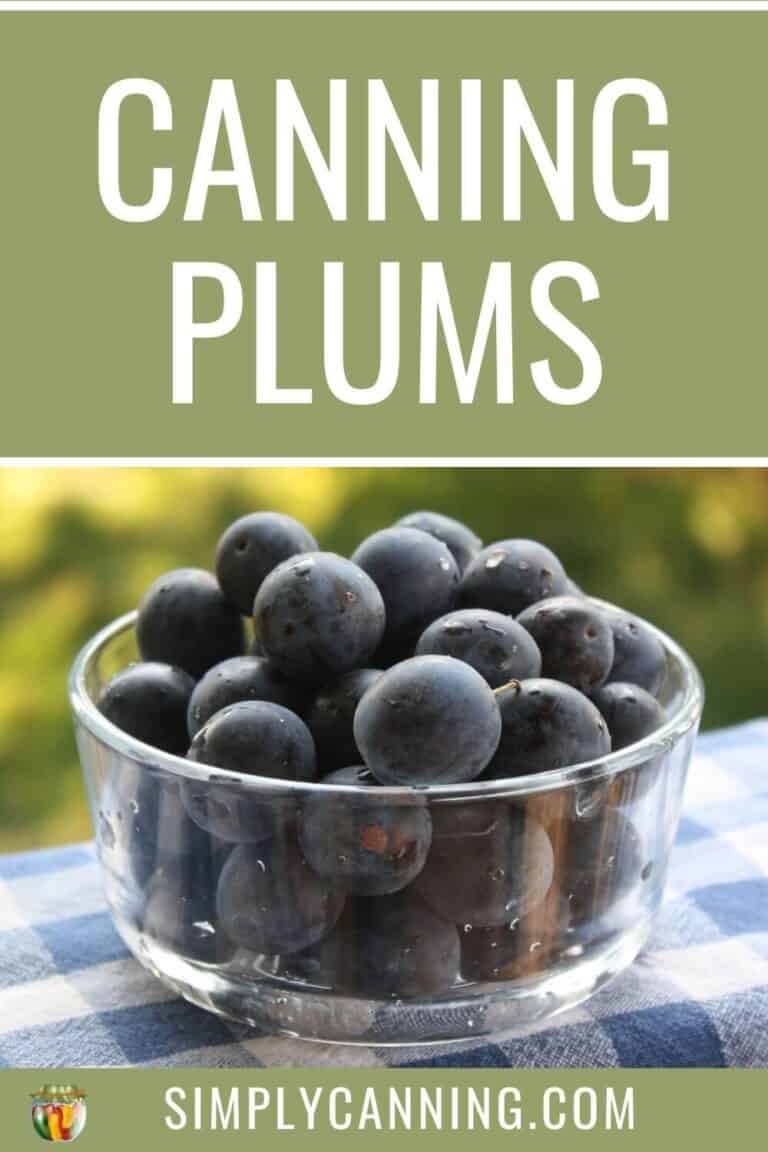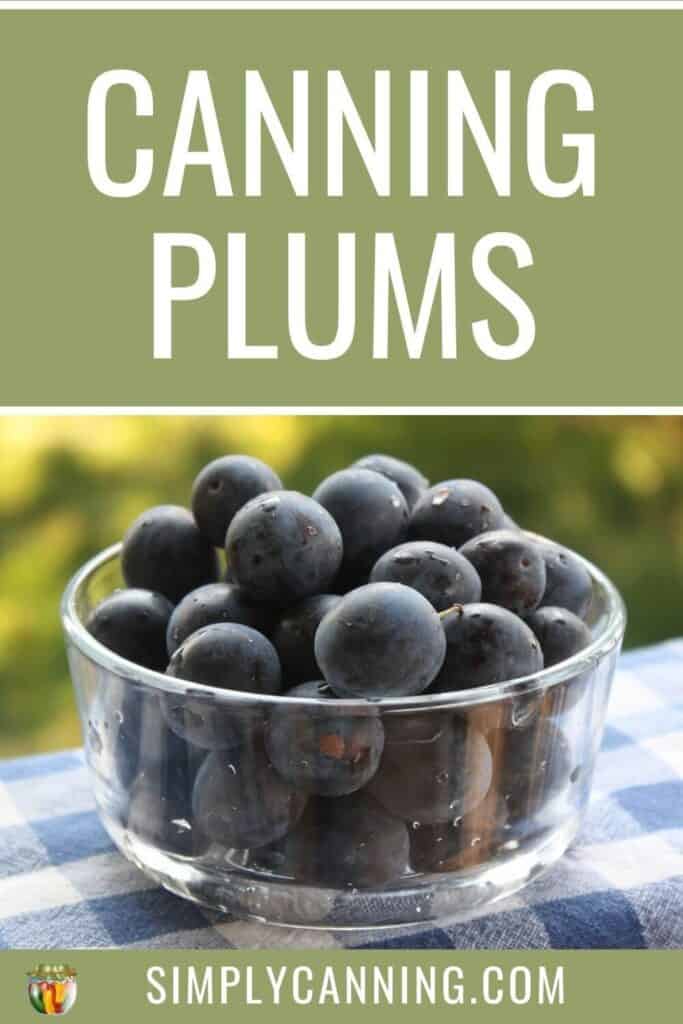 Source: The National Center for Home Food Preservation
Page last updated: 6/28/2021