Canning cherries gives you convenient jars of cherries to have on hand for making cherry pie, pouring over ice cream, or using in a cherry cobbler. (See my Cherry Rhubarb Crisp recipe at the bottom of this page).
Cherries are an acid food and can be safely water bath canned.
How do you can sour cherries? How do you can sweet cherries?
These directions are for either sweet cherries like bing cherries (this is what you see in the pictures) OR sour cherries that you use for pies.
Canning plain cherries in a light syrup makes it easy to create desserts of your choice later. I like simplicity!
I made a few jars of pie filling and canned some cherry jam this year too.
My husband is a big fan of frozen cherries, so I also froze five 1-gallon bags of those as well.
He says they are just like popsicles. I say they are much better for you too.
Prepare
How to Can Cherries: Gather Your Supplies
Gather Your Canning Supplies:
large pot or blancher
bowls
large spoons
sharp knife
towels and dish cloths
cherry pitter – optional
Ingredients:
cherries – As many as you can stand to pit! (We had a LOT of cherries!)
sugar – for the syrup (optional)
Syrup for Packing
Make syrup of your choice to pour over cherries. If you are doing sour cherries, you may want a medium or heavy syrup.
Can you can cherries without sugar?
I prefer extra light syrup, but you could use just water if you don't want to add any sweetness.
extra light – 1 cup sugar to 4 1/2 cups water
light – 2 cups sugar to 5 cups water
medium – 3 cups sugar to 5 1/2 cups water
heavy – 4 3/4 cups sugar to 6 1/2 cups water
You can also make a syrup with honey if you don't want to use processed sugar.
light – 1 1/2 cups honey to 4 cups water
medium – 2 cups honey to 4 cups water
Procedure for How to Can Cherries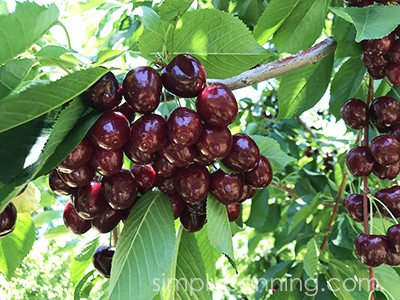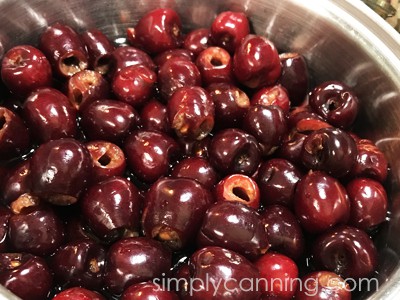 The first thing you'll have to do is pit the cherries. Pitting is the most challenging part. :0)
Actually, it is not challenging, just tedious. But if you just sit down and DO IT, you can make some delicious dishes. Have a friend come over and visit while you pit.
My husband likes cherries enough that he gets my boys going, and they all have a sit-down-and-pit-cherries party.
They make a mess, but the cherries are pitted when they are done. I love it. I certainly don't want to pit all those cherries if I don't have to.
Speaking of Cherry Pitting….
Actually, canning cherries with the pits is perfectly acceptable, but I don't really recommend it. It makes them quicker and easier to use if you go ahead and pit them now. If you want to can them with the pits, just prick each cherry with a sterilized needle to prevent it from bursting.
Place cherries in jar. You do not have to heat the cherries as long as they are not cold from the refrigerator. Just a raw pack is fine.
I have found it works to add 1/2 cup or so of syrup to the jar, then fill half of the way with cherries. Tap the bottom of the jar lightly on a pot holder laid on the counter to settle contents. Then fill the jar the rest of the way, tapping more to settle cherries without smashing. It is a balance filling the jar, but not squishing your cherries tightly when canning cherries.
Cover cherries in jar with syrup, leaving 1/2-inch headspace. Remove air bubbles and clean rim of jar.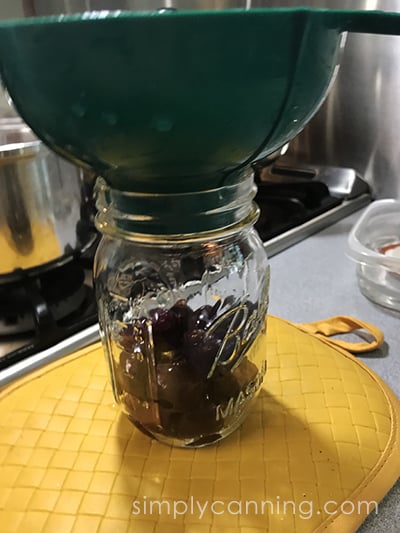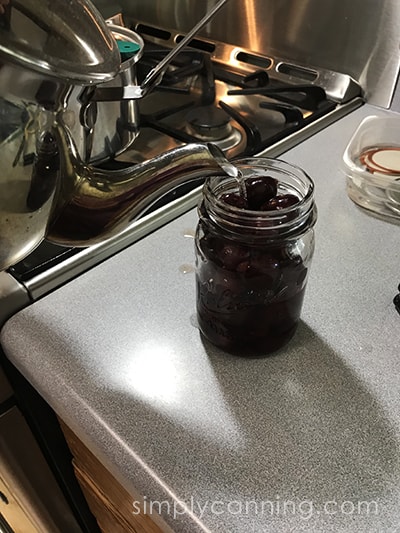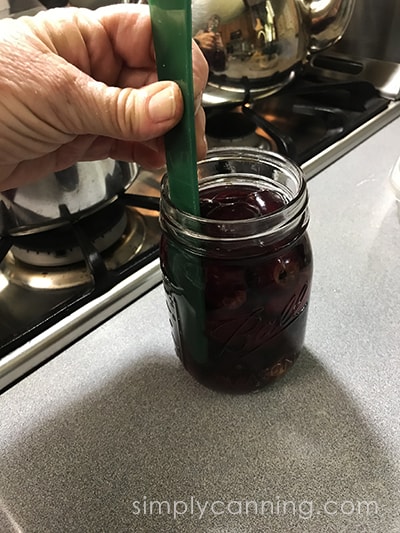 Wipe the rims clean, remove any air bubbles, and place your lids.
For more details, follow water bath canning instructions.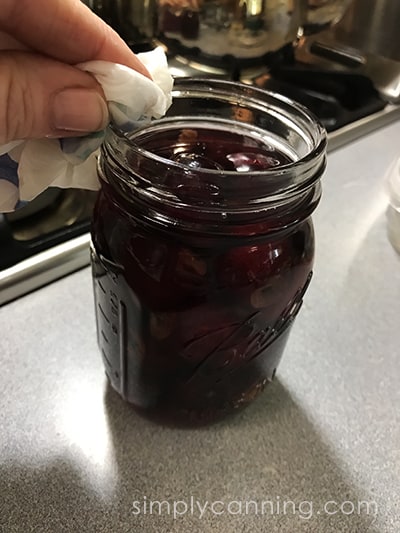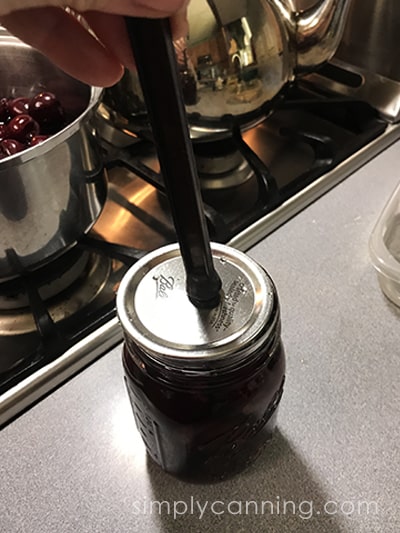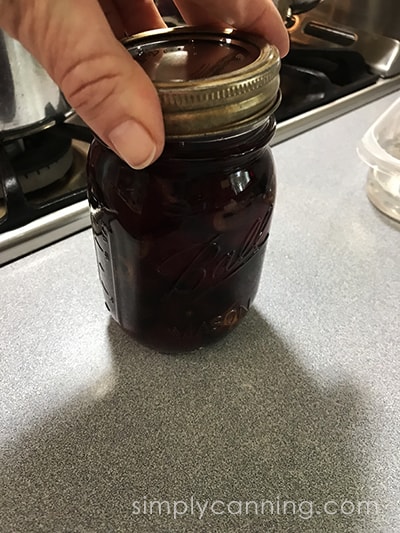 Process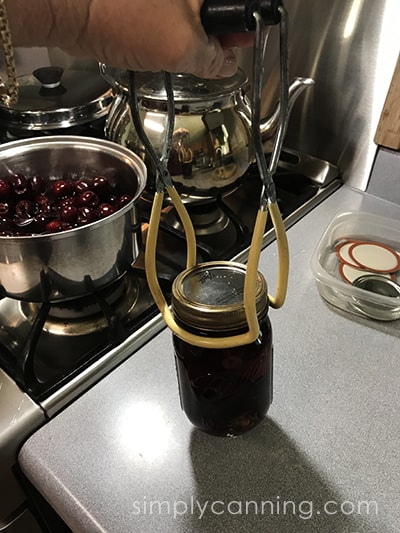 Process pints or quarts for 25 minutes.
Processing time comes from
Altitude Adjustments
Altitude Adjustments for Boiling Water Bath Canner
Altitude in Feet – increase processing time
1,001-3,000 – increase 5 minutes
3,001-6,000 – increase 10 minutes
6,001-8,000 – increase 15 minutes
8,001-10,000 – increase 20 minutes
For more information on why this is important, see this altitude adjustments page.
A Recipe for You: Cherry Rhubarb Crisp
Take a Rhubarb Crisp recipe and substitute cherries for half the rhubarb? Mmmm, mmmm, good!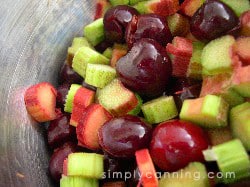 Take a Rhubarb Crisp recipe and substitute cherries for half the rhubarb? Mmm, mmmm, good!
Ingredients:
2 cups cut up rhubarb
2 cups fresh pitted cherries or 1 pint well-drained canned cherries.
1/2 tsp salt
1 1/2 cups sugar
3/4 cups flour (I used whole wheat)
1/3 cup butter (room temperature)
Directions:
Preheat oven to 350 degrees.
Mix rhubarb and cherries in an ungreased, 8X8-inch baking dish.
Sprinkle salt over fruit.
Mix sugar and flour. Mix in butter until mixture is crumbly.
Sprinkle over fruit.
Bake 40 to 50 minutes or until top is lightly browned and fruit is bubbly.
Serve warm with cream or vanilla ice cream.
More Recipes for Canning Cherries:
More on Canning Fruit
Members' Extra: Access Your Video Tutorial in Your Members Area
Canning school members, click here to log in.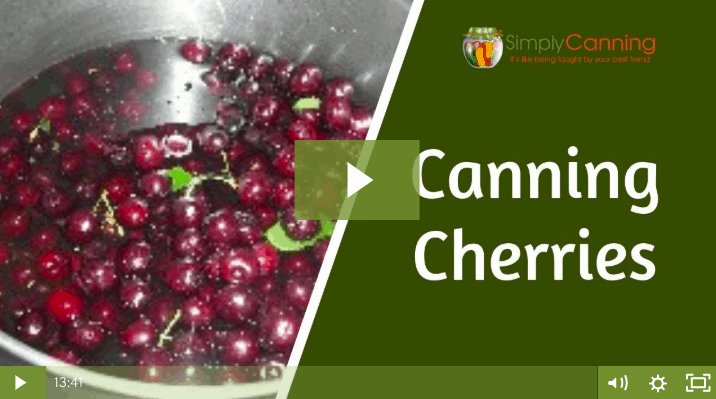 Page last updated: 1/29/2021