Fillmore Container sent me this cherry pitter to try out. I've never found one that works. so I have to say I was skeptical.
And I even told Fillmore that before they sent it!
We are preserving cherries today and guess what…it works! Even my son said it worked.
I did a video of two of my boys pitting cherries at our kitchen counter. Scroll on down to see the cherry pitter in action.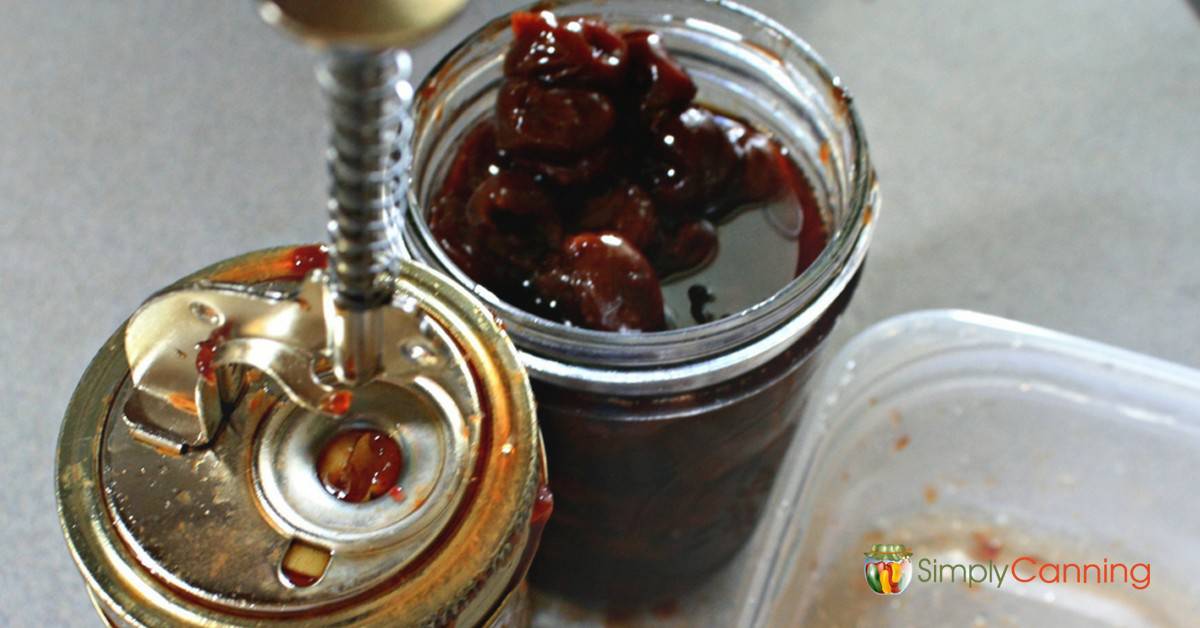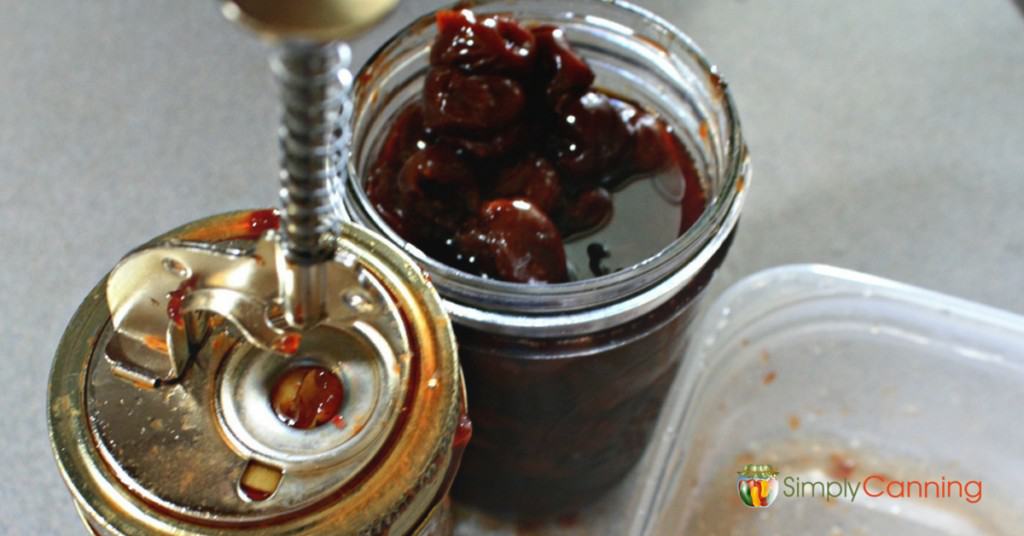 This Page Includes:
Simply Canning Kids Using the Cherry Pitter
Here is a video of two of my boys working on a box of cherries. They both said they liked the way this one works…and believe me, if they didn't, they would not have said it. 🙂 I love the no-mess factor! Until the boys start cherry wars.
Watch the video:
Features of This Cherry Pitter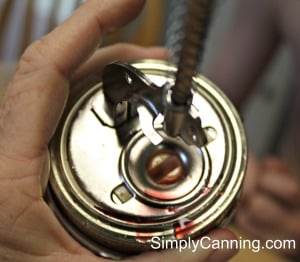 My pitter came with an extra rubber. See the little rectangle space where the cherry sits? That has a rubber gasket that sits in that round hole, making the rectangle slot. The pit goes down into the jar through that slot.
With use, the gasket does get stretched out, so check that. If the hole is stretched, you might want to replace it with this gasket.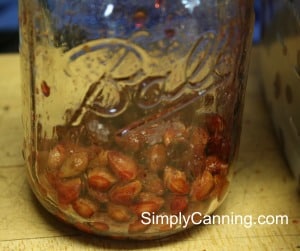 This is my son using a pitter years ago. We really tried to make it work. I don't remember the brand of that pitter. But it was not family-approved in my house.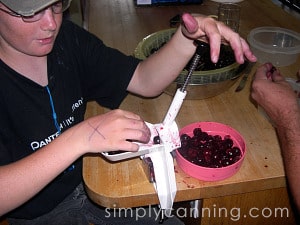 He ended up filling that little bowl and then switching to a small piece of tubing and just poking out the pits.
And that is how we have pitted our cherries for years.
Pain in the behind! Huge mess. But it got the job done. And gave ups many cute pictures. 🙂 (See below!)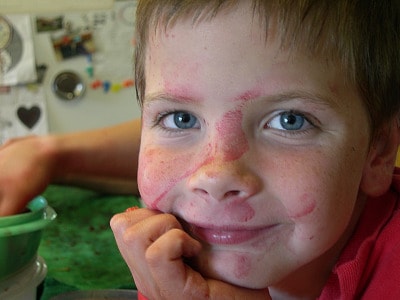 Does the Cherry Pitter Work on Thawed Frozen Cherries?
So, I'm adding this little section today. I made this cherry cobbler for my guys for supper. I pulled some cherries out of the freezer (the recipe works for frozen cherries too). What I thought were pitted cherries turned out to be cherries with the pits! That is the pits…pun intended.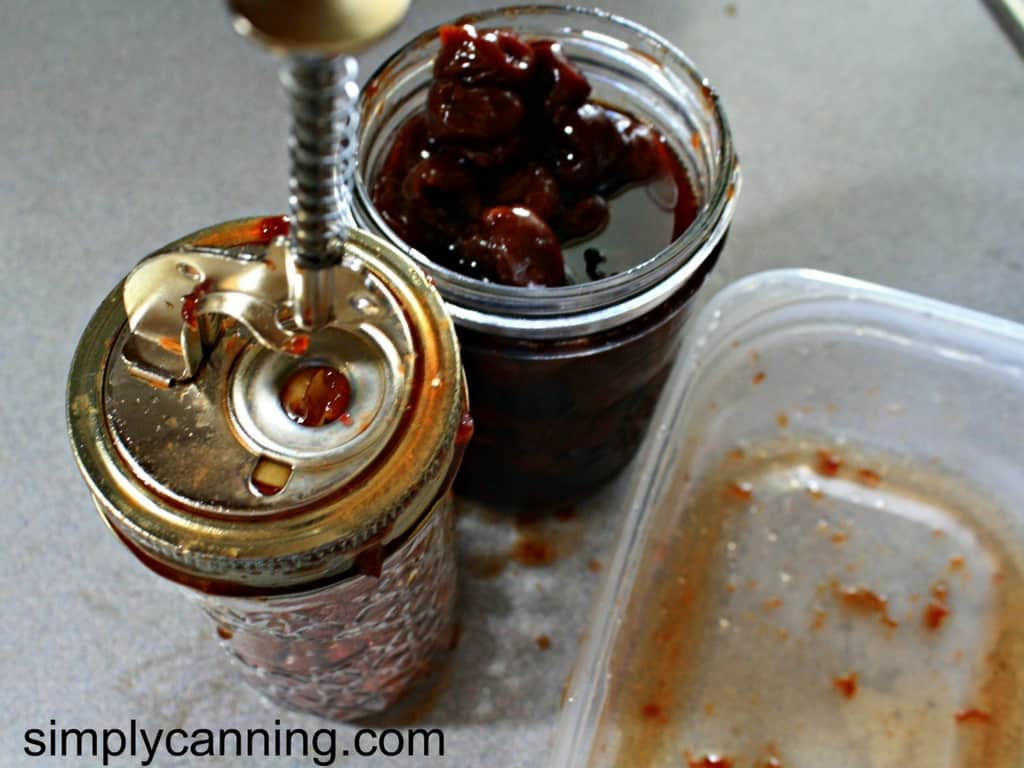 After mashing up a few soft, soggy frozen, then thawed cherries with my fingers to get the pits out. I decided to go ahead and give this cherry pitter a try. Honestly, I didn't think it would work. In case you don't know, cherries are super soft and soggy when frozen then thawed. I figured the pitter would just create mush. Well, to my surprise, it didn't do too bad. Not as effective or clean as with fresh cherries, but it did work.
Related Pages
Canning cherries is a good alternative to freezing and adds some bright color to any pantry. Use them for making quick cobblers, pies, or candied cherries.
Cherry jam is easily made and mastered. Control the sugar and flavor to suit you!
Canning cherry pie filling gives you the freedom to make a cherry pie or cobbler on the fly! Just pop open a jar and pour into a pie crust.
Pin This to Find Later!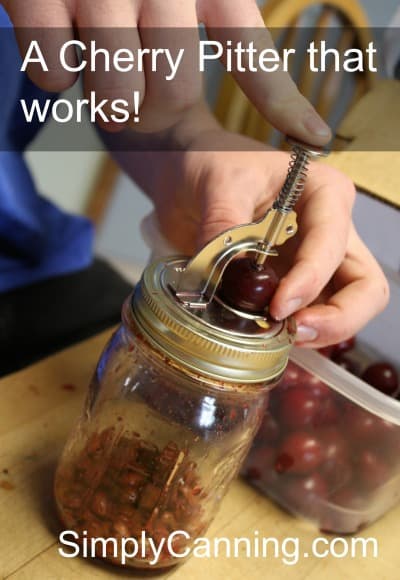 Page last updated: 11/5/2021