First impressions? The Soup Saver Scoop has an unusual three-sided design.
According to the designer of the ladle, Sharon of MeMo's Kitchen, "the design came from a 40 year old soup ladle from the 1960s still in use in MeMo's Kitchen even with a broken handle."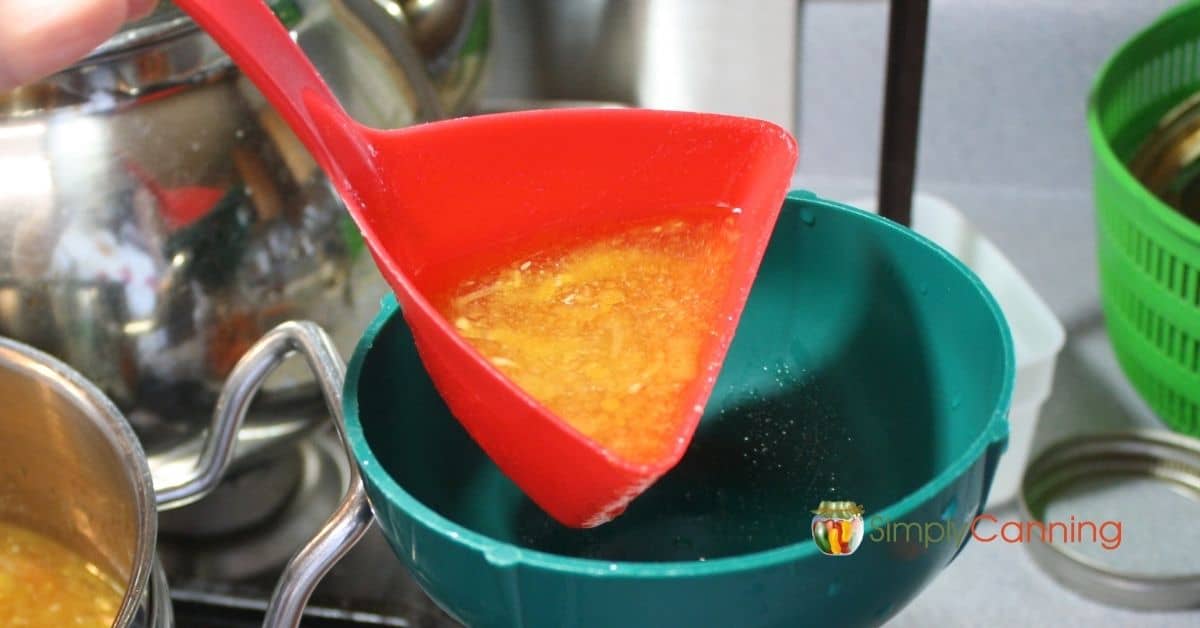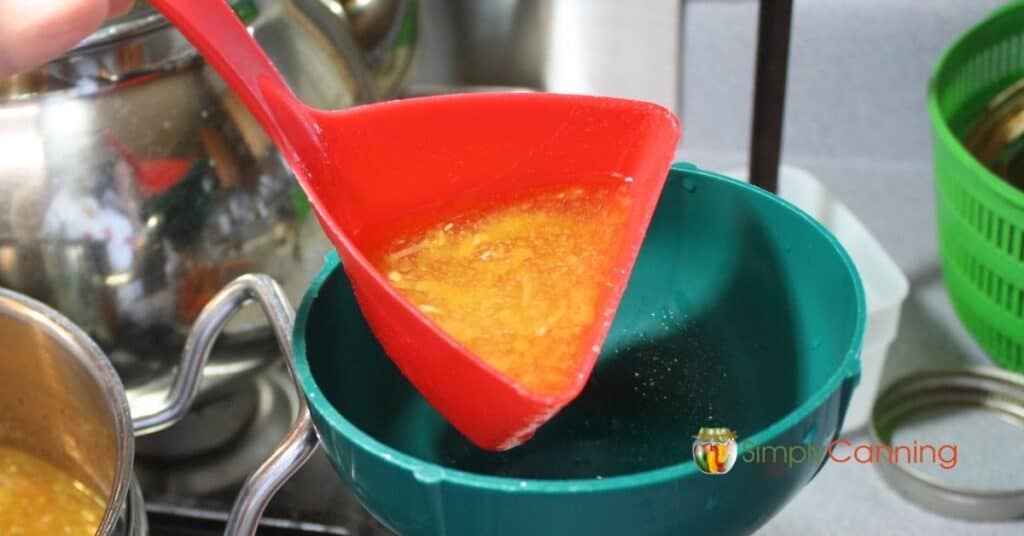 This Page Includes:
(12-2023 Editing to add) –>. Unfortunately I think Memo has gone out of business. The links to her site do not work anymore and I have not found this scoop available anywhere else. If anyone knows where these are still available let me know in the comments. I really do love this ladle.
Soup Saver Scoop Review: The Perfect Design for a Canning Ladle
I've used this scoop for canning jams and jellies, relishes, and other canning. I've also used it for soups and chili. Come to think of it…I've used it for all kinds of cooking.
This ladle is the first one I grab out of my utensil drawer, every…single…time.
In fact, if it gets put in the wrong kitchen drawer, I find myself digging to find it, even though my other ladles are right there.
(Remember, I have 3 sons at home who empty the dishwasher. Do your sons always get things in the right place? Mine don't.)
Final Impressions of the Soup Saver Scoop
Before I got this ladle, I really didn't consider the design to be very important. If it had a scoop and dished up liquid, it was good for me. That was before MeMo (the designer) sent this one out to me.
As long as it scooped, I thought any ladle was fine. But this the Soup Saver Scoop really does what MeMo says. I like the 3-sided design very much.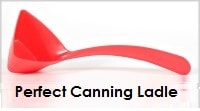 The ladle is heat resistant. I can use it in my hot pans…and it is dishwasher safe. I love dishwasher safe!
The flat side makes it easy to get the last little bit out of the bottom of the pot. In this picture, I was canning salsa. I tipped the pot just a bit and used my scoop to clean out the bottom. I'd say the flat side scraped the bottom pretty clean.
The corners also make it easy to pour liquid. If you have a thicker product like chunky salsa, you will still need to use a canning funnel. There were occasions, however, where the liquid I was canning was thin and poured right out of the scoop with little to no dripping. You do still have to be careful, and I usually do still use a funnel. But the dripping issue is noticeably less.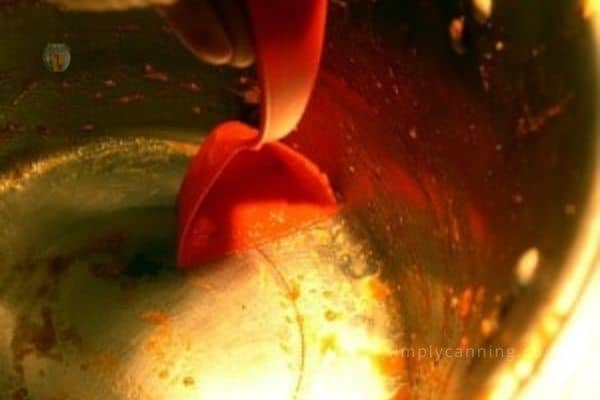 When I first got the scoop, I noticed that the plastic was thinner than other ladles, but it doesn't seem to be a problem. In fact, I believe this is what makes the flat edge of the scoop work so well. It is flexible enough to flatten out on the pot and scrape it well.
The only thing I would change is give it a longer handle with a hook on the end to rest on the pot so it doesn't fall in. But other than that, it is just about perfect.
Would I Recommend It to a Friend?
Absolutely! I would definitely recommend this for everyday use as well as a handy canning tool. As I've said before, I always grab this ladle out of my utensil drawer first.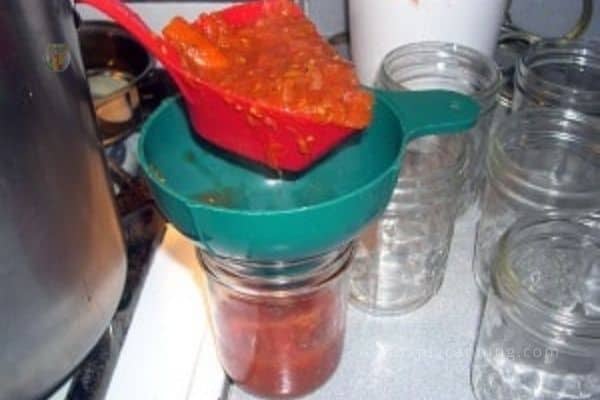 Where Can You Get a Soup Saver Scoop?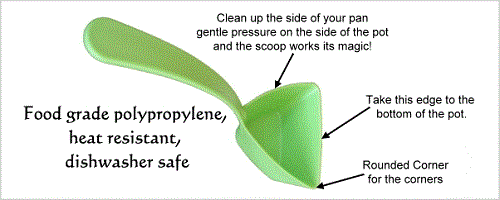 Disclaimer…I am not an affiliate, so I don't get a single thing if you purchase this ladle. The only thing I got from MeMo's kitchen was a ladle!
Get it right here to get the Soup Saver Scoop. (link no longer available)
Related Pages
Homemade Chicken Soup for Canning – Make this homemade chicken soup recipe and know it's safe for canning!
Canning kits are perfect for beginners to pick everything you need, including a canning funnel, in ONE package. Be sure you get the important items.
If you'd like to learn more about canning equipment & supplies, click here. You'll understand the canning equipment you must get and which equipment is unnecessary.
Pin This to Find Later!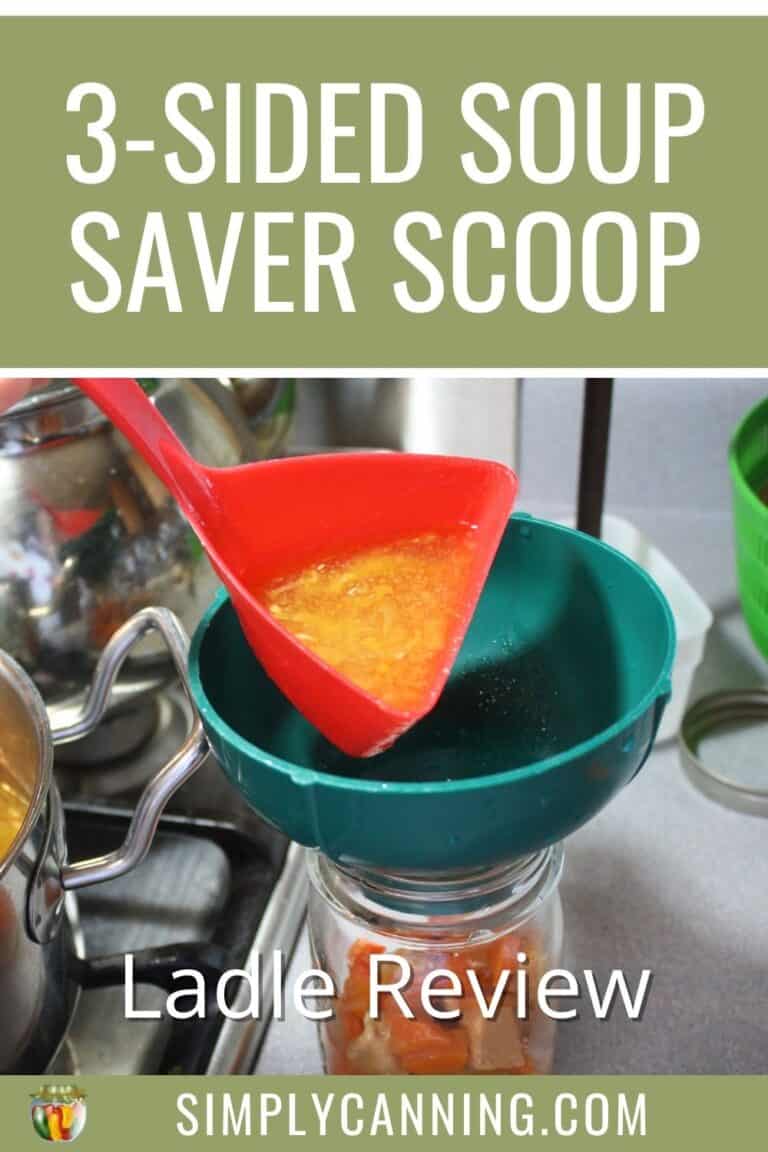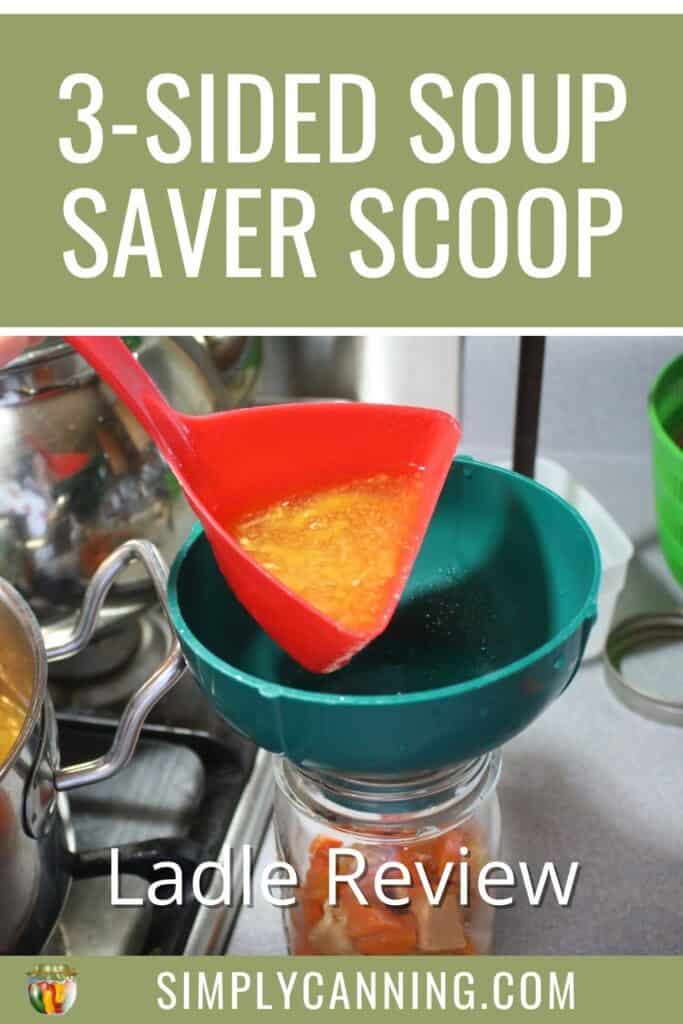 Page last updated: 12/12/2022