An apple slicer called an Apple Peeler-Corer-Slicer (say that five times fast!) is a handy tool that is worth every penny. Personally, I think they're worth their weight in gold, and I use mine constantly during apple season.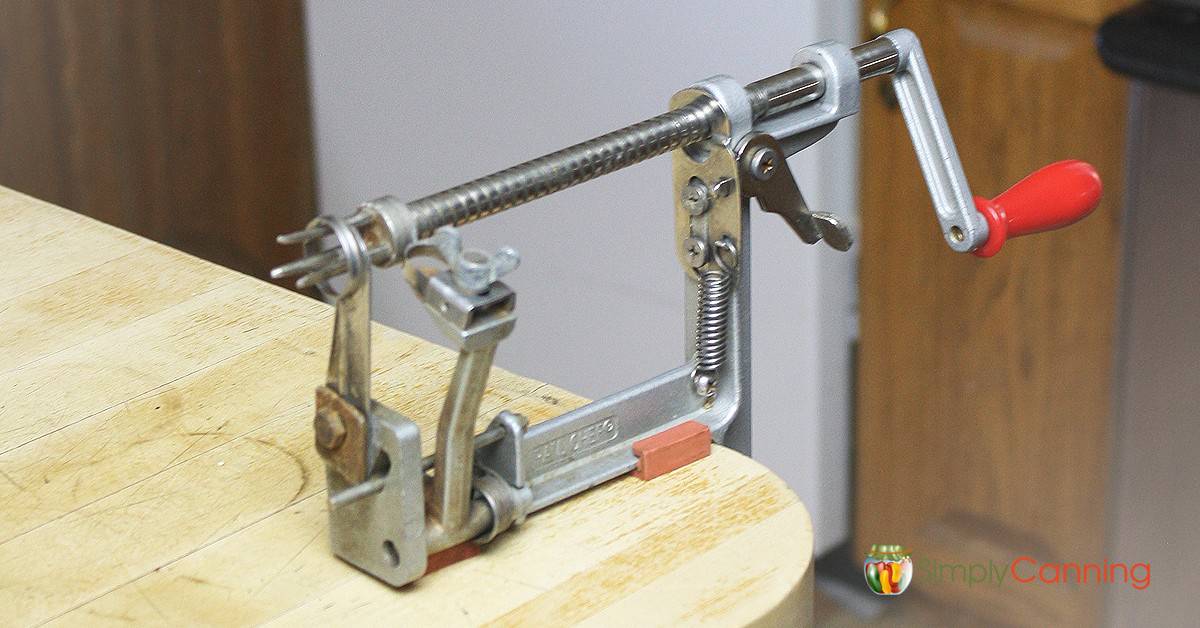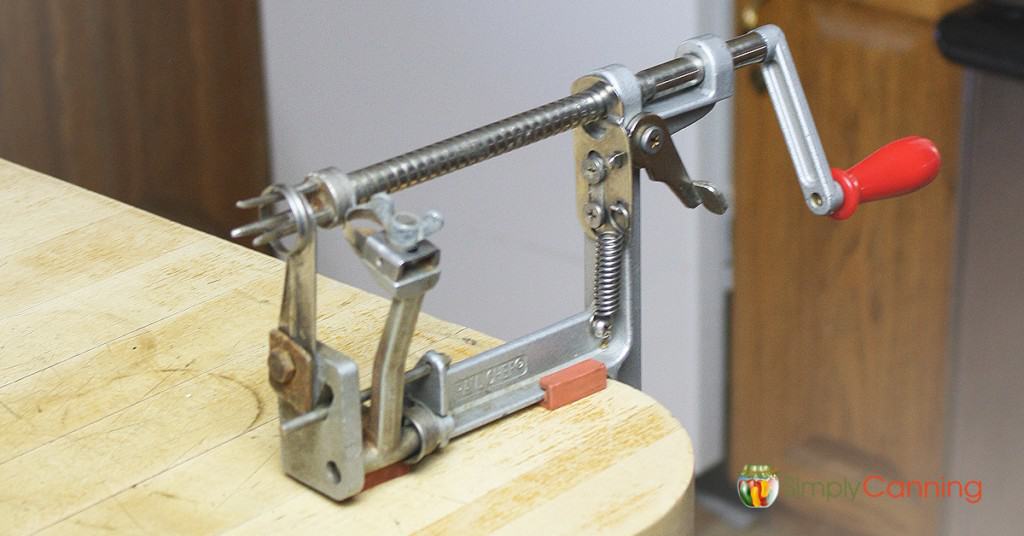 This Page Includes:
The Best Apple Peeler-Corer-Slicer Tool
If you are freezing, dehydrating, or canning apples, buy one. It truly is worth it. If you can't buy one, borrow one…really, it saves a ton of time. I use the Pampered Chef Version. But there are other versions on the market too, though mine can also be used as just a corer and slicer, which is why I love it so much. (See more below.)
If you are making applesauce or apple butter, this tool makes peeling, coring, and slicing apples easy.
How the Apple Slicer Works: Peeling, Coring, & Slicing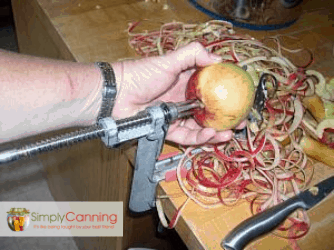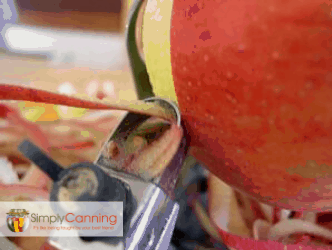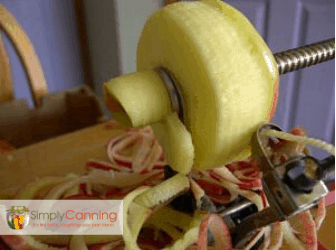 Stick your apple on the prongs. (Press the little handle to release the mechanism, so it's able to move back and forth. Pull it back, center your apple on the prongs, and push the fruit directly into the mechanism. Push the handle again, this time pushing your apple up to the blade.)
Crank the handle and the peels come off in long strips while the blade is slicing and coring the apple.
You end up with thin apple rings that are perfect for dehydrating apples and making applesauce. I like chunkier apples for pie, so I don't use it for canning pie filling, but for everything else…the slicer works well.
My kids love to help and think it is fun to eat an apple in curly-Qs.
---
How the Apple Slicer Works: Coring & Slicing
You can also use this peeler to just core and slice your apple, without peeling it. I make my slicer do this by pulling the first blade out of the way and locking it down with the lever.
How to Use the Apple Slicer for Potatoes
I also use my apple slicer for potatoes. Stick your potato on lengthwise, just like an apple. Slice. Your potato will be sliced into curlicues just like the apples above. This will also leave the "core" of the potato.
Sprinkle your potato curly-Qs with salt or seasoning, roast them in the oven, and make curly fries. You can bake the "cores" at the same time. Or slip them in a Fry Daddy and deep fry.
What to Look for When Buying an Apple Slicer
There are different versions of this tool on the market. So if you're looking to buy one, watch how it attaches to your counter.
For example, I have a butcher block countertop in my kitchen, so I prefer a clamp-style apple slicer. But some other versions on the market use suction cups instead. Pick whatever option works better for you. Suction cups would not stick to my wooden surface.
Quickly Peel Apples Without Slicing
The apple slicer makes super thin slices, which work great if you're dehydrating apples or making applesauce. But what if you want bigger pieces of apple?
Well, you can use the apple slicer to just peel the apple without slicing it! See the second blade of the apple slicer that actually cuts and cores the apple? I just loosen that up and move it down, out of the way. Then you can peel the apple without slicing it.
How to Use Those Apple Slices…
I love my apple slicer! It makes nice, thin slices for eating apples or making apple pies and applesauce. Here are some ideas to help you use all of your apples:
Canning Applesauce Recipe – Canning applesauce helps you take control back over your food and how it's processed. Create a shelf-stable food that adds variety to your pantry.
Canning Apple Butter Recipe the easy way! How to make apple butter in a Crockpot to save time spent in the kitchen.
Canning Apple Pie Filling is for more than making pie. Pop open a jar and heat for a delicious treat, or pour.
Canning Apples; Learn how to can apple slices to use in oatmeal, for baking, or over ice-cream. YOU control the sugar. Light sugar options.
Freezing Apples can be done in many ways. SimplyCanning.com shares tips and tricks for 3 different ways that you can preserve your apples in the freezer for easy use later.
Pin This to Find Later!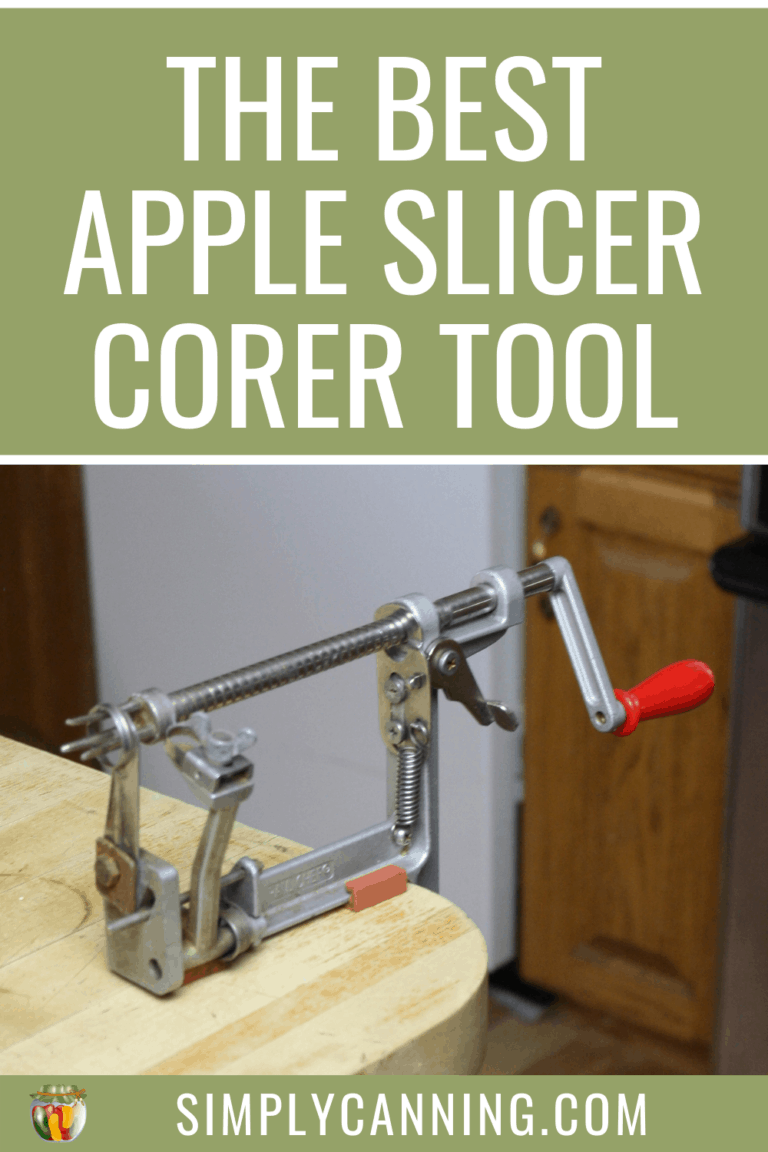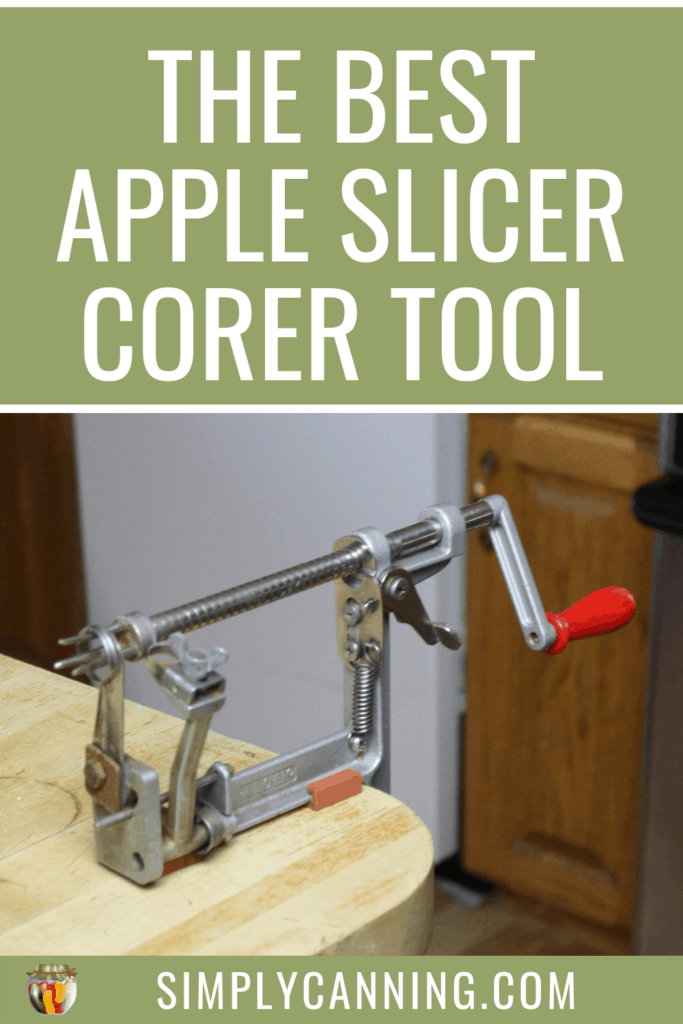 Page last updated: 9/30/2021