By canning apple pie filling, you will have a dessert already half prepared.
Do you love pie, but never take the time to prepare it? I'll bet if you start canning it, and have it all ready and waiting on your pantry shelf, you'll have it more than just at Thanksgiving.
This filling can also be used as is. Simply pour into a casserole dish and heat. Serve with ice cream for a quick and easy treat.
You will need to use a water bath canner.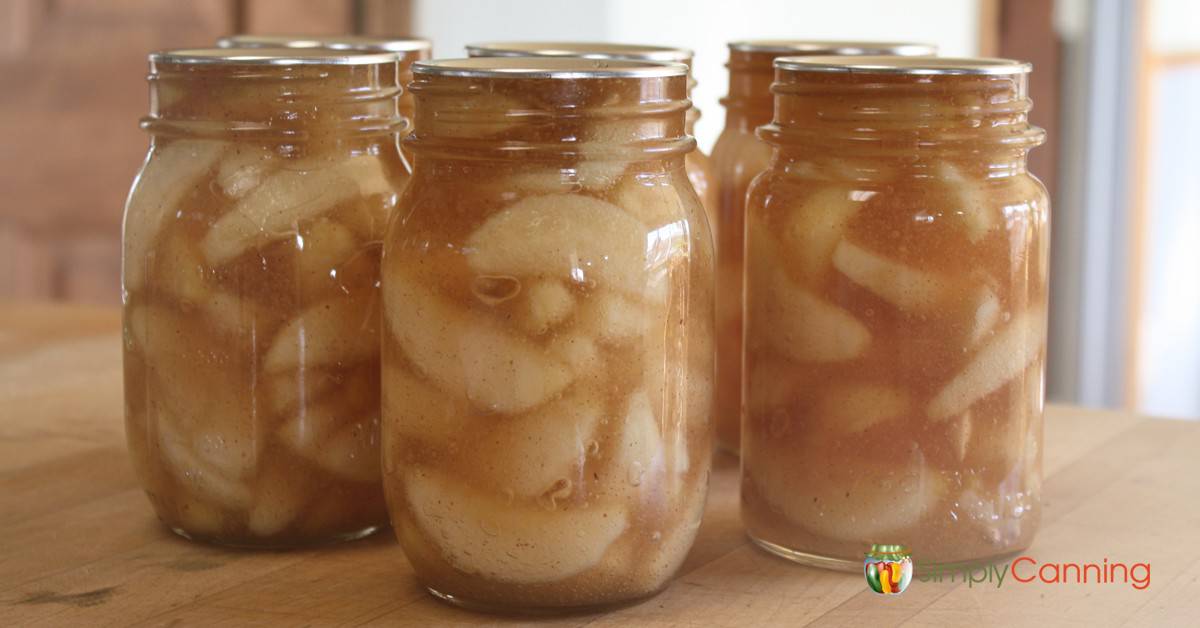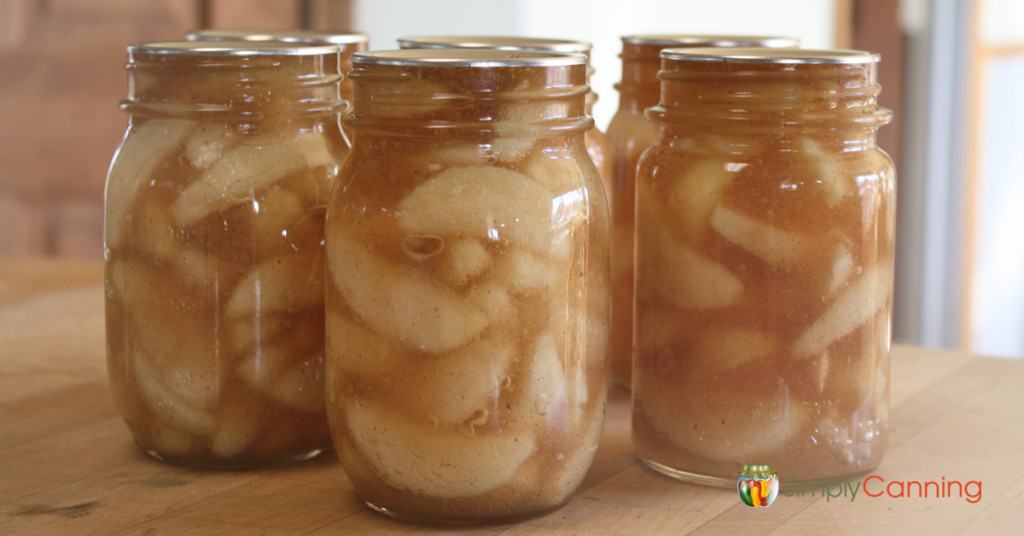 This Page Includes:
Canning Apple Pie Filling: Extended, Step-By-Step Directions
Gather Your Canning Supplies:
large pot or blancher
bowls
large spoons
sharp knife
towels and dish cloths
whisk
ladle
2 large stock pots
apple peeler-corer-slicer (this is optional)
Ingredients*:
6 quarts peeled, sliced apples
5 1/2 cups sugar
1 1/2 cups Clear Jel
1 tsp. cinnamon
1 tsp. nutmeg
2 1/2 cups water
5 cups apple juice
3/4 cup lemon juice
*Edited to adjust to new recommendations for ingredients. When I've make my apple pie filling in the past, I did not use apple juice. My liquid was all water (plus the lemon juice). I've adjusted the above ingredients to reflect the addition of apple juice and more lemon juice. Source: NCHFP.
How to Can Apple Pie Filling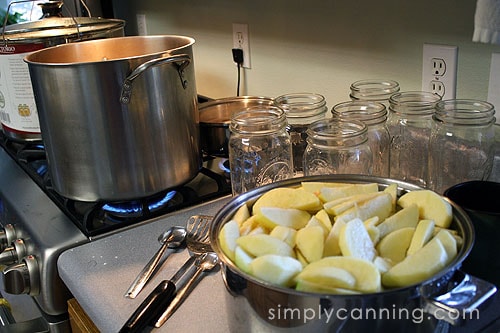 Peel, core, and slice your apples. This is where the apple peeler-corer-slicer may come in handy. It will cut your prep time in half. However, keep in mind that it does slice your apples very thin. I like thicker slices when I am canning apple pie filling.
For canning apple pie filling or another sliced apple canning project, I've always recommend using an apple peeler-corer-slicer. But I have noticed that with the slices so thin, the apples tend to get very soft after processing. You may want your pieces to be a bit thicker than the slicer will make. I still highly recommend the slicer. It is an incredible time-saver, but using a knife the old-fashioned way may just suit your needs better.
If you use an apple peeler, see the instructions that came with it. If you do not have one, just prepare your apples with a knife.
Make Your Thickener or Syrup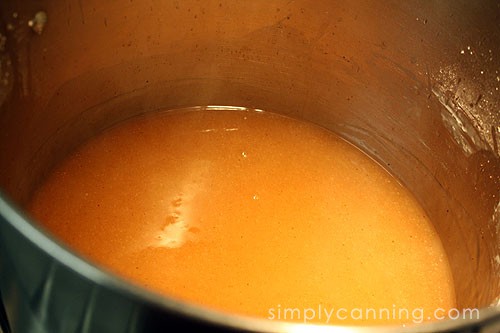 Combine apple juice, water, and lemon juice. Combine sugar, Clear Jel, cinnamon, and nutmeg. Stir into apple juice mixture. Heat and stir until thickened and bubbly. Drain apples and combine with thickened syrup.
If you use Clear Jel, be sure you purchase the non-instant or regular type. Click here for more information. If you have not used Clear Jel, I HIGHLY recommend it. Really…check it out. I used to list the directions for flour and/or cornstarch as your thickener, but it is not recommended, and Clear Jel is sooo much better.
If you don't have Clear Jel, or don't want to use it, I'd suggest just canning apples plain and making your thickener when you open the jar to make your pie. Directions for canning apples here.
Hot Pack Apple Pie Filling
Peel, core, and slice apples into a large pot with hot water. Bring to a boil for 1 minute. Drain, but keep warm.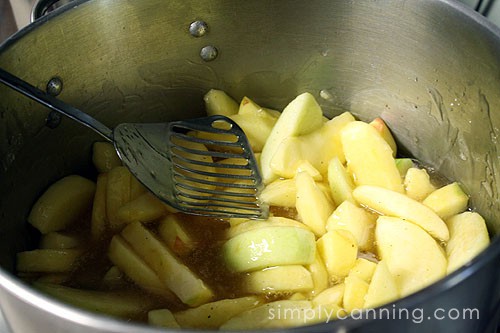 Gently combine apples and thickened syrup (see instructions above).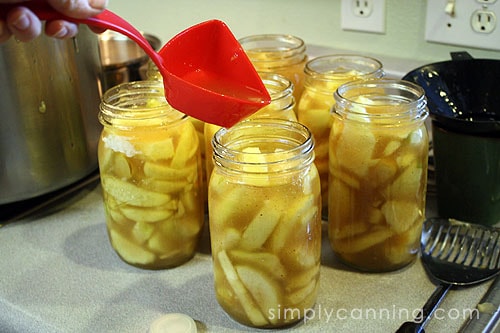 Have you ever been canning apple pie filling and ended up short on fruit with lots of syrup left over? In order to avoid this, add most of your syrup to the apples, but don't just dump it all in. Reserve some and gently stir, adding more as needed. This way you will use only as much as needed to cover the apples.
You will have a nice filling with mostly apples and not too much thickened syrup. If needed, you can always top off your jars with the extra syrup.
Fill jars with filling and remove air bubbles. Leave a 1″ headspace.
Processing
For more details on processing, follow water bath canning instructions.
Pints and quarts are processed the same: 25 minutes. Make sure to adjust for altitude, using chart below.
Pinnable Recipe Card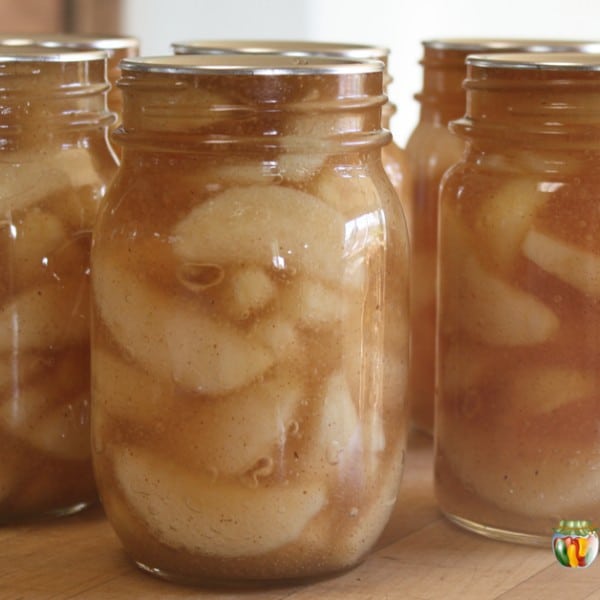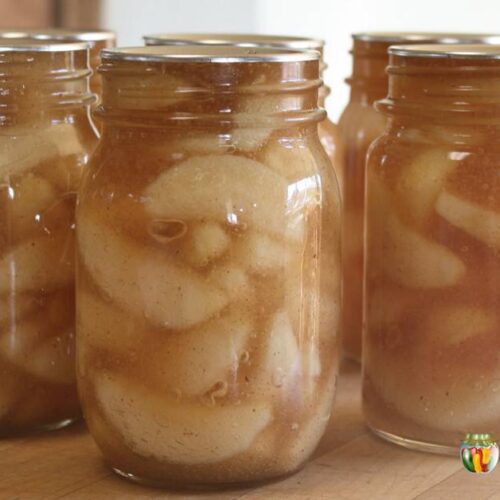 Canning Apple Pie Filling
By canning apple pie filling, you will have a dessert already half prepared later! Here's how to can apple pie filling from start to finish.
Ingredients
6

quarts

peeled, sliced apples

5 ½

cups

sugar

1 ½

cups

Clear Jel

1

tsp.

cinnamon

1

tsp.

nutmeg

5

cups

apple juice

2 ½

cups

water

¾

cup

lemon juice
Instructions
Start by preparing jars and getting water in the canner heating. You want the canner hot, but not boiling, when the jars are ready to be processed.

See full water bath canning instructions here.  
For a Hot Pack
Peel, core, and slice apples into hot water.

Boil for 1 minute, drain, and keep covered to keep warm.

Combine apple juice, water, and lemon juice.

Combine sugar, Clear Jel, cinnamon, and nutmeg.

Heat and stir until thickened and bubbly.

Add thickened syrup to your drained apples.

Fill jar, leaving 1" headspace.

Remove air bubbles, wipe the rim clean, and place on seal and ring.

Place jar in the warm canner. Proceed to fill all jars.

Process according to chart below.
Processing
Processing with a Water Bath Canner
Place the jar in the warm canner. Proceed to fill all jars placing them in the canner.
When all the jars are filled, bring the water in the canner to a boil.  When a boil is reached that is when you'll start your timing.   Process for the length of time on the chart below.  Adjust for your altitude. 
 After your time is over, turn the heat off remove the lid and allow the canner to rest for about 5 minutes. Then bring your jars up out of the water.  Allow them to rest for another 5 minutes. Then remove the jars and place them a few inches apart on a thick towel to cool completely.  Leave them alone for about 12 hours.  
When they are cooled remove the metal bands, check the seals, label the jars and store them away! 
Processing Times for Water Bath Canner (Hot Pack) 
Altitude – Pints and Quarts are Processed the Same  
0-1,000 ft – 25 minutes
1,001-3,000 ft – 30 minutes
3,001-6,000 ft – 35 minutes
Above 6,000 ft – 40 minutes
Adapted from: The National Center for Home Food Preservation

Last Updated: 4/8/2021

Canning Apple Pie Filling FAQs & Tips
Is it Safe to Use Cornstarch in Homemade Canned Apple Pie Filling? What About Flour?
There may be a safety risk in using cornstarch or flour in your canned apple pie filling. To read more about this question, I suggest you check out this page: Clear Jel vs. Flour or Cornstarch.
Help! My Apple Pie Filling Turned Out Runny. What Did I Do Wrong?
Runny apple pie filling may be because of your thickening agent. If you used Clear Jel as is recommended, be sure you got the cook type. There is also an instant Clear Jel available, but it does not hold up to the heat of processing.
How to Make Your Apple Pie
After canning apple pie filling, the work of making your apple pie is super easy. You can buy a pre-made crust and simply fill it with your filling. (Instructions for baking should be on the package.)
If you are making a homemade crust, preheat your oven to 425. Fill your crust and bake for 40 to 50 minutes or until the filling is bubbly and crust is lightly browned.
One quart makes a barely filled 9″ pie. I usually will use one quart of apple pie filling and then often add a pint of plain canned apples. This makes for a very fruit-filled pie. Love it! OR I'll use a quart and a half of pie filling, saving the other half of the pie filling to top ice cream or some such dessert.
I also like to dab on about 2 tablespoons of butter on top of the pie filling and just below the top crust.
Jars with Air Bubbles?
"I was canning apple pie filling yesterday an and when I got up this morning, the jars had air bubbles and after taking the ring off, I noticed that the jars leaked out however, they did seal. This is my first time canning apple pie filling and I thought I packed it tight and I left a 1″ head space and processed for 30 min. Are these jars safe? I put them in the frig not knowing as I didn't want to waste them. Thank you, Jane"
Answer: Yes, that happens often. What happens is as you process, the food expands, then as it cools, it shrinks, which is what causes the lid to seal down. Your ingredients just expanded more than the headspace. Sometimes that will interfere with the seal, but it is fine as long as it did seal. Be sure and remove all the rings and lift the jar up by the flat lid to be sure it is sealed on and not just stuck with pie filling.
Substituting Clear Jel for Cornstarch
"I am going to can Apple pie filling, in the recipe it calls for 1. cup of cornstarch, I am going to use regular clear jel instead. Do I exchange cup for cup or do I need a different measurement for the clear jel. Thank you so much for any help….Pam"
Answer: Hi Pam. Yes, just substitute Clear Jel cup-for-cup. Be sure you are using regular or cook type Clear Jel. There is also an instant variety that does not hold up well to the canning processing.
What If I Don't Have Any Clear Jel?
"Sharon I have a half bushel of apples I want to make into pie filling. I need to make it right away while I have help (I have a broken ankle) but Clear Jel isn't available here. Can I use Sure Jel or Ball liquid pectin? I know not to use cornstarch. I can't wait for an online order to ship.
Any help is greatly appreciated. I have used several of your canning recipes with great success. Judy"
Answer: Judy, if I were you, I would can it without any thickener, then thicken it when you want to use it as a filling. Here are directions for plain canned apples.
You may have already seen this, but here is my comparison of the cornstarch vs. Clear Jel.
Sharon
How Long Does Home-canned Apple Pie Filling Keep?
Answer: Canned apple pie filling should keep for a year, like other canned foods. That recommendation is because after a year, the food quality will start to decline more rapidly. Some people will keep it longer. However, most fruits are likely to become soft and not as appealing after that one year mark.
So don't throw it away; just make a point to bring it to the front of your shelves and make a plan to use it up. Only can what you can use within the year to avoid lower quality when you open the jar.
Related Pages
Let SimplyCanning.com inspire and show you how versatile this wonderful fruit really is! Create bright jars of delicious pie filling that you can pop open and enjoy in peach pie recipes year around.
Freezing apples can be done in many ways. SimplyCanning.com shares tips and tricks for 3 different ways that you can preserve your apples in the freezer for easy use later.
Make this easy (and delicious) apple cobbler recipe with home canned fruit. Learn how here.
Pin This to Find Later!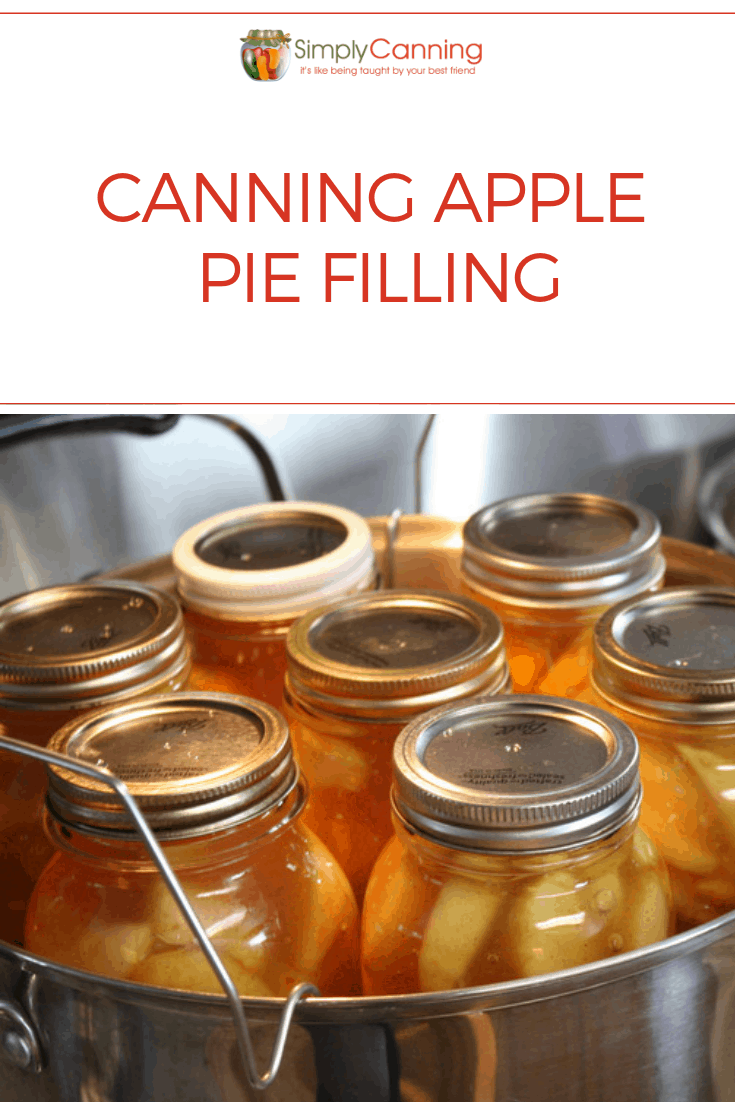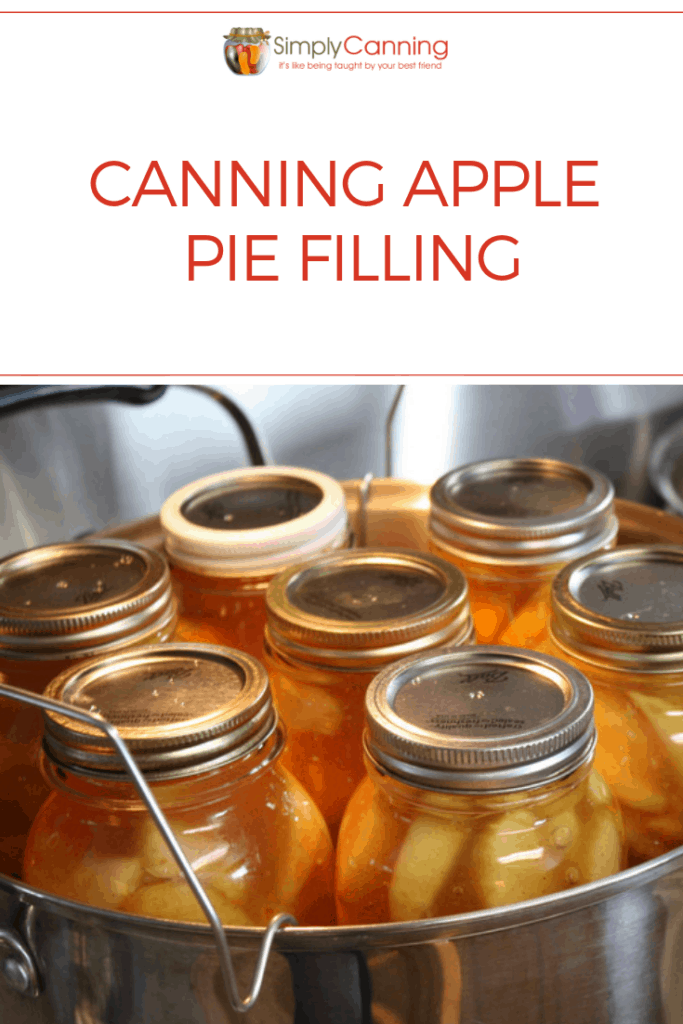 Source: The National Center for Home Food Preservation
Page last updated: 7/2/2021