When canning pears, you need to choose fruit that is ripe but not too soft.
Pears are another fruit that we love. Jarring it up provides fruit year around that is so much healthier than store-bought fruit. Here's how to can fresh pears.
Pears may be processed in a water bath canner.
A Brief Side Trip Before We Start Canning Pears…
Here are 35 seconds of nothing important…just because a Washington Pear Orchard is a wonderful place to be. 🙂
With friends in the Mt. Hood area, I got to glean from some pear orchards right after the harvest!
I'm such a food geek, so I thought it was fun! Mt. Hood Orchards fruit right in my kitchen ripening and smelling heavenly.
And yes…I did get it all in the car.
Okay, Back to How to Can Fresh Pears!
Though a sugar syrup is standard, I opted to use a medium honey syrup for a different flavor.
While browsing around looking for something fun to do, I also came across many vanilla pear jam recipes. Inspired, I added a teaspoon of vanilla extract to my syrup. YUM. (Vanilla pear jam coming soon!)
Prepare
Gather your canning supplies for canning pears:
large pot or blancher
bowls
large spoons
sharp knife
towels and dish cloths
Ingredients:
pears
sugar – for the syrup (optional)
1 tsp vanilla (optional addition to syrup)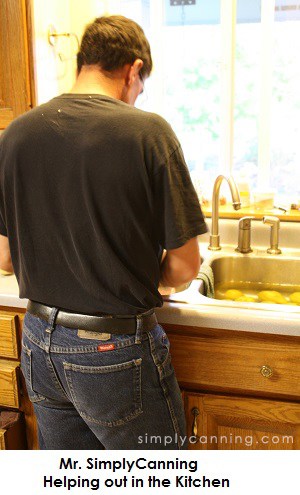 Syrup Recipes
Prepare light or medium syrup. (I prefer light syrup.) Simply heat water and sugar in a saucepan until sugar dissolves. These recipes made just the right amount for 9 pints, so make extra if you are doing more.
Light syrup – 2 cups sugar to 1 quart water
Medium syrup – 3 cups sugar to 1 quart water
You can also make a syrup with honey if you don't want to use processed sugar.
Light honey syrup – 1 1/2 cups honey to 4 cups water
Medium honey syrup – 2 cups honey to 4 cups water
Add in 1 tsp vanilla if desired.
Procedure for Canning Pears
Start by preparing jars, and getting water in your canner heating. (See Water Bath Canning for full preparation instructions.)
Prepare your choice of syrup. Bring to a boil and reduce heat to just keep hot. Peel, core, and slice your pears in half. Cut out any bruised areas.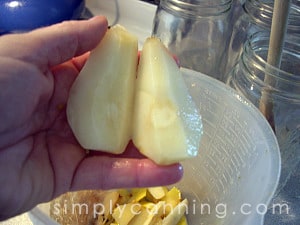 Place peeled and sliced pears into an citric acid solution. This commercial product prevents browning. Follow the directions on the package, or use a lemon juice and water mixture.
I prefer the lemon juice just because I usually have lemon juice on hand. I believe the recommendation is 3/4 cup to 1 gallon water…but I almost never need a gallon of pretreatment, so I use 1 cup lemon juice to 2 quarts water. That is stronger than needed, but my pears always stay nice and bright.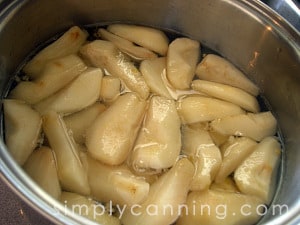 When you have enough pears prepared, drain and add pears to hot syrup. Cook pears 5-6 minutes in syrup, just enough to heat them through. You don't want to overcook them, but when you are canning pears, a hot pack works best.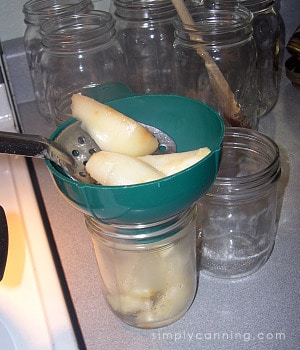 Using a slotted spoon, pack hot pears into hot jars, covering with the same syrup you cooked them in, leaving a 1/2-inch headspace.
Wipe the rims clean, remove any air bubbles, and place your lids.
As a high-acid fruit, pears can be processed in a water bath canner. One exception to this is Asian pears. Did you know that Asian pears must be processed in a pressure canner? Check out more on canning Asian pears here.
Processing Instructions for Canning Pears
How to Can Pears – Processing Pints
Feet in elevation
0-1000
1001-3000
3001-6000
6001 and over
Processing time
20 minutes
25 minutes
30 minutes
35 minutes
How to Can Pears – Processing Quarts
Feet in elevation
0-1000
1001-3000
3001-6000
6001 and over
Processing time
25 minutes
30 minutes
35 minutes
40 minutes
Safe Canning Source: http://nchfp.uga.edu/how/can_02/pear_halved.html
Canning Pears – FAQs
"Do pears have to be ripe to can them? How do I speed up the ripening process?"
Yes, pears for canning should be ripe, but not overly ripe (mushy). If your pears are green, let them set on the counter for a few days at least. (Some people use apples and bananas to increase ethylene gas, and thus quicken the process. To do this, simply place apples and bananas near the pears, or put bananas or apples in a paper bag with the pears.)
Pears are the rare fruit that can be picked green and still taste wonderful when is ripened off the tree. It is common to pick pears green. For example, the pears I'm picking in the gleaning video above were green and hard. They survived the trip home (a couple days in the car!), and I still had to wait a little while before they were ripe enough for canning.
What kinds of pears can you can? What about Anjou? Bartlett?
According to Ball, Bartlett pears are best, but I don't see why you couldn't can ANY variety of pear, as long as they're at the proper ripeness. (The only exception would be Asian pears, which must be canned in a pressure canner. See details above.)
Can you can pears without sugar?
Yes, according to the NCHFP, pears can be canned in "syrup, juice, or water." However, I would think that pears are very similar to apples, in that they would tend to get watery without the syrup.
Other Ideas for Using Pears
This is an easy Crockpot method for making Pear Butter. A bit of orange and nutmeg in this pear butter recipe makes it delicious.
Members' Extra: Access Your Video Tutorial in Your Members Area
Canning school members, click here to log in.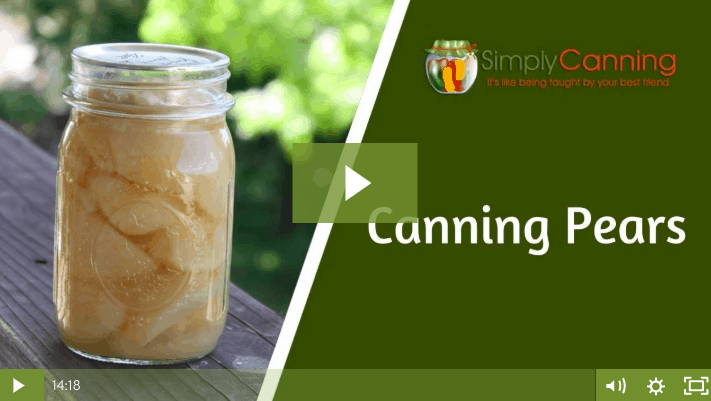 Members' Extra: Access Your Video Tutorial in Your Members Area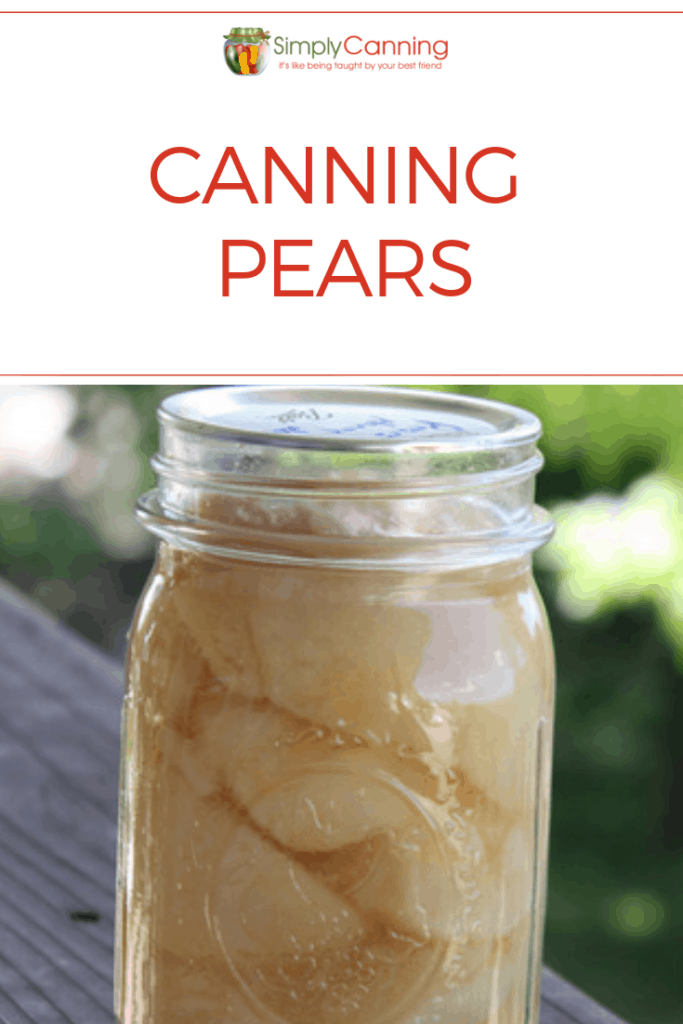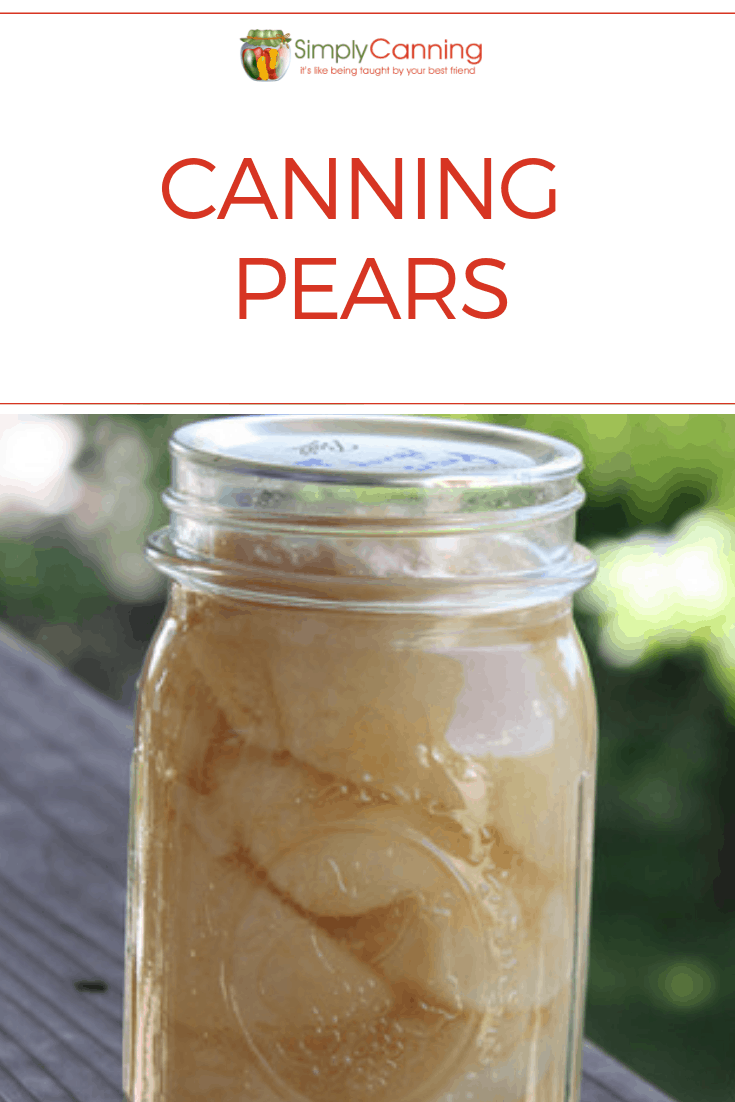 Page last updated: 1/29/2021