With Sharon Peterson
A bit of orange and nutmeg in this pear butter recipe makes it delicious.
I love making fruit butters in my crock pot. I cook it overnight and wake up to a sweet smelling kitchen in the morning. One warning if you use a crock pot overnight. Be sure your crock doesn't cook high enough to scorch the butters.
My crock just doesn't seem to cook low enough. What I do is give my butter a good stir before going to bed and then get up twice during the night just to check and stir again.
It is a drag to have to get up…. but honestly it is worth it. Just stumble out to the kitchen stir and go back to bed. It is not a big deal and much better than burnt fruit butter.
---
Directions for pear butter recipe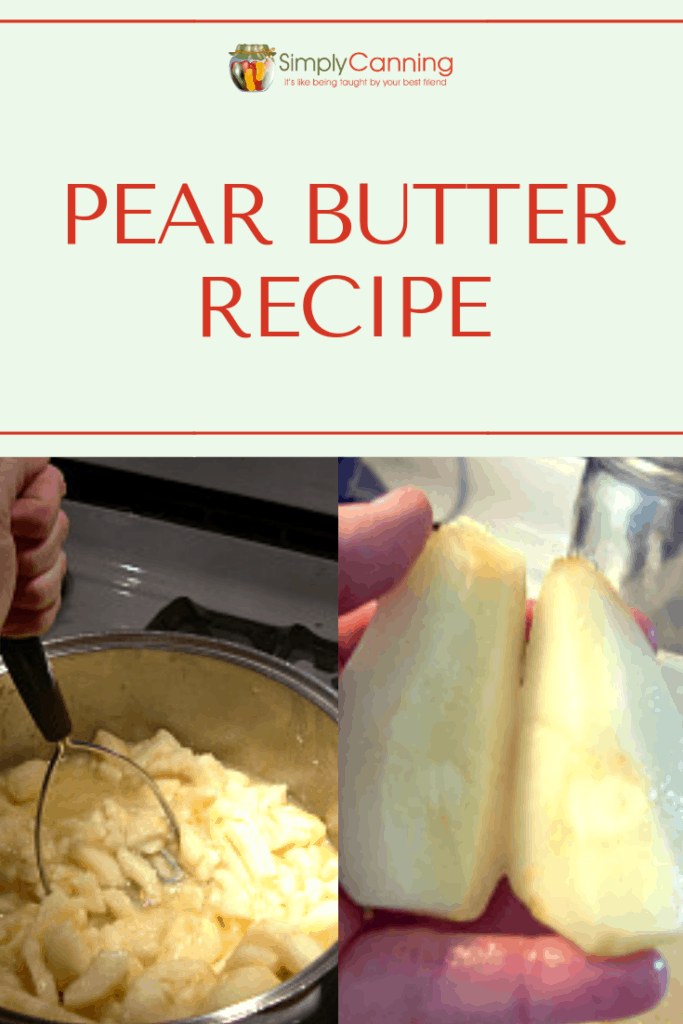 When canning pear butter you can safely process in a Water Bath Canner.
Prepare
Gather your canning supplies
large pot
bowls
large spoons
sharp knife
towels and dish cloths
ladle
Ingredients
Pears – 7 pounds, enough to make 2 quarts pulp
Sugar – 4 cups
1 tsp grated orange peel
1/2 tsp nutmeg
1/3 cup orange juice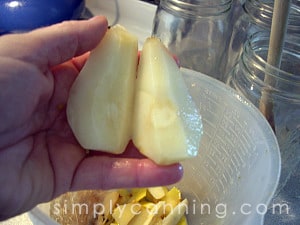 First you will need to make a pear sauce. Then you'll cook it down into butter and process it in a water bath.
Wash, peel and core your pears.
Combine with 1/2 cup water in a large pot. Simmer until pears are soft. Puree in a food mill or food processor or just mash them with a potato masher and wisk.
Don't overdo it if you use a food processor. You just want to puree them, not make pear juice! Measure out 2 quarts of pulp. Place pear sauce in your crock pot. Add sugar, orange juice, orange peel, and nutmeg. Stir to combine.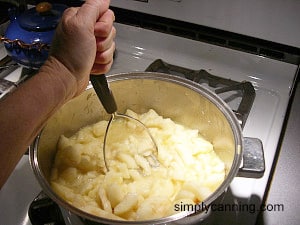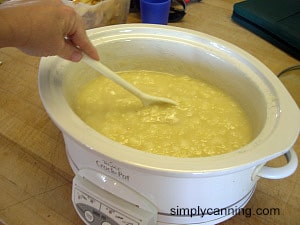 Stir and set on low. At this point I leave the lid ajar to allow moisture to escape. The butter thickens sooner this way. Allow this to cook, stirring occasionally, as the fruit gets softer. Finish off with a whisk for a smooth product. This can cook overnight if you have a cooker that will not heat up too much. In my experience new slow cookers cook too high to be left that long and will end up scorching.
When the pear butter is the consistency you like, pack in jars and process.
Spoon hot pear butter into hot jars. Leave 1/4 inch headspace. Place your lids and rings on the jars and place in the canner.
Process for the time listed below. Be sure to adjust for your altitude.
How to use a water bath canner.
Process according to the chart below.
Altitude Adjustments
Altitude Adjustments for Boiling Water Bath Canner
Altitude in Feet – Processing Time
0-1,000 – 10 minutes
1,001-3,000 – 15 minutes
3,001-6,000 – 20 minutes
6,001-8,000 – 25 minutes
8,001-10,000 – 30 minutes
For more information on why this is important, see this altitude adjustments page.
Related Pages:
Home › More Jam and Jelly Recipes › Pear Butter Recipe