Stone Fruit Jam…. Otherwise known as Peach Nectarine Plum Jam.
This recipe post has a full detailed directions with extra tips and helps. Scroll down to find a printer friendly version.
I was gifted a couple bags of fruit. . Peaches, nectarines and a bag of plums. The fruit was getting overripe so I knew I had to use it up quick. Jam is always a good bet!
I didn't really have enough of any of them to make a full batch of jam so I combined what I had and wah lah… stone fruit jam.
I ended up using about 4 peaches, 4 nectarines and 7 plums. Enough for 7 cups of fruit. After looking at some of my other jam recipes I decided on 3 cups sugar. To keep the color nice and help with the gel I added 3 T lemon juice.
Since this was my own creation this time I didn't know if it would have enough pectin to jel up nice but I figured if it didn't work I'd just call it…. Stone fruit syrup! Syrup is also always a good bet!
No fear, it turned out great. Jam it is. 🙂
Know Your Canner
This recipe is appropriate for either a water bath OR a steam canner. (Not to be mistaken for a pressure canner.) I highly recommend steam canning if you've got a steam canner, but if not, a water bath is totally fine.
If you haven't tried water bath canning or steam canning yet. I highly recommend checking out How to Use a Water Bath Canne or How to Use a Steam Canner. These tutorials will introduce you to both canning methods and help you choose the method that suits your needs best.
Prepare
Gather your canning supplies
large pot or blancher
bowls
large spoons
sharp knife
towels and dish cloths
Ingredients
7 cups chopped Peaches, Plums and Nectarines.
3 cups sugar
3 T lemon juice.
Start by preparing jars, and get water in your canner heating.
(see Water Bath Canning for full directions)
Peaches and Nectarines – Peel, remove from the stone and chop coarsely. I just peeled with a knife since there were not that many fruits and they were very ripe and easy to peel. You could blanch and remove the skins that way. See my canning peaches page for directions on how to peel your peaches.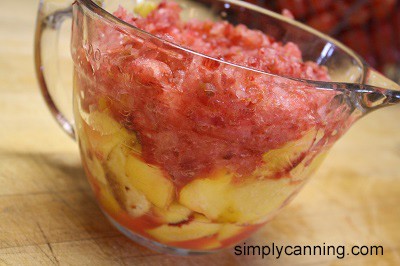 Plums – I ended up using a food processor to chop up the plums. I was not convinced it would break up and mash as easily as the peaches and nectarines. So I figured I'd chop them up first. When you do this, be sure you only chop them. Don't liquefy. You just want it chopped finely.
Combine all in a large stock pot and bring to a boil. Stir often.
Use a potato masher if needed to mash up the fruit.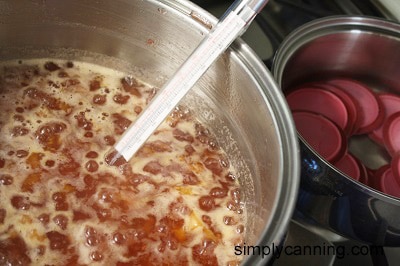 Expert Tip: If the jam is 'almost ready, don't leave it for 'just a minute'. It WILL burn. Ask me how I know.
Boil for about 20 minutes, stirring constantly. As it gets thicker test the temperature. Try to get to at least 200 degrees. This is a good gelling point.
When the jam is done fill jars leaving about ¼ inch headspace. Add canning lids and rings. I used pink reusable canning lids!
The Pink lids were a limited edition and no longer produced. But white tattler lids can still be purchased. Check your local Ace hardware and other places where they sell canning supplies. Amazon is always a good bet too. 🙂 Here is my review of tattler lids.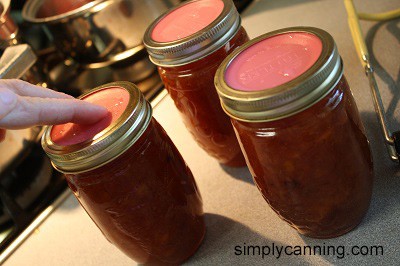 Confession time: If the jam is slightly scorched, make some toast top with jam and taste it. If it doesn't TASTE scorched, go ahead fill your jars and proceed as usual. Don't scrape the bottom.
Mark the jars in such a way that you DON'T give them away as gifts. Just in case there are little bits of scorched but not really tasting scorched jam floating around in there. Really just do it…. I did . Shhhhhhhh.
Process
1/2 pints or pints
process for 10 minutes if you are below 6000 ft elevation.
15 minutes if you are above 6000 ft elevation.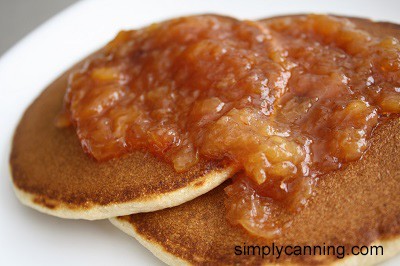 For more recipes to use up plums (because those trees can be fruitful!) Check out these plum recipes.