Strawberry Jam recipe without commercial pectin.
This is a very simple recipe for strawberry jam. Strawberries and sugar…. that is it. Combine this jam with other fruit jams for gourmet gift baskets. This is a small batch recipe. It only makes 5 – 1/2 pints. (that is 5 half-pint jars)
It is VERY tempting to double this recipe for strawberry jam and make more. However, it is difficult to make double batches of jam. If you want to make more at a time (I don't blame you) simply have two batches going at the same time in different pots.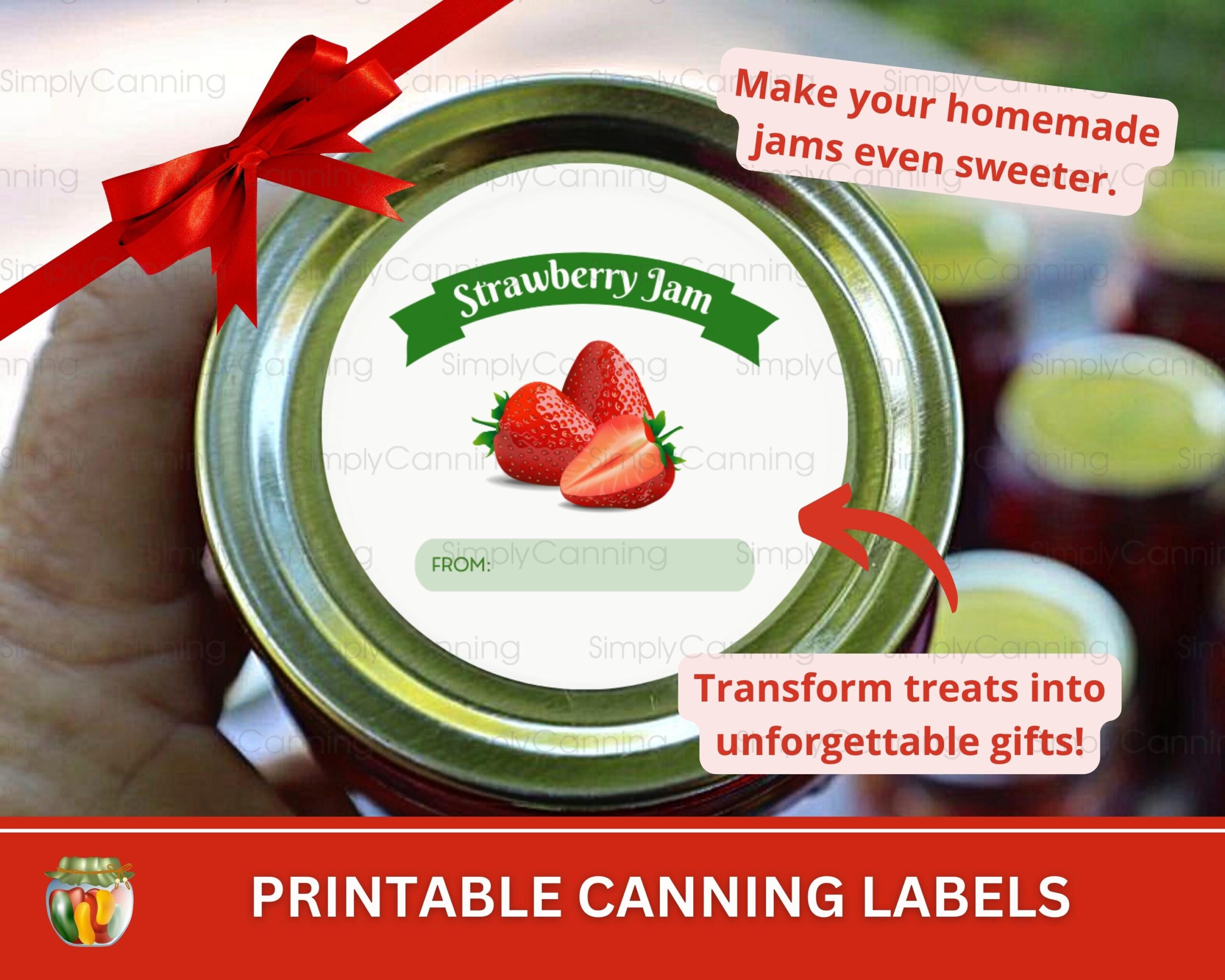 Prepare
This is what I always do. I just can't see running a canner for five – half pints. Strawberry Jam can be processed safely in a Water Bath Canner.
sharp knife
strawberry corer
potato masher
Ingredients
2 quarts crushed strawberries
6 cups sugar
Start by preparing jars, and get water in your canner heating. You want your canner hot but not boiling when your jars are ready to process. (see Water Bath Canning for full directions)
Recipe for strawberry jam
Place a spoon in the freezer, you'll use this later. Wash and core strawberries and remove any bruised portions. I use a strawberry corer(actually it is technically a tomato corer but it works perfectly for strawberries)
Place strawberries in a large pot. Crush with a potato masher to get the juices flowing.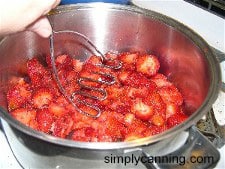 Add sugar and heat while stirring constantly.
When sugar is dissolved bring to a boil. Boil rapidly until it thickens and reaches a gelling point. This may take 35-40 minutes. Stir frequently! Once it has started to boil you will need to just stand there and continue stirring.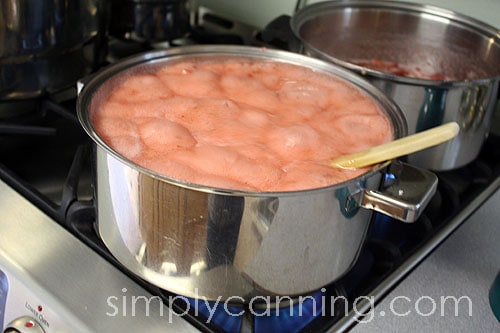 Gelling Point.
Allow your jam to boil hard until it reaches the gelling point. One way to test this is the cold spoon test. Take your cold spoon and scoop up a bit of jam. The jam will cool quickly and you can tilt the spoon to see if it has thickened or jelled. It should be thick as it drops off the spoon. This is referred to as 'sheeting'. If it is runny just cook a bit longer.
Another much easier way to tell if your jam is ready is by measuring temperature. First, you'll need to figure out the gelling point for your elevation.
Determine the boiling point temperature by holding a candy thermometer in boiling water.
Add 8 degrees. This is your gelling point.
When you are cooking your jam, place the candy thermometer right in the pot. When jam has reached your gelling point it is done. Remove the pot from the heat and continue with your recipe.
When the jam has thickened skim off any foam with a large spoon. Another option is to add 1/4 tsp butter to your pot when you start cooking. This helps keep the foaming down.
Let your kids dip bread or crackers in the foam…. yum, a great snack and treat if they have been helping you.
How to can Strawberry Jam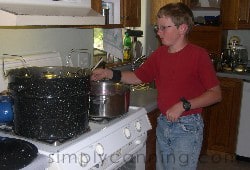 Fill hot jars with hot jam leaving 1/4 inch head space.
Processing time 1/2 pints or pints process for
10 minutes if you are below 6000 ft elevation.
15 minutes if you are above 6000 ft elevation.
Pinnable Recipe Card
So… Much… Sugar!
LOL One of the most common comments I get on this page is: Way too much Sugar! And I have to agree. This recipe for strawberry jam is certainly NOT a health food. But is is the recipe I use on a regular basis. And it turns out great. However, I'm like many others and working hard on getting sugar out of our diets. This low sugar method of making jam is what I've turned to recently. Try it, you may like it. Low Sugar Jam.
More things to do with Strawberries
Pin this to find later!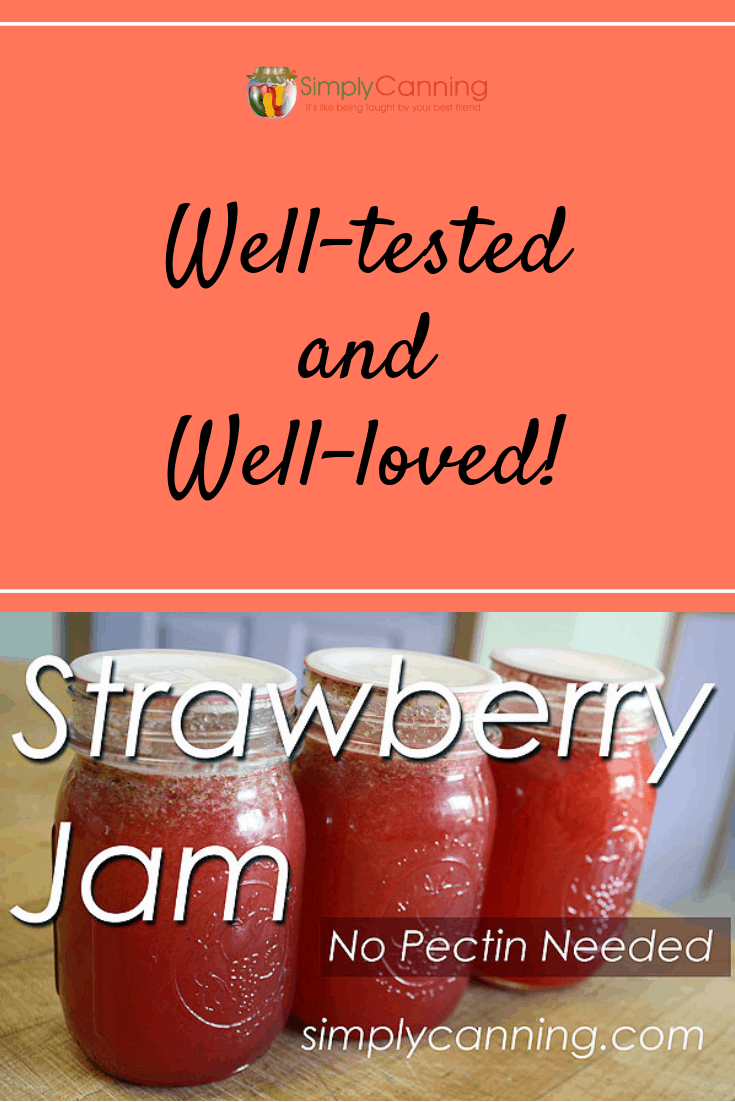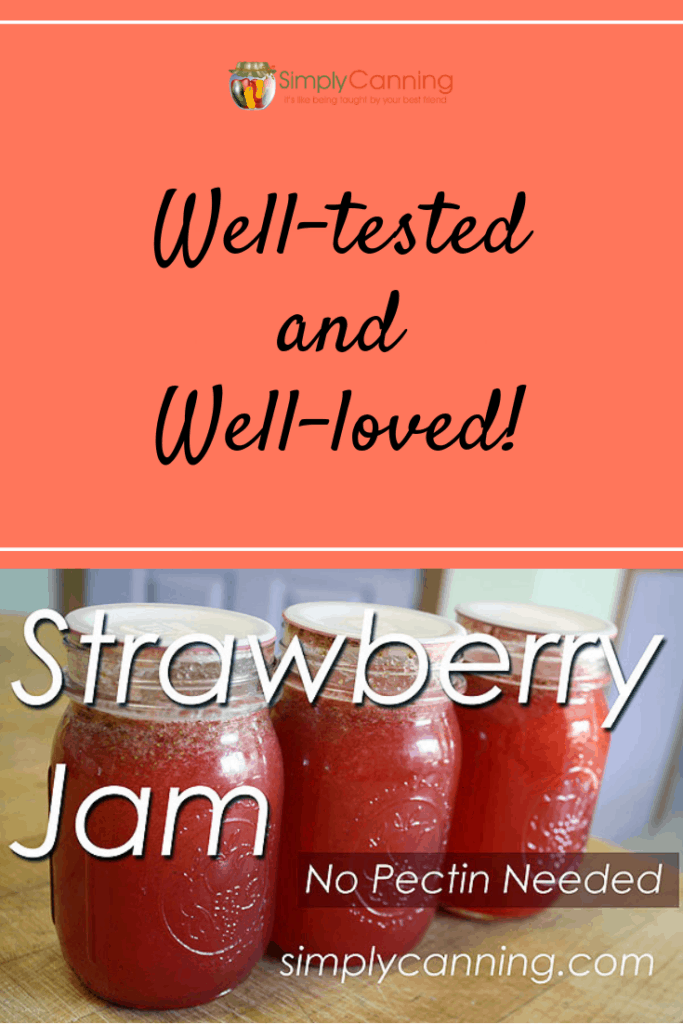 Page last updated: 1/28/2021