This cherry jam recipe makes about 6 half-pints. It is VERY tempting to double the recipe. However, it is difficult to make double batches. If you want to make more at a time (I don't blame you), simply have two batches going at the same time in different pots.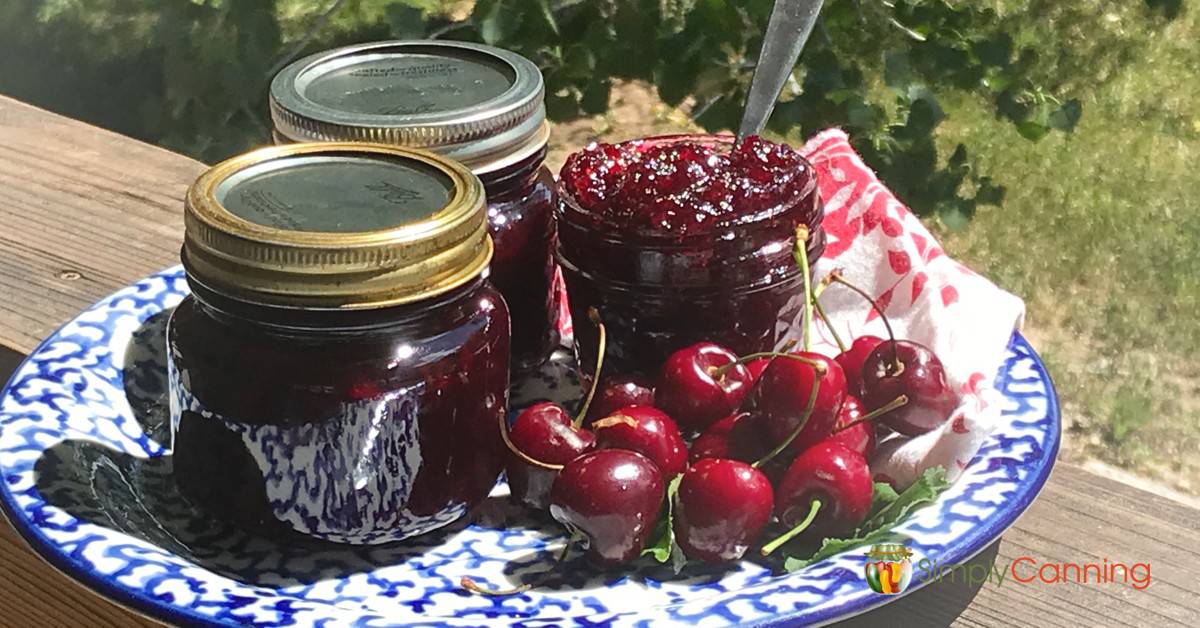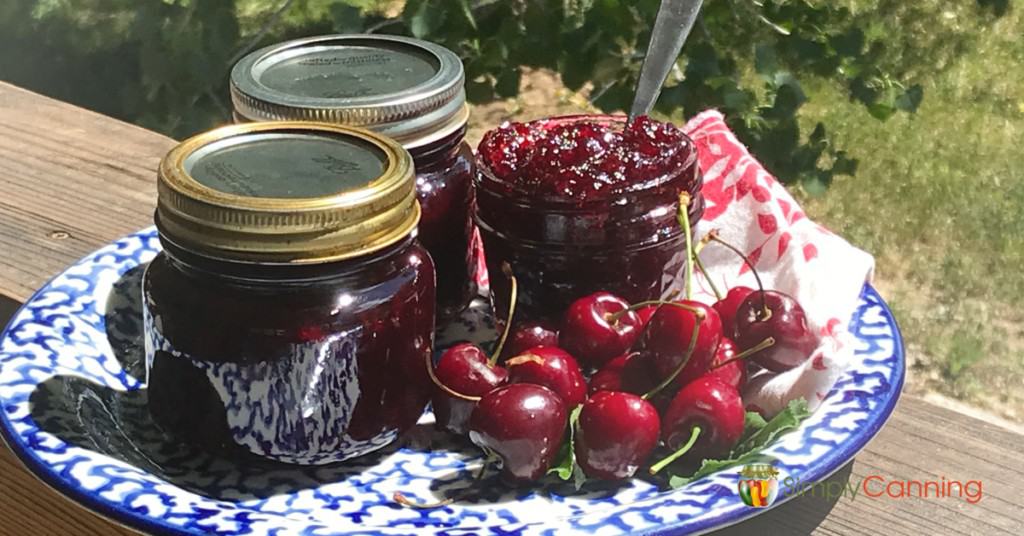 Label your jars with pretty printable Canning Labels! Check them out.
We found a great source for pick your own cherries. We pick a lot! Really a lot. This sweet cherry jam recipe is one of the results. It turned out fantastic. Let's learn how to make cherry jam!
The Cherry Pitter that passed the family review.
Pitting was the hardest part. But I got my crew of boys going, and they got them pitted for me.
They were getting juice EVERYWHERE in the process. But the cherries were pitted and ready for this sweet cherry jam recipe.
This cherry pitter you see in the image below was NOT family approved. After trying diligently to make it work, my son gave up, grabbed a piece of tubing, and pitted the cherries that way.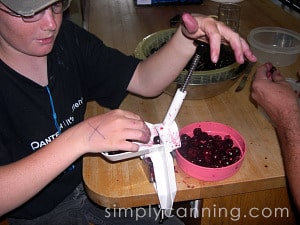 A few years later and by golly I think we've found it!
This is the pitter that has passed the family pitters approval. Check it out here. Video review with the pitter in action at my kitchen counter.
Are cherries high in pectin? How do you thicken cherry jam?
I use powdered pectin because cherries don't have a lot of natural pectin. If it didn't set up, it would probably make great cherry syrup though!
Can you make cherry jam without pectin?
Cherries don't naturally contain much pectin, so that's why using powdered pectin is suggested. I suppose that with enough sugar, it might set up properly…but I've never actually tried it, and it's so easy to add pectin and make sure that it works! 🙂
This can be processed safely in a Water Bath Canner.
What Kind of Cherries Should You Use?
I used bing cherries for this recipe, but you could use either sweet or sour cherries. There is so much sugar, I'm pretty sure even pie cherries would work (though the flavor might be a bit different).
How to Make Cherry Jam Recipe and full instructions.
Gather Your Canning Supplies:
bowls
large pot
large spoons
towels and dish cloths
sharp knife
food processor
Ingredients:
cherries – enough to chop and make 1 quart
4 1/2 cups sugar
1/4 cup lemon juice
1 envelope powdered pectin
Start by preparing jars and getting water in your canner heating. You want the water to be hot but not boiling when your jars are ready to process. (See Water Bath Canning for full directions.)
Making cherry jam.
First wash and pit the cherries.
When the cherries are pitted, you'll need to chop them up pretty fine. I use my food chopper, but you can just use a knife. You want your cherries chopped/smashed. Measure out 1 Quart.
Add lemon juice and pectin to chopped cherries and bring to a full boil, stirring constantly.
Add sugar and return to a full boil. Boil 2 minutes, stirring constantly.
Canning Cherry Jam
Remove from heat. If you have developed foam (which is likely), skim off as much as you can. Then fill hot jars with hot jam, leaving 1/2 inch headspace.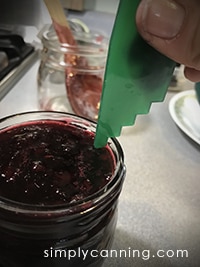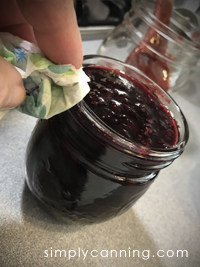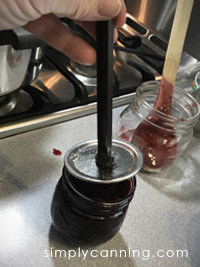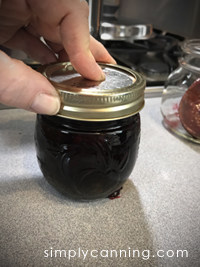 Processing Time for Canning Cherry Jam
For 1/2 pints or pints:
Process for 10 minutes if you are below 6000 ft elevation.
Process for 15 minutes if you are above 6000 ft elevation.
Pinnable Recipe Card
More Things to Do with Cherries
Recipe Source: Usually, I put my source for the recipe here…but, I forgot to make a note of where I got it! Most likely it was off the package of pectin. Remember different pectins may have slightly different instructions. The basics will be the same. I recommend going with the instructions on whatever pectin you choose to use.
Pin this to find later!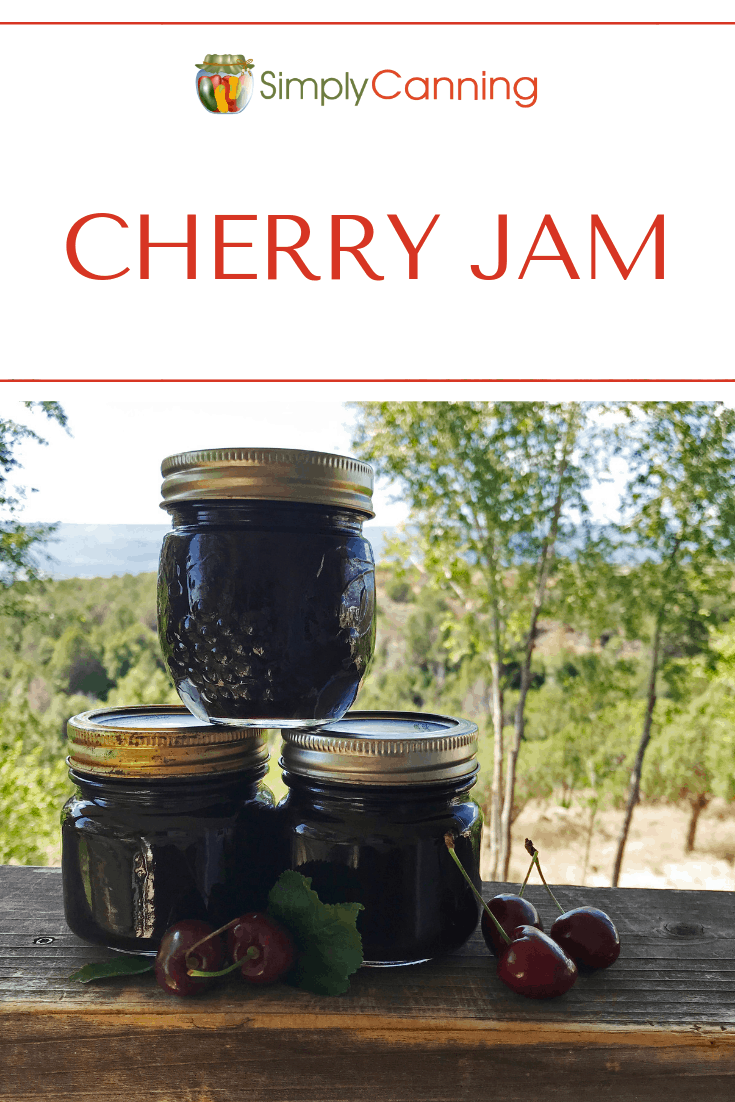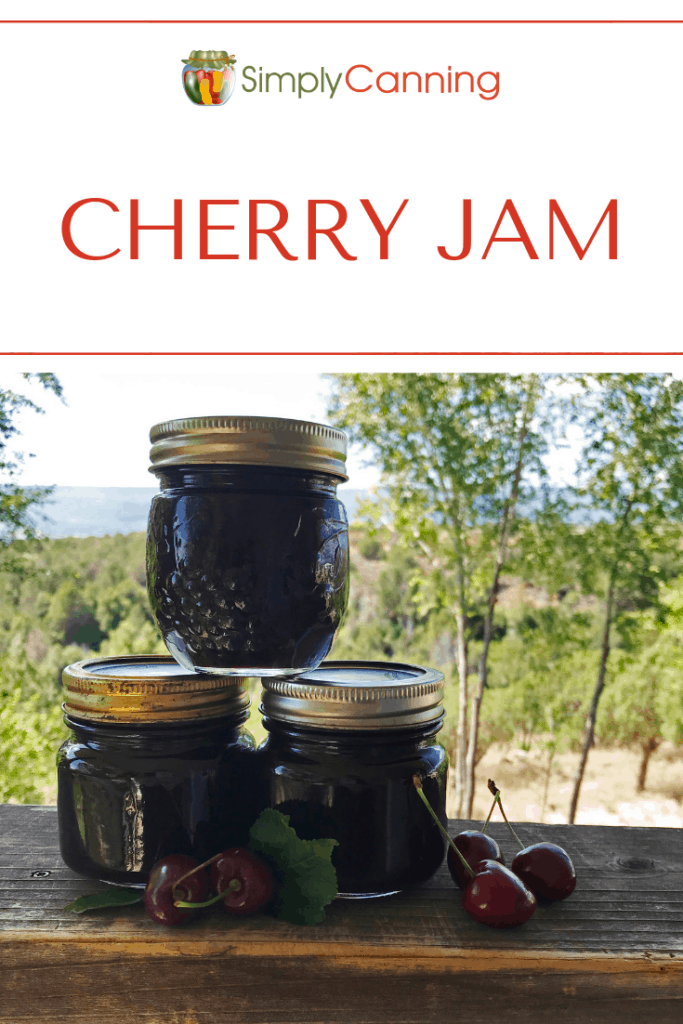 Page last updated: 7/9/2021