With Sharon Peterson
Canning with Splenda is an option that some diabetics or people who just want to lower white sugar intake will ask me about. Personally… I don't use or recommend Splenda. BUT, I have found some information for you.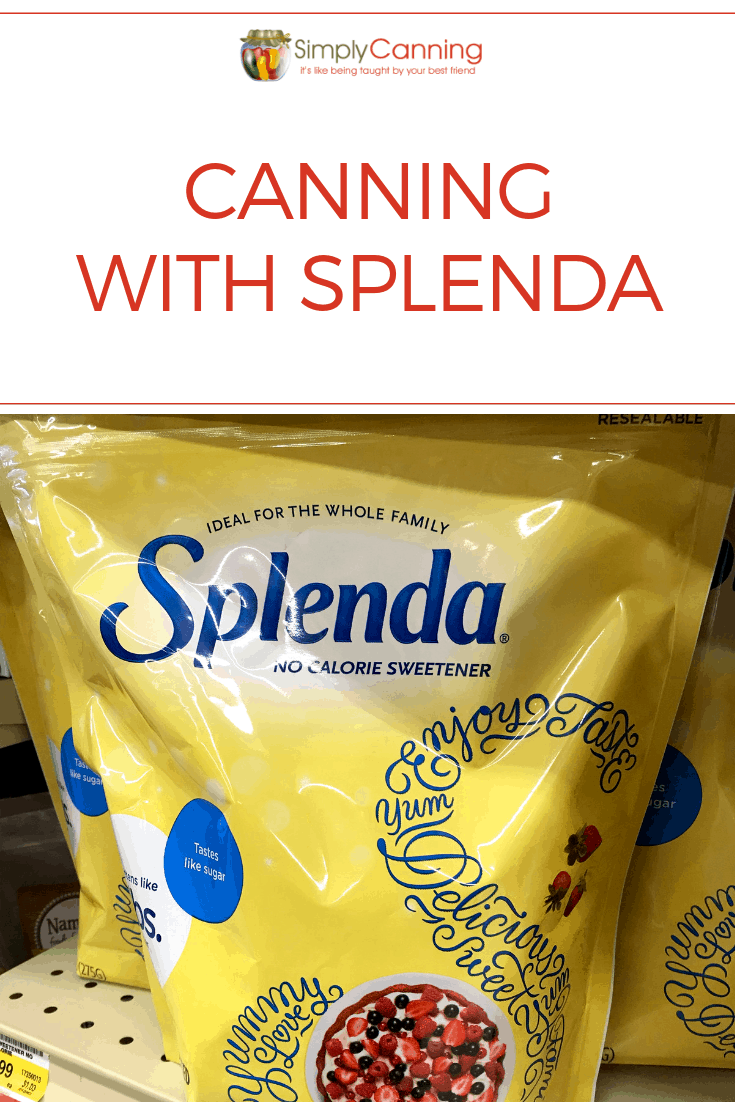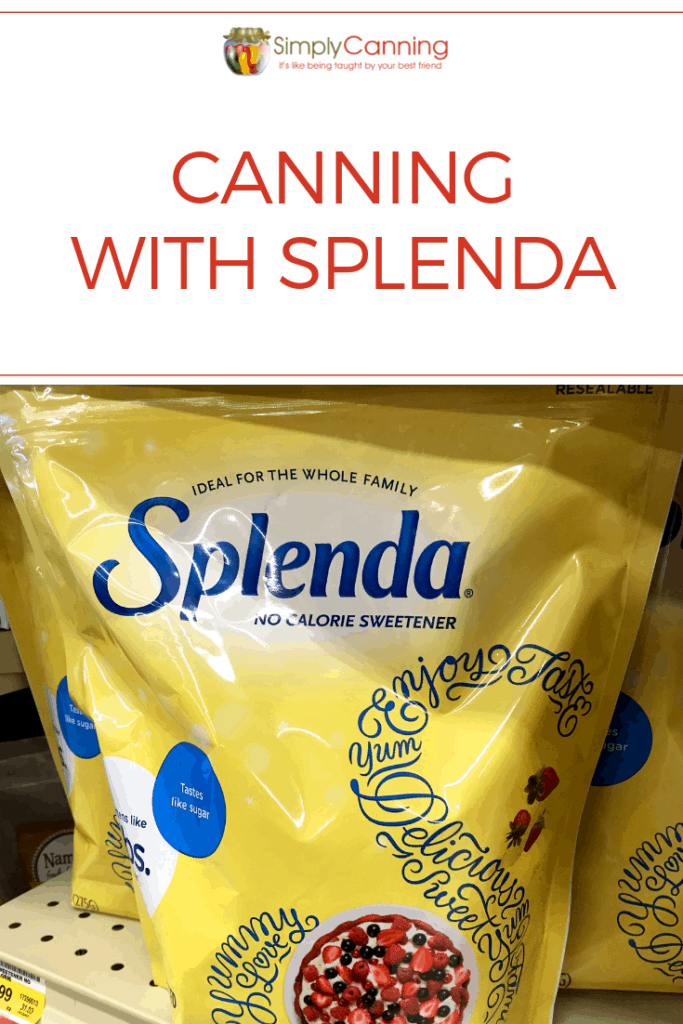 I'm amazed at how divisive this page can be. I get such reactions.
I want to clarify my stance on the issue of Splenda in general. I think it is BAD for you. Yes I really do. I don't write this page to promote using splenda. There are many other choices that can be made.
A couple of choices could be….
Don't use Splenda.
Use Pomonas Pectin for low/no sugar jam. Sooo good!
Sugar is not required for canning fruit so just can your peaches in water.
However……… I also know that for some people it is a choice that they make. So when I was repeatedly asked about using Splenda in a canning situation, I did the research. And here are some answers to those questions regarding canning with Splenda.
---
Here is one such question from a reader in Colorado. (there are lots more)
by Jessica
(Colorado)
Canning with Splenda: I know when cooking/baking you can substitute sugar with Splenda. Can that safely be done with canning? My extended family is diabetic and I would like to can some sugar free food for them.
Canning with Splenda according to the NCFHFP
Since fruit is safe to preserve without sugar it appears canning with Splenda just for the sweetening things up is safe. It is basically like canning in plain water.
"Granular Splenda® does not provide preservative properties like sugar.
Canning Fruits: Whereas we do not have published research work with using sucralose in the canning of fruits at home available to us, it is possible to use it for sweetening the water used to cover fruits when canning. The texture and color preserving aspects of a sugar syrup will not be provided."
In some items the sugar is there specifically for preservation as well as the sweetness. In those cases you cannot substitute splenda. You'll only get the sweet and not the preservation.
"Preserves and Pickled Fruits: In other cases, where sugar is important, like some preserves or pickled fruits, it is not recommended that substitution of Splenda® be used for sugar if the product is to be canned for shelf stability."
No sugar pectin is designed to work without sugar whereas regular pectin needs sugar to work properly. Splenda would work with no sugar pectin. My preferred no-sugar needed pectin is Pomonas Pectin. But there are several types available.
"Jams and Jellies, or Fruit Spreads: You could use Splenda® as the optional sweetener in a jam or jelly made with a no-sugar needed pectin."
No pectin jams need the sugar so if you do a no pectin jam and use Splenda to sweeten it, just store it in the freezer or only make enough to use in a week or two and store it in the fridge.
"Do not try to substitute Splenda® in long-boil or no-pectin-added jams and jellies intended for room temperature storage as a canned product. If you want to experiment with making these kind of fruit spreads we recommend freezing or refrigeration for storage."
There is more detailed information on canning with Splenda and other artificial sweeteners from the NCFHFP here.
Canning Information from Splenda
According to the Splenda website these are good ratios for making a sugar syrup to can fruit. This might be a good place to start and then adjust it to your tastes.
To make a sugar syrup for fruits. Combine and heat to dissolve.
4 cups water
1 cup SPLENDA® No Calorie Sweetener, Granulated
The Splenda company page has several recipes for canning jam with Splenda.
Comments on Canning with Splenda
Since I don't use Splenda, I've asked for comments and experiences from others.
Splenda jams and jellies by: Cherie
My brother is diabetic. He loves picking berries and eating the "fruits" of his labor. In return for the fruit I make him jellies and jams.
I have made plum jelly, crab apple jelly, freezer strawberry jam, grape jelly and marmalade using Splenda. I use Bernardin No Sugar Needed Pectin. I have had excellent results. Because there is no sugar you have to process the jars for 10 minutes.
The difference with Splenda and sugar is the colour of the jelly. Sugar jellies have that crystal jewel like look and the Splenda jellies are cloudy. That could be because my juice is cloudy. I use a steamer juicer so the juice I extract has a cloudy appearance until sugar is added.
no-sugar canning with splenda by: Linda Myers
I can significant amounts of foods substituting Splenda for sugar and am always happy with the results. The fact that you can substitute Splenda cup-for-cup with the recipe's sugar amt is a great boon.
This is a great help for our family because of diabetes and weight loss programs. Even those of our family who have no restrictions are happy with the taste of the food. Linda Myers
Canning with Splenda…. by: Anonymous
The only issue I've learned is that now I can my jams in half pints instead of full pints. Since there is no real sugar used, the jam won't sit in the fridge as long without molding and it's just the 2 of us at home now so we had some that had been in the fridge a few months that went bad… FYI…
Splenda? Really? by: Anonymous
Why use one of the most genetically modified foods available? Our bodies have no idea of what to do with this type of sweetner and it is toxic to the liver. Why spoil home canned products by using such a product.
Sharon's note….. I agree that Splenda is not the best. Thus I don't used it and I don't suggest it to others. (I'd recommend canning fruit in plain water and using a no sugar method for jam)
However from what I understand, diabetics can use Splenda and they like a little sweetness now and again too. :0) Moderation in all things.
Jams with Splenda by: Jean
Forget buying sugar free jams in the grocery stores! Even the better brands don't compare to home canned jams. I have been diagnosed as "prediabetic" and have seen the results of what diabetes does to the body, so watching sugar intake is very important.
The most popular brands of sugar-free jams in supermarkets don't provide the taste that homemade jams do. So, I started making my own sugar free jams: blackberry, blueberry, peach, apricot, strawberry and pear. (I've also had stents implanted for clogged arteries, so for the past five years I've cut back on fat intake too.)
In July of 2012 from one 5-year old peach tree, we harvested over 200 pounds of peaches from which I canned 108 pints of sugar free peach jam. I also canned 12 quarts of sugar free blackberry jam, and 11 quarts of sugar free blueberry jam from berries purchased from Costco.
There are a variety of excellent sources for fresh summer fruits for making jams: local weekend markets, your favorite grocery store, local orchards, etc.
When making your jam, either go online or to your grocer and buy the "No Sugar Needed Recipes SURE-JELL, 1.75oz." In place of the "sugar", use an equal amount of Splenda or more if you like it sweeter. Follow the recipes inside the Sure-Jell Box.
My favorite breakfast meal is Non-Fat Greek Yogurt topped with home canned peach jam.
Canning with Splenda by: Jo Ann
Three years ago I canned some fruit with Splenda and some with regular sugar using a light syrup. Don't use Splenda. The fruit started going dark after a few months and has lost it's flavor. The others are still in perfect condition.
Pomonas Pectin by: Barb
Great for making low sugar/no sugar jams and jellies…you can also substitute Splenda for sugar, however, beware of the foam when you boil!
Splenda Pear Preserves with Vanilla Bean by: Jamie
I canned (water bath) 10 pints of pear preserves using Splenda last fall. I'm still enjoying the sweet fruits of my labor … none of the fruit has turned dark in the jar as others have reported. I have 2 more jars left and my pear tree is loaded with new pears that will be ready for me to enjoy soon!
Looking forward to another year I can enjoy my Splenda Pear Preserves recipe … with Vanilla Bean! Try adding a vanilla bean or two to your preserves. I promise you will LOVE it!
Canning with Splenda by: Brenda
I have been using Splenda in my homemade tomato soup, spaghetti sauce & jams for years. I can these with out ever having a problem.
Thank you for this post by: Rob
I choose to use Splenda. I am a Diabetic. For that reason, I am SO THANKFUL that you have chosen to cover canning with Splenda.
Everyone who is against Splenda needs to realize that that is their choice. My choice is to choose Splenda, and for that reason, i is lovely to see someone in the canning community sharing the information I need to be able to can my own produce my preferred way.
Another reason why I love this blog.
Cheers, Rob.
Diabetes by: Jaycee
Having measured both my husband's (4 times a day) and Mom's (3 X a day) blood sugar levels for many years, I can say, from my humble observations, that white pasta, pizza, soda crackers, potatoes, bread, sugared drinks and pastries, cakes, cookies cause more havoc to the diabetic than any meats, fruits, or vegetables ever can. All should be avoided by substituting creative baking and cooking.
Lean animal protein is actually a little miracle for diabetics. Satisfies hunger and sugars stay in a normal range. The food pyramid that was published featuring a large array of breads and starches at the base was simply nonsense for a diabetic.
It was a challenge to create tasty deserts and beverages but both were happy with the recipes I found from diabetes websites and cookbooks. Sweeteners in moderation helped to satisfy the taste buds and I grew stevia (a great perennial plant) to sweeten fruit salads. One little Splenda packet sweetened lemon water just right, and it made baking and canning jams a joy; sometimes I just canned the fruit with no sweetener and added Splenda when I opened the jam.
Canning with Splenda by: vikki
I have canned peaches with Splenda and stevia.. I do a light syrup.. same with canning apples.. and they taste great..
Thanks to all by: Sandra
My hubby is a longtime diabetic and I'm pre-diabetic and trying to eat low carb . I've also recently been told I have IBS which I don't believe any how I'm wanting to make watermelon rind preserves for my hubby made some was so sweet we couldn't eat them so now I'm wanting to try Splenda to make jellies jams and preserves and pickles and relishes.thank you all for all your tips and advice I sure appreciate it
Canning Jams with Splenda by: Sue Meserve
In making my jams last season, I found sugar free pectin! I tried it using Splenda in a batch of Dutch apple Jam and it was wonderful! I recommend it if you use pectin.
Canning fruit with Splenda or Other Sweetener by: Mary
I've been canning fruit with Splenda for the past several years as my husband is diabetic. He likes it better than when I buy the sugar free fruit in the store. I use 1 cup Splenda to 3 cups water, and it's plenty sweet.
Yay, Science! by: Anonymous
I have been canning pears and peaches with Splenda for YEARS. They also keep just fine, just as well as sugar-canned fruit. I have never had any problem, and I have not had any turn dark. They taste MUCH better than sugar-canned fruits, and I don't feel like I'm eating dessert for breakfast, when we have them in the morning.
Home › Canning Fruits › Canning with Splenda