With Sharon Peterson
Update: This review is on the original Tattler lids. Since I've done this review the company has changed the format of the lids. I do not have experience with the new lids. Keep this in mind as you consider purchasing new. My experience is with the old style.
I have used Tattler Reusable Canning Lids in both pressure and water bath canning. They work well with both methods. I tried them out first in water bath canning… they worked great. So I decided to get some more.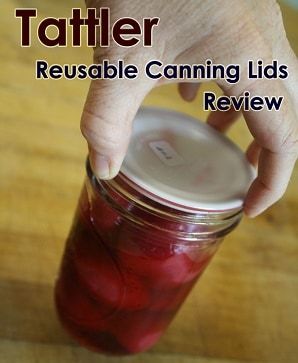 I continued using them and added the pressure canner to the mix. Still worked great.
I knew in an instant that I loved the idea of reusing them. Not having to buy more canning lids every year is an obvious benefit. That is a no-brainer.
Why I don't use reusable canning lids any more.
Edited to add—>> After using Tattler reusable canning lids for a couple years almost exclusively, I've gone back to my metal lids. I still like tattlers! But I realized that I wanted to save them for emergencies when regular lids might not still be available. (I've read that back in the 70's that happened.)
Plus… Although tattlers are certainly not hard to use, those metal lids are still pretty foolproof . That ease of use is convincing to a busy mom. So my reusable canning lids are saved for a rainy day.
I still recommend them for folks interested in prepping and self reliance. It is nice knowing that they are there and ready in case the need arises.
I've included my review as it was originally written below.
How I use Tattler Reusable Canning Lids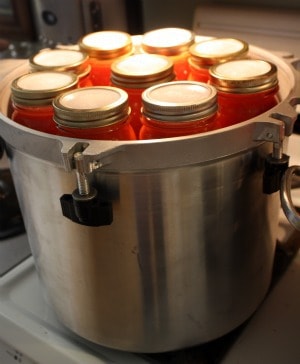 My first question was… do they seal? Using reusable canning lids would not be worth it, if I ended up having to reprocess a lot of unsealed jars. I have found that the Tattler canning jar lids seal just as well (or pretty close) as the traditional metal lids. A few misses here and there, but generally they seal pretty well. I little fiddly in placing them on the jars with the separate pieces but certainly not hard.
---
Other items to note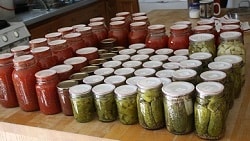 • Reusable canning lids are not flexible. To see if the seal is good you will need to test it by removing the screw band and lift the lid by the edges of the Tattler lid. It will not suck down and 'ping' like standard lids do.
• When I went to mark my lids I also realized that masking tape or sticky labels are necessary…I did not want to write directly on the tattler lid. You could also write directly on the jar.
• Remember my comment about the seals seeming thin? Doesn't seem to be a problem. They did not seem to stretch after use several times. With normal care they will last a long time… now don't go and test that with a game of tug o war or anything!
Reusability: That is only one word but this is a big thing. This in itself makes the product valuable. I'll save money by using these lids… and it is much better not to be tossing old lids in the trash.
These lids are made with NO BPA.
That is pretty cool too! They have more detailed information at their website if this is a concern for you. Here is a quote.
TATTLER Reusable Canning Lids are manufactured using a plastic compound that is safe for direct contact with food products. We utilize an FDA and USDA approved, food grade product known as Polyoxymethylene Copolymer (POM) or Acetal Copolymer.
The formulation does not contain any Bisphenol A (BPA)!
Made in the USA!
Gotta love that!
Tattlers mentioned in a University of MN newsletter.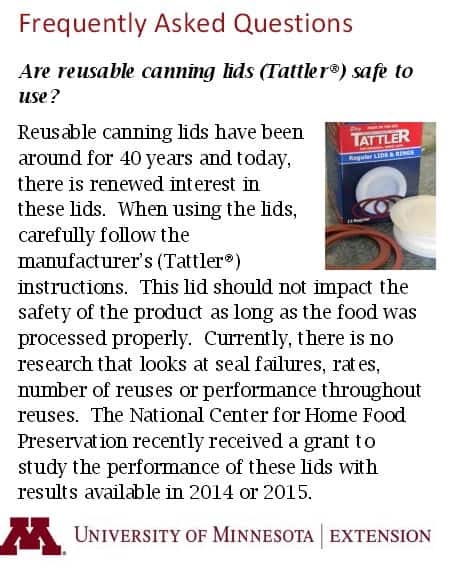 Do reusable canning lids work? From years of experience and stories, yes they do. Now the University of Minnesota is going to test these results.
I can't wait to hear what the results are. I'm guessing the lids will pass with flying colors.Time will tell.
It is interesting that in the brief article the University states "This lid should not impact the safety of the product as long s the food was processed properly." If the extension had doubts of the safety they would not have been willing to even put this positive comment out there.
---
Tattler Lids can be purchased at most places that carry canning supplies. Amazon has them at this link…. Tattler Reusable Canning Lids
You may also be interested in….
Tattler Reusable Canning Lid gift tag ideas….. Just for fun! Are you worried about losing your tattler canning jar lids that you give away on home preserved gifts? Have I got a solution for you!
Tattler
Are you worried about losing your tattler canning jar lids that you give away on home preserved gifts?
Have I got a solution for you!
I was thinking about this problem the other day. What can I do about giving my home made jams or pickles away as gifts when they have my tattlers on them?
If the gift recipient is a canner…. I'd just consider the lids part of the gift. They can try them out for themselves!
However….. most people I give these gifts to have absolutely no use for the lids. They don't do any canning themselves. I'm afraid they would just toss the lid! Eeeek. It would break my heart to throw away a perfectly good tattler!
I figured I could add a pretty gift tag asking for the lid back. I wondered if it would be tacky…. then thought about the people I tend to give these to. I know them well enough to know they wouldn't mind at all.
THEN I had a brilliant idea. Talk to mom! She is a poet at heart and has always written poems for her children. I just put in a special order. Tattler lid return requests… in ditty form. And here is what she came up with. She is so cool!
Remember Tattler lids can be purchased at Amazon… here is my affiliate link.
---
Tattler lids, oh so fine
Don't forget that they are mine!
---
These lids you'll love they last forever.
Please send them back when thru
I'll really be grateful when I use them again
And always think of you.
---
My lids do travel, they're tattlers you know
but at times they never return.
So please send them back, when you are thru
thanks much, for your concern.
Some more ideas from our readers.
I also asked readers for their poems and dittys. We have some creative canners out there. 🙂 Check out the list below for inspiration.
I've included some printable canning labels with a few of these for you to print up and use yourself. Scroll down to get yours.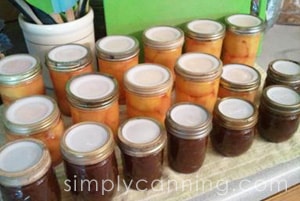 ---
Tattler Rings
by: Janet Pirlot
These tattler lids come with a heaven return spring and you just might get are fill jar.
Winner here!
by: Krysta Swygart
Roses are red
Violets are blue
I made you some food
Return the lid to me
And I will be in a good mood
---
Tattler Ditty
by: Karen
This little white lid
With rubber so red,
Return it to me,
and I'll keep you well fed.
Tattler Lids
by: Katie
Receive this gift as my love is true,
Return the lids.. Or I'll hunt for you!
---
Tattler ditty
by: Kathy
Veggies, fruits, jellies and jams
I canned this jar for you
Done with love and a Tattler lid
Which you will return, won't you?
Lid Ditty
by: Sarah B
If preserving is not your thing,
please return these supplies to me.
But if it is, the gift is more,
a Tattler lid to reuse some more!
---
Tattler Labels
by: April
If you don't send my Tattler lid back,
The next thing I give you will be a crack!
You know you like my Cookin'
So send my Tattler lids back
Or next time you'll just be lookin'
There are 2 things I like to keep –
Good friends and my Tattler lids!
Please send my lids back.
rhyme for Tattler
by: Judy Delk
The love and time I spend for you
Reflected in the bright hue
Of homemade goodies just for you.
This gift I give, includes the plea,
Along with your thanks to be,
Please return lid and container to me –
If you want to be
Recipient of further from me
With all my love, Judy D.
---
Tattler lid ditty
by: Justine
I canned this homemade food just for you,
And would greatly appreciate the re-usable lid back when you're through!
Tattler Lid Return Ditty
by: Kelley M
This is a reusable seal you see,
I'd appreciate you return it to me.
---
Return my Tattler please
by: Sylvia Warren
From garden to kitchen to you my friend. I hope that you enjoy this gift as much as I enjoyed making it. If you are unable to reuse the Tattler lid and jar I would greatly appreciate their return. So that I may reuse them to share with you again!
My Favorite Ditty
by: Anonymous
I enjoy canning, and when I do, I often think of friends like You…
But my Tattler Lids, unless returned…
Might just as well be money burned!
---
return the lid, please
by: mojodoggie
From top to bottom
From bottom to top
Filled with goodness
From this seasons crop
Please return the lid when finished.
tattler lids
by: Anonymous
These canned goods I know you will enjoy,
but please return my tattler lid, no need to be coy.
---
3 Tattler haiku
by: krys lefler
Wonderful Tattler,
I re-use you in canning
again and again.
Tasty treat inside,
please, enjoy and share alike…
Return jar and lid.
Please enjoy this jar…
Tattler, attached to its top
refill, if returned.
Yummy!
by: Holly
I already started my garden planning
Peppers, pickles and plenty of canning
The Tattler lids will help out too
So I need to go out and buy two!
---
Lid Ditty
by: Mary Ann
Here's a gift not sold in your store.
Return the lid to enjoy some more.
Tattler lids
by: A Donovan
Dearest Friend,
I hope you enjoy this jar of wonderfulness made especially for you! The best part is that IF you return it to me, I will refill it AGAIN with something new just for you!
---
"Ditty " for Tattler
by: Susan V.
Please return the lid,it's a Tattler,
because if you don't can, it won't much Mattler
OK… it sounded better in my head… LOL
Solution for lid or jar return!
by: Rita
Attach a coupon that says " This coupon is good for a free jar of homemade canned goods when you return the Tattler lid and empty jar to me"! I tell this to all my friends and kids! works every time!
---
I like this better–Tattler
by: Janet
This Tattler Lid I lend with pride,
please return to me, I'll do a dance inside!
Tattler lid return rhyme
by: Janet
This Tattler lid I lend to you,
Please send it back when you are through.
---
Tattler lids gift tag
by: cinrafter
Enjoy these sweets and I will enjoy my Tattler lids returned when your done! Reduce, reuse, recycle.
Tattler Ditty
by: Laura Williams
This jar of home canned goodies won't get you in a pickle. Be a dear and return the Tattler Lid and jar so I won't get in a jam come next canning season.
---
O, Tattler
by: Cynthia L.
O, Tattler
O, Tattler
O, please do return
O, Tattler
My Tattler
its for you I yearn
O, Tattler
dear Tattler
my givees should learn
O, Tattler
precious Tattler
my thanks they'll have earned.
How did they do? 🙂
by: Crystal
I knew you would like those tattlers. Isn't is wonderful to know that we never have to rush to the grocery store during canning season again?!
Thanks for all your wonderful information too. If you could please send those back before spring is here? Thanks 😉
Free Tattler Tag Printable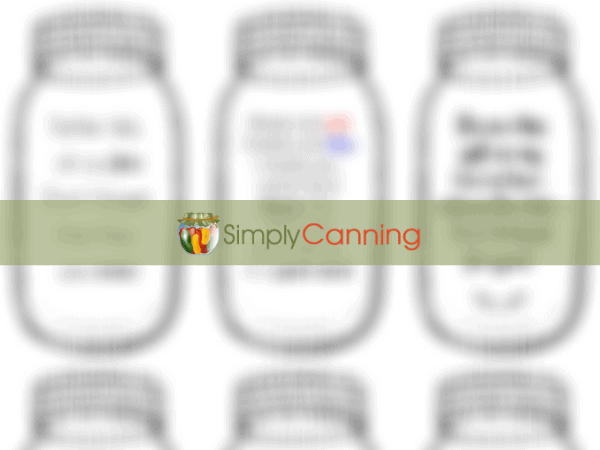 Get the Tattler Tag Printable by signing up below.
I created a printable sheet with a variety of these for your to add to your own jars. Enjoy!
JOIN THE NEWSLETTER
Subscribe to get our latest content by email.
Interview with Brad Stieg of Tattler
This is a partial transcript of an interview I did with Brad of Tattler Reusable Canning Lids. Included here is about 10 minutes of an entire 30 minute podcast.
This has been edited for reading clarity.
<Begin Transcript>
Sharon: I'm speaking with Brad from Tattler Reusable Canning Lids. We just thought we would sit and chat today a little bit about your lids.
What's the difference?
Tattler lids basically work the same as the old traditional metal lids but there are some definite differences in how you use those. You want to go over what those differences are?
Brad: Sure. Specifically the difference between reusable canning lids and the traditional lids that most people have used for decades is – the standard lid is either a Ball or a Kerr, some brand of that sort. It's metal and it's a one-time use throwaway.
Tattlers are plastic and reusable. It has a separate rubber gasket. That rubber gasket serves the sealing function that the plastisol compound on the underside of the metal lids currently serves.
How do you use them?
Functionally what you do to ensure that these work properly is do not over-tighten the metal screw band when you put it on. That's just part of the technique of reusable canning lids. It's a little bit different from what people are used to. It's not difficult but if you're a long time canner, it's a little bit hard to break the habit perhaps.
How you put that metal band on the jar is the only functional difference other than the simple fact when you take Tattler lid off, you wash it and you put it in the cupboard until you're going to use it again later. Whereas with the metal lids, you throw it in the trash.
You must tighten that metal band after you pull it out of your processor, whether it's a water bath or pressure canner because what you've done by leaving that band looser, you have allowed pressure to release during the canning process. But when you take it out of the canner, you have to compress that gasket to the point it ultimately needs to be when that jar is sealed.
As the jar starts to cool, it creates a vacuum and it sucks down on that lid and rubber ring combination. A lot just depends on how tight or loose that metal band is. If it has been very loose to start with and then it's not tightened down afterwards, you will have problems with the seal.
So again, it's a functional difference with how to use the Tattler lids. But follow those two steps:
• don't over-tighten it before you put it in the processor
• always tighten the bands them after you take them out,
You shouldn't have problems. It's just a little bit of a different twist.
Occasionally people will leave them too loose. It would really, really have to be insanely loose before you put them in but – I mean I've seen that. I've talked to people who've said, So while they're really loose, the metal band was just flapping on the top of the jar. You don't want that. Effectively, what you're trying to do is ensure that you've got contact with the metal band and the lid and it's just starting to compress that gasket slightly.
If you can visualize it, it's just enough so that when you put it into a water bath for example, it's compressed enough that no water flows in but it's not so tightly compressed that as pressure builds, it does not release properly. Again, it's a little bit of a different twist on an old way of doing things but this twist only really involves your fingertips as opposed to a gorilla grip.
Sharon: I know some people with the old standard lids; they really tighten down very, very tight. It doesn't have to be gripped down very, very tight. I know I had a few jars that didn't seal correctly when I first got reusable canning lids but only a few. Then I kind of got the hang of it and it wasn't a problem.
Brad: Honestly speaking, we use these in my household and we have occasions when one doesn't seal here and there. Serena my wife just did 60 pounds of chicken in the pressure canner and I think there were four jars out of all of those that didn't seal. So there's like 60 pints and quarts total that we had. There were a handful, a small handful that did not seal. I really look over those pretty hard.
Now chicken and greasy broth and things of that nature are some of the hardest things to can for people. So I don't look at that – that failure rate as being catastrophic. I would like it to be none. But reality whether it's a reusable canning lid or a traditional metal lid, you're going to have failures. It happens.
Now we don't want a high rate obviously and again, I don't think that's a high rate but I know that it happens occasionally. What Serena did is she took those lids that did not seal off. She cleaned everything up. She put those lids back on those jars and she resealed them and they all sealed.
So that's a little bit of a difference. Now I understand you're cooking your food twice and you don't necessarily want to do that. But in this scenario, the lids didn't work the first time for whatever reason. Maybe too much grease underneath there, I don't know.
But they sealed the second time. You wouldn't be able to do that with a traditional metal lid. You use it once and if they didn't seal, you throw that one into the trash and grab a new one.
Sharon: Maybe I can talk a little bit about the difference in the old lids and the tattler reusable canning lids. In the old metal lids, that sealing compound is in the lid itself and once it's compressed, because it's trying to seal, then it doesn't – fluff back up. (laughing) That's not the correct terminology but –
Brad: Reshape.
Sharon: Reshape, that's a better word. Whereas the Tattler Reusable Canning Lids, the gaskets of the Tattler lids, they reshape and can be used again. They don't stay compressed. I know in your instructions you're supposed to take that gasket and flip it over each time you can with it. Personally I can never see a difference so I don't ever really focus on that very much. I just reuse them and –
Brad: If you can see the grooves, flip it over. I have seen occasions but if you can't, it doesn't matter. I mean that's how it is supposed to work – the rubber has regained its shape.
Sharon: Right.
Brad: After about ten uses, it's just not going to regain in shape and will need to be replaced. We've talked to people that have told us they used them more than that. "I have used these for 20 years!" and I'm sure that that's a little bit on the generalizing side of things but you can effectively expect 10 uses out of those rubber gaskets before you have to replace them.
While the instructions do say if you see the seal grooves from the previous time you used them, flip it over and most people tell us they can't see it and that's OK.
How long do they last?
Sharon: You mentioned that you can use the gaskets approximately 10 times, maybe a little bit more. I have seen sometimes on – out in the internet. I've seen people comment that oh yeah, the gaskets of the reusable canning lids are reusable forever. I clarify they're not usable forever. Ten years can seem like forever. I mean that's a really very, very, very long time but the white plastic lid part is forever.
Brad: Yeah.
Sharon: But the gaskets are not.
Brad: That's correct. The gasket will break down. That is a part of this that ultimately has to be replaced but that's after like I said about 10 years and the replacement cost of those is about the same cost of one dozen metal lids. So if you were able to see – say you make the investment on Tattler lids today and you can go 10 uses and I say uses as opposed to years because some people use them three times in a year and sometimes they will use them once every two years.
Cost Effective!
So let's say 10 uses down the road, you've got to replace the rubber gaskets for the cost of one dozen metal lids and away you go for another 10 uses. That's pretty good math.
Sharon: That's very good math.
Brad: It really becomes quite cost-effective after about two to three uses depending on where you live and how you buy your lids. If you're one of those people who wait until the end of the season and Walmart has a massive sale and you're getting them for 75 cents a dozen, that's tough to compete with.
But the average person goes out and buys them as they need them and they're going to pay whatever those costs are on that particular day and we watch that and then determine our price. Our lids are about 2.5 to 3 times more expensive at the outset. But if I can use them 10 times, I got 7 uses for free and then I potentially have to replace the rubber gaskets and that gives me another 10 uses. I'm money way ahead.
Sharon: Right, and you mentioned sales at the end of the year. But you know what? I don't know about maybe other places that are different but by me, they don't even have canning supplies through the end of the season. It will be in August. Then they will quit carrying them and so we run out and they're just not available.
Brad: That's why the Walmarts and the big box stores aren't necessarily the best.
Sharon: No, they're not.
Where can you get them?
Brad: We have products now in True Value and Ace Hardware distribution centers going out to their stores. We're almost finished with Ace Hardware. We should be in their distribution network here shortly.
Sharon: Yeah. My Ace Hardware has them already.
Brad: Oh, do they?
Sharon: Yes.
Brad: Well, that's great.
Sharon: Yeah.
Brad: That's good to hear.
Sharon: So some of the people out there might want to go ahead and check their Ace Hardware and see if they have reusable canning lids now.
Brad: We do ship direct to a lot of stores. I mean we're not just Ace Hardware and True Value. We ship direct to a lot of stores and you can find that information on our website.
There's a retailer's link on our website as Reusable Canning Lids.com and that will show people. You can go in and pick your state or your zip code and drill down and see if there's a retailer near you.
I mentioned those big stores or the Ace and True Value because they have year-round displays of canning.
[End of transcript]
Get the Tattler Tag Printable by signing up below
JOIN THE NEWSLETTER
Subscribe to get our latest content by email.
From Sharon's inbox:
Question:
Sharon, I would like more information on the reusable lids. Do you buy the rubber seal every year? I want to try them but really scared. I don't want to lose my food. Thank you. Yes I have checked their site but want to hear it from someone.
Answer:
Hi Kaye, The rubber seal is estimated to last about 10 uses. So if you use the seal once a year that is 10 years. Many of my seals get used more than once a year. I store them and just grab them when I need them so it would be really difficult to keep track of just how many uses I've gotten out of each.
There is a learning curve to using them. Some adapt quickly and easily, some seem to have more trouble. The most common mistake I see is tightening down the rings too tight. They have pretty good instruction on their website.
They do have a sample pack with just a couple of lids that you can order if you want to try it out without investing too much. I hope that helps you make your decision.
Home › Other Canning Equipment › Tattler Canning Lids Review