Sharon Intro: I've been using reusable canning lids, but I have never tried the Harvest Guard Brand. I am familiar with the owner of this company, and I figured they would make a good product…I was right! My assistant, Rachel, received some lids and agreed to let us know her thoughts. It sounds like she has had success so far!
After the great canning lid shortage of 2020, my family gifted me some reusable Harvest Guard canning lids for Christmas. I was excited to be prepared for the upcoming canning season! One January weekend, I tried them for the first time, experimenting with a batch of carrots. Here is what I thought of the Harvest Guard canning lids.
Note: I received these lids as a gift from my family. This review simply shares my honest opinions about them so far.
What are Harvest Guard Canning Lids?
As you already know, a more "traditional" canning jar lid comes in two pieces: a ring and a flat lid with a sealing compound around the edge. While some people do reuse traditional canning lids (and I might be tempted to do so in a pinch, if I had nothing else available), it's not technically recommended. Most home canners use the flat lid once before discarding.
Harvest Guard lids fix this problem, providing a reusable canning lid system that isn't thrown away after each use.
Harvest Guard lids look similar to regular canning lids in their design. However, the flat part of Harvest Guard lids comes in two pieces: a domed plastic lid with a separate rubber sealing gasket. (According to the company, these gaskets can be reused 6 to 8 times before they need replacement.) You use a traditional metal ring (not included) to secure the Harvest Guard lid to the jar.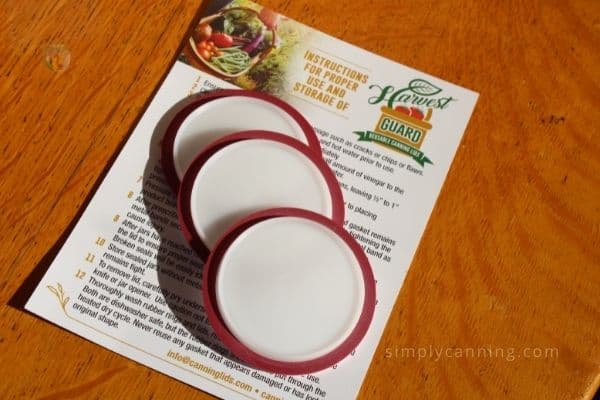 What Makes Harvest Guard Canning Lids Different?
Both Harvest Guard lids and traditional canning lids do exactly the same thing: They seal your food into the jar. However, there are some unique steps to using Harvest Guard lids that make them different from regular canning lids.
To begin, according to the instructions, you need to simmer the rubber gaskets in water immediately before you use them, to soften the rubber compound.
When screwing the lid on the jar, the process is much the same as a traditional canning lid, except you do NOT tighten the ring as much as you might with a regular lid system.
This is the biggest difference: Once the jars have finished processing, you need to screw the rings on tightly, while the jars are still hot. This involves using oven mitts to protect your hands and grappling with hot, wet jars straight from the canner. I found that a silicone oven mitt worked incredibly well (anti-slip AND heat-protective). But it's definitely different than I'm used to, since you're not supposed to touch regular canning lids at this step.
Another difference is that Harvest Guard lids won't make that pop as they seal. I kind of missed that part. 🙂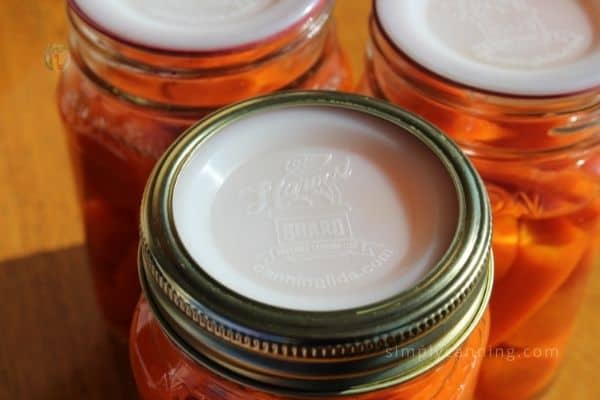 Pros & Cons of Harvest Guard Lids
So far, I'm pretty pleased with my Harvest Guard reusable canning lids. Out of the batch of 9 pint jars (my only batch I've done so far), only one of them lost the seal. However, I have a feeling that one jar could have been the same jar that slipped from my grip and tipped over while I was removing it from the canner.
The seal itself took some getting used to. At first, it just didn't seem as secure to me as the normal lids. I really didn't have any reason to think they weren't secure; all of the other jars sealed fine and passed the lid lifting test, and at the time of this writing, the seals remain secure. It was just different than what I'm used to. (The instructions do suggest checking jar seals occasionally while they're in storage, but I suppose that's really no different than regular canning jar lids.) I can say it took some work to get that lid off when I opened a jar, so I'm more convinced of their strength now.
That being said, there are some definite pros!
First, the company provided a handy laminated card in my package, listing step-by-step instructions for using Harvest Guard lids. It was easy to follow and provided all of the information I needed in the kitchen.
Second, they're made in the USA.
And lastly, the biggest pro is that they're reusable canning lids! Harvest Guard says the rubber gaskets will last for approximately 6 to 8 uses total. I assume this probably depends on whether you're using a pressure canner or water bath canner, and how long you're processing your jars. But considering how difficult canning lids are to come by these days, it is certainly worth it. And when the old gaskets bite the dust, you can purchase replacement gaskets. (The lids last much longer, I assume.)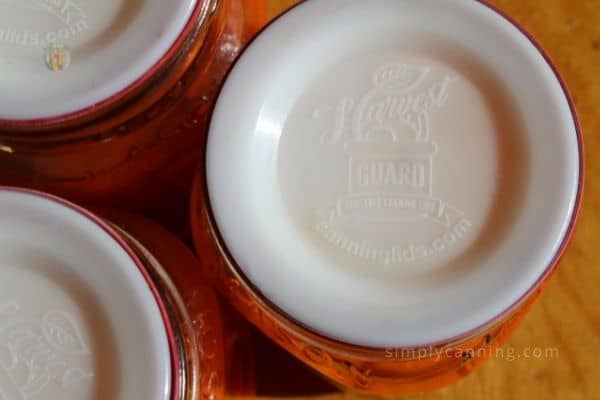 To learn more about Harvest Guard lids, visit their website at CanningLids.com.
Related Pages
Tattler reusable canning jar lids are another option for these times of canning lid shortages. My review from SimplyCanning.
What About Reusable Canning Lids? A canning lid shortage is happening now. Learn how to use these lids and the two brands available and recommended.
Regular Canning Jar Lids – Lids are standardized these days, and with good reason! Find resources on best practices and safety steps for using the regular 2-piece canning lids.
Pin This to Find Later!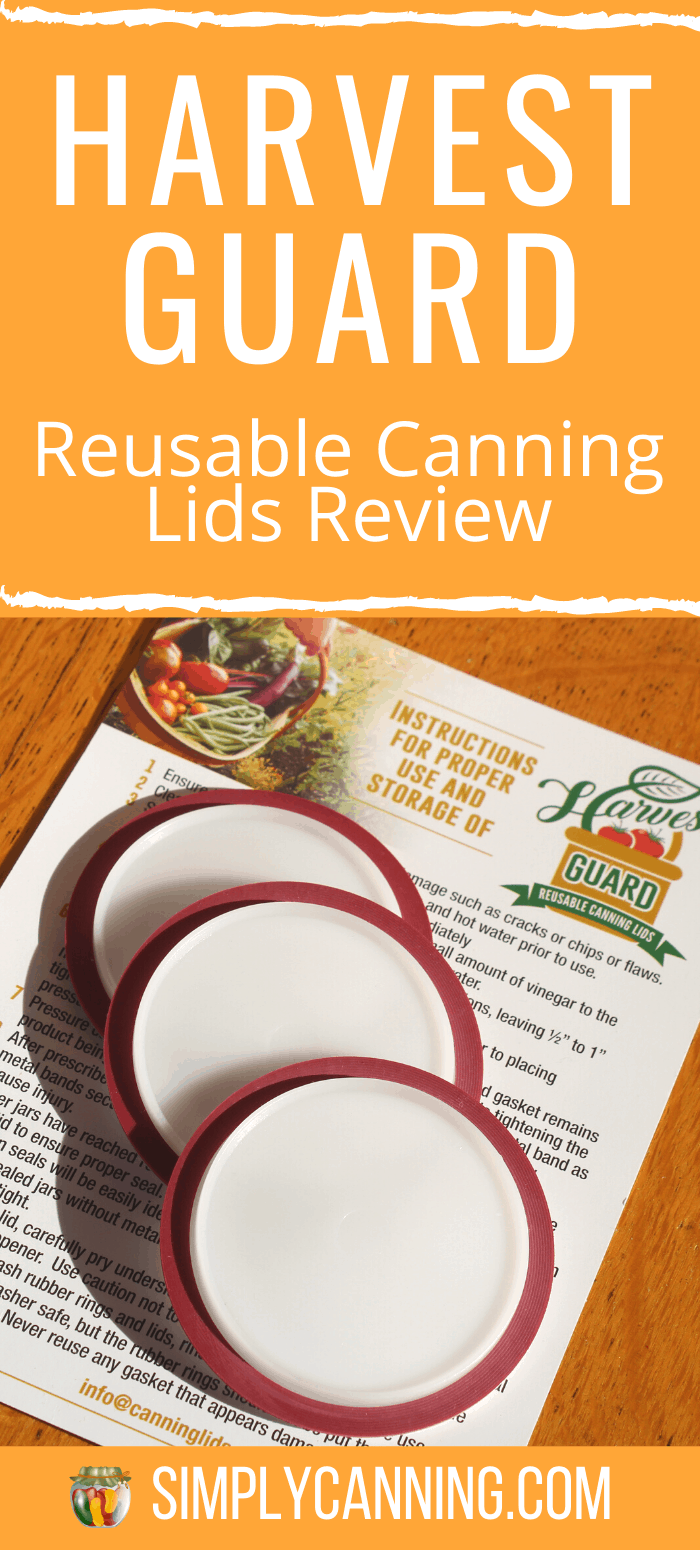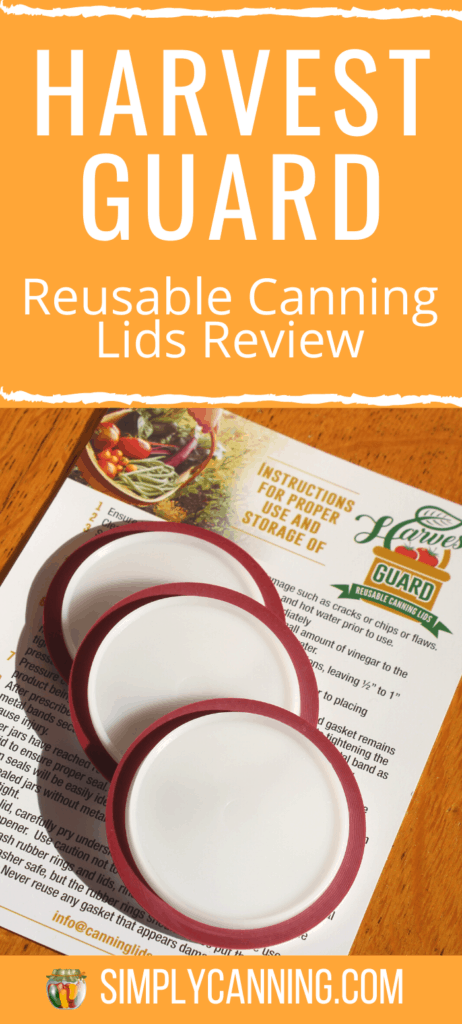 Page last updated: 10/7/2021