A slow cooker is the easiest way to cook this peach butter recipe. You need low temperatures for a long time without scorching. It can also be cooked on a stovetop at a very low temperature, stirring often. Remember the without scorching part!
Other Fruit Butter Recipes
I've made apple, pear, and peach butter recipes, but other fruit can be used as well. Apricots, plums, grapes, and even crabapples can be used for fruit butter. Some fruits benefit from the addition of apple juice or cider.
Can you make fruit butter in quarts?
I talk here about doing apple butter in quarts. So if you are thinking of doing big jars… Read this first. Apple Butter in Quarts. Also remember, this processing instruction for this recipe is only for pints or half-pints.
What about White Peaches?
One thing to note, this recipe is for regular yellow-fleshed peaches. White peaches are one of the rare fruits that are actually low acid. They can not be safely preserved by a boiling water bath.
Can you Freeze Fruit Butter?
Yes, you can freeze fruit butter. It is a great way to preserve this quickly and easily. A good option for when you make just a little. I've frozen small batches before. Any freezer container works but I like to use freezer bags for this. Simply let your fruit butter cool, add it to the freezer bag, squeeze out any air, seal, mark your bags with contents and date, and put it in the freezer. Freezer bags lay flat and take up little room.
If you want to make fruit butter from white peaches you could use these directions to make the butter… then freeze it. Do not process it for storage on the shelf.
How to make peach butter.
Use ripe fruit. Wash, remove any bruises or bad spots, and prepare according to these directions.
Using 4-4.5 pounds of peaches yields about 4 pints of peach butter.
Wash and blanch peaches to peel. Remove pits.
Combine peaches and 1/2 cup water. Simmer until fruit is soft. (see below for slow cooker or pot directions)
Measure out 2 quarts of pulp.
After you have your pulp, combine fruit pulp, sugar, and desired spices.
Now I'll be honest…. I rarely measure out the precise amounts of pulp and sugar. However, I wanted to include it because that is the way the NCFHFP instructs. And if you think about it …. it really makes sense to do it this way. If you measure your pulp and sugar, you'll know just the exact amount of sugar you used and can replicate it next time.
Spices like cinnamon or cloves are often used. It enhances the flavor. You can use whole spices if you want, but place them in a cheesecloth bag and remove them when you fill your jars.
Optional Spices for Peach Butter – not required but Oh So Good!
1 tsp. cinnamon
1/4 tsp. ground cloves
1/4 tsp. salt
3 Options for Cooking the Peach Butter
A slow cooker is my go-to method for cooking fruit butter. Simply place your fruit and a bit of water in a slow cooker. Cook on high for 3 hours or so. This gets things cooking faster. Stir and set on low. Add sugar, and spice mixture to the cooker. At this point, I leave the lid ajar to allow moisture to escape. The butter thickens sooner this way. Allow the mixture to cook, stirring occasionally as the fruit gets softer. Finish off with a whisk for a smooth product. This can cook overnight if you have a cooker that will not heat up too much. In my experience, new slow cookers cook too high to be left that long and will end up scorching.
On the stovetop, cook on very low and stir often. The fruit may scorch if you are not careful. This would be the least efficient way to do this, in my opinion.
If you want to cook it in the oven, use a wide pan and bake on low at 275°F. A glass baking dish works well. I would avoid aluminum as you may end up with that flavor in your butter. Check often, stirring occasionally. This might be anywhere from 2-3 hours…or more. It varies a lot according to your fruit and how juicy it is.
Processing Times for Pints or Half Pints in Water Bath Canner
0-1,000 – 10 minutes
1,001-3,000 – 15 minutes
3,001-6,000 -20 minutes
6,001-8,000 – 25 minutes
8,001-10,000 – 30 minutes
Peach butter recipe card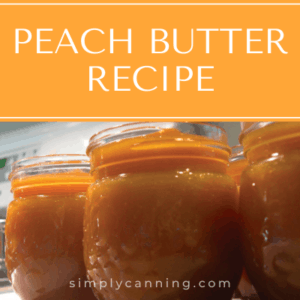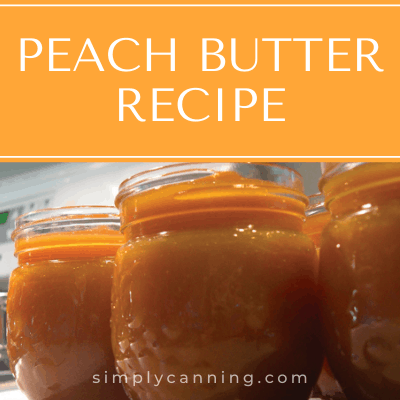 Peach Butter Recipe
Peach butter recipe for slow cooker.  Canning Recipe
Ingredients
4.5

pounds

Peaches

4

cups

sugar

Spices to taste, cinnamon, cloves, salt
Instructions
Once the fruit butter is made, you will need to start by preparing jars and getting water in the canner heating. You want the canner hot, but not boiling, when the jars are ready to be processed.

See full water bath canning instructions here.  

Wash and blanch your peaches to peel and remove the pits.

Add to the crockpot with 1/2 cup water to prevent sticking.

Cook on high approximately 3 hours.

Stir and cook on low. Cook stirring occasionally until peaches are soft.

Add sugar to taste. Suggestion is 4 cups sugar to 1 quart pulp.

Optional – Add spices to taste. A suggestion is 1 tsp cinnamon, 1/4 tsp ground cloves, 1/4 tsp salt.

Stir well and continue to cook on low stirring occasionally until sauce is the consistency you like. Butter will round up on spoon. Leave lid off or ajar to alow steam to escape.
For a Hot Pack
Fill hot jars with peach butter. Leave a 1/4 inch headspace.

Remove air bubbles, wipe rim clean, and place seal and ring.

Place jar in the warm canner. Proceed to fill all jars.

Process according to the chart below.  
Processing Time
Processing Times for Water Bath Canner (Hot Pack)
Altitude – Half Pints and Pints are Processed the Same 
Quarts not recommended. 
0-1,000 – 10 minutes

 

1,001-3,000 – 15 minutes

 

3,001-6,000 – 20 minutes

 

6,001-8,000 – 25 minutes

 

8,001-10,000 – 30 minutes

 
Adapted from: The National Center for Home Food Preservation and the Ball Blue Book.
Last Updated: 2-7-2021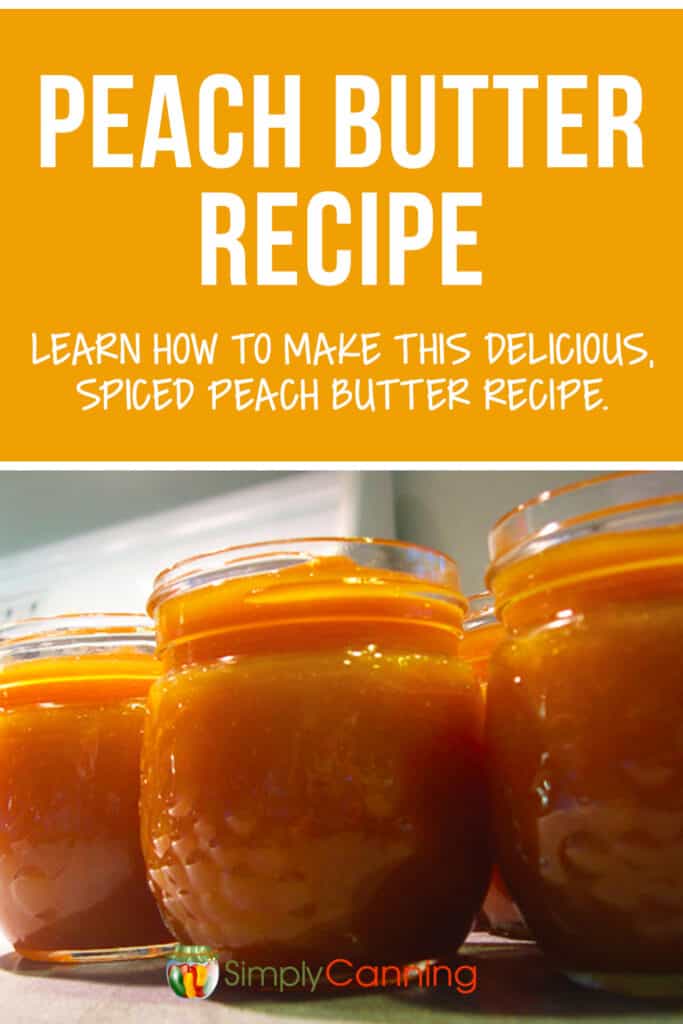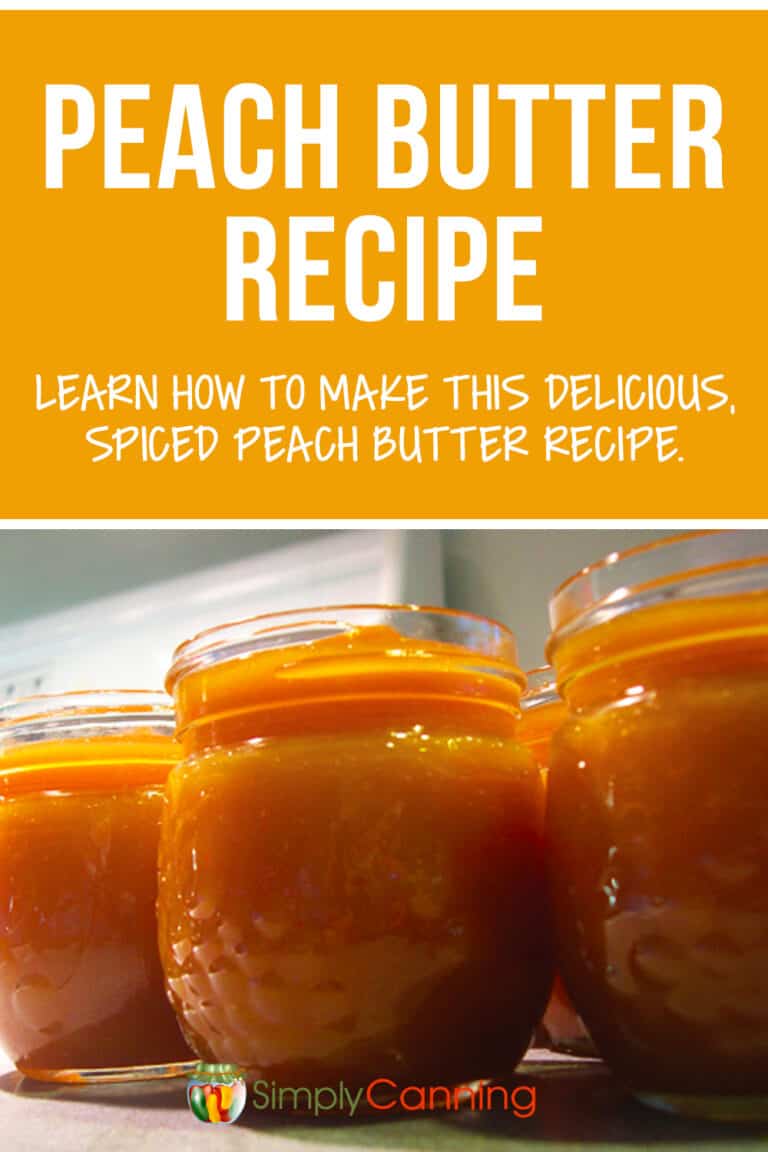 Related Pages:
Page last updated: 2/21/2020