5 Ways of preserving corn. Canning Dehydrating, Pickling, and Freezing (both on and off the cob).
A bonus video is at the very bottom with our easy way to strip the corn off the cob! If you've got a lot of corn to take care of you need this trick. My husband came up with this method and it works great!
Preserving corn by canning is safe and easy if you use proper methods. If you are canning corn always use a pressure canner. However, if you are pickling corn you can use a water bath since it is pickled with an acid-base (vinegar). Check below for links to all step by step directions.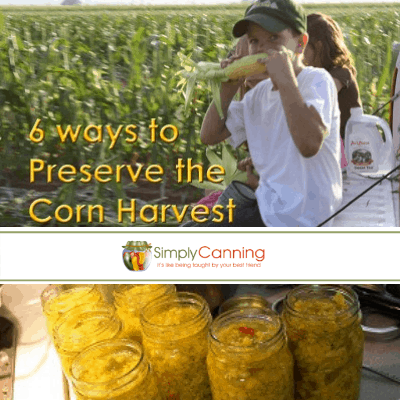 This is my son and a couple of friends on a corn picking trip we took. What an adventure!
2 friends of mine and our combined 10 kids.
Picking corn from a local farmer.
A row of corn that held a LOT more corn than we thought. We definitely underestimated how much we'd get when we agreed to purchase "1 row".
A minivan that was VERY loaded down with corn (my husband's truck saved the day).
A some-what grumpy farmer (the farmer thought we were all crazy).
Giving away corn to random people on the street! That row of corn we purchased had so much corn there was no way we could take care of it all.
Hours and hours of shucking and preserving corn in the days that followed.
We had a blast. What great memories.
---

Can I use a waterbath when canning corn?
I'll start this off with a commonly asked question. "Can you can corn with just a waterbath? Do I really need a Pressure Canner?" No, you should not use a water bath when preserving corn. Yes, you really do need a pressure canner. All vegetables have a risk of botulism. You really don't want to chance this type of food poisoning. Check out this link to learn more. Botulism.
Please be safe… use a pressure canner.
---
How to Preserve the Corn Harvest
---
Canning Corn
Sweet corn is easy to can though it is time-consuming. Get some help husking and cutting the kernels off the cob and it will go quick! Full canning instructions here.
---
Dehydrating Corn
Blanch your corn, cut it off the cob, lay out on dehydrator trays and dry. Doesn't get any easier. Re-hydrated sweet corn is delicious with a splash of cream.
Complete dehydrating instructions here.
---
Freezing Corn – both on the cob and off.
Pack into freezer bags or freeze the whole cob. Be sure and label and date your bags. How to freeze corn both on the cob and just the kernels, instructions here.
---
Pickled Corn Relish
Corn, cabbage, a few peppers and pickle it. Yum.
---
Corn Cob Jelly
Boil your leftover cobs after you can or dehydrate. Add pectin and sugar and make a delightful jelly. Great as a present.
---
Other Helpful Links