I had all the ingredients for this growing in my garden, so I decided to try a corn relish recipe I found in my Ball Blue Book. Since this is a pickled item, it can be safely processed in a water bath canner. Remember, usually corn or other vegetables need the pressure canner. This recipe makes approximately 6 pints of corn relish.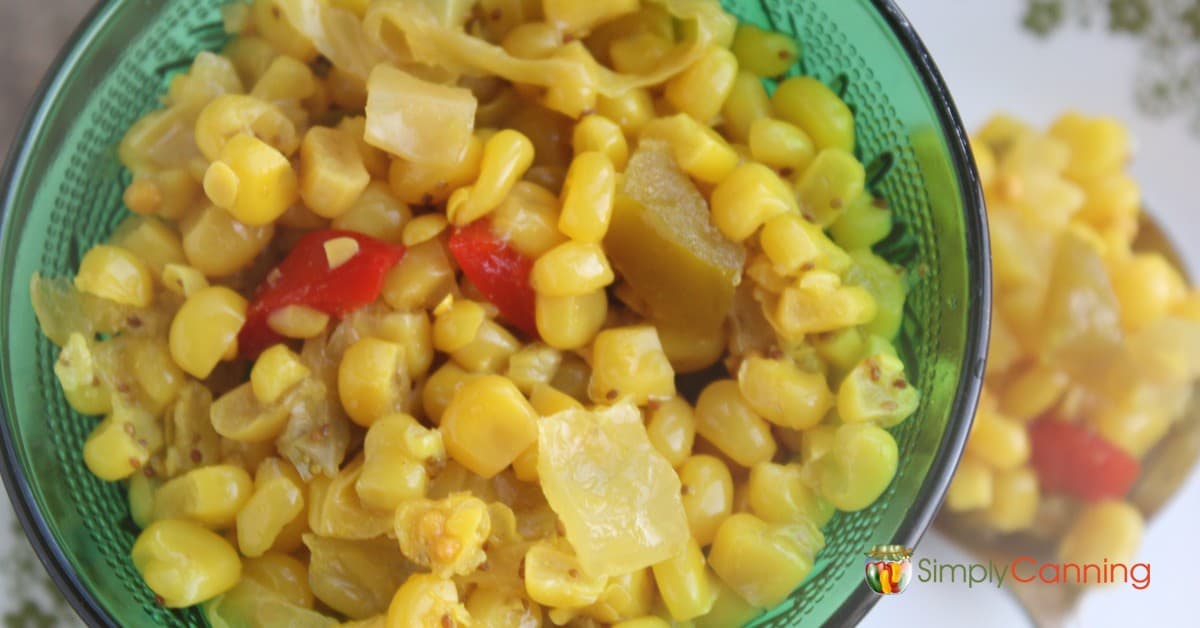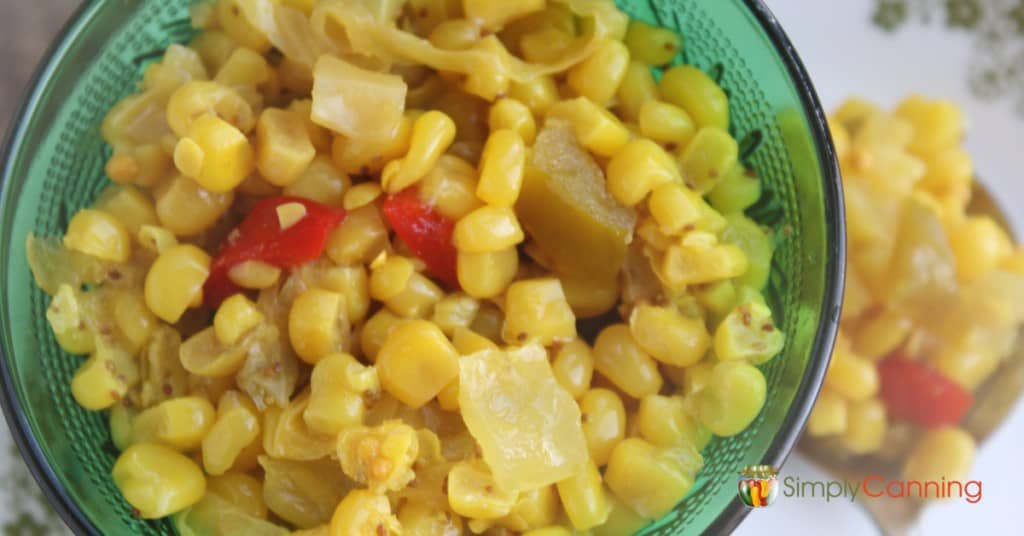 This Page Includes:
Corn Relish Recipe: Extended, Step-By-Step Directions
Gather Canning Supplies:
large pot
bowls
large spoons
sharp knife
towels and dish cloths
ladle
Ingredients:
2 quarts cooked corn, cut off the cob. (Blanch the corn 3-5 minutes in boiling water, cut it off the cob, measure and continue with the recipe.)
1 quart chopped cabbage
1 cup chopped onion
1 cup chopped sweet green peppers
1 cup chopped sweet red peppers
1 1/2 cups sugar
2 Tbsp. dry mustard
1 Tbsp. celery seed
1 Tbsp. mustard seed
1 Tbsp. canning salt
1 Tbsp. turmeric
1 quart vinegar
1 cup water
How Do You Make Corn Relish from Scratch?
Start by getting the water in your canner heating. Gather all canning supplies.
Chop all veggies and combine in a large pot. I love that this recipe has the actual measurements listed. Often I've seen recipes that have 1 small head of cabbage…well, who says what is small????
The original recipe calls for 1 to 2 cups of sugar. Not having made it before, I split the difference and went with 1.5 cups. You can adjust this as you like.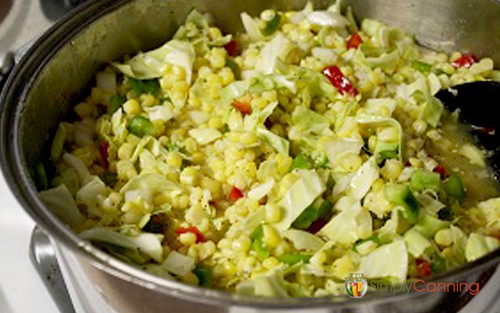 Add the rest of the ingredients, spices, vinegar, and water. Simmer ingredients for 20 minutes.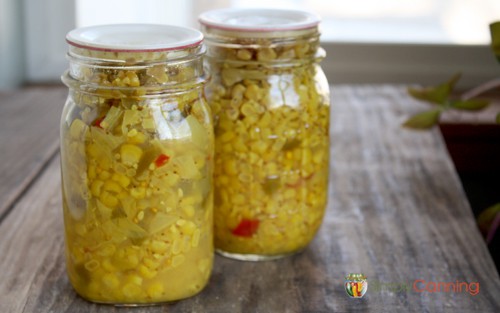 Pack into pint jars. What I do is fill each jar first with the solid ingredients, then go back and top them off with the liquid, leaving 1/4″ headspace.
This way I don't get down to the last jar and end up with lots of liquid and not much solids.
Important Tip for Pickled Corn!
Remember to try not to slop it all over like I did in this photo. My counter had pretty yellow blotches all over it.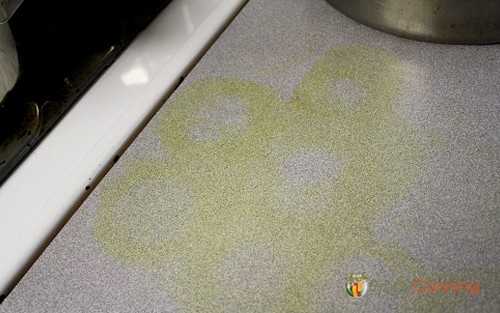 This is caused by either the dry mustard or the turmeric…whichever one, it doesn't really matter. All I know is…it doesn't really add to the look of my kitchen! What do you think? (I've done this before…it wears off after a while.)
Carefully wipe the rims clean and add your lids. Leave 1/4-inch headspace. Process in a water bath canner. How to use a water bath canner is found here.
Process your pickled corn relish for the time listed below. Be sure to adjust for your altitude!
Process
Pints – Process for 15 minute, adjusting for altitude according to chart below.
For more information on why this is important, see this altitude adjustments page.
Pinnable Recipe Card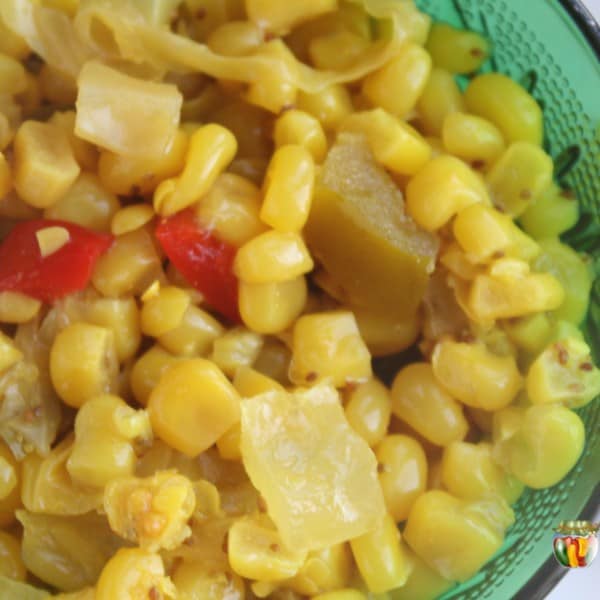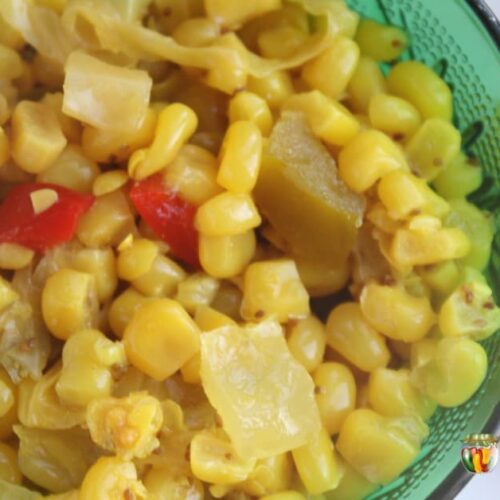 Corn Relish
Ingredients
2 quarts cooked corn

fresh off the cob is best

1 quart chopped cabbage 

1 cup chopped onion 

2 cups chopped red or green peppers 

1 1/2 cups sugar 

2 Tbsp. dry mustard 

1 Tbsp. celery seed 

1 Tbsp. canning salt 

1 Tbsp. turmeric 

1 quart vinegar 

1 cup water 
Instructions
Start by preparing jars and getting water in the canner heating. You want the canner hot, but not boiling, when the jars are ready to be processed.

See full water bath canning instructions here.  
Hot Pack only
Chop all veggies and combine all ingredients in a large pot. Mix well.  

Bring to a boil, and then simmer for 20 minutes. Stir occasionally.  

Pack into jar, leaving 1/4" headspace.  

Remove air bubbles, wipe rim clean, and place seal and ring. Place jar in the warm canner and proceed to fill all jars. Process according to chart below.   
Processing
Processing with a Water Bath Canner
Place the jar in the warm canner. Proceed to fill all jars placing them in the canner.
When all the jars are filled, bring the water in the canner to a boil.  When a boil is reached that is when you'll start your timing.   Process for the length of time on the chart below.  Adjust for your altitude. 
 After your time is over, turn the heat off remove the lid and allow the canner to rest for about 5 minutes. Then bring your jars up out of the water.  Allow them to rest for another 5 minutes. Then remove the jars and place them a few inches apart on a thick towel to cool completely.  Leave them alone for about 12 hours.  
When they are cooled remove the metal bands, check the seals, label the jars and store them away! 
Processing Times for Water Bath Canner (Hot Pack)
Altitude – Pints 
0-1,000 ft – 15 minutes
1,001-3,000 ft – 20 minutes
3,001-6,000 ft – 25
minutes
Above 6,000 ft – 30 minutes
Adapted from: Ball Blue Book Guide to Preserving

Last Updated: 4/9/2021

Corn Relish Recipe for Canning: FAQs & Tips
How Do You Use Corn Relish?
Use corn relish just as a regular relish, on hot dogs, sausages, etc. Mix with salsa as a dip. It's a good condiment with enchiladas. Mix with black beans and tomatoes for another type of salsa!
Can You Freeze Corn Relish?
Well, it might get kind of mushy, but this would be a good solution to the occasional jar that doesn't seal properly during canning! 🙂
Using Celery in Corn Relish (& Other Ingredient Adjustments)
Many corn relish recipes I've seen include celery. I liked this recipe with cabbage. If you like celery, eliminate the cabbage and substitute 1 cup celery and add one clove of minced or finely chopped garlic.
The total amount of peppers is 2 cups. Red is suggested for at least part of that because of the color factor, but use what you have. You can even use all red if you'd like. If you like spicy, add a little hot pepper in the mix. Just stay in the 2-cup quantity.
Bonus Video: Cutting Corn Off the Cob!
Related Pages
Canning corn is a great way to preserve the harvest from your own garden or another local grower, plus it's better than store-bought corn.
We had so much sweet corn one year, I decided to make my own dried sweet corn out of some of it. I found that just like most things…dehydrating corn is easy.
How to freeze corn, on or off the cob. It is an easy and nice alternative for preserving your harvest or farmer's market haul.
Save those cobs, don't throw them away. Make this!
Pin This to Find Later!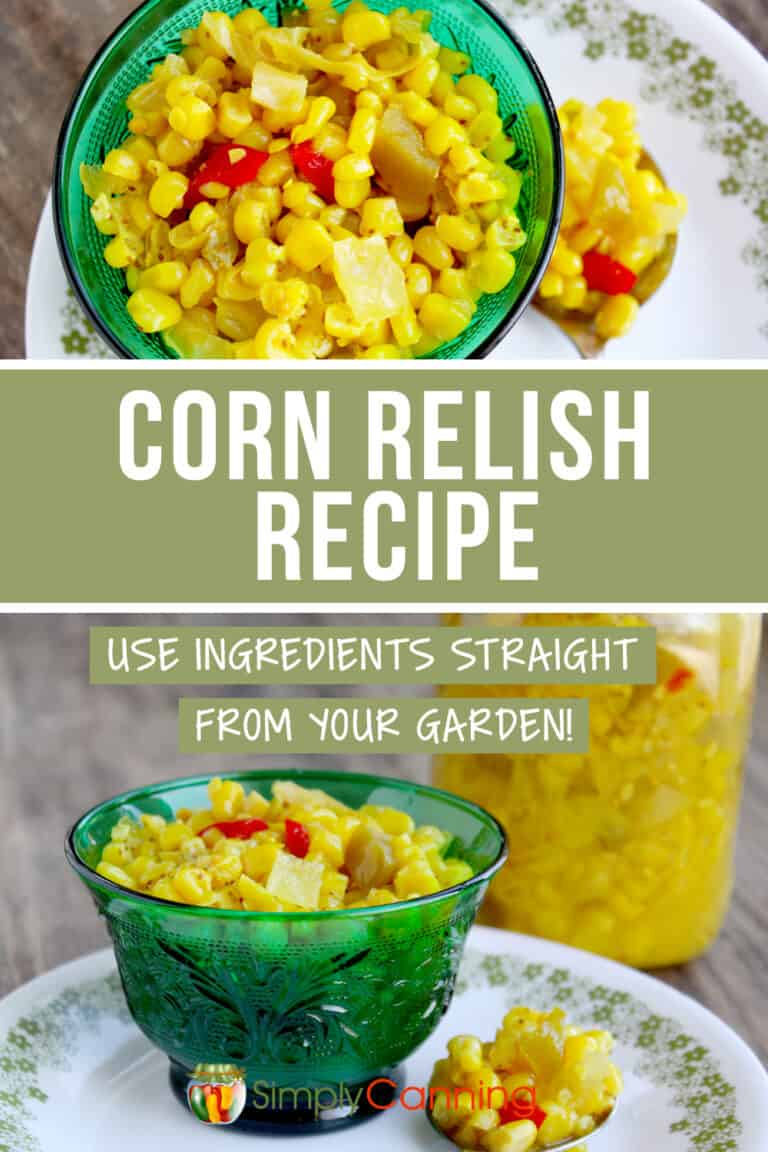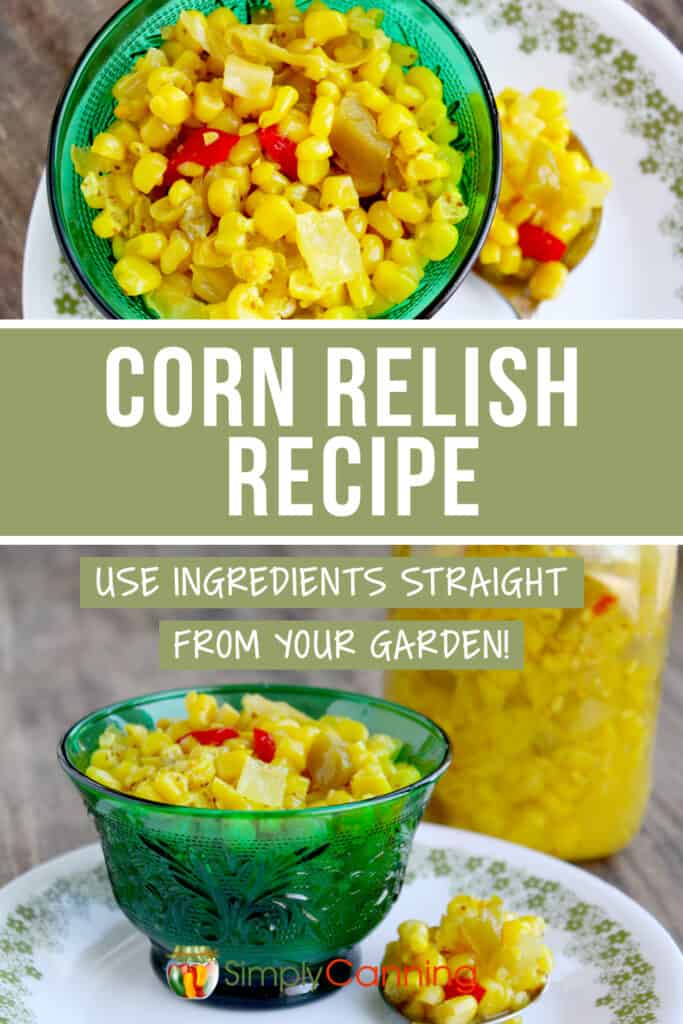 Source: Ball Blue Book Guide to Preserving
Page last updated: 6/15/2021