With Sharon Peterson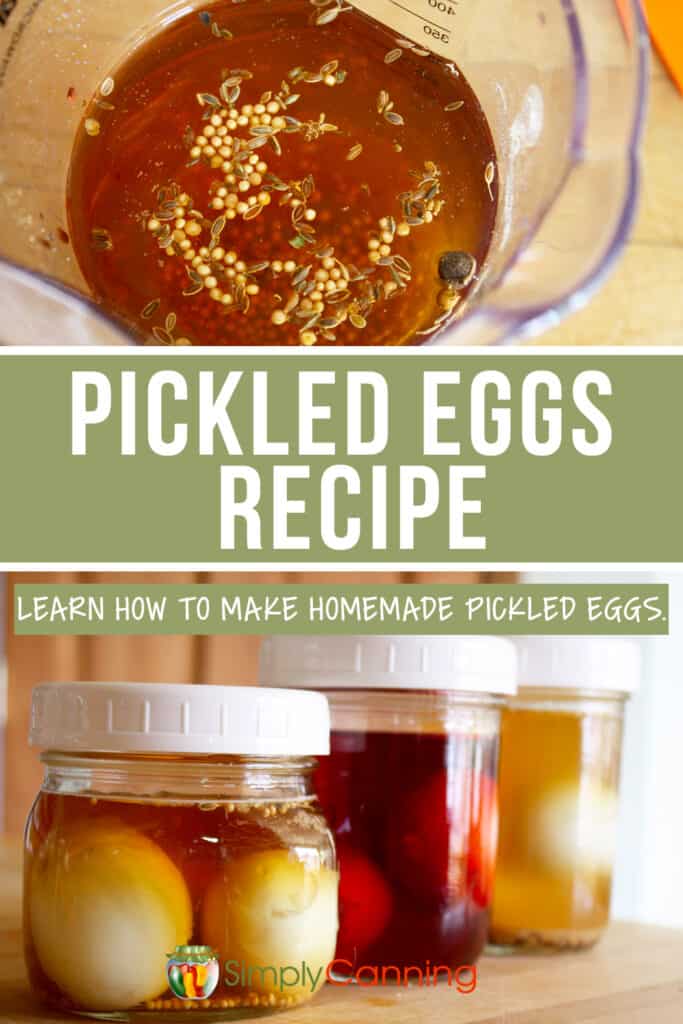 Pickled eggs recipe is for a refrigerator pickled product.
This is NOT a canning recipe.
Do not store these on the shelf! These eggs can be stored in the refrigerator for several weeks up to 3 or 4 months.
Pickled eggs are peeled hard-boiled eggs in a pickling brine. The eggs are not processed, so they must be stored in the refrigerator.
Again (cause I really don't want you to miss this), any pickled eggs recipe is for a refrigerator product.
Table of Contents
Should I sterilize the jars for making pickled eggs?
How long will pickled eggs last?
How long until I can eat my pickled eggs?
Can you reuse pickled egg juice?
Pickled Eggs Recipes: Only for the Refrigerator
To my knowledge, there are no pickled eggs recipes that are available for storage on the shelf. You may wonder why you can purchase pickled eggs on the shelf at the supermarket. That is because they are commercially processed, and that is an entirely different process than what is available to a home cook.
The lovely thing about pickled eggs is the variety. Many different recipes exist for pickled eggs.
In this batch that I'm working on, I took several recipes and halved them so I can make smaller batches of several types. You can always do a full batch, which will produce enough brine for approximately 12 eggs.
---
How to Steam Your Eggs
Regular eggs from the store work fine. Farm fresh eggs are best, but they are also the hardest to peel! As you can see from the pictures, my eggs are not…well, they are not picture perfect. :0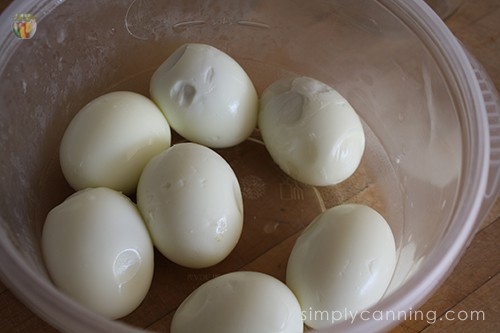 I have this how to hard boil eggs article for making hard-boiled eggs by boiling them. This is the method I used to use. However, since I wrote that post, I discovered steaming eggs! It gives the same resulting hard-cooked eggs but with much easier peeling, especially with farm fresh eggs.
I steamed my eggs using my 4th burner pot. Any steamer will work. When I"m making a lot of eggs, I use this steam juicer. I just take out the juicer part.
Add a couple inches of water to the bottom of the pot and bring to a boil. Put eggs in the basket into the pot and cover. Steam for approximately 15 minutes.
If you have a lot of eggs, you might want to add a couple minutes.
Only one or two small eggs? A little less might be enough.
Remove from the heat and run cold water over the eggs to cool them. When you can handle them, start peeling.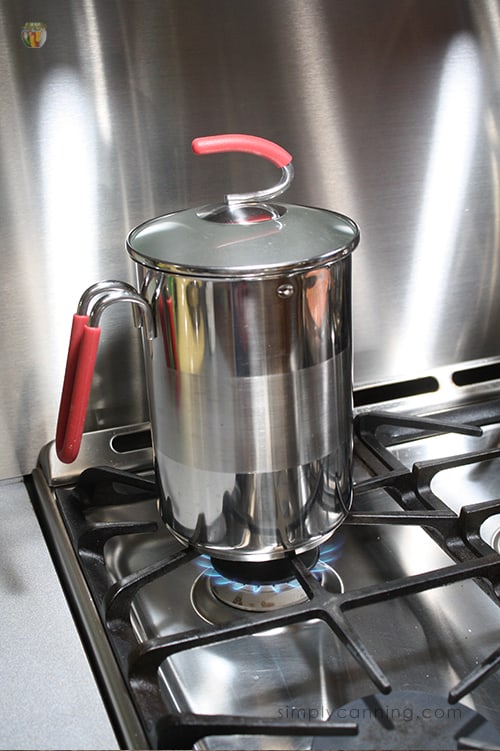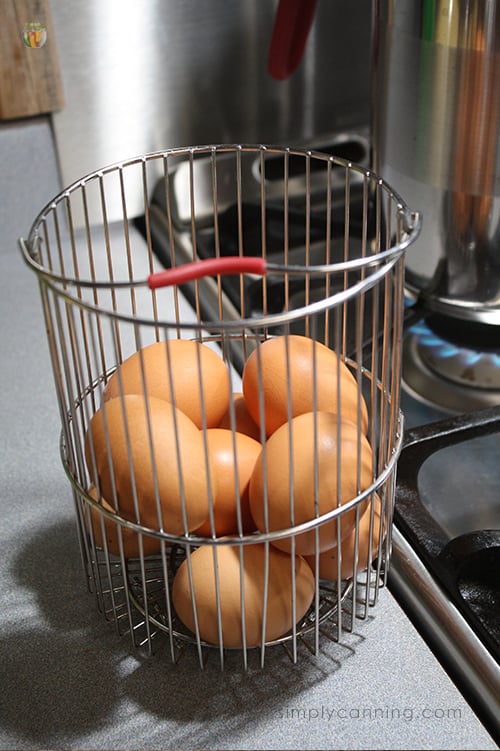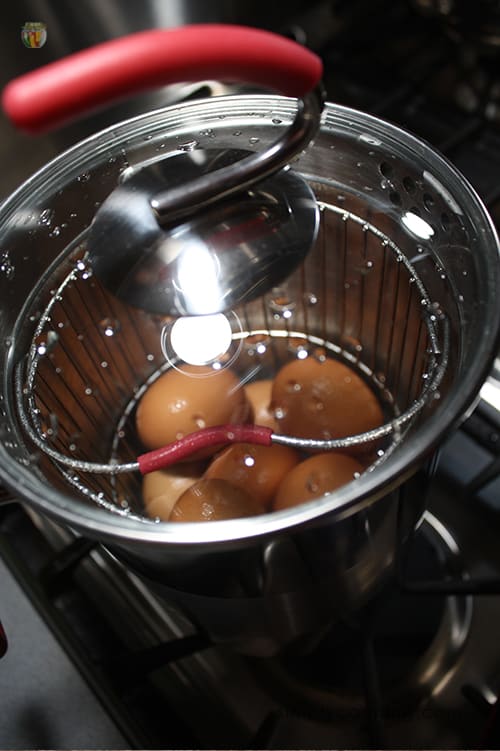 ---
How to Make Pickled Eggs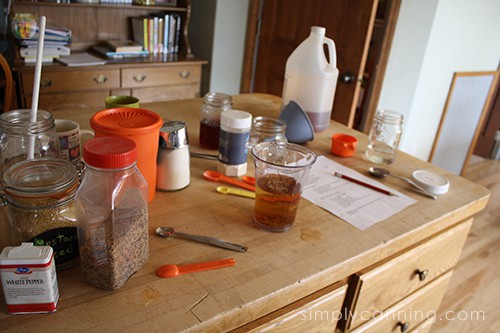 3 different recipes are available below. These steps are the same for each recipe:
Cook hard-boiled eggs and peel.
Bring all the ingredients (except the eggs) to a boil. Reduce the heat and simmer for 5 minutes.
Pack peeled, hard-cooked eggs loosely into warm jars.
Pour the hot pickling solution over the eggs in the jars. There needs to be enough pickling solution to completely cover the eggs.
Cover the jars and refrigerate immediately. Pretty easy!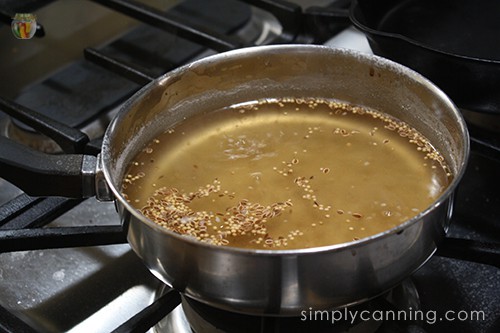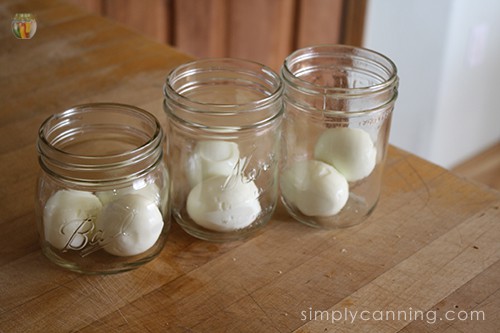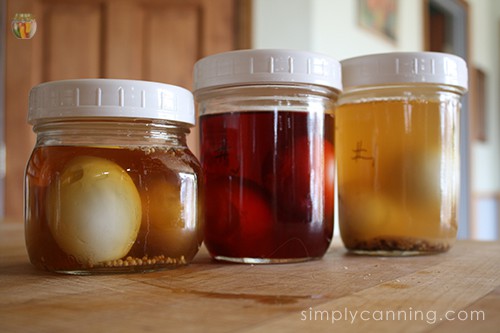 3 Pickled Eggs Recipes for You to Try.
There are many pickled eggs recipes online. These are recipes that have been tested for home storage (in the fridge) and come from the NCHFP website.
Dilled Pickled Eggs Recipe
1.5 cups white vinegar
1 cup water
3/4 teaspoon dill weed
1/4 teaspoon white pepper
3 teaspoons salt
1/2 teaspoon mustard seed
1/2 teaspoon minced onion
1 peeled garlic clove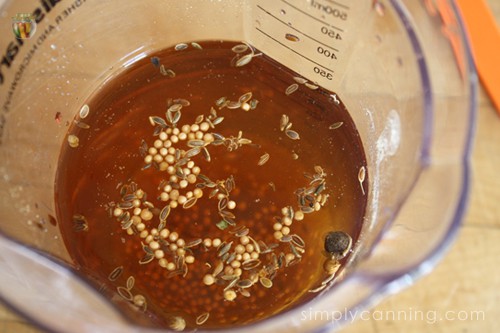 Red Beet Pickled Eggs
1 cup red beet juice (from canned beets)
11/2 cups cider vinegar
1 tsp brown sugar
small home canned red beets, or a couple of slices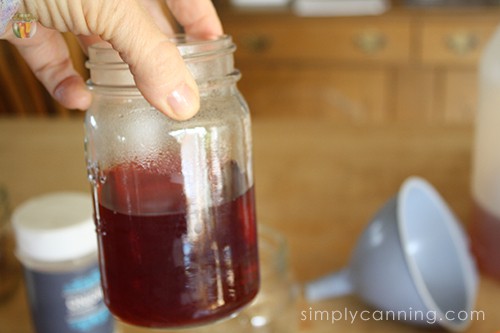 Dark & Spicy Pickled Eggs
11/2 cups cider vinegar
1/2 cup water
1 T dark brown sugar
2 tsp granulated sugar
1 tsp mixed pickling spice
1/2 tsp liquid smoke or hickory smoke salt
2 tsp salt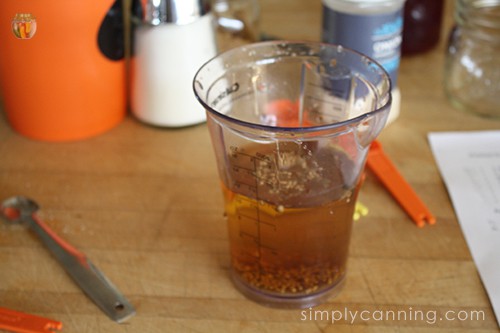 Remember, I made small batches. I took each of the recipes, divided them in half, and measured them out into jars. Then I heated each recipe to a boil for 5 minutes before pouring them over jars with the eggs.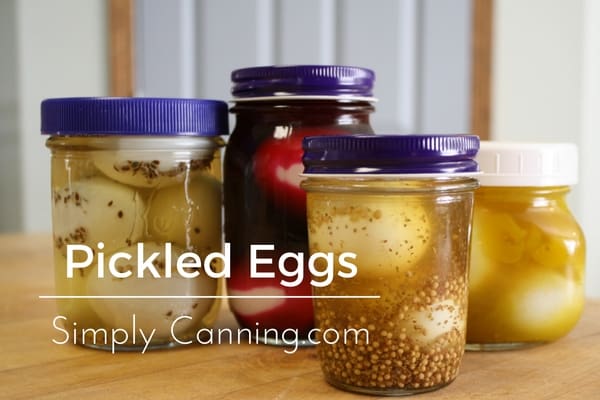 Frequently Asked Questions
Why a hot brine?
Notice that your eggs should be cooled so you can handle them to peel, but the brine should be hot when you pour it over the eggs.
I've read that keeping the brine hot when you pour it over your eggs keeps the egg whites more tender. I have no idea why! I've never tested it myself; I always pour my brine over hot.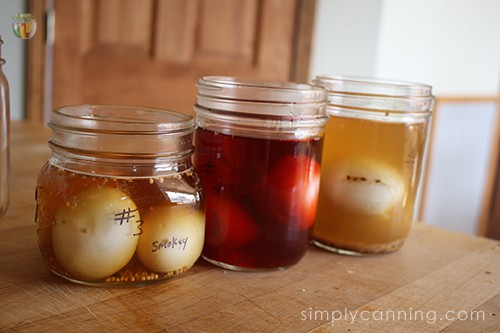 Should I sterilize the jars for making pickled eggs?
Full disclosure here: The NCHFP recommends sterilizing your jars before you make pickled eggs. (Sources listed at the bottom of this article.)
"Be sure to wash all utensils and surface areas (including hands) very well and sanitize jars for 10 minutes in boiling water before filling with boiled eggs if you expect to keep them for more than several days."
I'll be honest, I don't "sanitize" my jars for pickled eggs. I do, however, wash and rinse very thoroughly!
This product is not processed and so is not going to be preserved as food is when it goes through the pressure or waterbath canner. Thus, the reason for only putting this in the refrigerator. However, everything DOES need to be super clean.
This is my thinking…you make your own decision. You've got good sense, use it. Do what you feel is right.
If you feel more comfortable sterilizing your jars, that is great! Go for it. Here is some information on sterilizing jars with the canning process. That page also has full instruction on how to sterilize jars.
How to properly sterilize canning jars.
How long will pickled eggs last?
Pickled eggs will last for 3-4 months in the refrigerator according to the NCHFP. They don't give a hard and fast expiration date, but state "for best quality". I don't keep mine that long. A month or 6 weeks, and I'm ready to dispose of them. That is personal preference. You'll be safe going with the suggested 3-4 months with these recipes.
Remember…they MUST be kept refrigerated. Do not leave them out on the counter! Botulism has been reported with eggs that were left at room temperature.
How long until I can eat my pickled eggs?
You can actually eat them right away if you want, but you'll be disappointed. For that pickled flavor to penetrate your eggs, allow them to sit in the fridge for a week or two. Even longer will give more flavors.
Can you reuse pickled egg juice?
I would not advise reusing pickled egg juice. You should provide a fresh brine for each batch.
Pin It!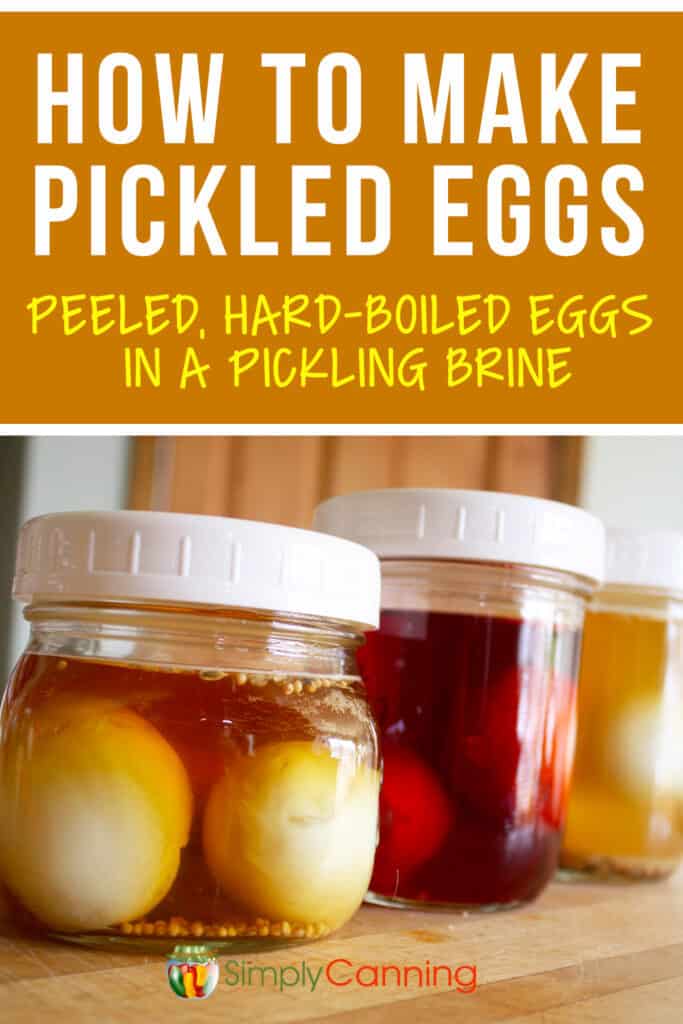 Related Pages
Sources:
National Center for Home Food Preservation.
Washington State University Extension: http://whatcom.wsu.edu/fch/documents/eb1104.pdf
Home › Pickle Recipes › Pickled Eggs Recipe
Page last updated: 2/28/2020.