With Sharon Peterson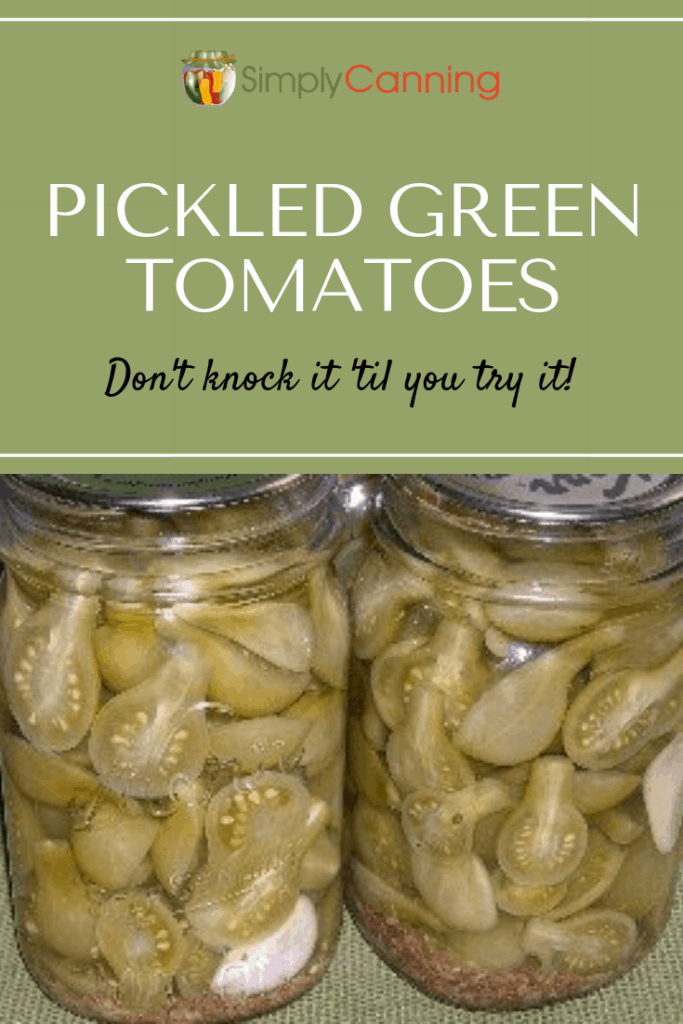 This pickled green tomatoes recipe is a great way to use up the green tomatoes that are hanging around at the end of tomato season. You know, the ones that are not getting ripe because the weather is cooling down.
Pick any tomatoes with color showing to try and ripen indoors. Then go ahead and pull some green tomatoes to make your green tomato pickle recipe. Be sure the tomatoes you use for pickling are fully green. You don't want any color showing.
For this recipe, you will need unripe, truly green tomatoes. Make sure you're not using a variety of tomato that appears green when ripe, as some heirloom varieties do.
I made pickled green tomatoes out of tomatoes from my pear tomato plant. I like the way they look in the jar.
Garlic and dill make this a great green tomato pickle recipe. My oldest son likes to eat the pickled garlic.
This recipe can be processed safely in a Water Bath Canner.
Yield is about 6 pints.
How to Make Pickled Green Tomatoes
Gather Your Canning supplies for Pickled Green Tomatoes:
large pot
bowls
large spoons
sharp knife
crinkle cutter is optional
towels and dish cloths
ladle
Ingredients:
5 pounds green tomatoes
3 1/2 cups vinegar
3 1/2 cups water
1/4 cup canning salt
6 garlic cloves (one per jar)
Dill seeds (2 tsp. per jar) or fresh dill heads (1 head per jar)
Please note: My source for this recipe is the Ball Blue Book.
Start by preparing jars and getting water in your canner heating. (See Water Bath Canning for full directions.)
Wash tomatoes. Cut into desired size. In the case of my small pear tomatoes, I simply cut in half. Full-size tomatoes can be cut in half or quarters, or smaller if you have very large tomatoes.
Combine vinegar, water, and salt in large pot. Bring to a boil and keep hot while you pack the jars.
Place garlic clove and dill in each jar.
Pack tomato pieces into jars and cover with vinegar solution, leaving 1/4-inch headspace.
Process according to water bath canning instructions.
You can eat these pickled green tomatoes right away if you like. But the flavor won't be there right away. If you let your jars sit for 4-5 weeks before opening, this allows the flavors to fully develop.
Wipe rims clean and process according to water bath canning directions.
Process according to instructions below. Be sure and adjust this time according to the altitude chart below.
Altitude Adjustments
Altitude Adjustments for Boiling Water Bath Canner
Altitude in Feet – processing time
0-1000 ft – 15 minutes
1001-3000 ft – 20 minutes
3001-6000 ft – 25 minutes
6001-8000 ft – 30 minutes
8001-10000 ft – 35 minutes
For more information on why this is important, see this altitude adjustments page.
What do you eat with pickled green tomatoes? How do you use them?
You just eat them as a condiment, just like pickles. Or if you can, chop them up and add them to sandwich spread. We mix tuna, finely chopped pickles, and some miracle whip, grated cheese, a little salt and pepper and serve it on toast. You can also chop them and add to an egg casserole or omelette.
Related Pages
---
Page last updated: 7/18/2020
Home › More Pickling recipes › Pickled Green Tomatoes Recipes
Page last updated: 7/18/2020.