This page includes two recipes for pickled peppers. Both can be processed safely in a Water Bath Canner.
The first one I call "pickled pepper rings" is my favorite. It is like a pepperoncini that you purchase commercially. The other is for any peppers you may have; it has garlic and just a bit of sugar to sweeten it up. I wouldn't say it is super sweet. I also include instruction on peeling peppers if you need to, see the second recipe.
Both recipes are good. Try them both and see what you like better.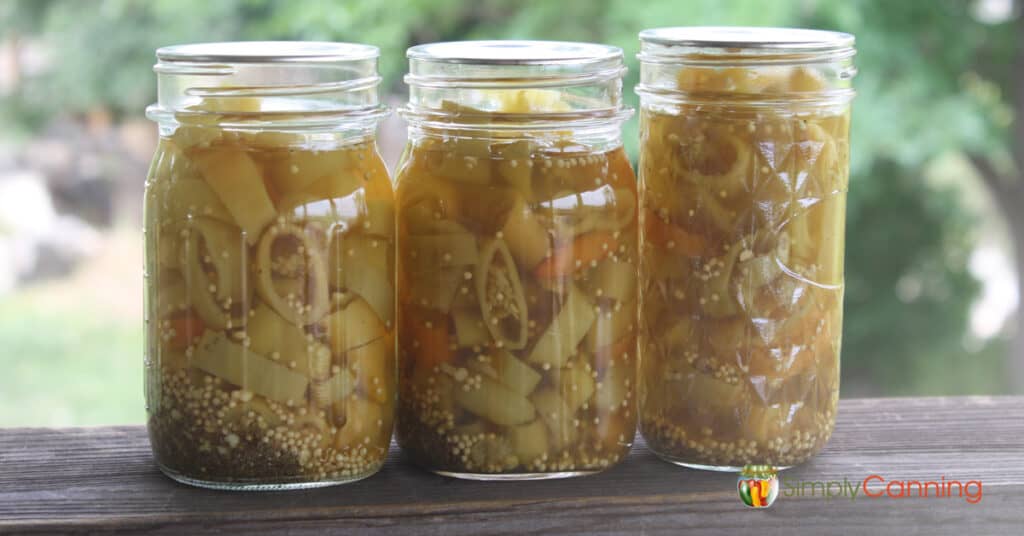 Note: The format of this page is in two sections. At the top I've got explanations and tips along with basic steps. Towards the bottom, I've listed the recipes and steps, in short and sweet format!
If you just want to get to the point…scroll on down to the recipes.
If you want all the info with tips and explanations, keep reading!
The first (my favorite recipe) is a super easy pickled pepper rings recipe. No skinning needed. Just slice and pack. My favorite peppers for this are banana peppers. We then use these on omelets in the mornings. But you can substitute hotter peppers if you like.
Pickled jalapeno peppers, hot peppers, mild peppers like anaheim, even sweet bell peppers can all be used. Remember, using jalapenos will give you a mighty hot product! Heat intensity can be adjusted by mixing a blend of part hot and part mild peppers. The more hot peppers you use will result in a hotter product.
Garden fresh is always best!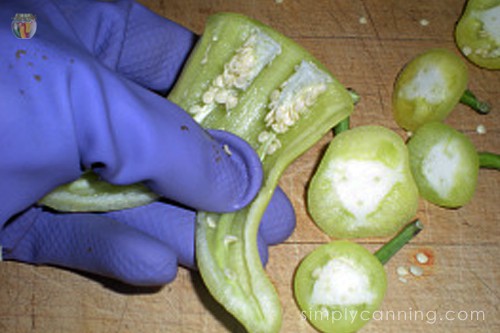 Note: If you are working with hot peppers be sure and wear gloves. The peppers have oils that will burn your skin. There is an oil in the pepper that will burn your hands (ask me how I know!). It can really hurt your eyes if you should accidentally rub them.
In fact, I did indeed wear gloves to slice these mild peppers up…just in case. :0)
Short story: One time I was making tomato salsa. We like a mild salsa so I only had a few hot peppers to chop and seed. I decided not to wear the gloves and just be quick and wash my hands right away.
I am not sure if these peppers were extra hot or what, but…that was a mistake I am sure I will not be repeating. My hands burned all evening. By morning, they were fine, but I'd like to spare you a miserable evening.
Pickled Peppers Rings Tips & Tutorial
Wash peppers well and remove stem ends. If using bell peppers, remove seeds and centers. Slice peppers into ¼-inch thick rings. I decided to do some jars with specific types of peppers. For example one jar had all bell peppers, another all anaheim. I also like mixing them up too. It is just your preference.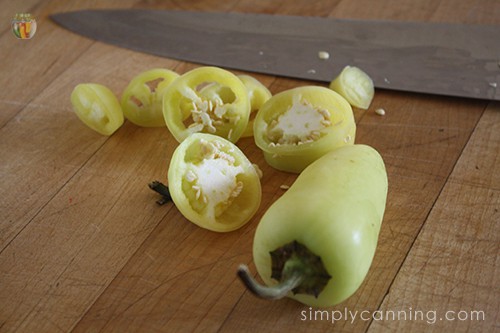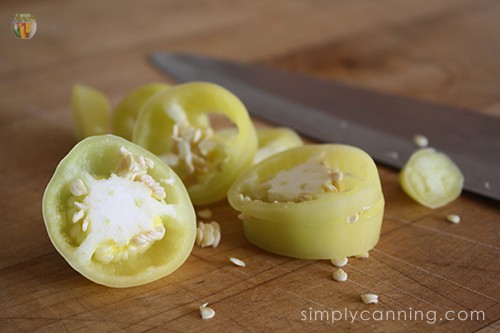 Place celery seed and mustard seed in each jar. This recipe is for pints or half pints. Quarts are not recommended. Pack peppers into jars, leaving 1/2-inch headspace.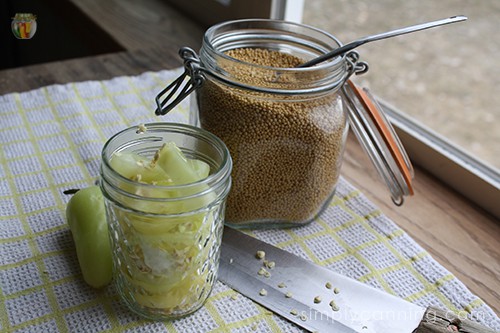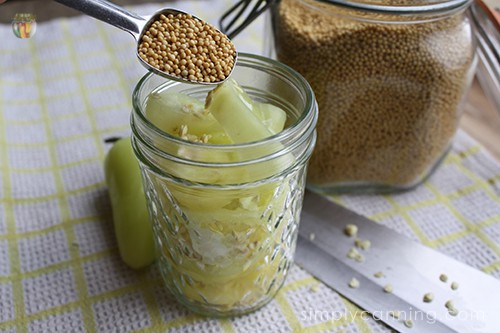 In a large pot, combine the cider vinegar, water and salt. Geat to boiling. TIP: Make your brine right in a teapot. It makes it easy to pour the brine into your jars. No ladle needed. Much less dripping and mess.
Cover your peppers with vinegar solution, leaving 1/2-inch headspace.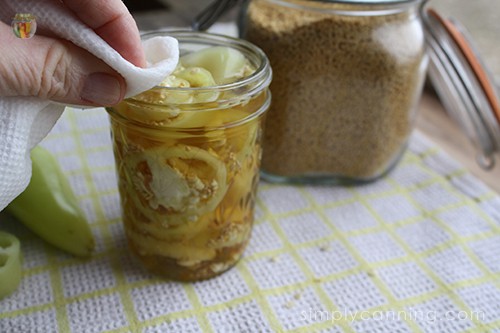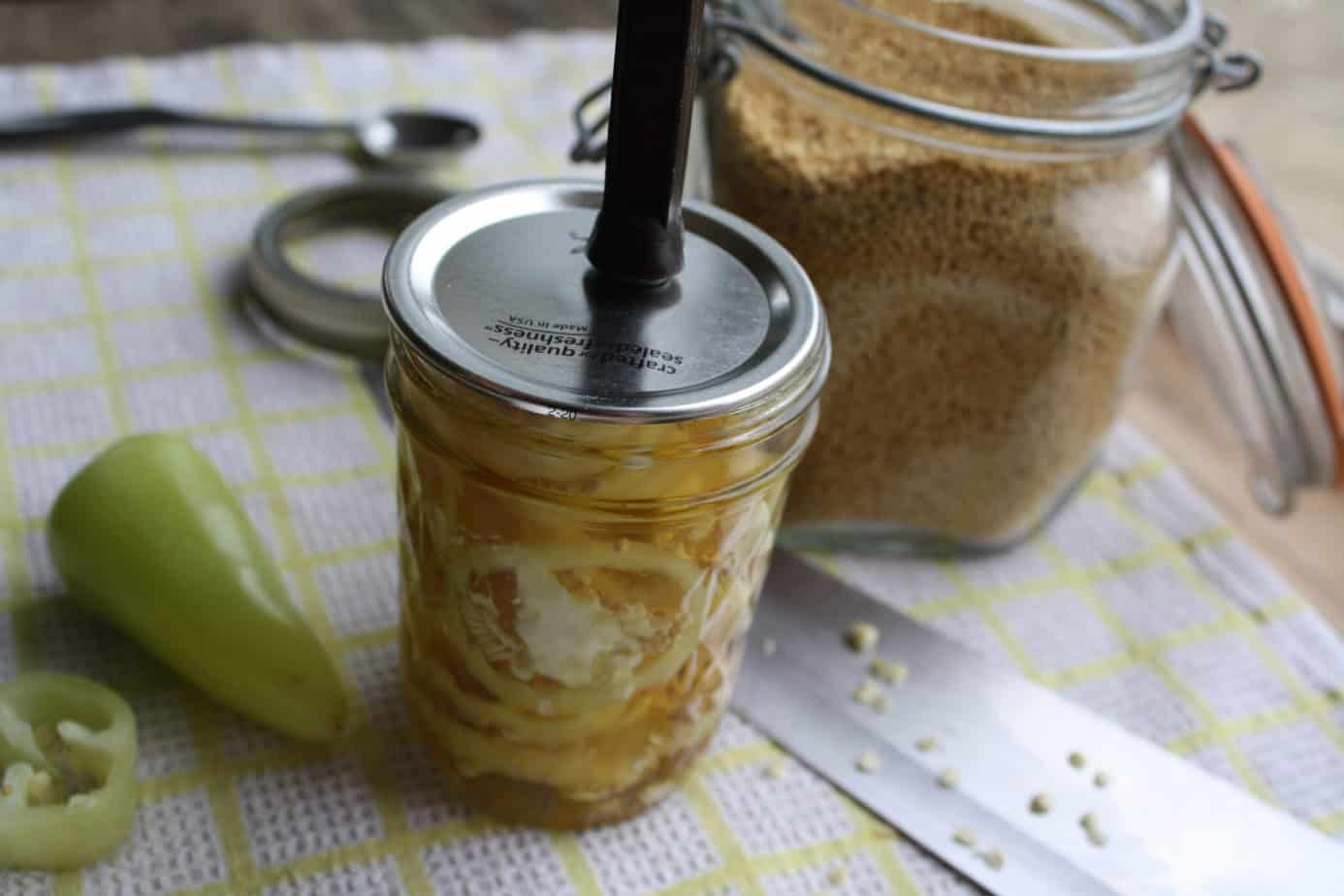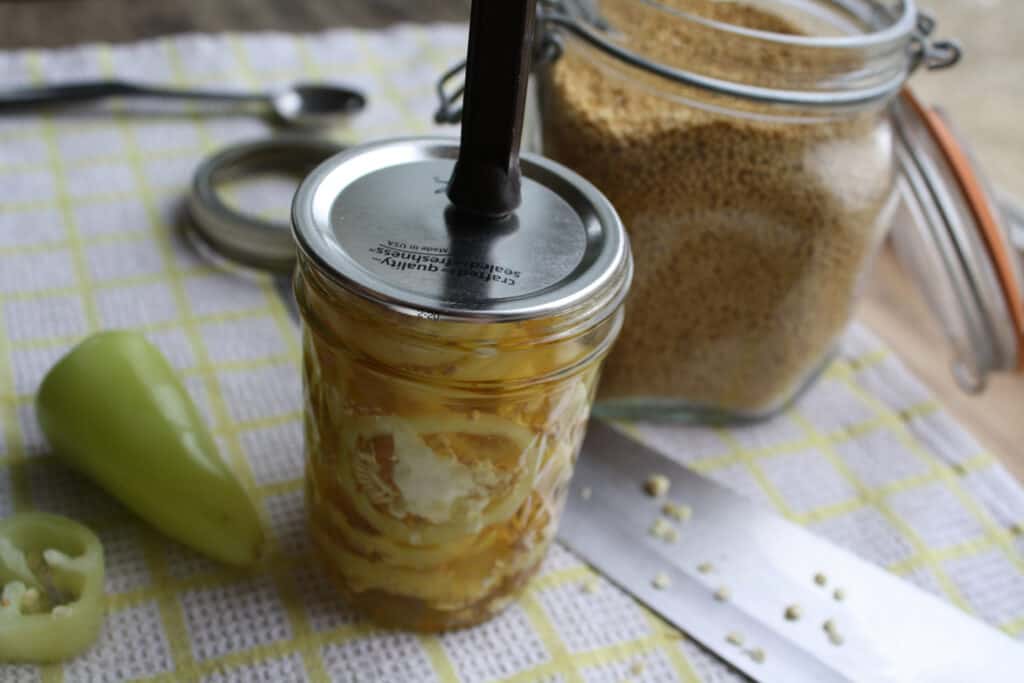 Release air bubbles using a small plastic utensil. Orange peelers work perfect for this. Wipe off the rims of your jars so no seeds or food particles interfere with the lid sealing. Then process according to water bath canning instructions found below.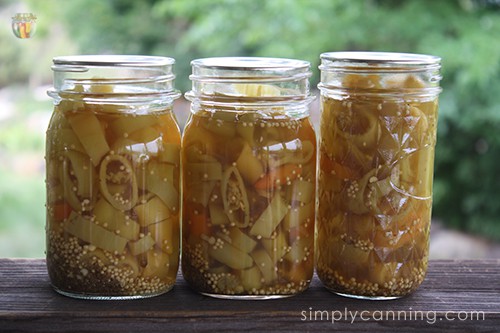 Here's the short and sweet version.
Canning Pickled Peppers
Start by preparing jars and getting water in your canner heating. (See Water Bath Canning for full directions.)
Gather your canning supplies:
large pot to make vinegar solution
large bowl
large spoons
sharp knife
towels, dish cloths, potholders
Ingredients:
2½-3 pounds mild peppers
5 cups cider vinegar
1¼ cups water
5 teaspoons canning salt
2 tablespoons celery seed
4 tablespoons mustard seed
Wash peppers and remove stem ends.
Slice peppers into 1/4-inch rings
Place 1/2 T celery seed and 1T mustard seed into each pint jar.
Pack jars with sliced peppers, leaving 1/2-inch headspace.
Combine cider vinegar, water, and salt. Bring to a boil.
Pour over peppers. Leave a 1/2-inch headspace.
Remove air bubbles, clean the rims of your jars, and place the lids and screw bands on.
Process
Time given is for elevation of 1000 feet or less. Don't forget to adjust your time for your altitude. See the chart at the bottom of this page.
Process pickled peppers in pints or half pints 10 minutes. Quarts are not suggested.
---
Pickled Peppers Recipe #2
This next pickled peppers recipe is a little different. You'll need the same basic supplies as for the first recipe. Ingredients are a little different.
You can leave your peppers whole, or if you have larger peppers, you can quarter or halve. And of course, if you want rings, by all means cut rings.
Remove cores and seeds.
I do this by cutting of the top, if needed slicing down the side, and then pulling out the centers with my hands. (Don't forget the gloves!)
---
How to Remove the Skins from Tough Skinned Peppers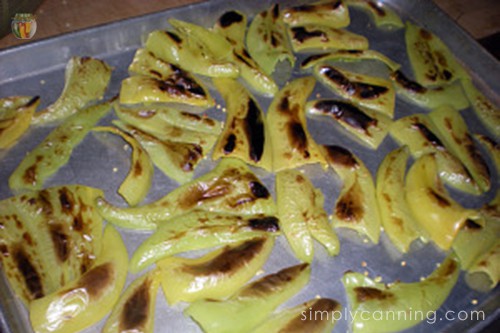 Next, you'll want to remove the skins from some large or tough skinned peppers. Flatten whole large peppers like anaheim. Cut down one side and open up the pepper. Cut 3-4 slits through the skin of each pepper and heat blister the skins.
Arrange peppers in a single layer on a cookie sheet and place under the broiler for 6-10 minutes.
Check them and rotate the done peppers with the ones on the edges. The centered peppers always get done sooner. When you see the skins blister and blacken, they are done.
Remove the peppers from the oven and place in a pan and cover with a damp cloth or a lid. This keeps them moist and will steam the peppers, making them easier to peel. Let them steam for 5-10 minutes.
Peel each pepper. If they have steamed well, the skins should peel back easily. If not, cover them again and allow them to steam for a few more minutes.
---
Pack your skinned peppers in the jars loosely. These may be soft because of being broiled. You don't want to pack it down tight. Just loosely fill your jar.
Combine and heat other ingredients to boiling and simmer 10 minutes.
Remove garlic. Add hot pickling solution over peppers, leaving 1/2-inch headspace.
Wipe the rims clean, remove any air bubbles and place your lids. Pack and process according to water bath canning instructions.
Pickled Peppers Recipe
Love this recipe with banana peppers. Making pickled pepper rings.
Canning supplies:
large pot to make vinegar solution
large bowl
large spoons
sharp knife
towels, dish cloths, potholders
Ingredients:
4 lbs hot long red, green, or yellow peppers
3 lbs sweet red and green peppers, mixed
5 cups vinegar (5%)
1 cup water
4 tsp canning or pickling salt
2 tbsp sugar
2 cloves garlic
Wash peppers and remove stem end. Slice or leave whole.
Peel peppers if needed.
Pack jars loosely with sliced peppers. Leave a 1/2-inch headspace.
Combine and heat vinegar, water, salt, sugar, and garlic to boiling. Reduce heat and simmer 10 minutes.
Pour over your peppers. Leave a 1/2-inch headspace.
Remove air bubbles, clean the rims of your jars, and place the lids and screw bands on.
Process
Time given is for elevation of 1000 feet or less. Don't forget to adjust your time for your altitude. See the chart at the bottom of this page.
Process these in pints. Quarts are not recommended.
Process pickled peppers in pints or half pints 10 minutes below 1000 feet.
Process 15 minutes if you are between 1000 – 6000 feet.
Process 20 minutes if you are above 6000 feet.
---
Altitude Adjustments
Altitude Adjustments for Boiling Water Bath Canner
Altitude in Feet – increase processing time
1,001-3,000 – increase 5 minutes
3,001-6,000 – increase 10 minutes
6,001-8,000 – increase 15 minutes
8,001-10,000 – increase 20 minutes
For more information on why this is important, see this altitude adjustments page.
Pickled Pepper Rings Questions from My Inbox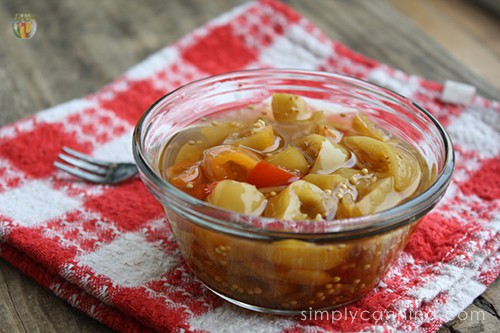 ---
Pickled Jalapeño Peppers, one jar recipe?
by Jennifer
I was looking for a recipe for pickled jalapeño peppers but was unable to find one for a "one jar" recipe.
I have a 12oz jar I will be using to try my first pickling pepper experience and I was hoping you may have a recipe for me to use. Any help on instructions would be great as well.
I am thinking of starting a hobby with this and your website has helped a bunch! thanks
Answer:
Hi Jennifer,
What you could do is prepare your peppers like the directions say and fill your one jar. Then prepare the vinegar solution. Simply cut back on the quantity needed for the whole recipe.
You'll have to estimate the amount of liquid you need for the one jar with the amount that the whole batch will make. Does that make sense? In other words, if you have enough peppers for one pint jar and the recipe makes enough pickling liquid for 4 pint jars, cut the recipe in 1/4.
Then if you want to store it on the shelf you'll need to go ahead and process for the full time recommended. Don't cut the time back.
If you want to keep it in your fridge, there is no reason to process. You can just keep it in the fridge for several days to a couple of weeks to give it a chance to pickle and then enjoy.
When you are pickling jalapeños, skinning the jalapeño is optional. I'd probably not skin them. But be sure and take off the stem and seeds. (Remember to wear gloves.)
Hot Pepper Canning ?
by Mike
(Toms River, NJ USA)
I hot bathed 10 jars of assorted hot peppers and did NOT remove stems or seeds . Should I open all the jars and redo the process removing all stems and seeds ? I hope not.
Answer:
Mike, you don't need to reprocess because of the seeds or stems. You will simply have much hotter peppers.
However, I must warn that peppers are considered a low-acid food and must be pressure canned. The exception to this is if you did pickled peppers.
If you did indeed water bath the peppers without any acidification (like vinegar in pickled peppers), I would not consider them safe.
If you processed them less than 24 hours ago, you could recan them and reprocess in a pressure canner. However…I'm betting they would be pretty mushy.
You might try freezing the peppers. Drain them and freeze in Ziplock bags. They may still be a little mushy, but the flavor will still be there. It is better than tossing them out.
This is only if you've processed them less than 24 hours ago.
I hope that helps…and I hope you were pickling them!
by Tina Janis
(Oxford, Ga)
"I am canning Jalapenos. I found a recipe that uses vinegar and preserving salt (boil vinegar add salt, solution to the jarred sliced Jalapenos). I have stuffed and filled the jars, put the lids on and now need to process (put in the pressure canner). Can that wait until tomorrow? Can I pressure can in the morning? I have about 21 jars to do. What do you think?"
Answer:
No, you can't wait until the next day. The reason is the jars need to be hot when they go into the canner. If you wait, you'll need to dump the jars, reheat the vinegar solution, and repack your jars…basically start over.
My suggestion is to go ahead and just push through and process them now.
Line up your beautiful jars on the counter in your clean kitchen when you are done. When you wake in the morning, you will be so pleased at your jars, you will be glad you finished.
Do you have to pressure can them??
by: Anonymous
"Or is it ok to do a hot water bath??? The recipe that I found has to use a hot water bath. Thanks!"
Sharon's Follow-Up Answer: I can't comment on the safety of your recipe, but if it is all vinegar and not diluted with water, I'd presume that it would acidic enough to just do a water bath.
How do you use home canned pickled peppers?
Someone asked on our canning facebook group about how to use all the pickled peppers she made. Goodness! She got LOTS of answers…
"Mississippi pot roast, google it"
"Good on salad and pizza"
"Bloody Mary's"
"Crock pot beef and peppers italian"
"Pizza or pinto beans"
"with cheese in my sandwich maker, tons of them…yum!"
"Crockpot Italian beef: beef roast, whole pint of pickled peppers and two pkgs or equivalent Italian seasoning mix. Dump in crockpot and cook on low til meat falls apart. Delish with provolone on hoagie buns"
"Christmas gifts"
"omelets Mmmmmmm"
"I grind them up and add them to sour cream for chip dip"
"With cream cheese on triscuits. Yum"
"Nachos. We've put in Crock-Pot when making pulled pork sandwiches."
"Add to mac n cheese, and lasagna or spaghetti sauce"
---
Related Pages
Pickle relish is good on so much more than burgers and hot dogs! Add a few jars to your pantry to enjoy in salads, pasta dishes, and more.
Add some quick pepper flavor or spice to chili, soups, and omelettes with home canned peppers.
Old-fashioned relish recipe uses fresh corn and vegetables to make homemade "pickled corn."
Pin this to find later!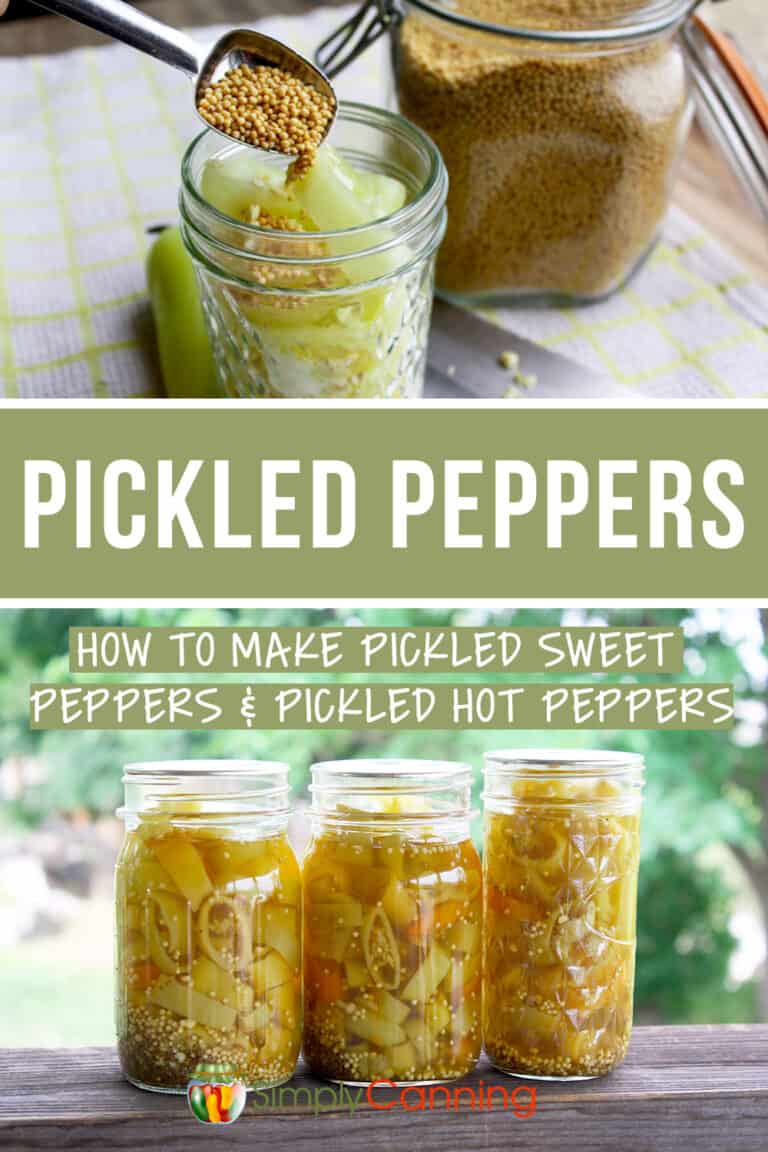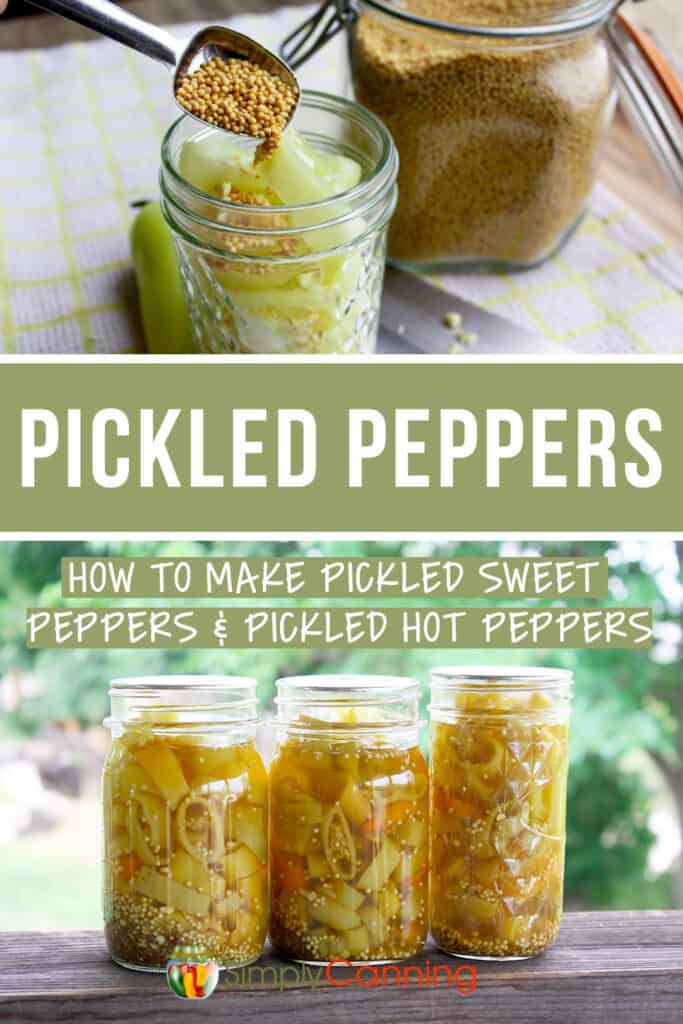 Source: NCHFP Pickled peppers
Page last updated: 5/12/2021