With Sharon Peterson
This bread and butter pickle recipe is easy to make. Great for topping sandwiches or just munching. A great sweet pickle to add to potato salad recipes too.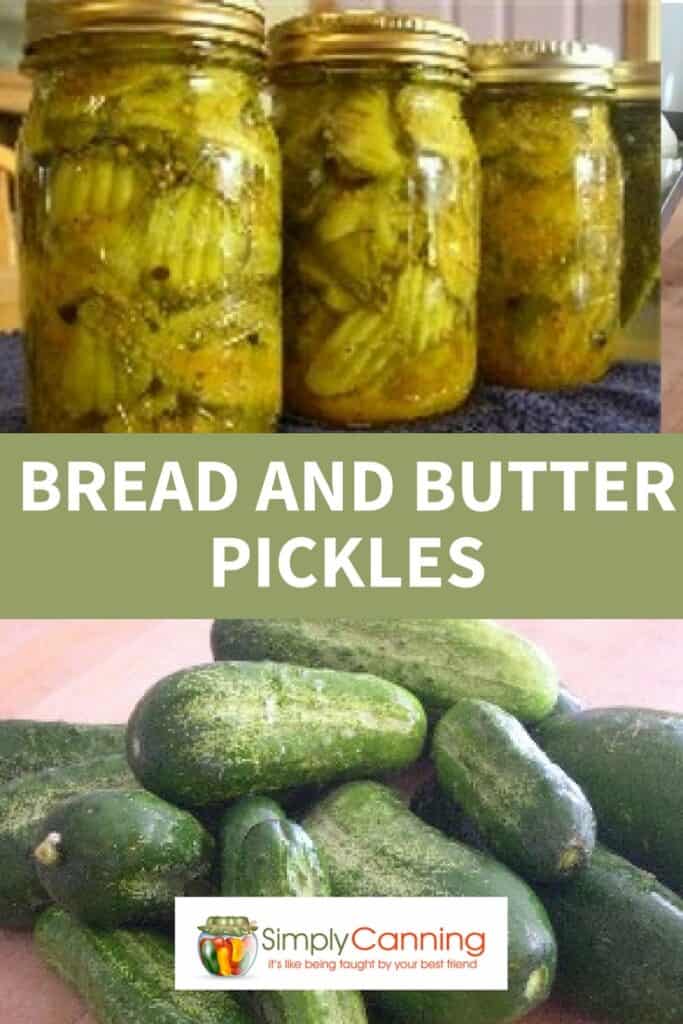 Prepare
Gather your canning supplies
large pot
bowls
large spoons
sharp knife
towels and dish cloths
ladle
optional crinkle cutter or mandolin slicer
Ingredients
4 pounds pickling cucumbers,
2 pounds onions
1/3 cup canning salt
3 cups vinegar
2 cups sugar
2 T mustard seed
2 tsp turmeric
2 tsp celery seed
1 tsp ginger
1 tsp peppercorns
Start by preparing jars, and get water in your canner heating.
(see Water Bath Canning for full directions)
Procedure
Wash cucumbers. Thinly slice both cucumbers and onions.
I like to use my pampered chef crinkle cutter for making crinkle slices.
I also have a mandolin slicer that I used this time. t is great for making thin even slices. It comes with a straight edge too but for this purpose I like the crinkly cuts.
Combine layers of cucumber onion and salt to a large bowl. Cover with Ice cubes and let sit for 1 – 2 hours.
Place vinegar, sugar, mustard seed, turmeric, celery seed, ginger and peppercorns in a large pot and bring to a boil.
Drain and rinse cucumber and onion. Add to vinegar mixture and return to a boil.
Pack into hot jars leaving 1/4 inch head space.
This will make about 7 pints. Remove air bubbles with a plastic knife or other small tools. I like to use an orange peeler.
Wipe rims clean and process according to water bath canning directions.
This makes 6 pints.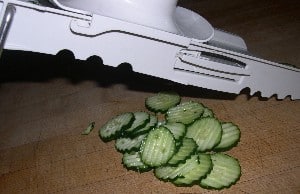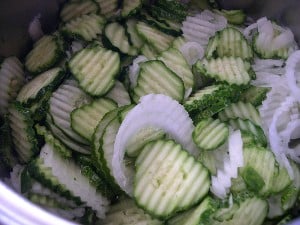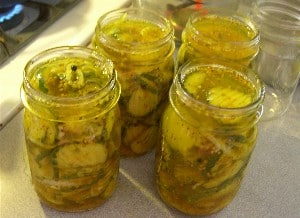 Process
processing time is the same for pints or quarts
Be sure to adjust processing according to your altitude. For more information see this altitude adjustments page.
Pints or Quarts process
Elevation 0-1,000 process 10 minutes
Elevation 1,001-6,000 process 15 minutes
Elevation above 6,000 process 20 minutes
Adapted from the Ball Blue Book
More Pickle and Condiment Recipes
Members' Extra: Access Your Video Tutorial in Your Members Area
Canning school members, click here to log in.