With Sharon Peterson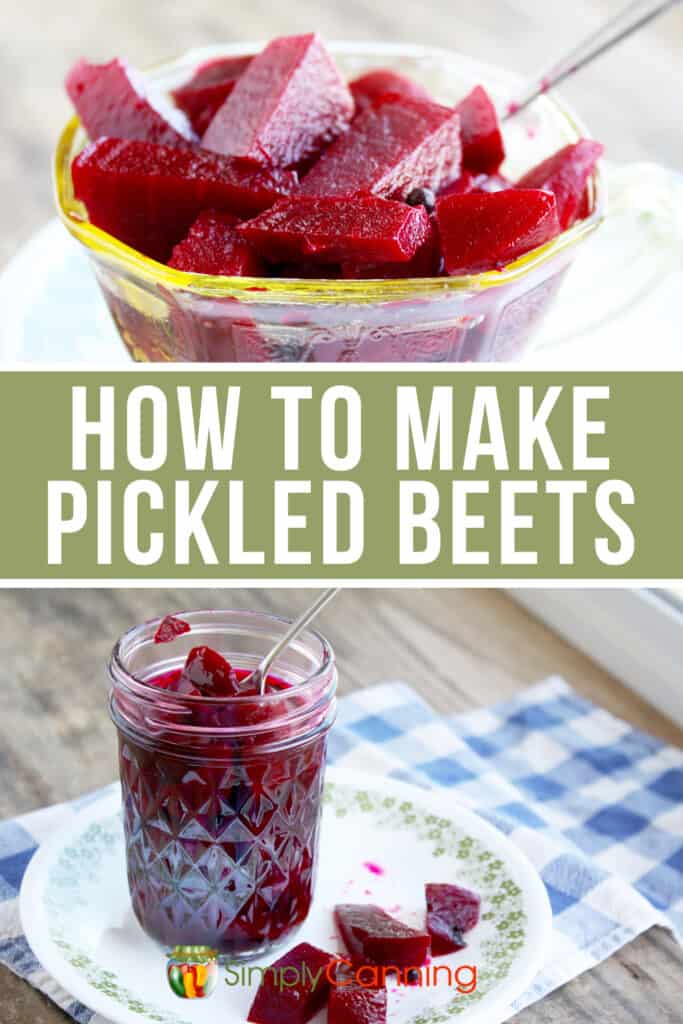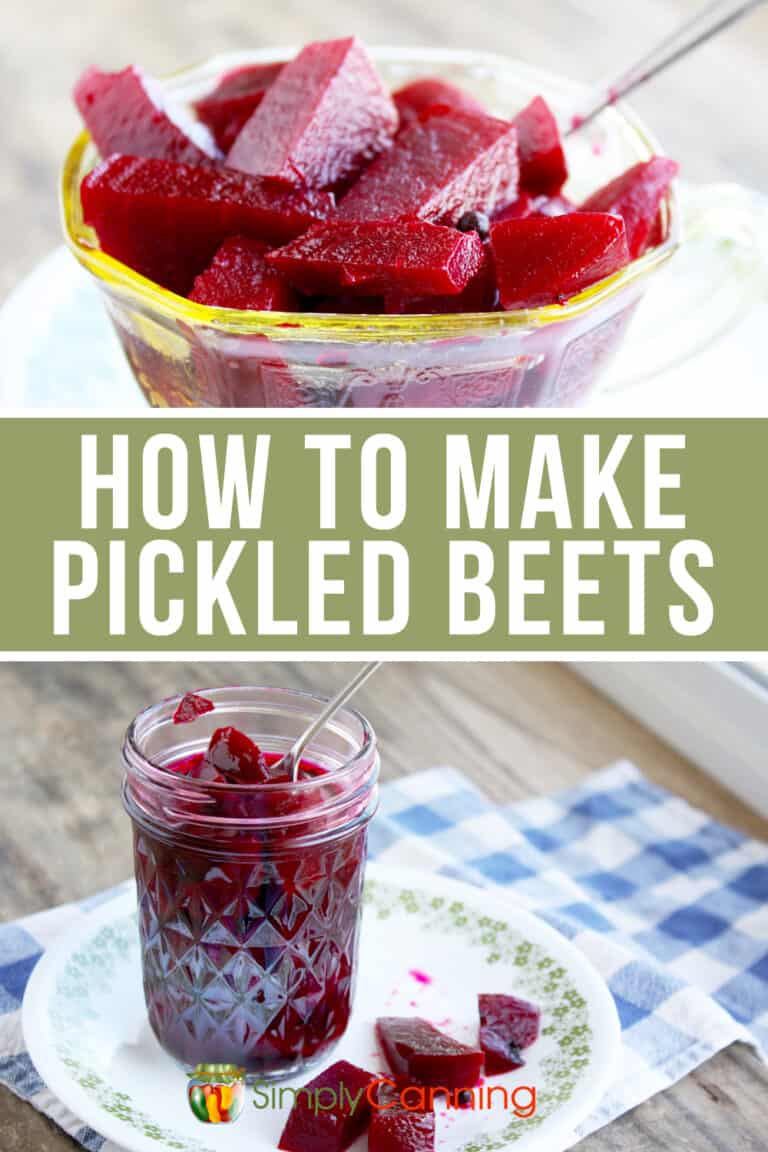 A hint of cinnamon makes this pickled beets recipe a winner. If you don't like cinnamon, just leave it out. The spices can be adjusted safely but not the vinegar ratios. Here's how to make beet pickles.
Frequently Asked Question: Why Waterbath?
Just below this is the recipe and directions, but first I wanted to address a common question. Why don't pickled beets need to be processed in a pressure canner?
I'm so glad you asked! Because that means you are paying attention and being safe!
When canning beets (not pickling) you need to process in a pressure canner.
But with canning pickled beets, vinegar is added and acidifies the beets. This acidity makes them a high-acid food. Therefore, the pickled beets recipe can be processed safely in a Waterbath Canner.
This recipe is for pints or quarts…but I suggest pints.
Canning Pickled Beets
Gather Your Canning Supplies:
large pot
bowls
large spoons
sharp knife
towels and dish cloths
ladle
Ingredients:
Beets – enough to make 3 quarts
2 cups sugar
1 stick of cinnamon
1T whole allspice
1 1/2 tsp salt
3 1/2 cups vinegar
1 1/2 cups water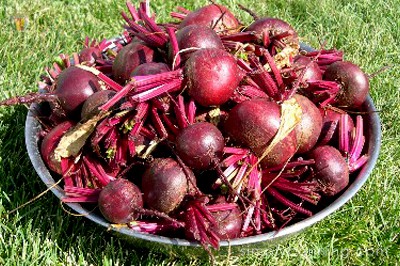 Start by preparing jars. Get water in your canner heating.
(See Waterbath Canning for full directions.)
How to Make Pickled Beets
Wash beets.
Cut stems to about 2 inches, and leave on the taproot. This will help keep the color when you boil the beets to loosen the skins.
Skin beets.
Cook beets in boiling water until skins will slip off.
This may take 15 to 20 minutes depending on the size of your beets. It helps to scrape a spoon against the beets while cooking to see when the skins start to scrape off easily.
I often have a variety of sizes of beets. I try to sort my beets and cook those of similar size together. The larger ones will take a little longer to cook.
Remove from water and cool in very cold water. When cool enough to handle, use your hands to slip the skins off. Use a knife for the stubborn spots. Cut off the tops and taproots at this point. See how to peel beets page for more information.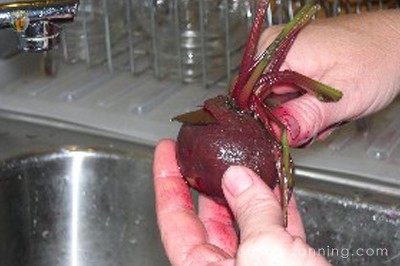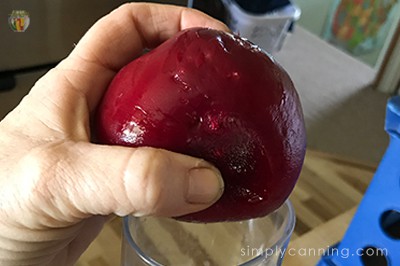 Slice or chop your beets to the desired size.
I usually slice or cut into chunks.
Prepare the pickling solution.
Combine vinegar, water, sugar, cinnamon, allspice, and salt.
Bring to a boil. Simmer for 15 minutes. Remove cinnamon sticks.
Pack prepared beets into hot canning jars, leaving 1/4-inch headspace.
Cover beets in jars with hot vinegar solution, leaving 1/4-inch headspace. Remove air bubbles with a plastic knife or other small tool. I like to use an orange peeler.
Wipe rims clean and process according to waterbath canning directions.
This makes 6 pints.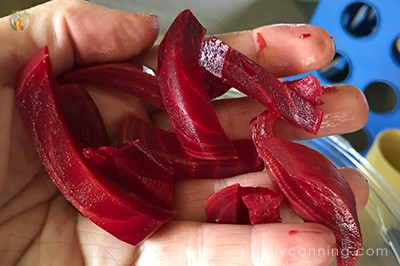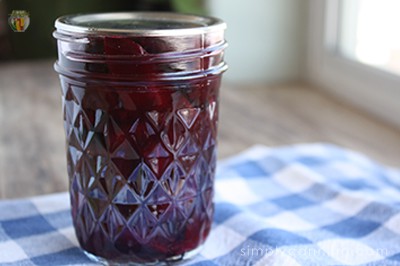 Processing Times
Pints or quarts – process for 30 minutes. (Adjust this time according to your altitude on the chart below.)
Altitude Adjustments
Altitude Adjustments for Boiling Water Bath Canner
Altitude in Feet – increase processing time
1,001-3,000 – increase 5 minutes
3,001-6,000 – increase 10 minutes
6,001-8,000 – increase 15 minutes
8,001-10,000 – increase 20 minutes
For more information on why this is important, see this altitude adjustments page.
This recipe is adapted from the Ball Blue Book.
How do you eat pickled beets?
Pickled beets are lovely just as a side dish with any sort of roasted meat. Also makes a great addition to a summer barbecue, as it is not something more to cook. 🙂 I love to slice it up and cut into small pieces and add it to my salads as well. Try pickled beets with different things and see what you like!
How long do I need to wait before trying my pickled beets? I'm impatient. 🙂
You can actually eat it right away…but you might be disappointed they won't be very pickly. The beets do need some time to pick up on the pickling flavors. I've never tested it, so I can't say for sure how long you need to wait for best flavor. I'd advise waiting at least a week though…longer is probably better (i.e., more time to develop deeper flavor).
Related Pages
Other Pickles & Condiments
Members' Extra: Access Your Video Tutorial in Your Members Area
Canning school members, click here to log in.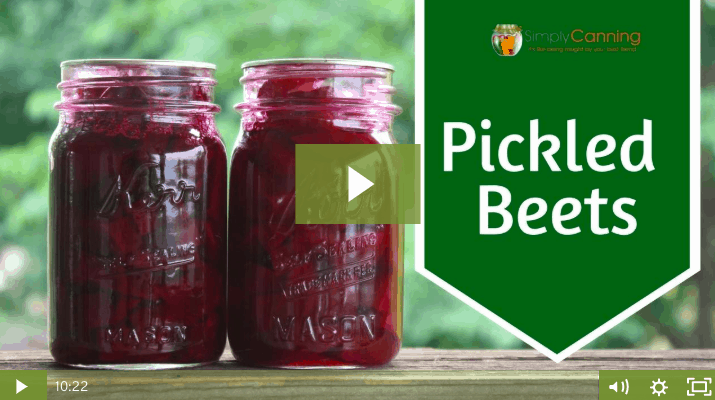 Home › Pickle Recipes › Pickled Beets
Page last updated: 2/21/2020.