Pickled Carrots Recipe: A Crunchy, Fun Food
This page may contain affiliate links. More Information.
Pickled carrots are a great, colorful addition to any dinner table. I love the cinnamon flavor with the carrots in this pickling recipe.
Use a crinkle cutter for a fun look to your jars. I like the Pampered Chef crinkle cutter because it is rounded and you can roll it to slice your foods. But any one will do.
Presentation means a lot. Put these in a gift basket with other pickled vegetables for a pickle lovers gift.
Pickled carrots can be processed safely in a water bath canner.
This recipe yields about 6 pints.
Let's learn how to pickle carrots!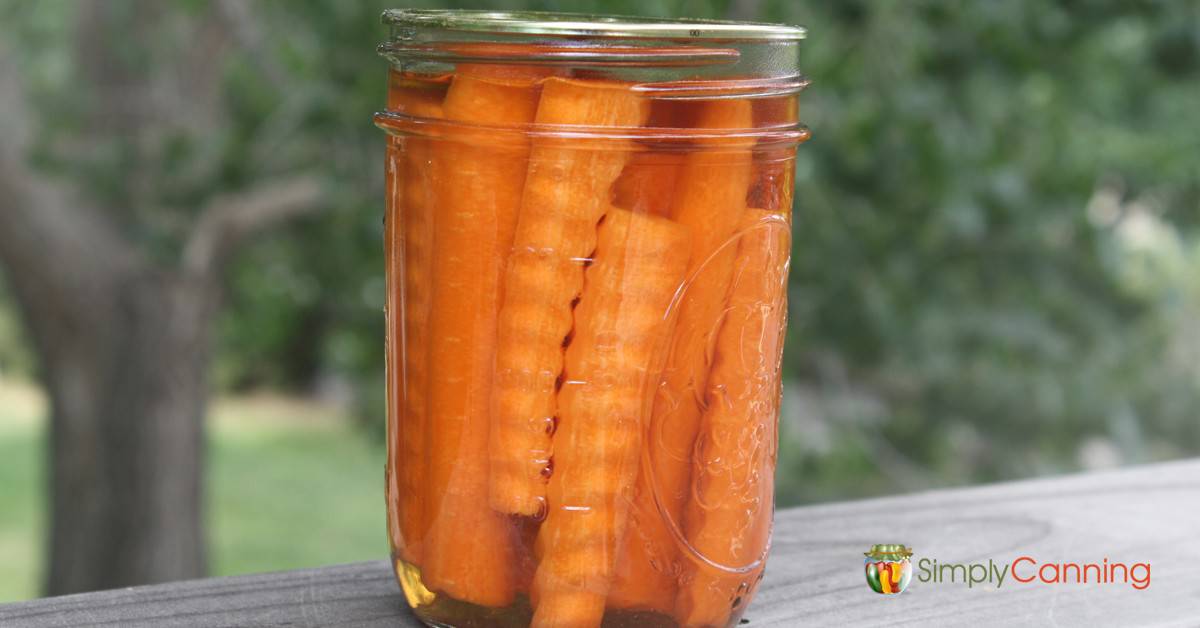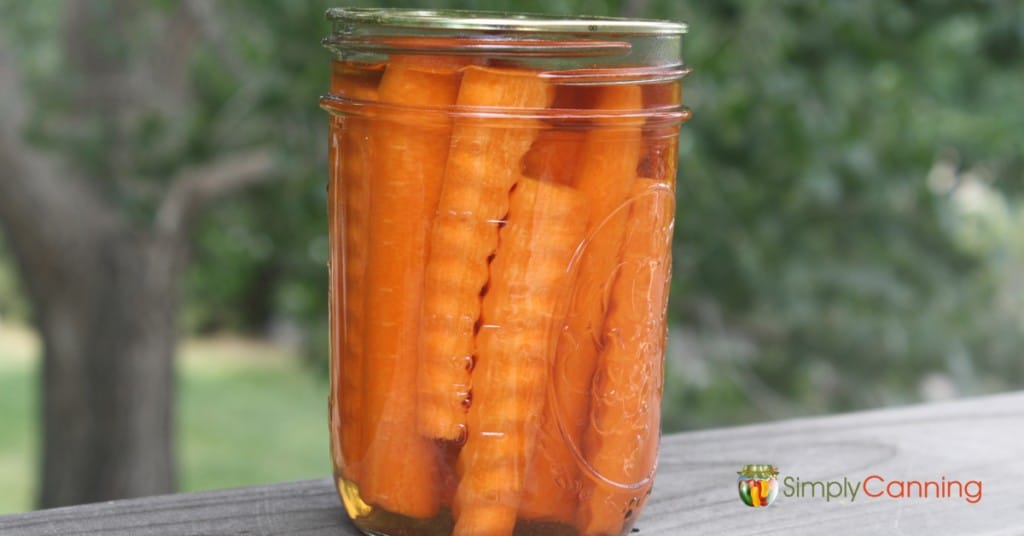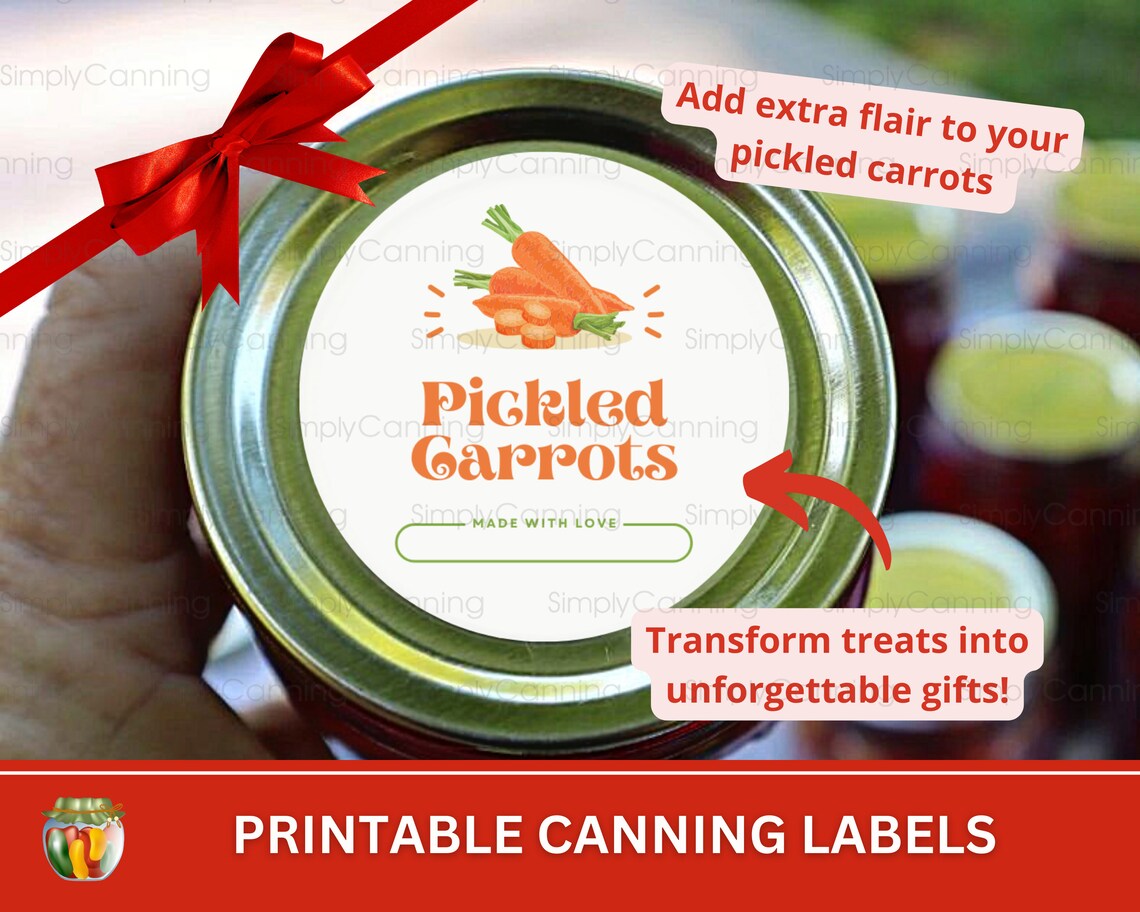 This Page Includes
Pickled Carrots: Extended, Step-By-Step Directions
Start by preparing jars. Get water in your canner heating. (See water bath canning for full directions.)
Canning Supplies
water bath canner
canning jars, lids and rings
jar lifter and canning funnel
large pot to simmer carrots
optional tea kettle for brine
sharp knife
Ingredients
5 pounds carrots
5 1/2 cups vinegar
1 cup water
2 cups sugar
2 tsp. canning salt
2 Tbsp. pickling spices
2 cinnamon sticks
How to Make Pickled Carrots
Peel carrots. Cut carrots to desired size. (Small carrots may be left whole but still must be peeled)
Do You Have to Peel Carrots Before Pickling?
I must warn here that all official directions I find say to peel carrots. None of them mention just scrubbing without peeling. ("Official" meaning from state extension services.)
This is because it is a root crop. The bacteria that can cause botulism can be found in the soil, so it may be a higher risk of botulism.
It's easy enough…go ahead and peel your carrots.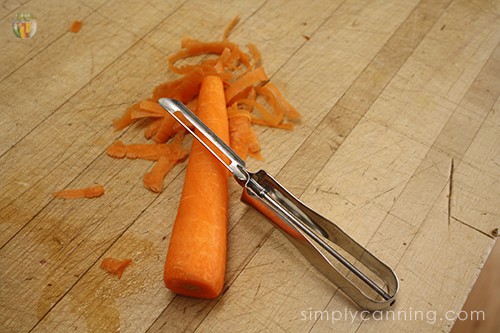 Cut carrots to desired size. (Small carrots may be left whole.) Using a crinkle cutter makes your jars look very professional, just for fun.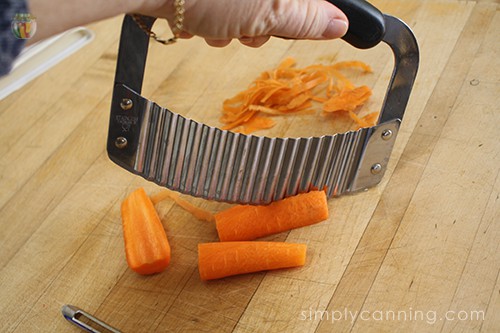 You may also make pickled carrots in rounds if you prefer. I like the sticks.
Making Pickling Brine
Next, combine sugar, water, vinegar, and salt. Tie pickling spices in a cheesecloth bag and place in vinegar/water solution. Add cinnamon sticks.
Bring vinegar/water brine to a boil. Boil for 5 minutes.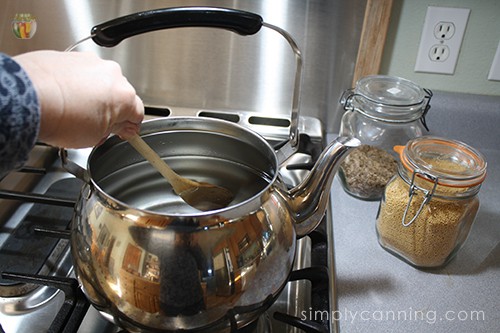 Here's a tip…make your pickling solution in a tea kettle. The kettle makes it easy to pour pickling solution into the jars.
You can do this in a pot if you don't have a kettle you want to use. You'll need a ladle…and some dishrags to wipe up spills.
This is a hot pack, so you will need to bring your carrots to a boil, and then reduce the heat and simmer until partially cooked.
You can simmer right in the pickling solution that you will be making. Or use a separate pot and add some of the brine there to cook your carrots. You want to simmer the carrots until just tender. About 10 minutes is recommended, and they will cook during the canning process also.
When you are packing your carrots in the jars, tongs can be helpful. The carrots are hot, but it helps to be able to arrange them. While packing jars, try to put several in with fat ends down, and then fit carrots in with narrow ends down. This fills your jars nicely.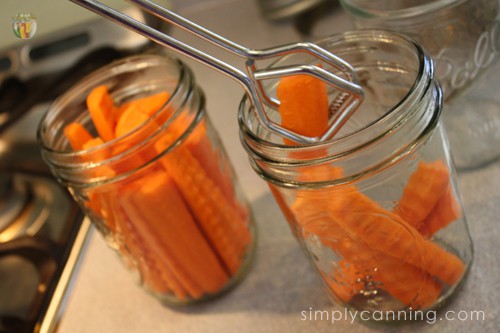 Next, pack carrots into hot jars, leaving 1/4-inch headspace.
Remove spice bag and cinnamon sticks from vinegar solution. Cover carrots with hot brine solution, leaving 1/4-inch headspace.
Wipe rims clean and place your lids. Process according to water bath canning directions. Use the times listed below.
Processing Time for Pickled Carrots Recipe
Process pints for 15 minutes, adjusting for altitude according to chart below.
Read more on why you need to adjust for your altitude here.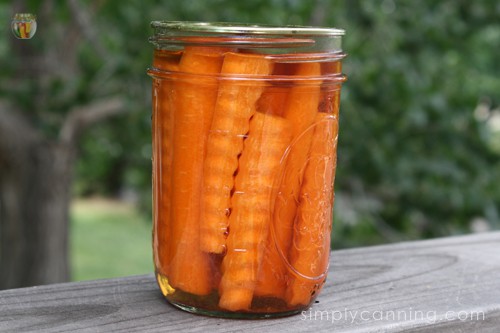 Pinnable Recipe Card
Pickled Carrots: Tips & FAQs
Do you have to cook the carrots? I made some spicy ones but put them in at room temperature, not cooked with garlic and spices. Then added the hot brine and added to a water bath for 20 mins
Yes, the tested directions start from a partially cooked hot carrot. You can add your own spices though. So that's the good news.
How do you eat pickled carrots?
Eat pickled carrots like other pickled vegetables, as a side for meat (for example). We also eat them straight from the jar! Mmmm.

I was just at a friends house the other day and she actually shredded pickled carrots and added them to her green beans to serve them. It added a nice color and a hint of flavor to the dish.
How long to pickled carrots last?
These canned pickled carrots will last for at least a year under proper storage conditions, providing they were processed safely and sealed correctly. However, the quality of pickles will degrade, so that's why it's recommended that you eat them within a year. If it's been over a year, don't put them in the trash yet! Just move them to the front and make a plan to use them soon.
How long before you can eat pickled carrots?
You can actually eat them right away…but you might be disappointed, because they won't be very pickly. The carrots do need some time to pick up on the pickling flavors. I've never tested it, however, so I can't say for sure how long you need to wait for best flavor. I'd advise waiting at least a week though…longer is probably better (i.e., more time to develop deeper flavor).
Pickled carrots without sugar?
The only tested pickled carrots recipe I know of does include sugar. I don't know of any recipes without sugar.
Related Pages
Who doesn't love those brightly colored jars when you open the pantry? Home canned carrots make for quick soups, stews, and side dishes!
I used to freeze or can carrots all the time, the last few years though I've found I use dehydrated carrots much more than the canned.
Pin This for Later!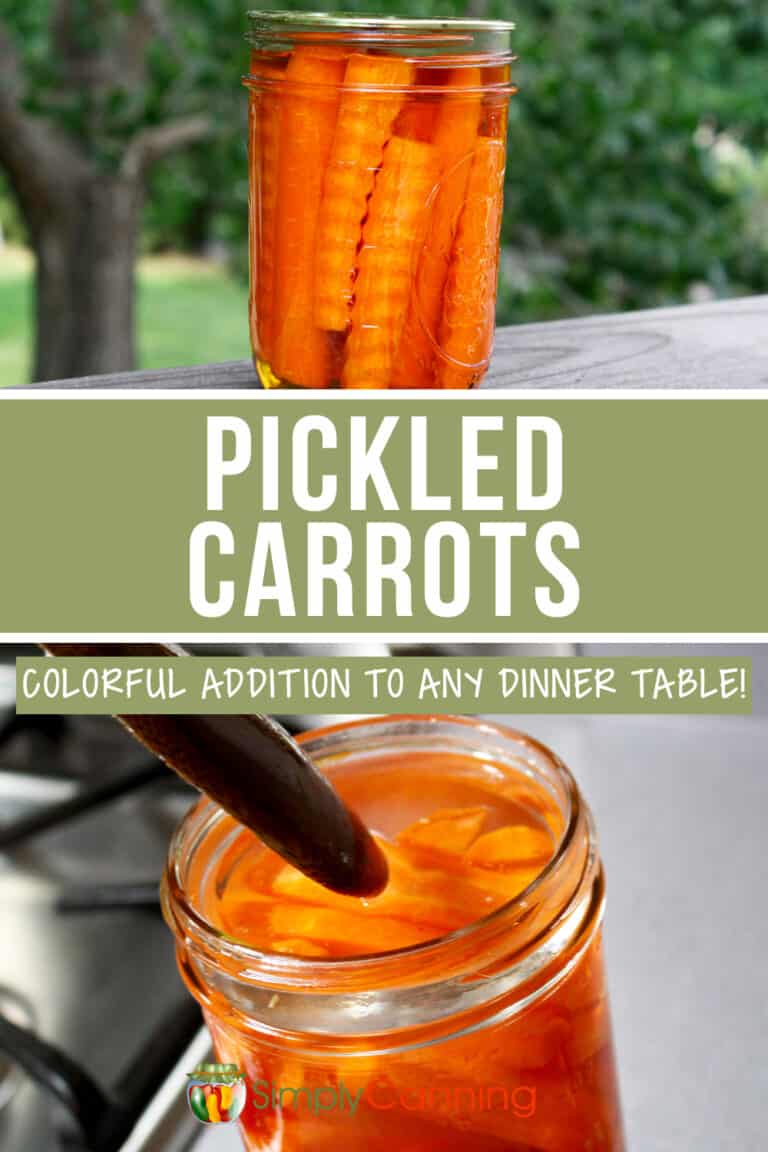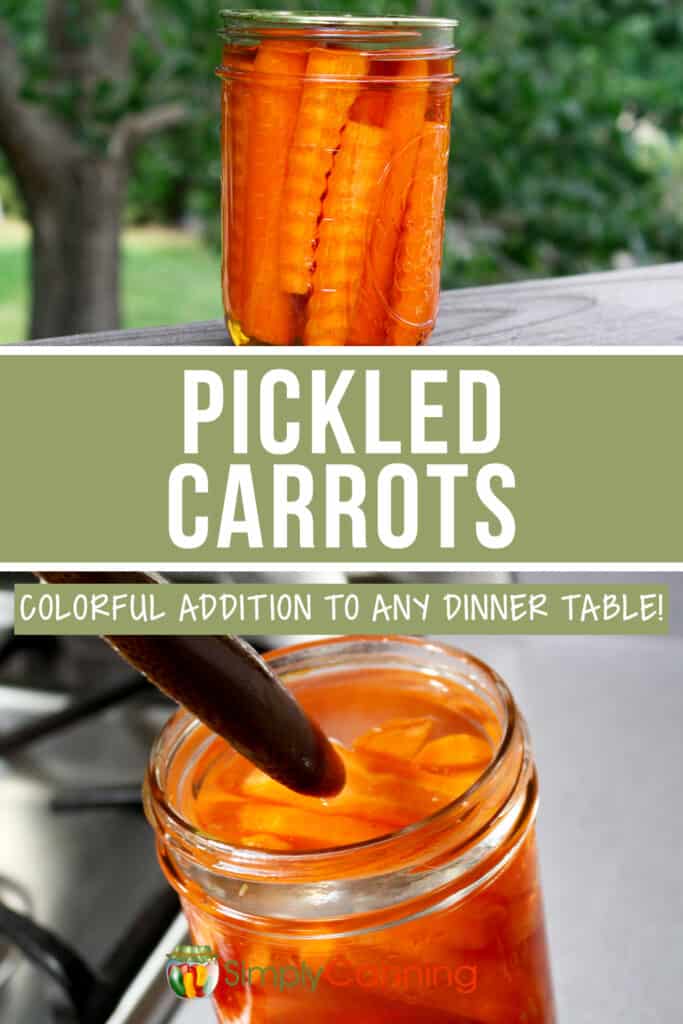 Source: The National Center for Home Food Preservation
Page last updated: 4/22/2021