Canning jar lids might seem a simple topic, but there are things to consider. What is suggested? What alternatives? How do you use canning lids? Where do you get them? Find out more in this canning jar lid guide.
Standard 2-Piece Metal Canning Jar Lids
The 2 piece canning jar lids that the USDA recommends consist of a screw band and a flat lid. I've also heard them called 'flats' or 'seals.'
Flats
These lids come in 2 sizes to match the opening of the 2 common canning jar mouth sizes.
Standard jar mouth opening is about 2-3/8 inches.
Wide mouth jars have openings of about 3 inches.
Screw Bands
The screw bands that hold the lids on the jars also come in the same 2 sizes: Standard and wide mouth.
How Canning Lids Work
There is a vacuum seal formed during the processing of your filled jars. The sealing compound you will find on the inner rim of canning lids sits against the jar and forms the all-important seal.
The screw band fits over the lid and screws down to hold the flat lid in place. When placing your screw band, you need to screw it down firmly, but you do not need to be too forceful. Finger tight is fine. Finger tight is what everyone says. What does that mean, anyway? I get it! Here is a video demonstration showing just what it means to get your canning jar lids finger tight.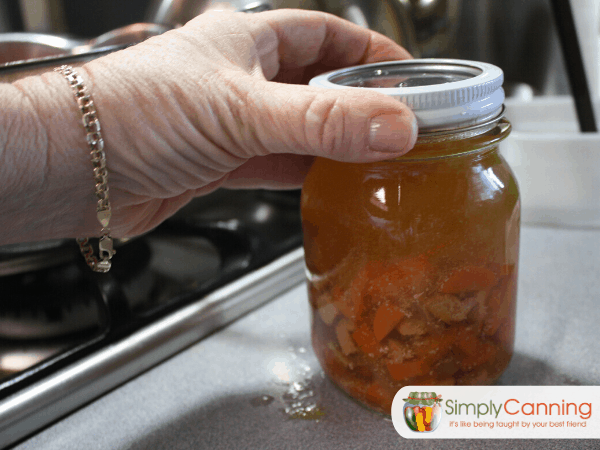 As the food in the jar is being processed, oxygen will be pushed out of the jar. The sealing compound in the lid warms and softens fitting itself tightly against the jar. As the food cools, the contents shrink and the lid will be sucked down and the rubber seal will form a tight seal protecting the food from any further contamination.
Alternatives to One-Use Lids? Plastic Reusable & Weck Lids.
Reusable Canning Lids
With the current shortage of canning lids, it is time to consider reusable canning lids. I've used them in the past…and would again in the future. In fact, I've got reusable lids in storage for just the situation we are facing right now. A canning lid shortage is showing its ugly face again. I've got more on reusable canning lids here.
Weck Jars
Weck jars are not very common in the US and they have not been tested by the USDA. I personally would use them for things like jams and jellies. They are beautiful but expensive. So they would be perfect for gift giving. Check out more here… Weck Jars
I Talk Canning Jar Lids Live
Where Can I Buy Canning Jar Lids?
I'm always a fan of buying local. Our local Ace Hardware carries canning supplies. If you use a lot of lids and want to buy them all at once, ask for a discount. I asked at our store and they gladly worked with me. Other big box stores also carry canning lids.
Of course, there is always online. Just be cautious and be sure you are buying from a legitimate, established business. With the recent shortages, there are scammers out there. Check websites for informational about pages, location, and clear copy on the website, including a clear return policy.
Lids can be purchased with both the bands and the flats. Or if you already have screw bands, reuse those and just purchase more flats.
Buying Lids in Bulk
And remember, if you are placing orders online, often you will get them cheaper per box if you buy several boxes at a time. Bulk lids in sleeves are a great way to buy. I do this myself. Fillmore Container is a sponsor of SimplyCanning, and they carry canning lids in bulk sleeves. These are generic, but they are from a good supplier. I've had good luck with them.
Buying Lids Secondhand
Can you buy second-hand lids if they are new and in the box unused? I am a fan of bargain shopping. However, use caution if you are buying lids secondhand. Even if the lids you purchase are "new in the box", you need to inspect them. Make sure they are not bent and more importantly, check the rubber sealing compound. It needs to be rubbery, soft, and not dried out.
A Little Story…
I purchased some seals at an auction. Now, I LOVE auctions! My husband and I regularly scour through old boxes of "stuff." We enjoy it. We get some great deals at times.
This time was not one of those. I found a box full of jars and some boxes of seals. The seals were very old, but they were in the original box and had not been opened or used. At first glance, they looked like new. I thought I'd found a great deal.
However, when I heated them before placing them on my jars, I noticed that the sealing compound was peeling. Definitely not usable. The sealing compound was totally dried out. Very flat. No rubbery feeling to them at all. They were just too old.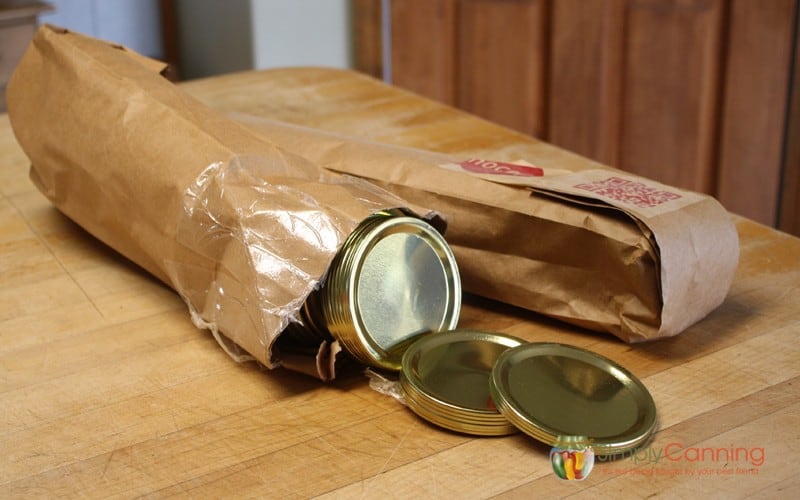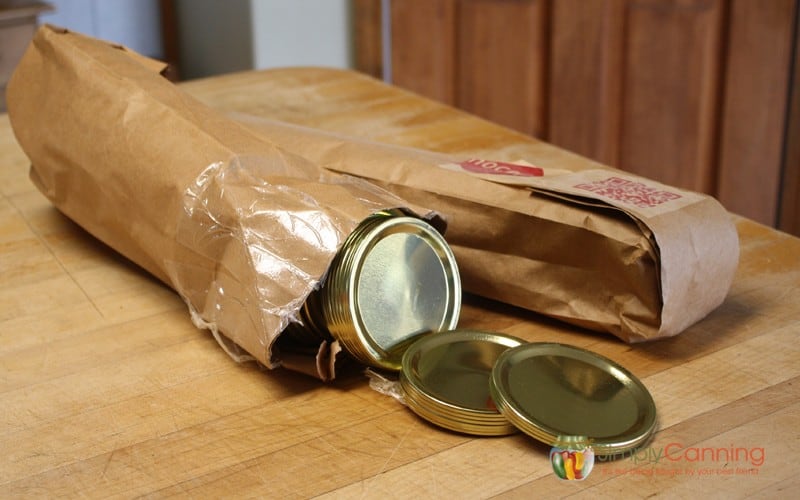 Jars Sold with Canning Lids in Place are Actually a Bummer
Sometimes jars are sold with lids on them in the box, which can cause indentations….I hate it when they do that. So check those lids when you take them off new jars. You'll have to decide if the lid is in good enough condition to use.
This, of course, leads to the next question…does it matter? My answer is "Yes, it does matter." Remember that sealing compound? If it is damaged, it can make a failed seal more likely if you try to reuse the lid. I don't like to waste my time and food for a higher chance of failure.
I'm sure the boxes probably get warm while in storage, either with you after you purchase, or with the store before it is stocked. The heat will just exacerbate the problem as the sealing compound gets soft when heated.
Your best bet is to remove the lids from the jars when you get them. As far as them still being useable, it will depend on how deeply the jar seals are marked. That is something I can't really tell you. You'll just have to decide if it is worth risking a failed seal. If the indentation is very light, they may be fine…they may not. If it is deep though, I don't recommend trying it.
Canning Lids Tips & FAQs
Do Canning Lids Expire? How Long Will They Last?
Canning lids do have a shelf life. I am talking about unused lids in the box. Not lids on jars. I've seen it recommended that you not buy more than what you will use in a year. But then, I've also seen that unused lids will be good for 5 years. Seems like they contradict, right?
This is the quote I found from the NCHFP:
"Gaskets in unused lids work well for at least 5 years from date of manufacture. The gasket compound in older unused lids may fail to seal on jars. Buy only the quantity of lids you will use in a year."
My opinion: I used to think that the 5-year date is a good number to go by. However, I do know that lids have changed and the quality varies. It seems like the rubber compound is not the same as it used to be. I recommend you don't buy too many. You might as well not push that date. One year's supply is pretty good, but if you go over, certainly don't throw your lids away. Even planning for 2 years would probably be okay.
More importantly, store your lids safely. No high heat! (Hot garages or sheds are not a good idea.)
Can You Reuse Canning Lids?
The screw band part is reusable but the flat lid is not. The flat lid has a sealing compound on the inside rim which, after use, will become indented. You can see this indentation. This dent might interfere with a new seal on any future batches. It can cause it to not seal at all, or just create a weak seal that may come loose in storage.
Notice I say "may" and "might." It is a risk that some people are willing to live with. For me, I'd rather know my lids will be secure.
Now having said that…you might have a zillion lids laying around or you feel like surely there is something you can do with these instead of tossing them in the landfill. It IS okay to recycle lids for purposes other than processing. I've got more on recycling canning lids here.
So are Canning Lids Supposed to Pop?
How long does it take for jar lids to pop when canning? And what happens if lids don't pop when canning? You will generally get a popping sound within an hour or so of taking them out of the canner. But it is not always so, and that is okay. It does not indicate a problem. Is the jar sealed, even if you didn't hear that ping? Find out more on this canning chat about popping lids.
How Can You Tell If a Canning Jar is Sealed?
The best way to tell if your lid sealed properly is to allow the jar to cool naturally to room temperature. Overnight is what I always do. Then remove the screw band and lift the jar by the edge of the lid. The lid should be able to hold the weight of the jar and will not come off. You can also check that the lid is sucked down and has a vacuum. Press your finger on the middle of the lid; there should be no give. It should not pop up and down.
How to Tell If Your Lids are New or Used
It's all in the seal.
I was asked how to tell if a lid has been used. You can tell by the sealing compound. If it is used, it will show an indentation from the rim of the jar. If not used…it will be smooth. I took a picture of two lids. One is used, one is new. Can you tell the difference? (Answer below the picture…)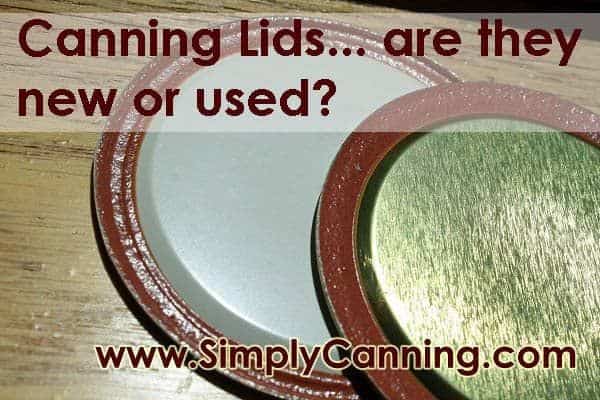 It might be hard to tel, but the lid on top with the gold finish is the new lid. The lid underneath with the white finish is the used lid. It is not the color (white or gold) that indicates which is new or used. Canning jar lids are made in both colors. It is the condition of the sealing compound that you need to look at. If you see those indents, the jar is likely used.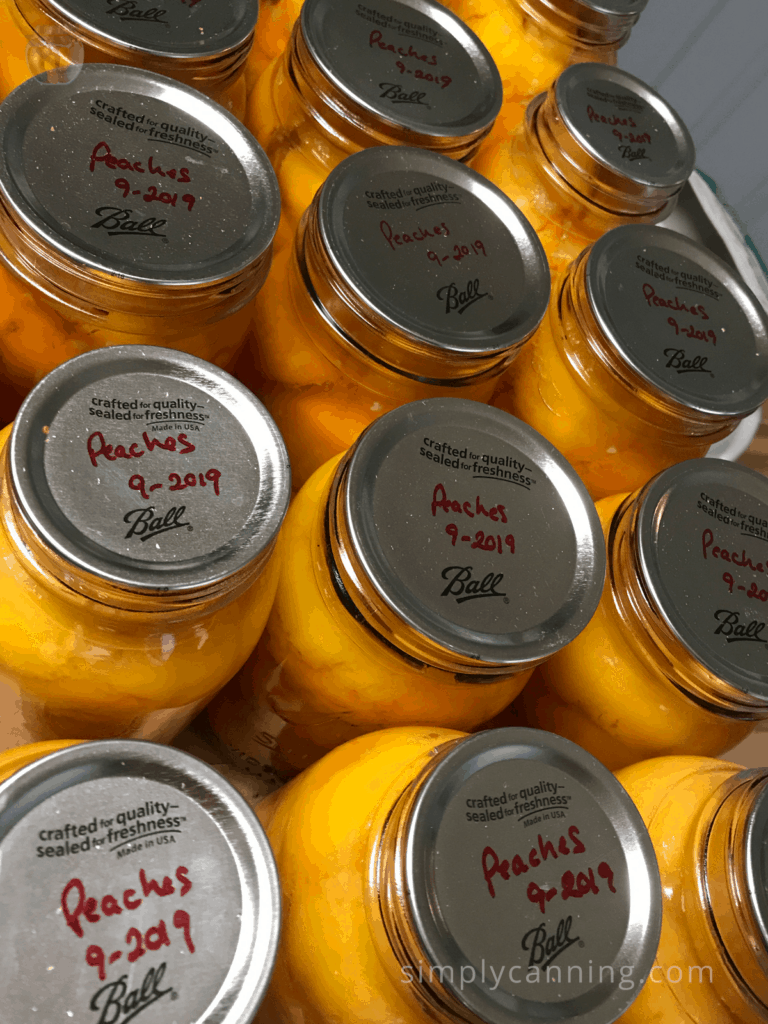 Is a Jar with Two Lids Stuck Together Safe?
Question: I canned some dill pickles and discovered after the fact that two lids had stuck together on one of the jars. The top lid is sealed, but I wonder about the lid underneath it. I did not want to disturb it as I thought that could break the seal. What do you think? Perhaps I won't know until I open the jar.
Answer: What I would do is test the seal just as if there were only one lid. Lift the jar off the counter by the edges of the lid. The seal should be able to support the weight of the jar. As long as it does, I would think your seal is probably fine. Don't be afraid to jiggle it a little. If the lid comes off easily, then it wasn't strong in the first place. You want to know that now, not later.
Related Pages
What About the Canning Jars? – What are the different sizes and shapes of canning jars? What brands are out there? Can I reuse jars from the store or vintage jars? Get all of your canning jar questions answered here!
What Happens If You Don't Hear that Pop of the Canning Lid? – Is it sealed? What might have prevented that seal when it comes to your lids? Learn some common mistakes here.
Can You Recycle Other Glass Jars for Canning? – Specifically, can you reuse jars from other products like store-bought pickles for canning? SimplyCanning gets this question often. Here's the scoop.
Pin This to Find Later!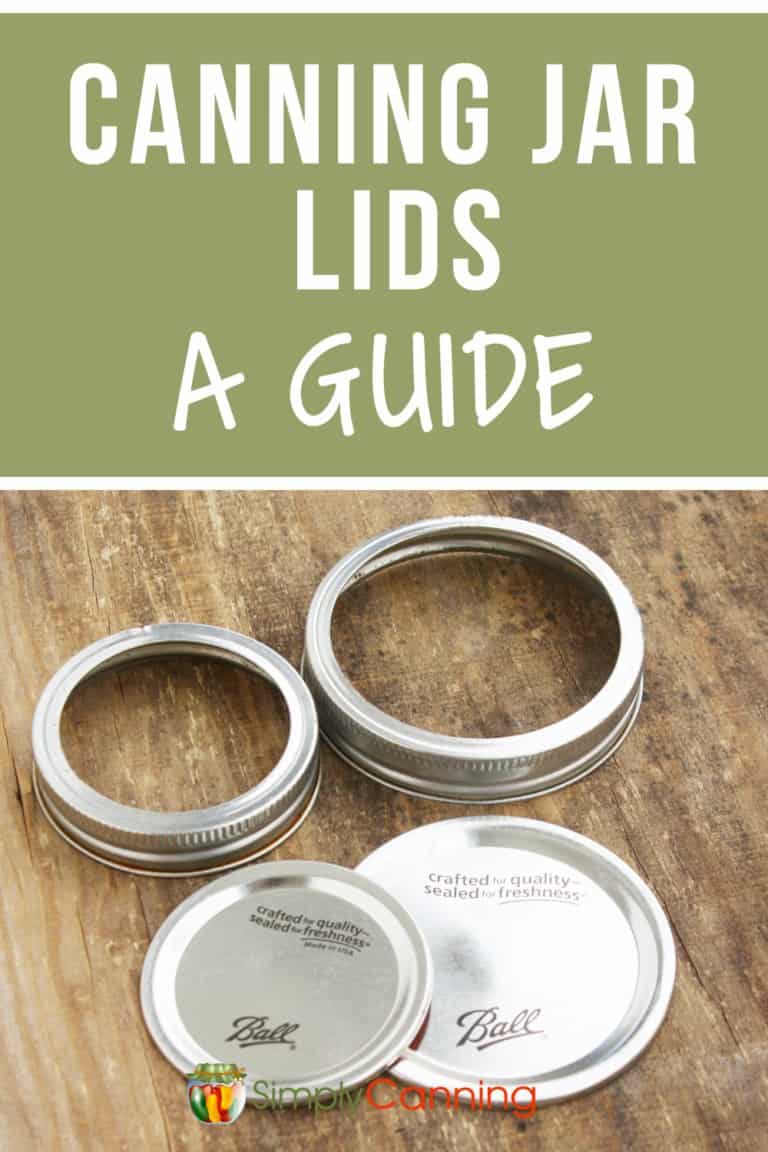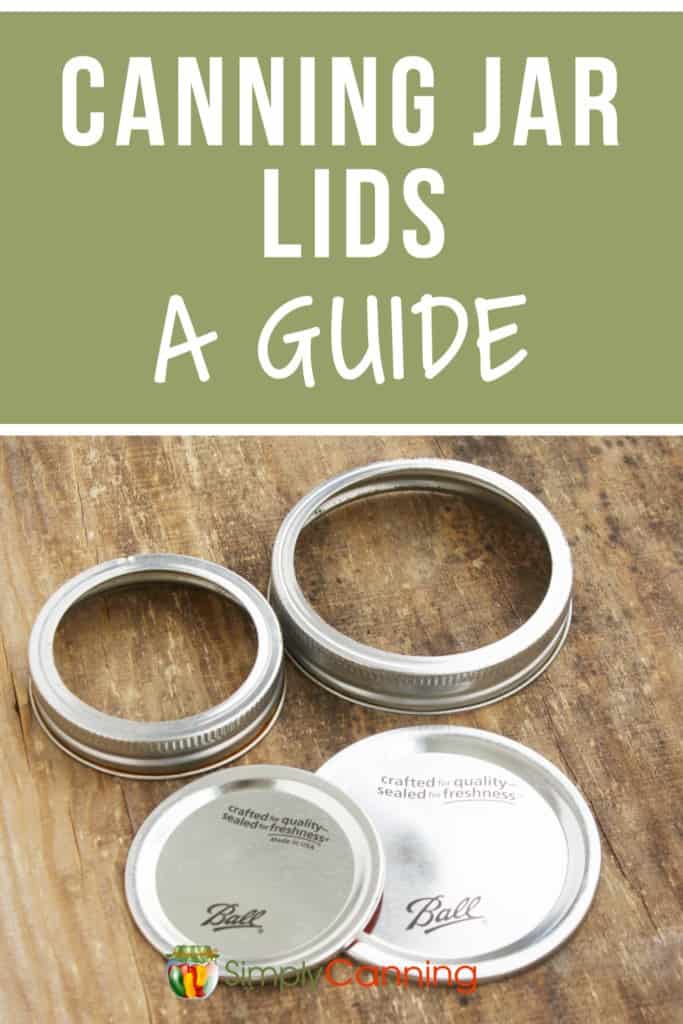 Page last updated: 10/5/2021