With Sharon Peterson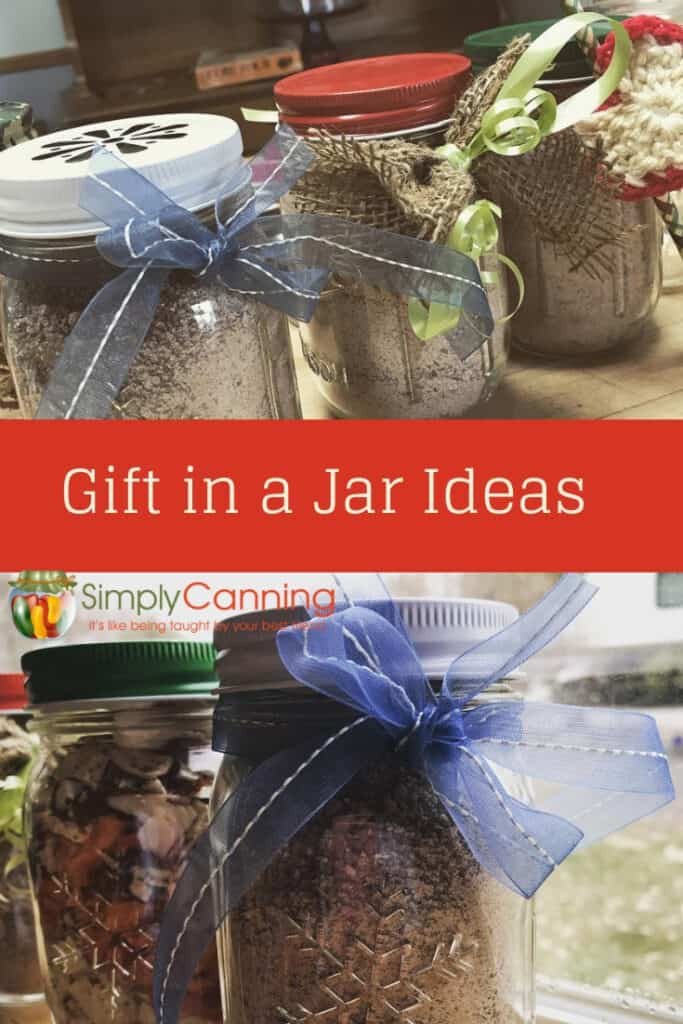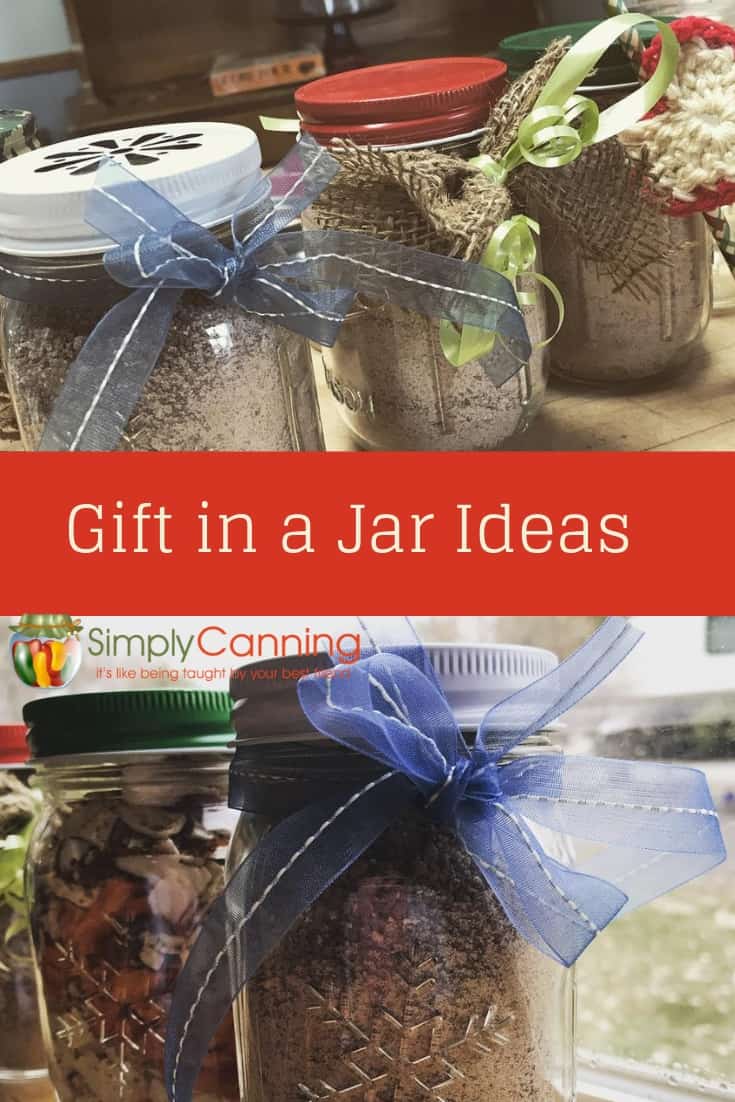 Homemade gift jar ideas are boundless! You can do so much with a jar and basket. Make each gift personal to the person you love.
Tis the season! I make homemade gift jars quite often at the holidays. It is perfect for those who you just don't know what to give. And boys…. All boys love food right? And hot chocolate? I have 4 sons so I speak from experience.
Here are the gift jar recipes I'm using this year. A couple meal in a jar mix ideas and ingredients for a mocha hot chocolate.
Live video about homemade gift jar ideas
---
Homemade gift jar ideas and supplies
You can give gift jars as is with a pretty bow and a Holiday tag, or you can add the jar to a basket with other food items. Maybe some fancy crackers with a soup mix.
If you want a source for freeze dried foods for the meal mixes… check out Thrive freeze dried foods.
And I got some fun jars and pretty supplies to use this year.
I've got so many jars I usually just hop on over to my pantry and grab some empties, but this year I found some super sweet snowflake jars from Ball. I mentioned them on Simply Canning Facebook and Fillmore Container (a sponsor of Simply Canning ,Thank you Fillmore!) sent me some jars for my gifts this year. AND they threw in some fun additions, decorator lids and fancy straws.
So if you love to make things pretty check out these supplies for your gift jars this year.
Snowflake jars – Editing to say…. they sold out! These jars turned out to be very popular. Here is a link to the other jars Fillmore has available. I highly recommend the Orchard Road Jars, OR… the jars with the handles would be perfect for the Hot Chocolate mix.
Enjoy!
And here is a printable pdf with these recipes.
Homemade gift jar ideas – recipes and gift baskets
Mocha Hot Chocolate Mix – perfect for pint size jars but if you are giving to a large family…. get out the Quart jars!
Basket ideas: Add a jar of this mix to a basket along with a pretty mug and a good book.
2 cups non dairy creamer
1 1/2 cups hot chocolate mix
1 1/2 cups instant coffee (I use decaf)
1 1/2 cups sugar
1 1/2 tsp cinnamon
Stir together and fill jars with mix.
Add the following instructions
Mocha Chocolate Mix
Add approximately 3 tsp to a mug of hot water. Add more to taste.
---
Beef Fajitas
Place in a quart size wide mouth jar.
1/2 cup freeze dried shredded beef
1/4 cup freeze dried onion slices
1/4 cup freeze dried green peppers
1/4 cup freeze dried red peppers
(total of 1/2 cup peppers, you can use all red or green if that is what you have)
1T your choice of taco seasoning or fajita mix. To taste.
Basket ideas: Add a jar of Beef Fajita Mix to a basket with a package of tortillas and a jar of homemade salsa. You could even include a small container of freeze dried cheese.
Include these directions…
Beef Fajita Mix
Simmer ingredients in a cup of water for 5-8 minutes or until beef is tender and liquid is mostly absorbed. Serve in a tortilla with cheese, salsa, sour cream or whatever fajita sides you like.
————–
Note: I use my homemade taco seasonings but you can use any seasoning you choose. I'll include my recipe below.
Homemade Taco Seasoning – Mix this together and store in a dry place (of course a jar works perfectly)
1 cup dried minced onion
1/3 cup chili powder
4 tsp cumin (this is to taste, if you like cumin…. Add more!) 4 tsp crushed red pepper
1 T oregano
4 tsp garlic powder
2 tsp onion powder
---
Peanut Chicken Recipe
Love chicken in a peanut sauce? This is a quick way to have it ready.
Place in a quart sized wide mouth jar:
1/2 cup freeze dried chicken
1/4 cup freeze dried red peppers
1/4 cup freeze dried onion
1/2 cup freeze dried broccoli
Basket idea : Place this in a basket with a small package of rice and a small container of soy sauce.
Place in a ziplock bag
2 T peanut powder
1 tsp honey crystals or sugar
1 tsp chicken boullion
1/4 tsp onion powder
1/4 tsp garlic powder
pinch of cayenne
From your cupboards
1 T Soy Sauce or Liquid Aminos
Include the following instruction:
Chicken Peanut Recipe
Simmer veggies in 1 cup water for 5 minutes.
Add in seasonings and simmer for 3-4 minutes longer or until chicken is tender.
Add (from your cupboard) 1 T soy sauce and stir.
Serve with rice!